Support a Child in Need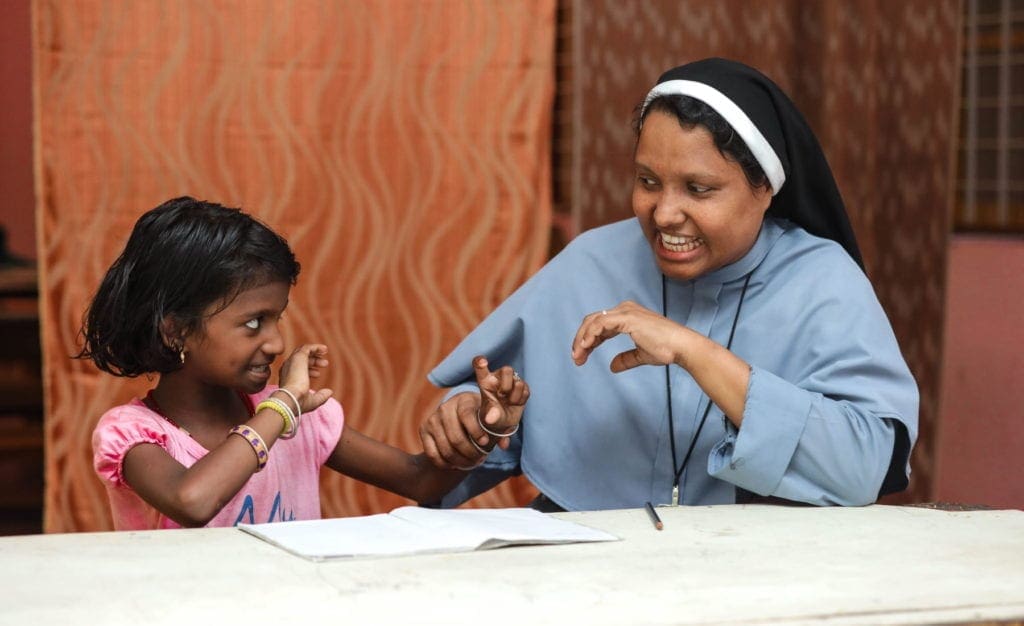 In an uncertain time, one great certainty is our children.
In their faces, we see a world of possibility and hope — and CNEWA is passionately devoted to ensuring that the children in the world we serve will know a better tomorrow.
You can help make that a reality.
You can help the children of Ethiopia know they are loved. At the Kidane Mehret Catholic School in Ethiopia, the smallest people are the most precious. Sister Lutgarda Camilleri, F.C.J., offers sanctuary and hope to dozens of children who have nowhere else to go. Some have lost their parents to disease — H.I.V. is not uncommon — and others are sick themselves and cannot be cared for by their families. Some demand urgent medical attention.
But all are welcomed with open arms and open hearts.
You can help children with special needs in India find their place in the world. Dozens of young people are growing and thriving at the St. Clare Oral School for the Deaf in Kerala, founded by the Franciscan Clarist Congregation in 1993. They are able to dream of a better life and a promising future, learning skills that can help them function in a challenging world.
It is happening in part because of generous people like you.
But this is just the beginning. There are children fleeing war, families facing poverty and hunger, schoolchildren confronting drought, desperate for any sustenance. CNEWA is a lifeline for so many. But there is so much we need to do.
Won't you join us?
Your gift today can make a world of difference tomorrow — and chart a new future for the next generation A future of security. A future of possibility.
Want to have an even bigger impact? Join our Apostles Club! It's an easy way to make monthly gifts and ensure that our great work continues. As a member, you'll receive regular reports on our mission around the world, including updates on how your gift is helping children in need.
There is no better time than now, at the dawn of a new year, to help make that happen — to offer the love and light of Christ to a world too often overcome by shadows and fear.
What you do today will have a powerful impact for months and years to come. Their future is in your hands. Help us make it a future filled with hope.
Thank you and God bless you!