Christ is risen — even in times of war and crisis.
Despite the tragic human circumstances caused by Russia's invasion, Catholic humanitarian aid organizations in Ukraine made a concerted effort to celebrate the joy of the Resurrection this past weekend.
Christians in Ukraine celebrated Easter, commonly called Pascha, on 24 April, according to the Julian calendar they follow. This week they observe Bright Week, when all fasting and abstinence is lifted in the joyous aftermath of the Resurrection.
One of the ways Catholic aid organizations underlined Easter was with the distribution of traditional Ukrainian Easter baskets to those displaced internally, to Ukrainian refugees in neighboring countries and to those fighting on the frontlines.
These baskets consist of foods from which Byzantine Catholics and Orthodox Christians abstain during Great Lent, namely eggs, meat, oil, wine and dairy products, as well as traditional sweet breads and desserts.
Caritas Ternopil, a local Caritas office in the western Ukrainian city of Ternopil, distributed Easter kits — consisting of the traditional Easter foods and more, but without an actual weaved basket — to 500 families of internally displaced persons on Holy Saturday. That afternoon, Metropolitan Vasylii Semeniuk of the Ukrainian Greek Catholic Archeparchy of Ternopil and Zboriv led a prayer and basket blessing service in the courtyard.
Ternopil's population of more than 200,000 has swelled by tens of thousands since Russia's invasion began at the end of February.
In an interview with CNEWA just before Holy Week on the Julian calendar, the Rev. Roman Zahorodnyi, director of Caritas Ternopil, said 20,000 people had registered officially as internally displaced persons in Ternopil, but thousands had not, and the exact number of people seeking aid in the city was unknown.
People have fled to Ternopil from all parts of eastern and central Ukraine, including from the hard-hit cities of Mariupol, Kharkiv and the Kyiv region, he said through an interpreter.
"It's a constant influx of people," he said, adding that more people are expected if the fighting in the eastern Donbas region intensifies further.
As the largest humanitarian organization operating in Ternopil, Caritas Ternopil's 30 staff and 50 volunteers have been distributing 300 one-time care kits to new arrivals each day since the emergency situation began. These kits include food, clothes and hygiene kits, provided in part through CNEWA funding.
When the 70 beds in the Caritas Ternopil shelter are filled, staff and volunteers call local hotels, hostels or schools to find shelter, he said. Some local families have also offered temporary shelter in their homes.
For most Ukrainians in flight, Ternopil is a place of transition. They usually move on within a few days to a neighboring country or to join family or friends abroad, the priest continued. In some cases, families choose to remain long-term in Ternopil, rent an apartment and seek work.
The most urgent physical needs are for shelter, long-storage food, baby and child care products and hygiene products, said Father Zahorodnyi. However, the people come with profound psychological and spiritual needs as well.
"They come with sad stories," he said.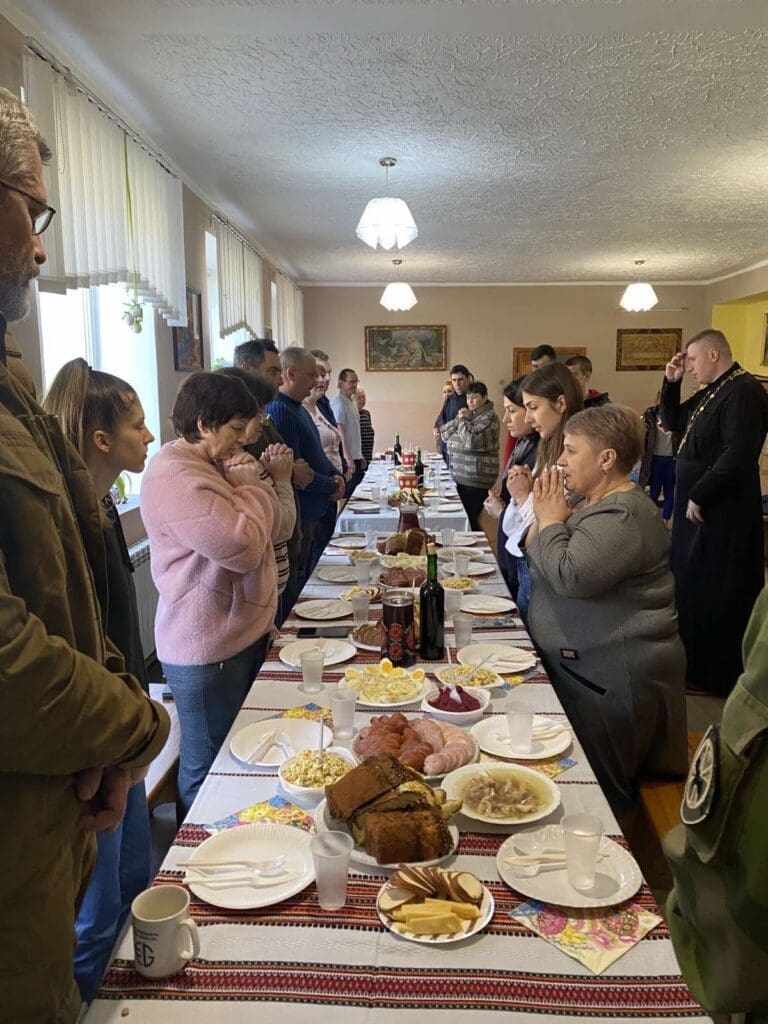 For instance, he said, people from Mariupol witnessed bombings against civilians and great loss of life. Without access to food or water, they drank radiator water and ate tree bark to survive.
"We're trying to give them psychological and spiritual support and to listen to their stories. This is very important," he said, adding that special workshops and activities have been organized with a psychologist to assist children with their experience of trauma.
In the midst of such stark loss, Caritas staff and volunteers have tried to create moments to celebrate life. Father Zahorodnyi recounted how his team organized a small birthday party for a 10-year-old boy from Kyiv, whose mother sent him to Ternopil with some neighbors. His father, a soldier, had died on the front in Donbas and his mother decided to join the resistance as well.
"The boy was very happy and moved because of the party," said the priest.
Staff also celebrated the 92nd birthday of a woman who fled the Donetsk region with her daughter.
The elderly lady "said she survived the fascists in World War II and she believes she will survive these fascists, too," he said.
Father Zahorodnyi also told the story of baptizing a newborn, Lucà, whose parents had fled Kyiv in haste after the birth.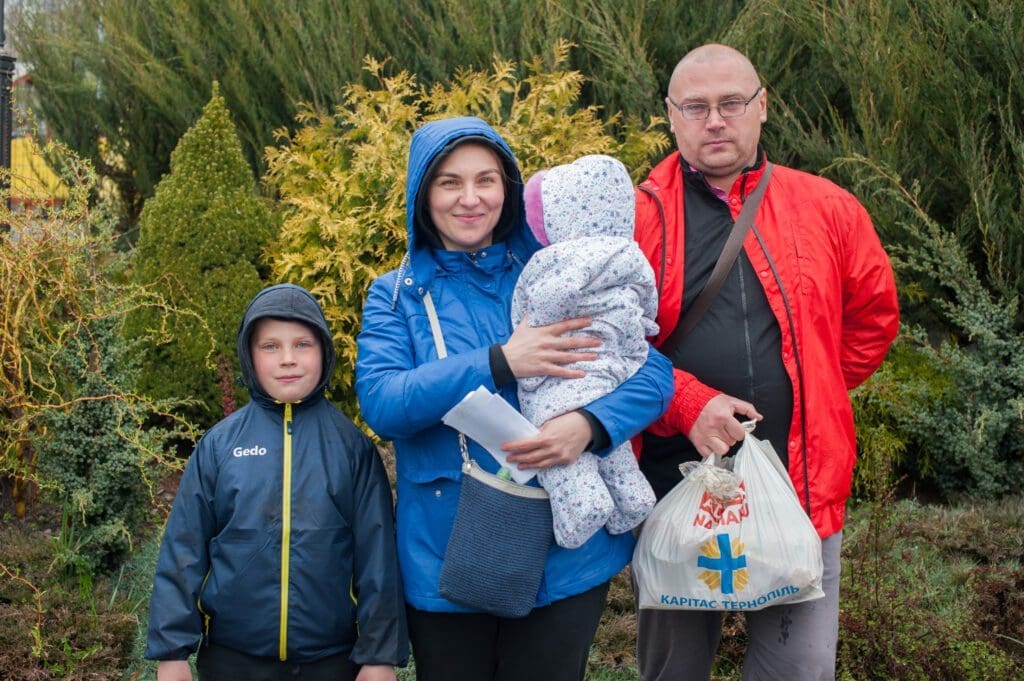 In addition to providing the basic necessities of life, the goal of Caritas staff and volunteers is to give people hope.
"What is most important is that people believe," said a Caritas Ternopil volunteer, who requested not to be named. "When we talk to each other, we always say, 'Our spirit is strong.' … We love the people a lot, so they feel a sense of hope."
"It's important for us to give the message that we appreciate this great help that has been given to us already," said Father Zahorodnyi of the humanitarian assistance from abroad. "We also call for all the world to understand how hard this struggle is because our country is so much smaller than Russia. Nobody believed we could stand for such a long time, but we are standing strong."
"We feel this support from the world," he said. "And due to this support, we believe that we will win, and we are winning."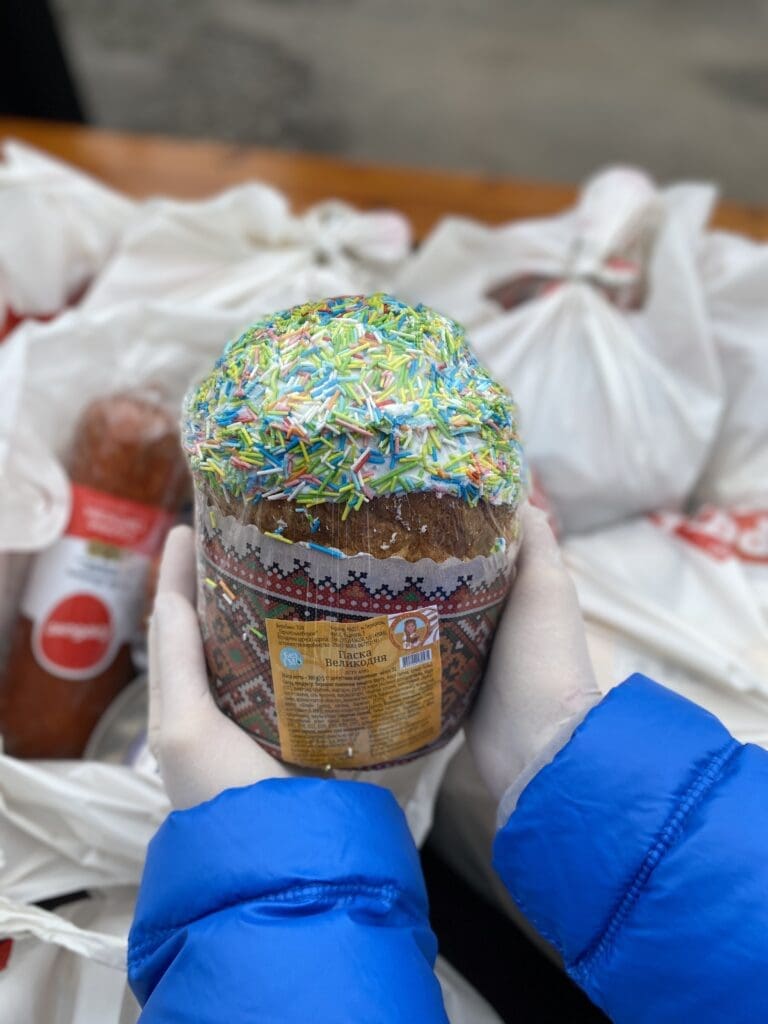 ---
Laura Ieraci is assistant editor of ONE.