Catholic Near East Welfare Association, founded by the Holy Father, shares the love of Christ with the churches and peoples of the East.
CNEWA works for, through and with the Eastern Catholic churches to identify needs and implement solutions. CNEWA connects you to your brothers and sisters in need. Together, we build up the church, affirm human dignity, alleviate poverty, encourage dialogue — and inspire hope.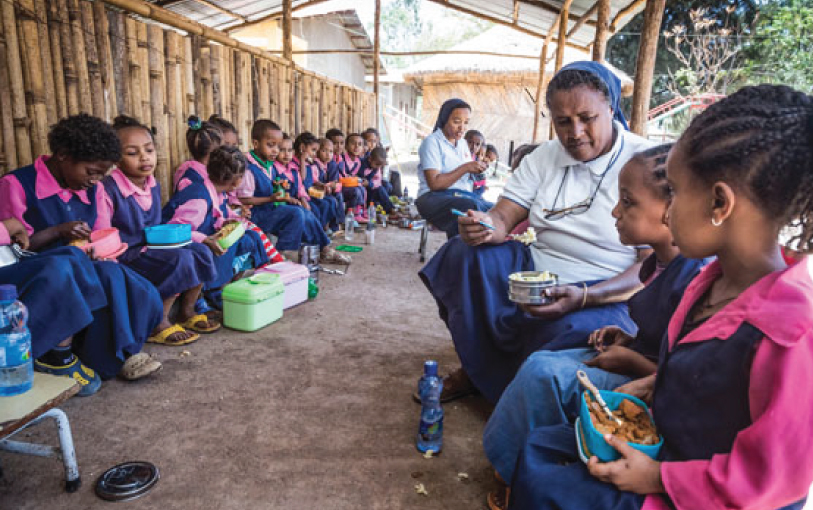 Accompanying the Church
Forming Church Leadership
Seminaries and religious houses of formation; university chaplaincies; lay catechist formation programs; advanced studies for clergy and religious; scholarships for priests and religious.
Fortifying the Local Church
Repair parish facilities damaged by civil strife, natural disasters and age; local church programs for catechesis, formation, liturgy and pastoral care; pastoral initiatives for refugees, displaced peoples and migrants; youth formation programs, e.g., catechesis, Bible camps, etc.; Mass Intentions.
Responding to Human Needs
Child Care Initiatives
Child care institutions, e.g., schools, orphanages and centers for children with special needs; nutrition programs; emergency programs for children affected by war and disasters; health care projects for children, e.g., vaccination initiatives.
Care for the Marginalized
Special needs institutions for adults, e.g., hospice programs and rehabilitation facilities for profoundly handicapped, substance abusers, prisoners and other social cases; programs for excluded classes, refugees, migrants and people in flight; initiatives for the elderly and others abandoned and neglected.
Emergency Relief
Food packages, fuel, bedding, first aid, sanitary kits and temporary housing for victims of war, social upheaval, natural disasters and religious persecution.
Health Care Programs
Maternity clinics, hospitals, clinics and other church social service facilities serving the poor, displaced and elderly; securing medical supplies; grants for facility upgrades and maintenance.
Sustainability Programs
Vocational training schools and programs; microcredit loans, entrepreneurial and self-reliance initiatives.