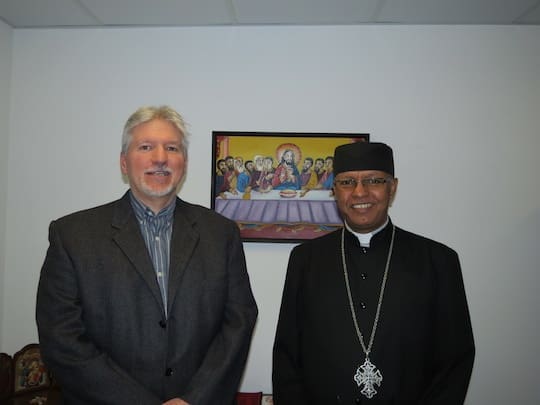 Carl Hetu, national director of CNEWA Canada, meets with Ethiopian Catholic Bishop Lesanu-Christos Matheos of Bahir Dar-Dessie. (photo: CNEWA)
Today I had the pleasure of meeting with Ethiopian Catholic Bishop Lesanu-Christos Matheos.
Three years ago he was named the bishop of the Eparchy (Diocese) of Bahir Dar-Dessie, in Ethiopia. It is a new and developing Eparchy that is equivalent in size to Italy.
He was also given, by the Ethiopian Bishops Conference, the responsibility of caring for all Ethiopian Catholics living outside the country. It was for this purpose that he was in Canada and why I had the opportunity to meet with him.
We were happy to meet, as CNEWA has been supporting several of Bishop Matheos' ministries over the years. A couple of years ago we helped him build a modest church in an isolated part of his Eparchy for the Gumuz tribal people. We also helped in providing Catechesis ministry to this same tribe. He joyfully shared that, last year alone, more than 800 people were baptized through the works of these ministries.
CNEWA has also been supporting his youth ministry initiatives, particularly those on university campuses. This is a ministry that is very important to him, so after our meeting I dropped him off at the headquarters of Catholic Christian Outreach — a university student movement dedicated to evangelization, with a wealth of experience and written materials from which he hopes to draw ideas.
Thank you to CNEWA's donors who have supported our important work in Ethiopia over the years. If you would like to make a donation towards our Ethiopian program please click here.