It's been six months since an explosion at the Beirut Port killed more than 200 people and left more than 300,000 people homeless. 
Considered the largest-ever non-nuclear blast, the explosion exacerbated the steady implosion of Lebanon's fragile economic, political and social sectors. Six months on, Lebanon's needs continue to be dire.
One month after the blast, the nuncio to Lebanon, Archbishop Joseph Spiteri, announced that the Congregation for Eastern Churches had charged CNEWA and L'Oeuvre d'Orient, a Paris-based Catholic charity that has long partnered with CNEWA, to coordinate worldwide Catholic aid for Lebanon.   

To date, benefactors and donor agencies from North America and Europe have provided more than $4.2 million in assistance for the following program initiatives of CNEWA:
Food distribution. Hunger is a reality for Lebanon's working poor and refugee communities, already devastated by the coronavirus pandemic. CNEWA is working with partners on the ground to assess, identify and distribute food parcels for families, for example, the Syriac Catholic Patriarchate, the Karagheusian Center in Bourj Hammoud, the Joint Christian Committee in Dbayeh, Caritas centers, the Maronite Archbishopric of Jbeil and the Greek Catholic Archeparchy of Zahleh.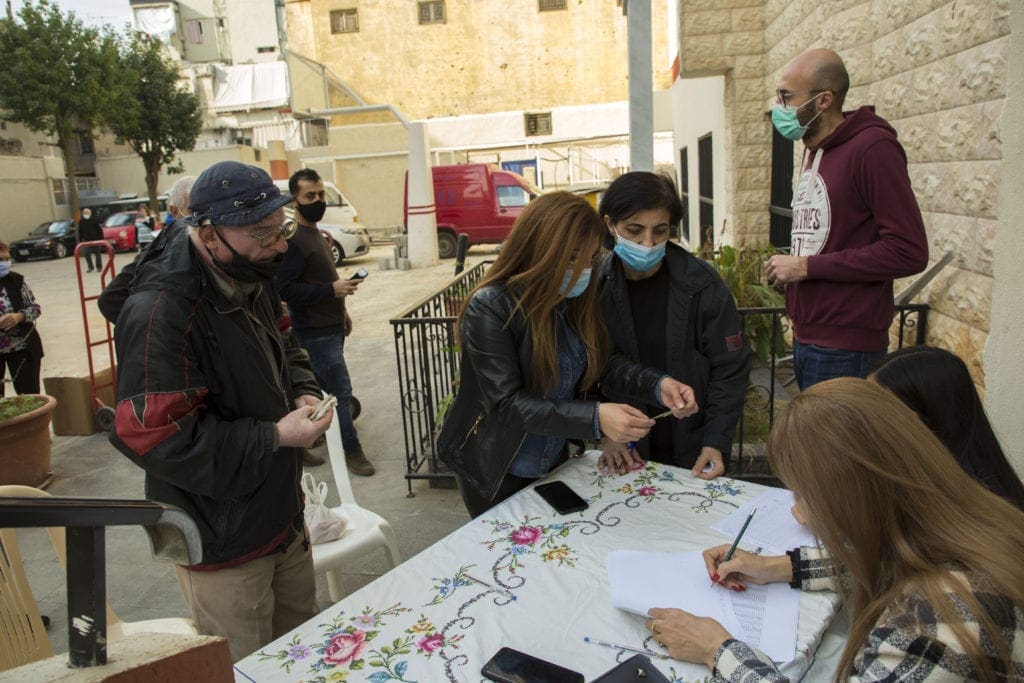 Repair damaged homes. The areas closest to the blast devastated traditional Christian neighborhoods, such as Ashrafiyeh, Gemmayzeh and Mar Mikhael. These are historic areas crammed with churches, convents, monasteries, social service centers (such as hospitals and schools) and homes that house everyone from the rich to the poor. CNEWA has provided small grants to assist those with no resources to mend broken windows and doors, and make small interior repairs, thus enabling residents to return home in the cold of winter.
Restore pastoral centers and schools. CNEWA is working with six congregations — Daughters of Charity and Sacred Heart, Antonine, Holy Family, Besancon and Rosary Sisters — to repair 16 facilities that offer programs and services to families, including children and the elderly.
Rehabilitate Hospitals and clinics. Considerable funds are being directed by CNEWA to the two Catholic health care facilities damaged by the blast, Geitawi and Rosary Sisters hospitals, and to two dispensaries that serve those most in need, Karm el Zeitoun in Ashrafiyeh and the Intercommunity clinic in Nabaa. These health care centers, along with the destroyed St. George Hospital, are among the most important health care facilities in the country. In addition, CNEWA is funding a mental health program in Oum el Nour.
"Despite COVID and economic and political instability worldwide, Catholics around the world continue to give from the heart. There continues to be an outpouring of sacrificial love and generosity," said CNEWA's president, Msgr. Peter I. Vaccari.

"'Lebanon is more than a country,' Pope Francis reminds us. 'Lebanon is a message of liberty, an example of pluralism for the Middle East and the rest of the world. We cannot allow this patrimony to be lost' the pope added.

"The people of Lebanon are living the experience of Calvary," Msgr. Vaccari continues. "They cannot be abandoned in solitude. I am deeply moved by the heroic commitment of our Beirut office to work in solidarity with all people of good will who wish to pray and offer help as instruments of hope at this time."