Sandbagging is not part of the usual program for young men in formation for the priesthood, but it became necessary at Kyiv Theological Seminary of the Three Holy Hierarchs hours after Russia invaded Ukraine on 24 February.
Divine Liturgy was celebrated in a lecture hall in the seminary basement that morning — a precautionary measure announced at 5 — shortly after the seminary community, situated in Kniazhychi, a town in the suburbs of Kyiv, was awakened by the sound of rocket fire.
The prefect canceled class and seminarians spent most of the day preparing a makeshift bomb shelter on campus, returning to the basement during air raid sirens.
Priests were instructed by the hierarchy of the Ukrainian Greek Catholic Church to remain in their respective parishes should an invasion occur and continue to serve the faithful and bear witness to the Gospel.
However, the same rule did not apply to seminarians and the seminary rector granted seminarians permission to return to their families after Russian rocket fire killed 12 civilians in a neighboring village. Russian troops had also bombed a Ukrainian military installation within three miles of the seminary.
While the seminarians who remained were to take shelter with Ukrainian Greek Catholic Major Archbishop Sviatoslav Shevchuk at his cathedral in Kyiv that night, that decision was revised, and seminarians were urged to return to their families.
Seminarians packed into cars given to them by residents of Kniazhychi with a twofold purpose: to assist the seminarians in their evacuation and to keep their cars safe from Russian misuse or destruction. The seminary became immediately accessible to local residents, seeking shelter in its concrete structure.
Julian Hayda, a Ukrainian Greek Catholic seminarian from Chicago, reported this information based on his ongoing communication with his classmates in Ukraine.
Coming from a family with a long lineage of priests that includes his father, Hayda began his studies for the priesthood at the Kyiv seminary last fall. A former journalist with WBEZ in Chicago, Hayda was also hosting the major archeparchy's online television service.
However, after spending Christmas break in Chicago, he was warned by the U.S. government not to reenter Ukraine due to the escalating threat of war. He was living in London as of the end of January, waiting for clearance to return to Ukraine, when the invasion occurred.
Hayda said everyone from Kyiv seminary had been evacuated and the seminary had not suffered any damage in the first days of the invasion, though a few windows were broken possibly by the impact of a nearby blast. He said he does not know if his seminary classmates will be called to defend Ukraine on the frontline.
Following the events closely from London, Hayda said he admires the decision of his church leader, Major Archbishop Shevchuk, to remain in Kyiv, take shelter in the crypt of his cathedral and issue messages during these days of war, despite the risks and the concern of his faithful.
"As a leader, as the captain of the ship, I think he's doing what's right and I think many people are reassured by that," said Hayda.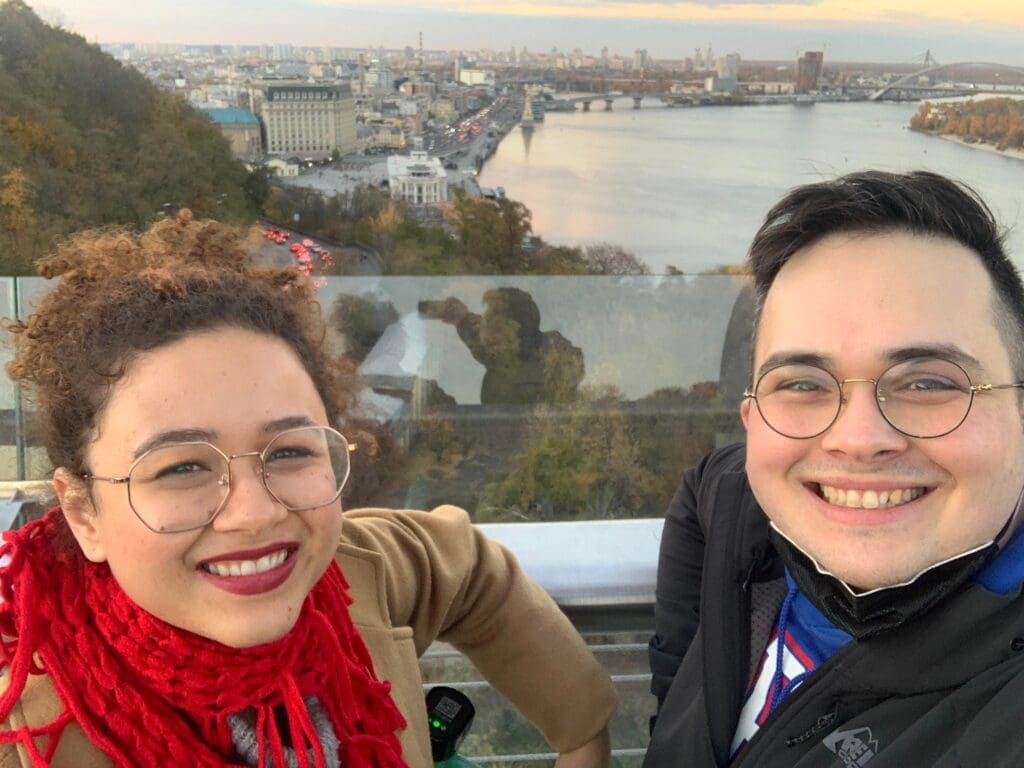 Though the new seminarian also shared his fear of the impact the invasion could have on his church if not contained.
"It's a real concern about how the Ukrainian Greek Catholic Church may be suffering through this again, and if it will have to go underground again," he said. "This is history repeating itself. I don't think it's too much of a stretch."
Despite these "real concerns," Hayda said, it is important for the church and its people to continue to repeat the message as widely as possible that "peace and truth prevail."
"Peace. This is what the church stands for," he said. "That's the Christian position."
---
Laura Ieraci is assistant editor of ONE.