CNEWA has distributed close to 5 million СAD in emergency aid for Ukrainians in need as follows:
Relief efforts of Caritas Ukraine in Chernihiv, Odesa, Chernivtsi, Sambir-Drohobych, Kramatorsk, Kyiv, Ternopil and Zaporizhzhia, including aid convoys, shelters for the displaced, mother and child receiving centres, soup kitchens and provision of basic supplies for families
Care for the displaced supported by the Ukrainian Greek Catholic eparchies and exarchates of Chernivtsi, Donetsk, Kharkiv, Kyiv, Odesa, Buchach, Kamjanets-Podilskiy, Sokal-Zhovkva, Ternopil-Zboriv, Transcarpathia, the Basilian Sisters and the Basilian Monastery of St. Joseph near Lviv
Coordinating aid through the Ukrainian Catholic University in Lviv for support of the Lviv Children's Hospital and 68 special needs children; medical supplies for remote villages and dispensaries; emergency food packages; and physical and psychological rehabilitation for those devastated by the war
Emergency palliative care for patients at Lviv's Sheptytsky Hospital; assistance to the Ukrainian Greek Catholic military chaplaincy for medical equipment; and Medical supplies for the Children's Hospital in the northeastern Ukrainian city of Sumy
The $5 million CAD also includes the support provided by CNEWA Canada to its partners on the ground in late January. With the start of full-scale invasion of Ukraine by Russia, these partners immediately reallocated CNEWA funds to the emergency support which included:
Supplying the soup kitchen in Mariupol
Funding activities to host families in the Eparchy of Chernivtsi
Supporting relief efforts of Caritas in Ternopil
Hosting families in welcome centres of Caritas in Zhytomyr
Helping families cope with loss of children in Zaporizhzhia
The needs are growing daily, and CNEWA will continue to support Ukraine in its immediate relief needs, which includes funds for food, medical supplies, clothing, shelter and the support of the critical structures of the Ukrainian Greek Catholic Church in Ukraine.
CNEWA as a whole agency is also providing help to Ukrainian refugees outside of Ukraine. Please click here to find out more. At the moment, CNEWA Canada's efforts are focused on helping the displaced people in need within Ukraine.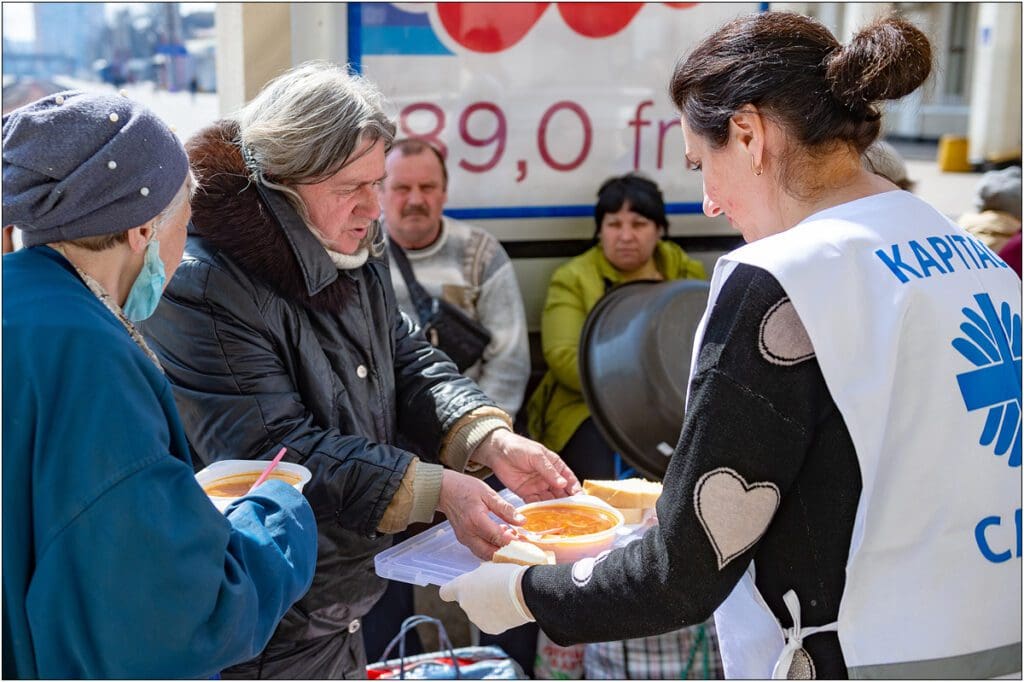 Long-term needs have yet to be assessed as the situation in Ukraine is very much active with no resolution in sight. However, CNEWA will remain committed to accompanying the local churches in their efforts to meet the needs of all Ukrainians. If you are interested in joining CNEWA's efforts to assist Ukrainians caught in harm's way, please visit https://cnewa.org/ca/campaigns/ukraine/.