In a world striving for inclusive development, many people continue to remain on the fringes. Yet everyone in this world has the right to live and progress and to be provided with equal opportunities and resources to do so.
In my work, I accompany people at the grassroots in their journey toward development. I have been in the development sector for the past 30 years, walking alongside the poor and the marginalized. I have seen hundreds of people living in utter poverty with bare minimum facilities, and I have seen institutional discrimination against the poor, corruption in governance and oppression of the weak while I accompany the poor to gain access to their legitimate rights.
For the past 20 years, I have been working with Welfare Services Ernakulam, more popularly known as Sahrudaya. The organization is the social apostolate of the Syro-Malabar Archeparchy of Ernakulam-Angamaly in the southern Indian state of Kerala, and it is engaged in the relentless process of social transformation. Its mission, implemented by community leaders and volunteers trained and engaged in the change process, is to support individuals and institutions capable of contributing to and building a just society. It is our deep trust in God that enables us to hold the poor and the marginalized close, to listen to their stories and understand their sufferings.
We have assisted hundreds of poor families in rising out of poverty and becoming self-reliant through our skills-training programs in a variety of areas, such as food processing, farming, baking, stitching, embroidery, animal husbandry and umbrella making. We support them partially with financial assistance to begin their income-generating activities. Hundreds of women are empowered and then contribute to this development effort.
I also attend beneficiary group meetings, interact with each group member and speak with them about their life situation. For example, at our therapy center last week, I met a girl with cerebral palsy, who has been attending therapy regularly for more than five years. The joy and confidence she shared when I interacted with her was really exciting. She is making remarkable progress in muscle flexibility and mobility and her mother was extremely happy to explain this progress.
Today, my office organized the free distribution of artificial limbs to 45 people, and I could see joy overwhelm them when they were fit with the limb and started using it. Working with persons with disabilities is irresistible, especially when I see their face brighten with a smile; they feel the touch of God through our hands. This happiness and these beautiful smiles keep us going.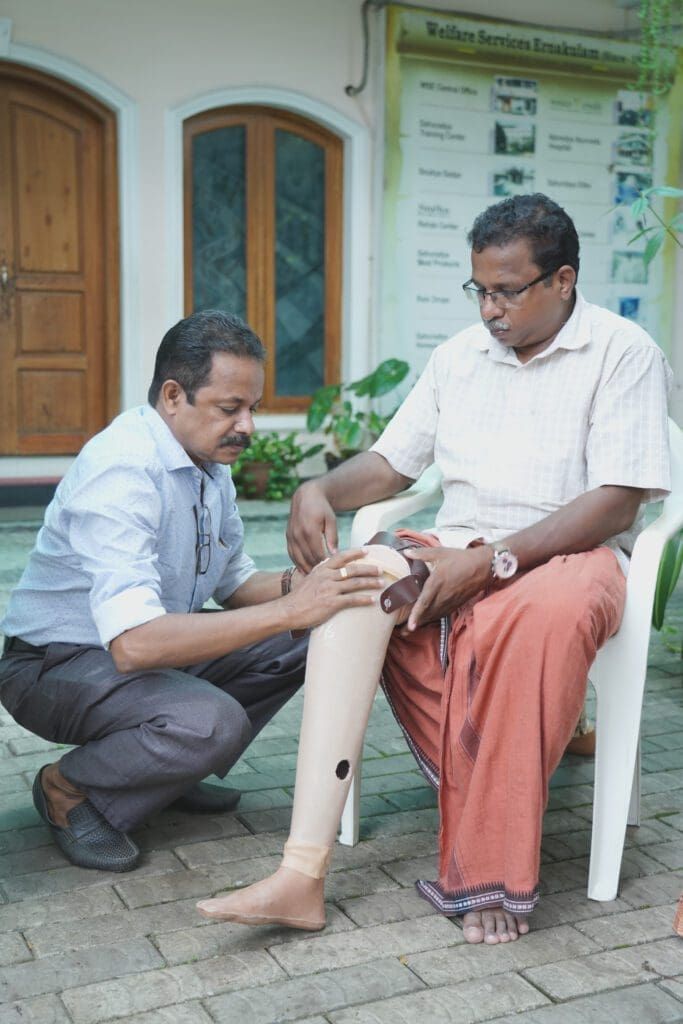 A few years ago, we had a severe a flood in Kerala, followed by COVID-19, which jeopardized the lives of many people. The support and guidance of CNEWA at that time was a great blessing to those affected. Our team of volunteers — whom we called our "COVID warriors" — pressed into service and helped those who needed hospitalization and physical care. They reached thousands of the neediest people with food and hygiene kits, medicine, masks and other essentials. They even arranged rituals for the burial of the dead.
I learned during that time that social work will always be relevant, as the issues we come across every day are always fresh; every day, hundreds of people are cast into misery because of violent conflict, displacement, abuse, trafficking, poverty and natural disasters, and they are in need of care and support.
The church in Kerala and throughout India, through its various organizations and with hundreds of workers and volunteers, is doing wonderful work in alleviating poverty and misery. Our longstanding partnership with CNEWA has helped us to implement many innovative and people-driven projects.
Welfare Services Ernakulam has nearly six decades of rich and proven experience in facilitating multi-faceted social development in community organizing, housing and sanitation, the environment, renewable energy, public health, family and child development and other community programs.
Our family development program gives 225 poor families monthly financial assistance through overseas sponsorship. In the past two years, we have rescued more than 640 children from distress through our work at a main railway station close to our office. We support 300 people with mental illness annually with medicine, a medical camp and counseling to regain their mental health. We also run centers for the welfare of the aged, the destitute and people with special needs.
However, increased inflation and the economic slowdown are making the life of the poor more cumbersome, and nonprofit organizations, like ours, face many challenges to provide services to the poor who live in critical situations. We currently face difficulties in raising funds for these programs. Finding resources, therefore, is one of our biggest challenges today, brought about by the recent amendments to the Foreign Contribution Regulation Act or FCRA.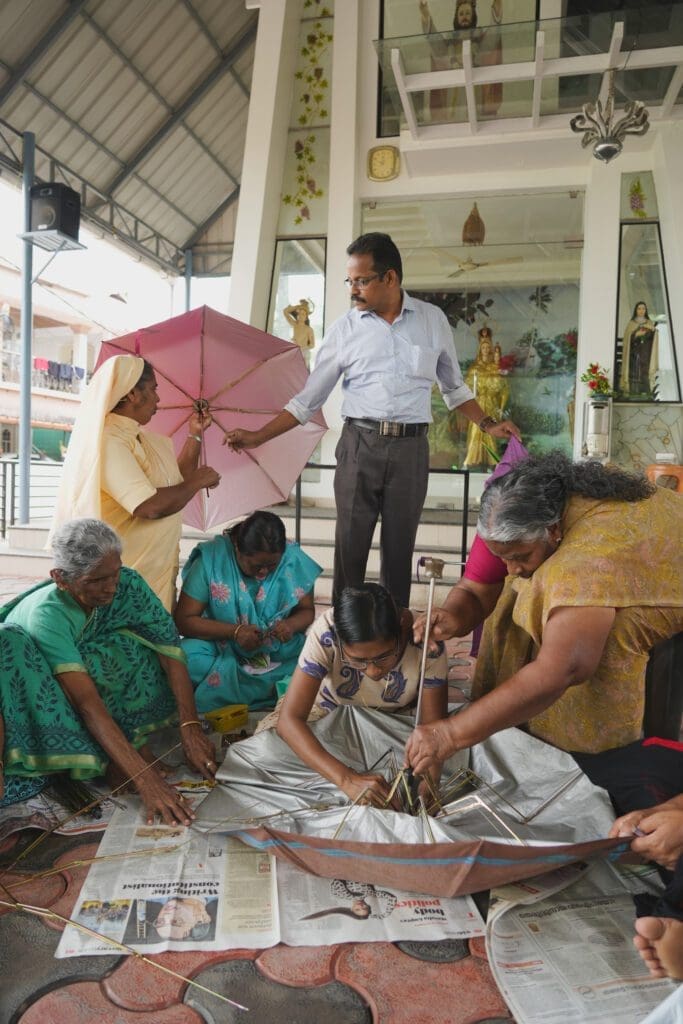 In India, foreign contributions are regulated by the FCRA, enacted to ensure that funds from abroad do not adversely affect the security of the nation. The latest amendment to the FCRA in 2020 has had several negative consequences on the functioning of charitable organizations, including Welfare Services Ernakulam. For instance, an Indian NGO can no longer receive foreign funding channeled through another national organization, which previously would have raised funds or transferred funds from abroad on its behalf. This other organization also would have managed our grant-writing and reporting requirements to foreign donors, allowing us to focus on our work on the ground. No longer.
Thus, the amendment has brought forth a shift in our traditional program implementation and management processes, which we were not equipped to handle. Now it is a laborious effort to continue some of our programs and to support beneficiaries, and we have had to establish new income-generating processes for our programs. Concretely, this has led to a reduction in funding for organizations like ours.
However, since direct granting from foreign donors is possible, direct partnerships with the international community are important today in the wake of the amendments. In order to ensure the continuity of its programs, a charitable organization in India needs the good will of the international philanthropic community to contribute directly to the causes it espouses.
The work of the church in India today is very important, as we deliver critical services and activities to all sectors of society without any fetters of religion, politics or caste, unlike other organizations.
Social change happens when one decides to work and serve one's fellow human being in need; for me, it is an extension of the goodness of one's heart.
---
Mathews Joseph is the program officer for Welfare Services Ernakulam in the Archeparchy of Ernakulam-Angamaly.