It's 5 January — Christmas Eve for Armenians — most of whom are members of the Armenian Apostolic Church, an Orthodox Christian denomination that celebrates Christmas on 6 January.
But Lucy Dadayan's voice is anything but merry as she describes the dilemma her family is facing in faraway Nagorno Karabakh (Artsakh), an Armenian enclave within the borders of Azerbaijan in the southern Caucasus. Isolated and deprived of food, fuel, medicines and other basic survival needs, they are facing what Human Rights Watch has warned are dire humanitarian consequences.
Nagorno-Karabakh, known as Artsakh to Armenians, has a majority Armenian population but is officially part of Azerbaijan. For decades the territory has been a bone of contention between Azerbaijan and Armenia, causing simmering tensions below the surface that erupt sporadically into full scale violence.
Since 12 December, the Lachin Corridor, the mountain road that links Artsakh to Armenia, has been completely blocked by Azerbaijani protesters describing themselves as environmental activists. The road closure has isolated the 120,000 Armenians of Artsakh, including 30,000 children and 20,000 seniors, and blocked their only supply route to food, fuel, medicines and other essential goods.
What makes the situation even more critical is that humanitarian aid groups that usually rush to the rescue of people in such circumstances are prevented by the blockade from working on site.
For Dadayan, who was born in Armenia and now lives halfway across the world in Canada, the current crisis recalls a painful memory from the early 1990s when as a child she lived in Armenia. This was when the dispute between the two countries over the sovereignty of this territory exploded into a full-scale war.
"I remember in the early 1990s, during the war and blockade and shortages of food, we were having a family dinner, including my grandparents," she said. "My grandfather, who was the breadwinner for many, reached out to get a piece of bread. And my grandmother immediately slapped his hand and asked him to leave the bread for the kids (Dadayan and her sister). That was such a sad moment for everyone around the table and I could never forget that scene."
She imagines such a scenario is playing out across Artsakh right now.
"I can just imagine how many similar scenes are happening every single day in Artsakh because of the blockade and each time I eat, I feel guilty knowing that my relatives and thousands of others are being subjected to starvation. Living with a sense of guilt has become the norm for the past four weeks."
Michael La Civita, director of communications for CNEWA (Catholic Near East Welfare Association), a pontifical charity, explained that the road closure is an obstacle to delivering humanitarian aid to people at the heart of the crisis.
CNEWA does not have staff on the ground but works through churches and local charities such as Caritas Armenia. But the latter, like all entities from the Republic of Armenia, is prevented from operating in Artsakh, he said.
"They can't get into the area because the road is blocked, and it is an active war zone," he said. "Winter in the Caucasus — which is located at the crossroads of Asia and Europe, can be bitter cold, wet, raw and windy. The estimated 120,000 people living in the Armenian-populated area of Nagorno-Karabakh are dependent on imported supplies, such as food, water, medicines and fuel, all of which are transported via the Lachin Corridor. With that lifeline severed, these vulnerable people are exposed to further hardship."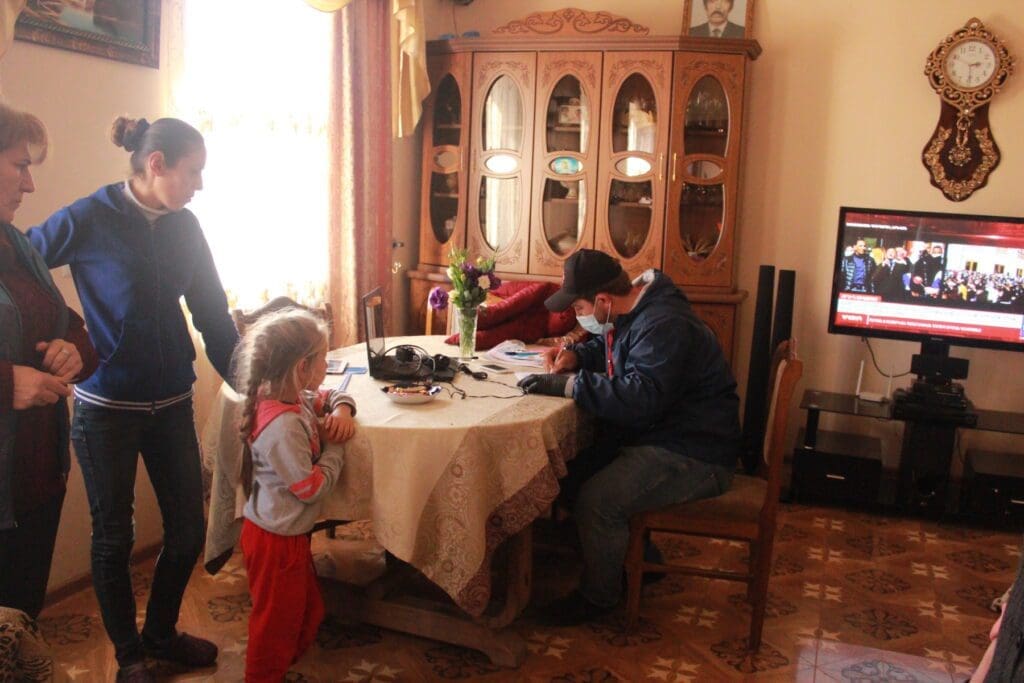 "The International Committee of the Red Cross has been able to bring a limited supply of medical goods and coordinate emergency medical transportation for a few critically ill patients. However, to put it into context, over 400 tons of supplies usually came into Artsakh daily, so the provided aid is minuscule compared to the needs of the populace," said Hagop Ipdjian, coordinator of humanitarian assistance in Artsakh's capital, Stepanakert.
"It is heartbreaking to see the lack of response by the international community to the humanitarian crisis, and the media silence around it," said Nuri Kino, leader of A Demand for Action, an NGO with a large volunteer base of Christian survivors of ISIS (Islamic State of Iraq and Syria) genocide of 2014. "We sent 80 tons of winter clothing and food for 40,000 refugees when thousands from Artsakh fled to Armenia during the war of October 2020. NGOs like ours and churches are often left to do the humanitarian relief work in these situations. Blocking such assistance is a violation of international law."
Inga Emiryan is another Canadian Armenian who spends her days and nights in agony, fear and anxiety.
"My entire family including my mom and siblings are all in Artsakh," she said. "My brother's one-year-old son is ill and needs medication, but there is none in any pharmacy there. My dad, who is visiting us here in Toronto, plans to go back to Armenia next week to be closer to mom and the rest of the family, as he can't stand being so far away from them. We are all so worried."
Like many in the Armenian diaspora, Emiryan and Dadayan are deeply disappointed at the lack of international assistance and the sparse media coverage of the Artsakh crisis. It's a direct result of the conflict in Ukraine, which was invaded last February by its Russian neighbour and has drawn the world's attention.
"While it's understandable that Ukraine gets a lot of attention, nobody wants to talk about Artsakh," said Emiryan.
But the worldwide Christian community has been a source of moral support and stands in solidarity with Armenians, Dadayan pointed out.
Patriarch Karekin II, head of the Armenian Apostolic Church, has sent a message of support and encouragement to people in Artsakh and Armenia. Pope Francis has also expressed his concern about the situation in Artsakh, according to Vatican News.
Asked what Canadians can do to help, CNEWA's La Civita offers three suggestions.
"Offer their prayers for a just and lasting peace and urge their friends, family members and fellow parishioners to do the same. Read and remain informed, being careful to focus on credible news sources, Catholic and secular. And make a gift to a charity, such as CNEWA, that will steward your gift with transparency, prudence and effectiveness."
---
Reprinted with permission from the Catholic Register.