Catholic Near East Welfare Association has received four grants from three funding partners — totaling $1,859,000 — to support Lebanon's ailing Catholic health care centers and schools.
Lebanon's socioeconomic collapse, triggered by a blast on 4 August 2020 that destroyed much of the historic port and center of Beirut, has devastated every facet of society in the eastern Mediterranean nation of 6.7 million people, about a third of whom are refugees or migrants. With staggering inflation rates and an economy in freefall, members of Lebanon's professional middle class are leaving the country for employment elsewhere, leaving the nation — including its Catholic schools and hospitals — bereft of administrators, teachers, nurses, doctors and surgeons.
Considered the last Christian foothold in the Middle East, Lebanon is the region's "laboratory." Its Catholic schools and health care centers are the backbone of the nation, teaching children of all religious confessions and caring for the health needs of all.
The Holy Land Christians Society, thanks to a gift from one of its members, provided CNEWA with $925,000 in grant funding to support five Catholic hospitals. Combined with a grant of $300,000 from a donor who wishes to remain anonymous, salaries for 1,093 doctors and nurses over a 12-month period will be covered at Geitaoui Hospital in the heart of Beirut; the nearby Rosary Sisters Hospital; St. Joseph Hospital in Dora; Tel Chiha Hospital in Zahleh; and Bhannes Medical Center in Dahr el Sawan, near Beirut. The grants stabilize for now the institutions whose financial resources had run dangerously low.
A sixth facility, Message de Paix, a rehabilitation center for people with special needs, received a separate CNEWA grant of $84,000 — thanks to a gift from the same anonymous benefactor — to stabilize and expand its outreach. The funds will develop an existing parcel of land as a garden to provide its kitchen with produce and its clients with job training and employment.
A fourth grant, $550,000 awarded by the MCN Build Foundation in Washington, D.C., will provide 14 Catholic schools with much-needed operating funds, including end-of-year retention bonuses for teachers, as tuition revenue has plummeted since the 2020 port blast and subsequent economic freefall.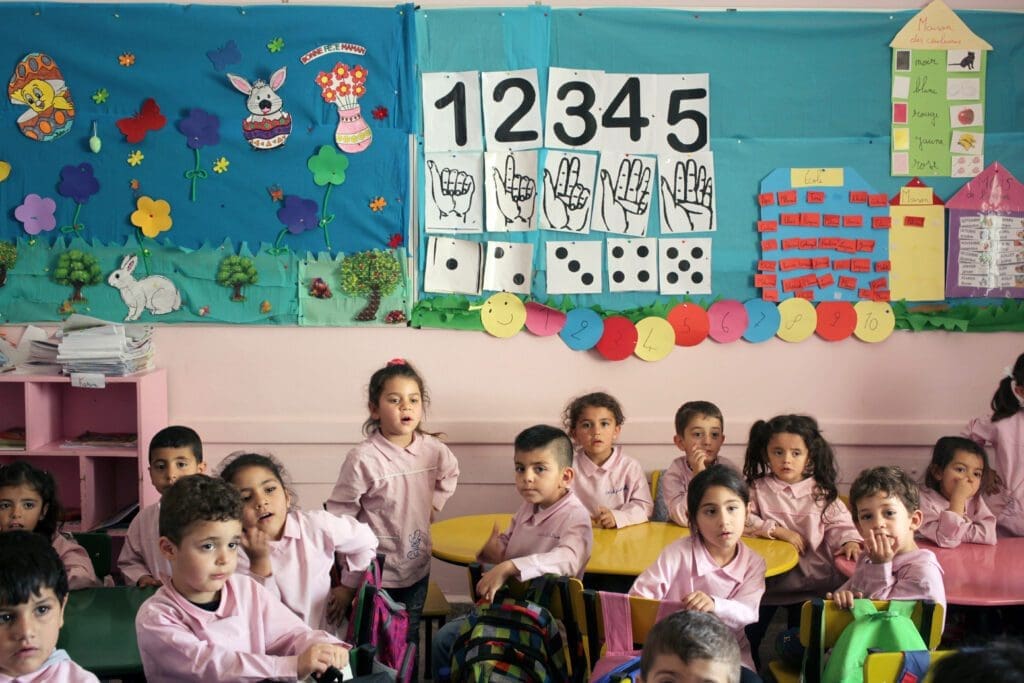 Education and Opportunities for Lebanon (EOL), a volunteer outreach established by Kathy Feghali to support educational opportunities in Lebanon, introduced MCN Build's founder, Rudy Seikaly, to CNEWA. EOL directs all of its support through CNEWA, having forged a long-term partnership to bolster Lebanon's Catholic schools, which serve all of its communities
"CNEWA is blessed with its partnerships throughout North America, and beyond," said its president, Msgr. Peter I. Vaccari. "Since the Holy See charged CNEWA with coordinating worldwide Catholic aid in support of Catholic hospitals and schools in Lebanon after the port blast in 2020, our benefactors, friends and partners have rallied to our calls for help, as Lebanon is a laboratory in the Middle East for civic discourse and democracy, positive secularism and conviviality among its many confessions.
"Lebanon is more than a nation, as the popes have said, but a message."
An agency of the Holy See, CNEWA is present in the Middle East, Northeast Africa, India and Eastern Europe, working for, through and with the Eastern churches, rushing aid to displaced families; providing maternity and health care for the poorest of the poor; assisting initiatives for the marginalized, especially children, elderly and those with special needs; and offering formation and supporting the education of seminarians, religious novices and lay leaders.CNEWA is a recognized 501 (c)(3) nonprofit organization in the United States by the State of New York. All contributions are tax deductible and tax receipts are issued.
In the United States, donations can be made online at www.cnewa.org; by phone at 800-442-6392; or by mail, CNEWA, 1011 First Avenue, New York, NY 10022-4195.
---
Michael La Civita is CNEWA's communications director.