Friends and benefactors of Catholic Near East Welfare Association gathered under one roof, in support of the papal agency's unique mission, at CNEWA's inaugural gala on Tuesday, 13 December.
The gala, held at a private club in Manhattan, honored Cardinal Timothy M. Dolan, archbishop of New York and chair of CNEWA's international board, for his dedication to the agency and his work in support of its efforts in places of crisis.
In spring 2022, he led a pastoral visit to Poland and Slovakia, where he visited with Ukrainians fleeing Russia's invasion, capping the visit with an unannounced visit to Lviv, Ukraine. Accompany the chair of CNEWA was its president, Msgr. Peter I. Vaccari, and director of communications, Michael J.L. La Civita.
Cardinal Dolan addressed the gala, highlighting CNEWA's mission as the only papal agency dedicated exclusively to supporting the pastoral and humanitarian work of the Eastern churches in their lands of origin, often struck by crises, war and persecution. He underlined the inestimable contributions of the wisdom and traditions of the Eastern churches — which continue to draw on the sources at the origins of Christianity — to the universal church.
CNEWA also honored Carl A. Anderson, past Supreme Knight of the Knights of Columbus, with its first Faith and Culture Award.
Under his leadership, the Knights of Columbus created a Christian Refugee Relief Fund in 2015, which raised $20 million to support Christians persecuted by ISIS.
During his acceptance speech, Mr. Anderson shared three lessons he learned from the Christians of Iraq. The first was the spiritual strength and resilience of persecuted Christians in this region. It is from them, he explained, that Christians in the West can learn what it truly means to be a disciple of Christ.
Second was the political injustice experienced by minority Christians in the Middle East. While not represented in their own governments, these faith communities need support from Western governments, many of which represent historically Christian-domination peoples, Mr. Anderson said.
And third, he learned that it is every Catholic's responsibility to fight against the persecution of their brothers and sisters in Christ.
"The Catholic Near East Welfare Association and the Knights of Columbus will undoubtably continue to be strong advocates for persecuted Christians overseas. When we act together and in cooperation with other organizations, we can truly be the tip of the spear that changes national policy, saves countless lives and makes the world a better place," he said, warning against complacency.
"But we should not allow the tip of the spear to become the spear itself," he added.
In keeping with the theme of the evening — "And Who is My Neighbor?" — Mr. Anderson urged all Catholics to aid their fellow Christians in need.
"We should make them not only brothers and sisters in the faith, but we should also make them true neighbors in the faith," he said. "And to do that, we must not only ask, 'Who is my neighbor?' We should also ask, 'Am I truly their neighbor?' "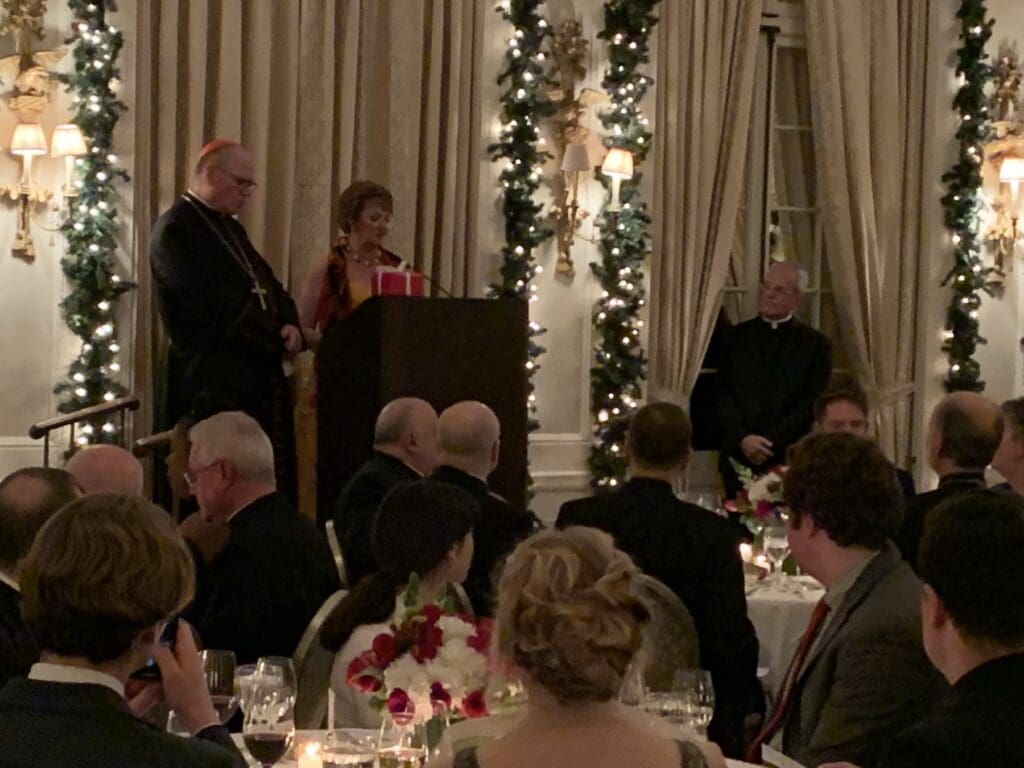 A committee organized the inaugural gala co-chaired by Amanda Bowman and Michael La Civita.
CNEWA would also like to offer a special word of gratitude to its sponsors: the Knights of Columbus; Amanda Bowman and David Levy; Chris Brown and Peter de Svastich of the Catholic Herald; Halprin Family Foundation; Mr. and Mrs. John B. Kelly; Anthony and Patricia McLaughlin; George and Emily Melissinos; The Neumann Forum; Michael Pascucci; The Metropolitan Andrey Sheptytsky Institute; SOMOS Healthcare Providers, and more.
---
Olivia Poust is communications assistant for CNEWA.