A pop-up art exhibition that opens this evening, titled "(de) construct," suggests the resilience of humanity, the understanding that even when a situation is dire, reconstruction is possible.
Held at InSight Artspace in Pelham, New York, this exhibition is a fundraiser in support of CNEWA's humanitarian efforts in Ukraine. The exhibition features six women artists whose work and stories present deconstructions of war, immigration and identity.
"We build cities and we destroy them, and we have to reconstruct all the time," says Catherine Testorf, who founded InSight Artspace to support international artists and has worked exclusively with women artists since 2018.
"I always thought about, 'Who is left behind? Who do we not cover really as a gallery?' " she says.
Two of the featured artists in this evening's exhibition are Ukrainian: Christina Saj, who is Ukrainian American, and Albina Yaloza, who lives in Kyiv.
The bright use of color, pattern and geometry in Ms. Saj's work, though modern and abstract, is indicative of her Ukrainian culture and training in Byzantine iconography.
"There's a very natural link that a lot of people don't necessarily connect between abstraction and the way Byzantine icons are painted. Because Byzantine icons never strove for realism," she says.
Fluent in Ukrainian, Ms. Saj served as a translator between InSight Artspace and Ms. Yaloza in Kyiv, who does not speak English. Ukrainian Catholic University assisted with bringing Ms. Yaloza's work to the United States for the exhibition, which is her first outside Ukraine.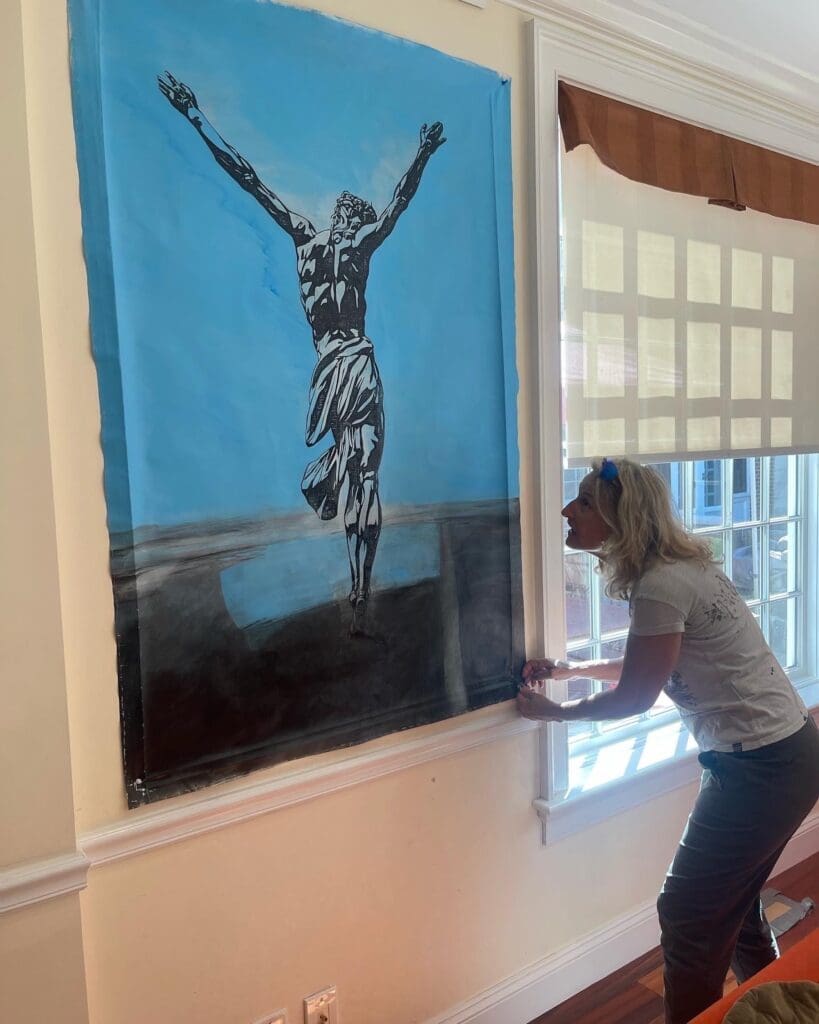 In addition to her linocuts, Ms. Yaloza has been creating digital art throughout Russia's war on Ukraine, depicting events like the Crimean Bridge blast.
"With Ukrainian artists, there's a documentary compulsion," says Ms. Saj. "Some of it's commentary or retelling, but there's definitely a sense of documenting what's happening."
The exhibition's title was taken from contributing artist Beatrice Bizot's solo exhibition in June.
"I believe a lot in humankind to stay strong, and to rebuild itself and to make itself stronger. So, a lot of my sculptures have architectural elements in them," says Ms. Bizot.
Bizot sculpts the human face and body in classical styles, yet utilizes contemporary techniques. For example, she incorporates "windows" by cutting out small sections of her sculpture, allowing for light to seep in and for the interior of the sculpture to take up equal significance to the exterior.
Esther Rosa's art is influenced by her background in psychology. She says the creative process has been transformative for her own life.
"I work with many layers … layers that leave sediment and leave pigments, and it's building little by little," she says. "Life comes as the pigment comes over the canvas. I take layers away, and then I put them back again … It leaves marks; it leaves life, in a way."
She created her sculpture "Healing Wounds," featured in the exhibition, by breaking and then putting it back together again, deconstructing and then reconstructing. The color of the piece, orange, symbolizes hope for the artist.
Other artists in the show also utilize deconstruction in their creative processes.
Elaine Jeffrey, a photographic artist, tells the real stories of political refugees and migrants in abstractions. She interviewed political refugees and immigrants in Germany and interpreted their stories by utilizing features from black-and-white portraits she took at the time of the interview and then layering them with other photos taken with soft focus and long exposures.
"The portrait is in the picture, but you can't actually see it. It's kind of like exposing the invisible," she says.
Ms. Saj, whose Ukrainian grandparents and parents came to the United States 70 years ago, also during a time of war, is devastated by the effects of the current war on refugees, who are overwhelmingly women and children.
Though she produced a large body of work during the COVID-19 lockdown, once war hit Ukraine eight months ago, she was unable to focus or create much new work for some time.
"As a mom, I can't imagine having to leave my husband behind and not knowing if I'd be coming back," she says. "And my grandmother came the same way. Her husband was sentenced to Siberia and she never saw him again. She was in her 20s, my father was two.
"There was a moment, probably a month in, that I realized there are going to be thousands and thousands of kids like my dad."
As the war on Ukraine progresses, the question of identity, particularly when one's culture is under attack, becomes a central concern.
"Recently, one thing that had very much affected me in my artist's eye was the destruction of the city of Aleppo in Syria in the same way they're destroying Ukraine — where the civilization of the world was born, where the first artworks were created, and suddenly destroying museums," says Ms. Bizot, noting the similar destruction of a Ukrainian museum by the Russian military in the first months of the war.
In her "Identity" series, Shreya Mehta utilizes painting, embroidery and etchings on canvas to explore the complex concept for which it is named. Her piece showcased in the "(de) construct" exhibition repeats the word "identity" in English, Dutch and Gujarati.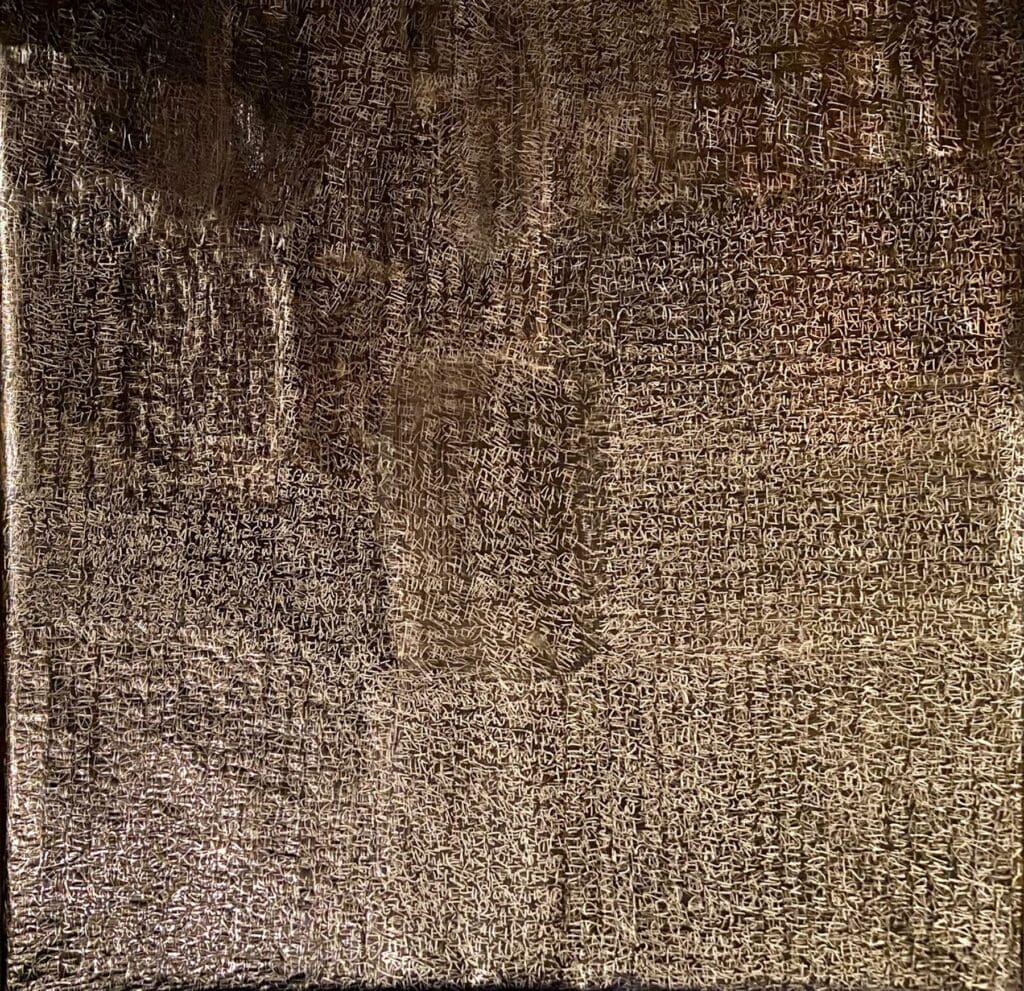 "I feel like we live in this era of identity wars," says Ms. Mehta, who was born in India, grew up in Belgium and moved to the United States 24 years ago; she considers herself a "global citizen."
"This whole quest to define Ukraine's history is not just to do with Ukraine. I think it has so much to do with the world. This has to do with the past; this has to do with identity and labels," she says.
The exhibition is part of InSight Artspace's "Art and Purposes" series, which features female artists with a passion and commitment to helping others through art.
The exhibition opens Thursday, 13 October, 7-9 p.m. Admission is free, registration is required.
"(De) construct" will be open to the public on 14 and 15 October, 11 a.m.-5 p.m., and available to view by appointment through 30 October.
The exhibition and all the artworks are available on Artsy.