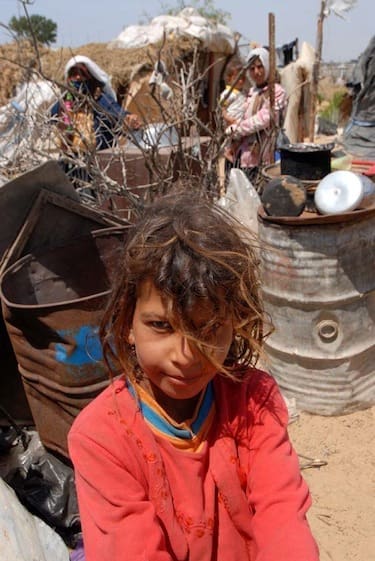 In the January 2007 issue of ONE, Paul Wachter wrote about health and health care clinics in Gaza:
A study by Johns Hopkins University and Jerusalem's Al Quds University, commissioned in 2002, found that nearly 20 percent of children under the age of 5 suffered from malnutrition while anemia affected more than half of women under 40, and 45 percent of children.
A year later, Al Quds et al. published the 2003 Nutritional Assessment of the West Bank and Gaza Strip, which compared its findings across years:
Comparisons of 2003 with 2002 median daily energy intakes demonstrate concerning trends:

• In both age intervals, there is a significant decrease in median daily energy intakes: for 1-3 year olds, an 8.3 percent drop, for 4-5 year olds, a 13.2 percent drop [and as high as 19.2 percent in Gaza]

• In stark contrast to 2002 and any other normally eating society, older children in the 2003 sample are consuming on average fewer calories than the younger children. Arguably this drop in daily calorie intake as children age is a marker for increasing food insecurity.
The State of Nutrition for the West Bank and Gaza Strip, published in 2005 by the Palestinian Authority's Ministry of Health in association with the World Health Organization and UNICEF, included a chart further illustrating the relationship: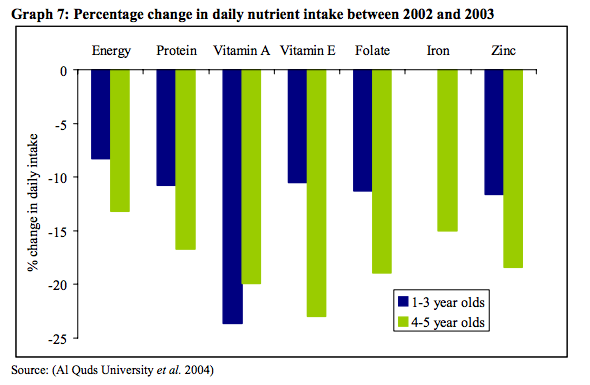 Time has passed, but this problem has not gone away. This 2010 UNICEF assessment (http://www.unicef.org/oPt/PALESTINIAN_SITAN-final.pdf) observes that malnutrition rates "have been increasing since 1996, especially with respect to chronic malnutrition." The WHO's May 2012 report on health conditions in the occupied Palestinian territories agrees that these circumstances persist:
For malnutrition in children under five years, stunting (chronic malnutrition) is not improving and may be deteriorating. A high prevalence of anemia is revealed among women visiting prenatal services (39.1 percent of pregnant women in the Gaza Strip and 15.4 percent in the West Bank).
These problems are further exacerbated by factors such as the Israeli blockade and, as Al Jazeera discussed yesterday, "Egypt's ongoing crackdown on the Gaza-Egypt underground tunnels," which have supplied Gaza through much of said blockade.
Much remains to be done, and every small effort has the potential to change lives. To learn how you can help the people of Palestine through its churches and men and women religious, click here to visit our campaign page, or use the button below.