Health care assistance offered by Mar Moussa Monastery in Nebek, Syria, through a CNEWA grant, is a light at the end of the tunnel for families of children with special needs.
Youssef and his family are among the many beneficiaries of this program. The cement worker and father of three works at the monastery. His eldest and youngest sons both have physical disabilities. Wael, 10, suffers from quadriplegia, and Karim, 4, suffers from paraplegia. Youssef's wife cares full time for their children.
"Our situation is not easy," said Youssef, who chose not to disclose his real name or those of his children to maintain some anonymity. "My wife and I devoted our lives to our children, but we are tired. I work two shifts and my wife cannot leave my two physically challenged boys alone. They require 24/7 supervision. I have to work day and night to provide diapers, food and medications."
Despite his long hours of work, Youssef is unable to earn enough income to cover all of the family's expenses.
CNEWA's healthcare assistance allowed Youssef to purchase a specialized device for Karim that would give the boy more mobility. It also covered Karim's physiotherapy for six months. During this time, Karim learned how to get along with the new device, so he could stand and walk on his own. Karim is now enrolled in a center for children with physical disabilities, where he will receive physiotherapy and meet other children with similar physical disabilities.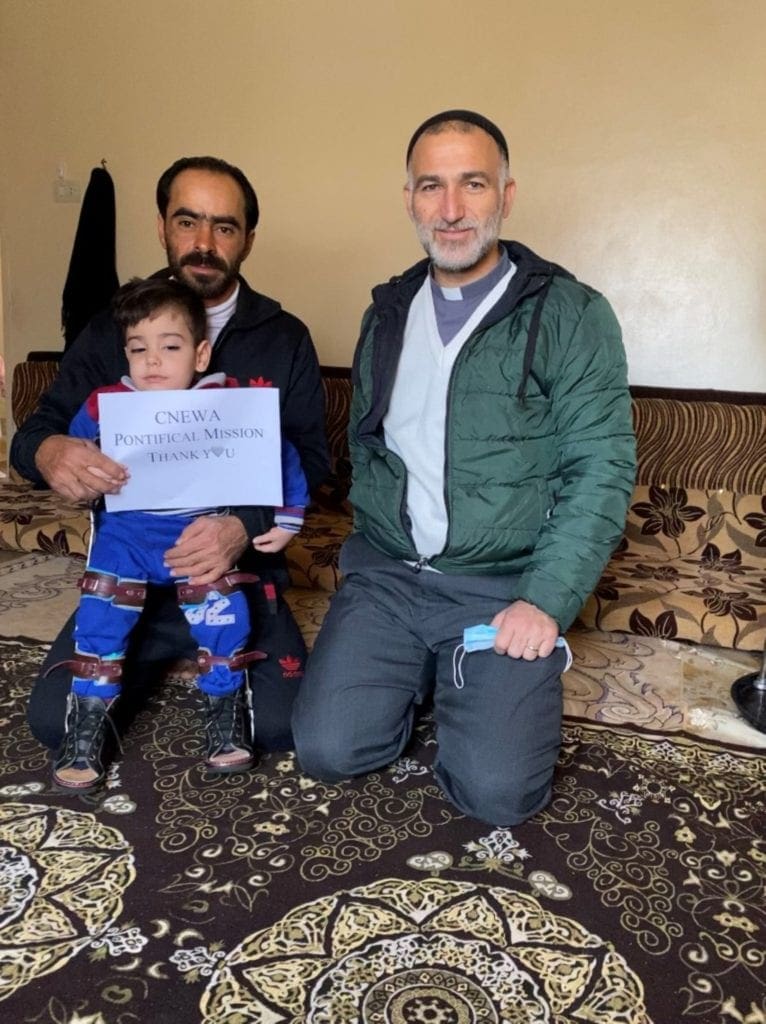 "I have waited to meet you in person, to thank you and also to thank CNEWA for the support provided," Youssef told Father Jihad Youssef, a priest of the ancient Syriac Catholic Monastery, located some 50 miles north of Damascus. "It means a lot to us that we are seen and provided with help, since it is getting impossible to provide it ourselves, given the pandemic, the drastic economic situation and the rising prices."
Economic experts have said 2020 was the worst year economically for Syria since the start of its decade-long civil war. However, it seems the country is bracing for a worse year ahead, as it deals with COVID-19 and ongoing U.S. sanctions.
COVID-19 reportedly continues to spread throughout the country, though the exact infection count is unknown; official numbers issued by the Ministry of Health have been consistently low due to the general lack of testing. The medical sector is in desperate need of emergency assistance and personal protective equipment. People are largely ignoring the pandemic and all safety measures, as they seek work to feed their families.
Exacerbating the situation in Syria is the socioeconomic and political of implosion in neighboring Lebanon. For instance, most Syrian merchants have been unable to access their bank accounts in Lebanon, due to the freeze imposed on all accounts in Lebanese banks.
With these crises unfolding, the Syrian pound continues to depreciate while prices, including the price of food, skyrocket. The fuel shortage has also put a spoke in the country's economic wheel, slowing down what remains of the country's industry.
Under the current conditions, the need for international medical and humanitarian support for Syria has become acute.
Darine Tawk is CNEWA's programs assistant in Beirut.