The romantic notions I may have had about traveling through "Middle Earth" dissipated when I met Syrian Armenians living in the Yerevan residence of Armenian Catholic Archbishop Rafael Minassian. Arriving the other evening, my colleagues and I began chatting with a Syrian Armenian Catholic seminarian who facilitates the care of these 13 families for the archbishop. Originally from the city of Qamishli in northeastern Syria, Pierre (for security purposes his family name will not be published) was passionate about what life was like before the civil war ravaged his country.
"We had liberty, we had freedom," he said, "My brother is a famous drummer in Syria, he used to be hired for many parties and weddings … but now there is nothing.
"He also taught in the university, but now it is closed." Ironically, Qamishli was settled by Assyro-Chaldean refugees fleeing Ottoman Turkish soldiers who began slaughtering the empire's Armenian, Assyro-Chaldean and Greek Christians in 1915.
As Pierre looked to the ground, a young woman came running up the stairs to talk. "I heard your conversation, and I needed to be here."
A graduate student in architecture in Armenia, she, too, spoke of the former Syria as if it were a lost Eden. "I was the only Christian on my street in Damascus. All my friends were Muslim — Sunni, Alawi, Druze. We didn't care about which religion the other may have been. And we are still friends."
She and her Armenian mother are living in Yerevan, but she has heard nothing from her father, an officer in the Syrian army.
Speaking with the archbishop's staff and the Yerevan team of Caritas Armenia, who are working with a hundred Syrian Armenian refugee families now living in the capital city, we learned that most families have been torn apart; the husband remains behind to mind the property and assets while sending his wife and children to safety — perhaps Armenia, Lebanon or points farther west.
Aram Khachaturyan, who directs the refugee work of Caritas in Yerevan, said 11,000 Armenians have arrived in the country, but already some 2,000 have left. "Some have already returned to Syria; others have settled in Sweden."
His colleague, Aida Khachatryan, added that the Syrian Armenian families from the cities, especially Aleppo and Damascus, have had an easier time adapting to life to Yerevan.
"They are integrating better," she said, by learning Russian — the lingua franca in the Caucasus. "Some are already employing their skills as goldsmiths, jewelers and shoemakers." But most families are desperately poor, arriving in Armenia with nothing.
As the charity of the Armenian Catholic Church, Caritas Armenia is helping to settle these families in apartments, providing initial rent payments, food, sanitary supplies and mattresses. Resources are tight. I asked the seminarian, who has been ordained a subdeacon, how the church — which has almost no resources in Armenia and Georgia — can afford to support these families.
"Archbishop Minassian says it is in the hands of Jesus," said Pierre, pointing upward. "The archbishop says we have to do this: 'These are the children of the church!' " Apostolic, Catholic and Evangelical Armenians are welcome in this home of the archbishop; as we have seen throughout these weeks in the Caucasus, poverty does not discriminate and nor does the outreach of the local churches.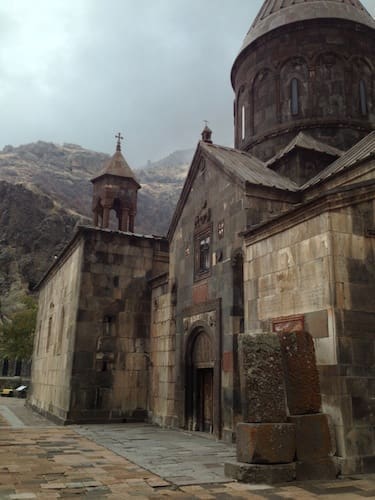 This visit to the churches and peoples of Georgia and Armenia ended on a poignant note, visiting the monastic complex of Geghard. Founded in the fourth century by the apostle to the Armenians, St. Gregory the Illuminator, most of the structures — freestanding or hewn from the rock of the river gorge where it is located — date to the 12th century. Fog shrouded the gorge as we approached the site, a place of pilgrimage for Armenian Christians.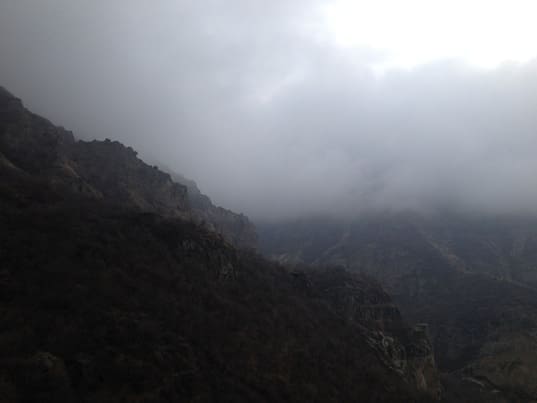 As we entered the darkened churches, partially illuminated by the candles lighted by pilgrims, I thought about this extraordinary journey, and the extraordinary people I have had the privilege to meet.
My colleagues and I have much to think about as we work together to plan how to best serve these people, their initiatives and their faith. But one thing is clear: Never have I met such generous people. Regardless of their poverty — and the Armenian Catholic Church in particular needs support these days — I met people who gave from their heart.
"Love! Love is why we do these things!" Aida Khachatryan of Caritas exclaimed yesterday. She looked at her uncle, Father Grigor Mkrtchyan, who, while not knowing English, understood her absolutely.
This terrific parish priest, who accompanied us through much of the visit, nodded his head in agreement, looked at me and said simply: "Thank you."
Never have such simple words meant so much.