Continuing their pastoral visit to the Hashemite Kingdom of Jordan, Cardinal Timothy Dolan, Bishop William Murphy and Msgr. John Kozar visited two key holy sites before spending the rest of the day with the Franciscan Missionaries of Mary. They visited the site on the Jordan River where Jesus was baptized, touring the archaeological remains associated with the early church.
They also paused to enjoy the view at Mount Nebo, where tradition holds Moses viewed the Promised Land he was never able to enter himself.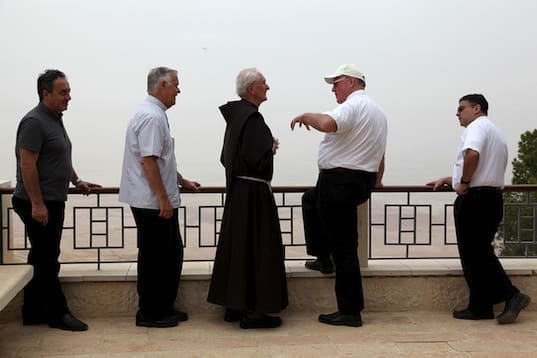 In 2011, we reported in ONE magazine on some of the places they're visiting in the article On Jordan's Bank:
Jordan is home to a mosaic of biblical places. For example, near the Zerqa River, Jacob wrestled the angel and received the name Israel. At Mount Nebo, Moses looked upon the Promised Land. The Prophet Elijah ascended to heaven on a chariot of fire from the Jordan River's eastern bank, which also later served as the center of John the Baptist's ministry.

These holy places, coupled with the country's arid landscape, drew thousands of early Christians, such as St. Mary of Egypt, who led lives of penitence and prayer. Their monastic cells, caves, chapels and tombs in turn became important venues of pilgrimage for generations of Christians, who traveled along a well–beaten circuit from one site to the next for much of the first millennia of the Christian era.

Today, these sacred areas draw considerable numbers of pilgrims and tourists each year, but less traffic than one might expect. Most of the locations receive scant publicity and are overshadowed by better–known holy sites in Israel and Palestine. And, until recently, some of the most important sites in Jordan have been long lost or neglected.
The CNEWA team next headed to meet with the Franciscan Missionaries of Mary, who are providing support to Iraqi and Syrian refugee families, especially young women.
More on that part of the visit tomorrow!
Meantime, you can read more about their visit at Cardinal Dolan's blog (old/broken link: https://blog.archny.org/index.php/getting-a-first-hand-look-at-the-work-of-the-catholic-near-east-welfare-association/) and at the blog of Bishop Murphy.