How do you best begin your first full day in the native land of the Lord? How about a beautiful and tranquil early morning liturgy on a stone altar along the shore of the Sea of Galilee? That is how the four of us — Father Guido; Sami El-Yousef, our regional director for Palestine and Israel; his colleague, Tony Za'rour; and I — began our Saturday. Just a few hundred yards from the Church of the Multiplication of the Loaves, we walked past some olive groves and some ancient olive presses and arrived at a quaint little chapel looking out over the sea. What a blessing to celebrate Mass on this holy ground.
I offered up my Mass for all of you and for all your intentions, including those of you who are sick, those who have lost loved ones, for our dear departed Cardinal John Patrick Foley and for our entire CNEWA family.
Following Mass we headed for Haifa, a seaport city that appeared more modern, despite having suffered damage from the 2006 Israel-Hezbollah war. Our first stop was the office of Archbishop Elias Chacour, the Melkite Greek Catholic Archbishop of Akko, Haifa, Nazareth and Galilee. I had met Archbishop Chacour in Canada in October, so I was coming to meet a friend – and he certainly welcomed us as such. Twice nominated for the Nobel Peace Prize, he is a man who speaks openly and honestly and has written a number of books. Many consider him prophetic.
He charmed us with many stories, some sad and others amusing. He told us of how he had hosted a group of 1,900 pilgrims from Paris and made provisions for all of them (48 busloads) to be welcomed into the homes of his parishes. He told the cardinal archbishop who arranged the pilgrimage that if they really wanted the experience of a pilgrim in the land of Jesus, then they should live where he lived and walked.
He also spoke warmly of the visit of our own Michael La Civita, who last year brought a group of Catholic journalists to this region and met with Archbishop Chacour. I'm sure these journalists enjoyed their visit as much as I. He really wanted to accompany us to see some of his projects — especially in education — but we had to decline, as our day was full of other scheduled visits. We asked for his blessing and I promised to come back so that he might show me more of his diocese (or eparchy, as it is called in the Eastern churches).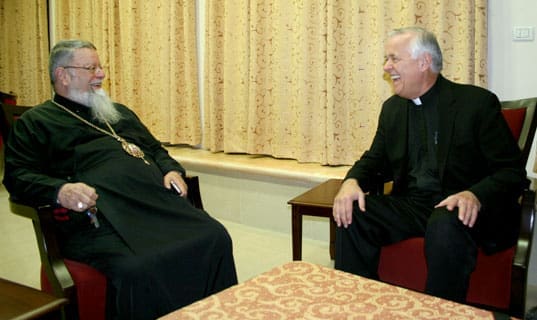 From his office we drove to the Maison du Sacre Coeur. This is a cherished Catholic institution that serves the needs of specially challenged children of all ages — even up to their early 20's. Sister Katherina Fuchs, the Austrian-born Daughter of Charity who directs the facility, welcomed us and introduced us to three other sisters, who came from Lebanon and Spain. This dedicated group of sisters, followers of St. Vincent de Paul, offer tender, loving care to these very special children. I was particularly moved while watching the level of care with which some physical therapists worked, massaging the muscles of these special needs kids. Through a delicate series of respiratory heaves and hos, they were able to extract from them the desired cough that would help to clear their lungs.
I asked one what this hard work meant to him, and his reply was: "I know each one of these children and their needs. I know when they are sick and when they are happy. I love them as I love my family." I know where they get that loving family feeling — from the sisters.
The sisters have also opened a kindergarten for almost 200 children. This has endeared the sisters ever more to the community, as they welcome children from Christian, Jewish and Muslim homes. Love is the common bond here and these youngsters have a real head start in learning how love can conquer many ills — even war and social injustices.
The sisters shared with us how their main mission was to help the Christians to feel secure in troubled times. Father Guido and I were honored to give them a blessing and to assure them of our continuing prayers.
From the facility for specials needs children we went to a nearby facility called the House of Grace, originally founded by Mr. Kamil Shehadeh and his wife, Agnes, as a "home" to welcome prisoners who had recently finished serving their time. At first, the idea did not go over well with authorities and neighbors, but the determination of this grace-filled couple and eventually all five of their children has proven to be a jewel in the eyes of the entire country.
Today the house is truly a home, as those participating in the myriad of programs are all welcomed as family. There are currently 15 prisoners going through the program. There are also hundreds of families who participate in programs to improve their quality of life, programs for youth and social skills and educational programs that enhance the lives of many people.
While there, we visited with some of the successful beneficiaries – former prisoners who not only have gone on to renew their lives in a responsible and productive way, but continue to come back to their "family" and offer their help to new "family members." Mrs. Shehadeh and her son, Jamal, have kept the flame of faith and love alive, as they received it from husband and father.
The couple single-handedly restored an ancient church — a forlorn building that once served as the Melkite Greek Catholic cathedral, located on their property — and have made it into effectively their "family" parish chapel. It is beautiful beyond words. Mrs. Shehadeh confided in us that in this church, especially in the celebration of the Divine Liturgy, she receives all her strength.
We had a terrific lunch with our newest family members in Haifa and thanked them for the great example of living the Gospel to the fullest. With difficulty, we stood up from the table and continued on our way.
Next stop was another chapter of my pilgrimage as Father Guido led us to the House of Peter, where legend tells us that Jesus spent time growing up. There is considerable excavation still going on, as more and more articles of antiquity are being found year after year.
One of the highlights was to walk through the synagogue where Jesus taught the elders. Looking at the stone seating along the sides of the ancient structure I could feel how dramatic it was for this young Jesus to be addressing these men learned in the law and steeped in tradition.
From this venue we circled up a steep series of curves to the top of the Mount of the Beatitudes. Arriving on the mountaintop, there was a heavenly view of Galilee down below. This holy site is now blessed with a beautiful church, a guest house, retreat center and a convent. Standing there, I experienced such a feeling of tranquility. Just imagine looking down below and seeing the multitudes listening to Jesus.
Pope John Paul II visited the Mount of Beatitudes and celebrated Mass just under a mile from here, on top of another hill below the property of the Domus Galilee, which is a guest house, retreat center and seminary of the Neo-Catechumenate. Can you imagine the excitement of attending that Mass at that venue?
Light was giving way to darkness, so we made a final push to see the ruins of Chorazin, an ancient city castigated by our Lord for not repenting that has recently been excavated and shows the evidence of destruction.
Well, that's my tale of a power-packed first full day in Galilee.
On Sunday, after a hardy breakfast at the German Pilgerhaus, we departed for Jerusalem, with some special stops and visits in between. On the road to Nazareth, over some pretty high hills — almost mountains — I found it rather unusual to see a sign posted on an overlook that stated that we were presently exactly at sea level. I have heard how low the elevations are in the Jordan Valley and how the Dead Sea is the lowest dry point on Earth, but it all sunk in when I saw that sign. How strange to be on a "mountaintop" and to know I was actually at sea level. Just another fascinating part of the pilgrimage for me.
On to Nazareth. Our first stop was a tour of the Basilica of the Annunciation. The main church is built over the actual site of the Annunciation, where we would later celebrate Mass with the pastor and his flock. The church is very modern and has some dazzling mosaics of Mary, as depicted in the styles of the local cultures of many countries. The Japanese and Mexican mosaics were particularly impressive.
We proceeded to visit the ancient crypt church, which sits immediately over the excavated remains of the spot where the Angel Gabriel appeared to Mary. It was a wonderful moment of meditation for me, to be at this venue and to see the significance of Mary's acceptance of her role rendered in such beautiful artwork.
From the crypt church, we walked only about 50 yards to the Church of St. Joseph, where, legend has it, St. Joseph lived. Again the main church is built over the excavated ruins of this dwelling. Here, you can really get close to the remnant of the house and even get a feel of life in that time.
I have to mention, I really admire the Franciscan Custody of the Holy Land, which is charged with caring for many of these important treasures. Until this pastoral visit, I did not appreciate the importance or the vastness of this responsibility. The Franciscans do a tremendous job, as only they can, in welcoming pilgrims and serving their every need. Please remember them in your prayers, as their work is filled with many delicate challenges. They are on the front lines in preserving the Christian heritage of the holy places and the dignity and identity of Christians in this part of the world.
The high point of the morning visit was an invitation to concelebrate the parish Sunday Mass in the basilica. And how satisfying it was to have the Gospel story about the Annunciation read over the very spot where it happened. And, of course, even though the Mass was in Arabic, I remembered all of you in my Mass intentions and all your loved ones.
During the liturgy, there were nine servers, boys and girls, between the ages of 6 and 13. The two 6-year-olds did not really know how to kneel, but there were in awe to be on the altar, with their eyes wide open and fixed on the "older servers." How this brought back memories of my earliest days as a server.
After Mass we walked about one block to the humble abode of the patriarchal vicar of Israel, Bishop Boulos Marcuzzo. We were warmly welcomed by the vicar and he invited us to join him for some coffee and homemade cookies, baked by his staff of Polish Sisters of the Holy Family of Nazareth. By the way, the sisters were pleasantly surprised to learn that I am a good friend of their recent mother general, who is a Pittsburgher like myself.
The bishop was an erudite delight, sharing his great knowledge and wisdom about his challenges as vicar in supporting the needs of the Christians in Israel. His own background is very interesting — he was born in Italy and as a child moved to the Holy Land and has been there ever since. He was ordained for the Latin Patriarchate in Jerusalem, which extends through Israel, Palestine, Jordan and Cyprus. He has invited me to return another time to visit with him some of the Latin parishes. I accepted his kind offer and look forward to that opportunity.
After this visit, we proceeded to Jerusalem and arrived there in the mid-afternoon. Father Guido kindly routed us to some beautiful overlooks, including both sides of the Mount of Olives to garner some initial looks at this historical gem called Jerusalem. He pointed out so many sites and biblical references that, I must confess, there was too much to assimilate. Of course, during the next six days, there will be quality time, between pastoral visits, to see these venues firsthand. Father Guido and I have allotted one full day to visit prayerfully the 10 holy sites on his list. I'm looking forward to that.
We arrived at the Notre Dame of Jerusalem Center, which is a pilgrim hotel, beautiful and comfortable. Sami will continue to be our host, as he was for the entire visit in Israel. Sami really knows the ins and outs of Israel and Palestine. He is well known, especially in circles of higher learning, having worked at Bethlehem University for many years before joining CNEWA and the Pontifical Mission as our regional director.
To close, I share with you a private moment I had with someone special at the Basilica of the Annunciation in Nazareth. I left a special intention with Mary, the mother of our Lord, asking her to remember all of you to her Son.