I'm not the best example of a servant, a sower of the seeds of the Gospel, a witness of dedication to the work of evangelization in Armenia. Just the same, I hope to provide a glimpse of the life of a priest serving the Armenian Catholic Church in the Caucasus — and more specifically, a married priest.
The Lord has invited me to carry out two vocations. I pray constantly for the graces of meekness, prudence and fortitude to persevere, pleasing my Lord and my family, with respect to both vocations. Prayer must accompany this journey. But I have to say, this struggle brings me great joy when I see the little fruits of my efforts.
I earned a master's degree in theology in the Yerevan State University, Armenia, in 2005, and then for two years I served in compulsory military service in the Republic of Nagorno-Karabakh, which has been an object of conflict between Armenia and Azerbaijan since 1989. While serving as an artillery soldier, I occasionally thought of the priestly vocation as a way to contribute to the creation of peace, which we have been so lacking for more than 30 years.
After that, I began to work as a reporter for a local television news program, then as a columnist and as a broadcaster for Radio Maria Armenia; there, I began to think more seriously about the possibility of a priestly vocation, being motivated mainly by the homilies of the popes and the biographies of the saints, about whom I was writing columns and radio broadcasts.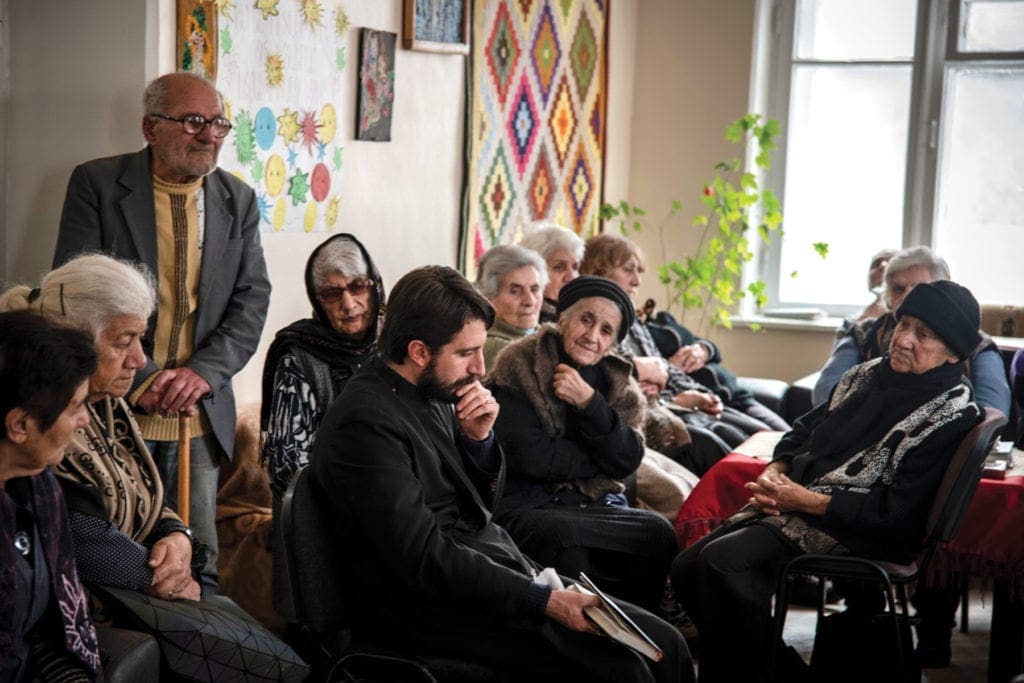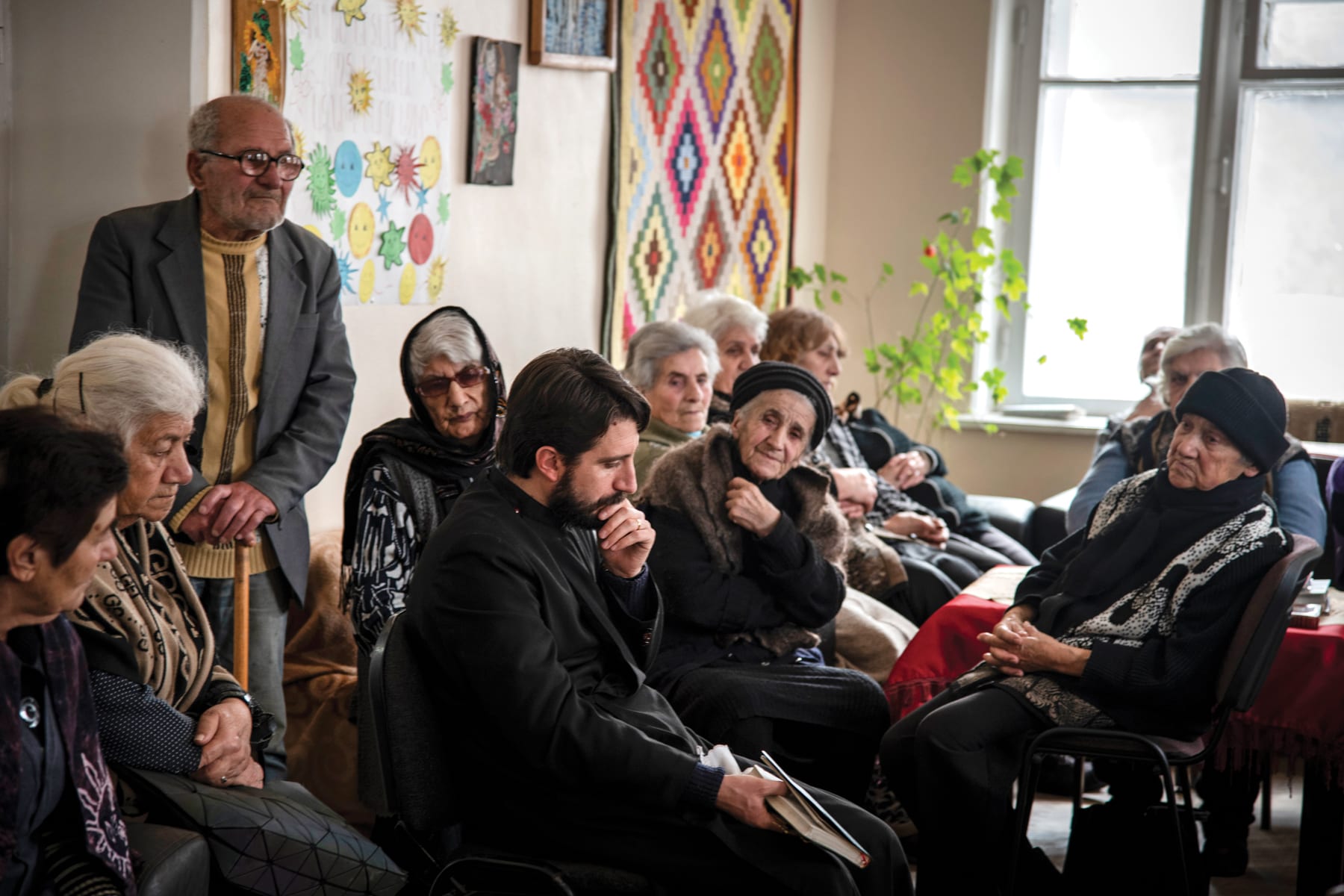 By the time I firmly decided to start the preparation for priesthood, I was already married. In 2013, as I began to work as the editor and columnist for the official website of the Armenian Catholic Ordinariate, I was also beginning preparation for priesthood under the direction of the parish priest of Gyumri, who eventually became my spiritual father and friend.
When I was ordained in 2016, I began in earnest my spiritual journey, which brings me indescribable happiness jointly with weariness — but, as the Gospel of St. Matthew has it, "my yoke is easy, and my burden light."
I serve as the parish priest of four Catholic communities — around 2,500 parishioners in total in the villages of Mets Sepasar, Sizavet, Bavra and Ghazanchi — that are located in the northern part of Armenia. Climatic conditions in this region are harsh and severe in winter; in the churches, prayer halls and youth centers where I pray and work, there is no normal heating, sometimes not even basic supplies. But I'm happy, because I see the parishioners coming, praying and working with me very devotedly — especially the young, the children, who are the real essential present and future of our Catholic communities.
Our youth cope not only with severe weather conditions and social insecurity, poverty and ecological issues, but they have inherited negative values from the Soviet era — the indifference of their parents and grandparents toward the religious practices and the excessive anxiousness caused by the sole focus on material well-being. These factors are potentially demotivating for the youth who have to contend with these concerns and overcome the lack of encouragement from their parents and peers alike.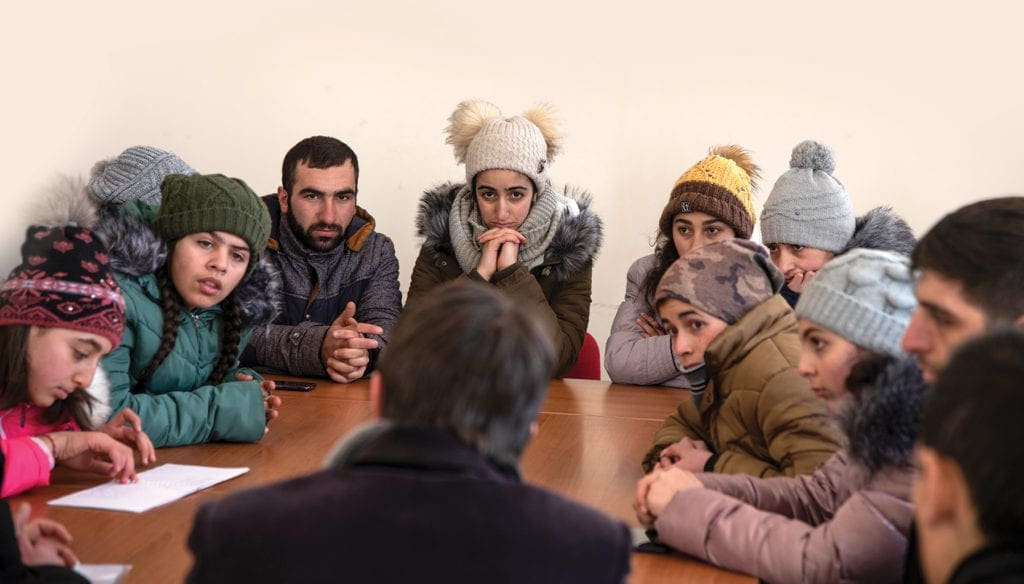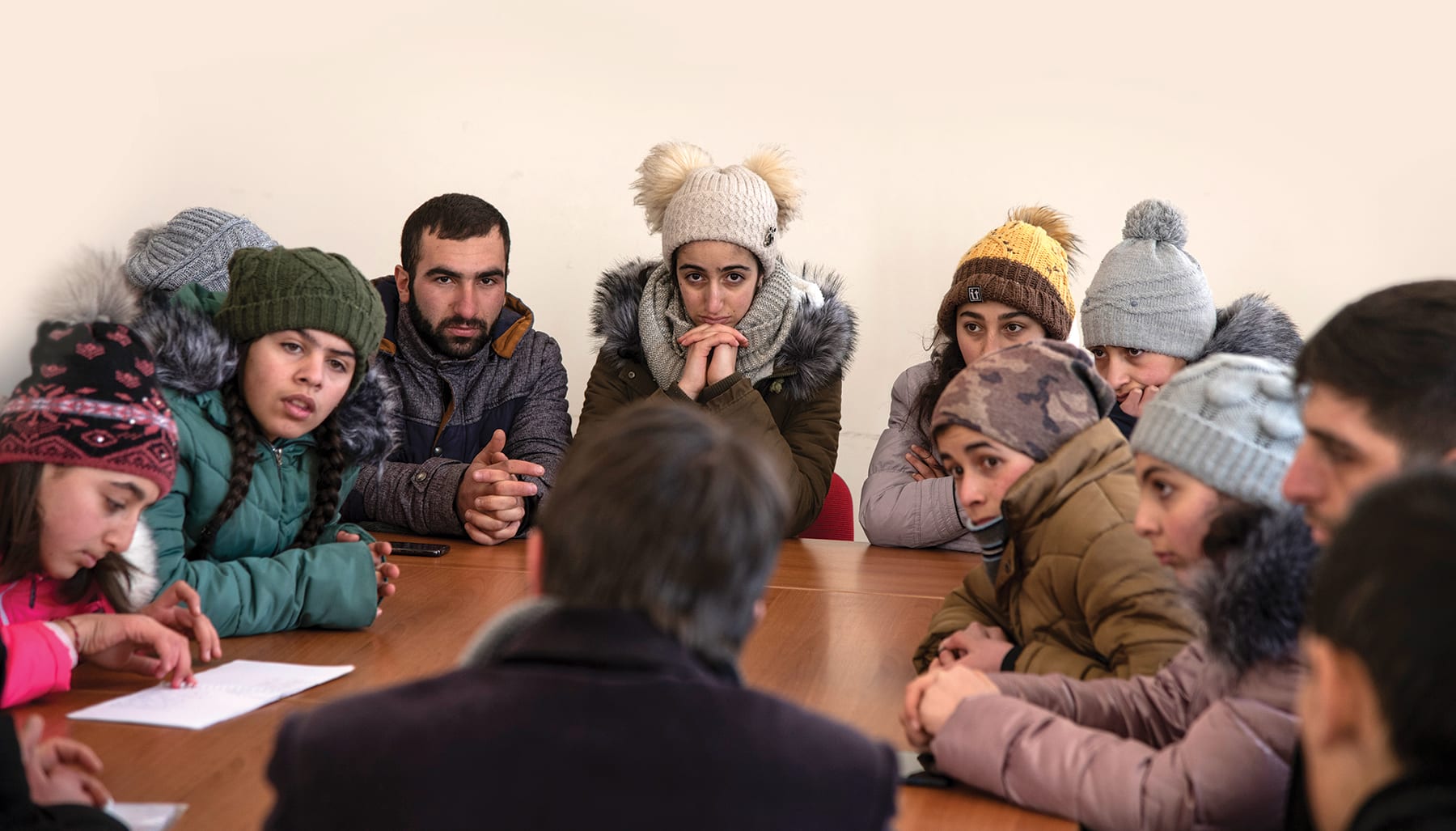 Nevertheless, together we have managed to schedule regular liturgies and devotions, and formed local youth groups for catechism classes, sponsor cultural and religious events, theatrical performances and peer discussions. The youth also publish a parish newspaper, compete in sporting events, learn traditional folk dance and even take English classes with the support of local organizations, especially Caritas Armenia.
Besides service to the parish, Archbishop Rafael Minassian has asked me to take on pastoral duties with Caritas. This position is new for the 25-year-old charity of the Armenian Catholic Church, of which the archbishop is president. And so I try to carry out my responsibilities with the diligence it deserves, and in line with the importance of its mission — relief for the poor of Armenia. My mission with Caritas is to instill a broader understanding of Catholic social teaching and how this teaching grounds Caritas Armenia as the charitable outreach of the Catholic Church. I have to say, however, that this objective can be reached only through prayer.
Together with the Caritas team, we have made space in our busy schedules for spiritual exercises as we contemplate and seek a deeper understanding of Catholic social teaching. Also, we have started workshops for staff members and volunteers alike, which take into account the particularities of our Armenian identity. Rooted in the Gospel, Catholic social teaching — with its focus on the development of the whole person, body, brain and soul — is fertile ground to deepen mutual respect and to find common ground among people of various backgrounds. In Armenia this includes Armenian Apostolic, Catholic and evangelical believers, as well as agnostics and atheists. We have found an interest in discussing these topics, encouraging us to continue.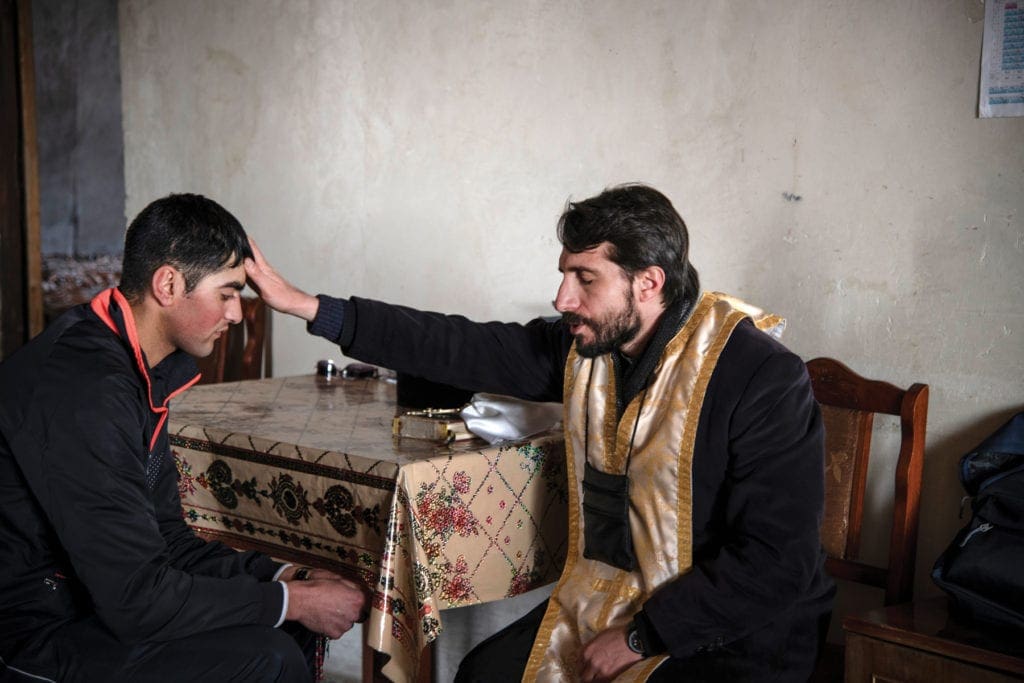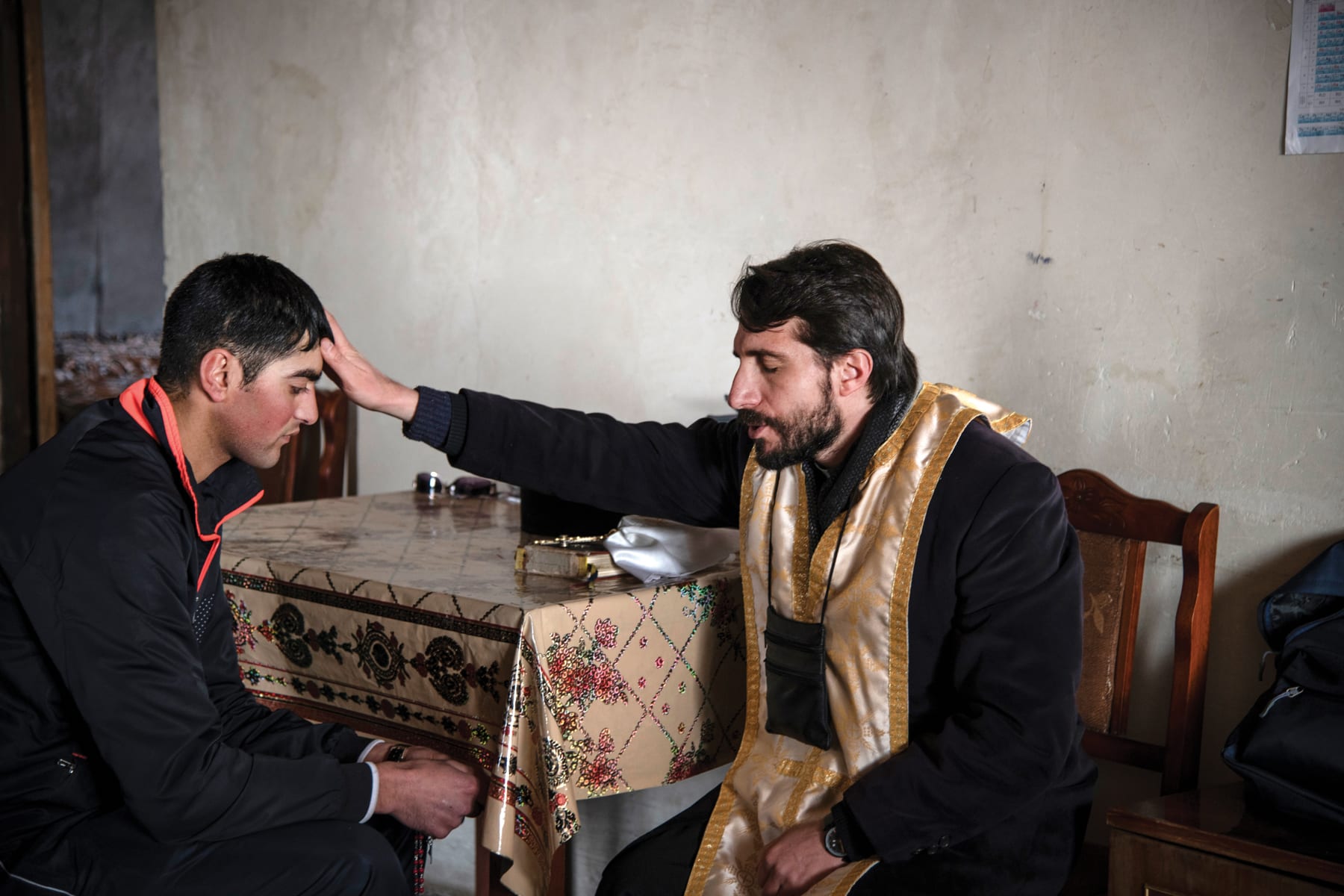 I meet frequently with the beneficiaries of Caritas Armenia projects — children, teenagers, children with disabilities and the elderly — and I am often invited to speak on the Gospel or on the catechism. Last Christmas, we had theatrical performances in three Caritas centers — for the young, the elderly and children with disabilities. It was too hard for me to initiate and conduct all these events simultaneously, but the fruits have been many. Every achievement made by an elderly person or a child with special needs is a great reward and source of hope!
I have also the pleasure of writing about all of these matters, and also on the activities of our priests and lay people, for the website of the ordinariate and for our parish newspaper. In 2019, I began a series of radio programs on Radio Maria Armenia focusing on Catholic social teaching. I use these platforms to address many of the same topics I have mentioned above: the dangers of indifference, the negative consequences of consumerism, and the need to address low living standards throughout our communities.
It is a challenge to juggle my priestly responsibilities with those of a husband and father of three children — a son and twin daughters. My son, 5-year-old Emmanuel, attends kindergarten; the twins, Shahane and Gayane, 8, attend primary school. I'm trying to be a good father to them. My wife, Ann, works for Caritas Armenia in a project dedicated to inclusive education, and so we both share in the charitable mission of the church.
As Ann works full time, I take care of the children, making sure they are at school or their music lessons on time, properly dressed and prepared. My daughters often like to do their homework with me. I also make time for games with my son. When he is in bed, he asks me to sit beside him and say my evening prayers just there, and to read him a bedtime story — whether a fairy tale or something from the Bible.
My daughters do not ask me to sit with them at night; they have already grown up!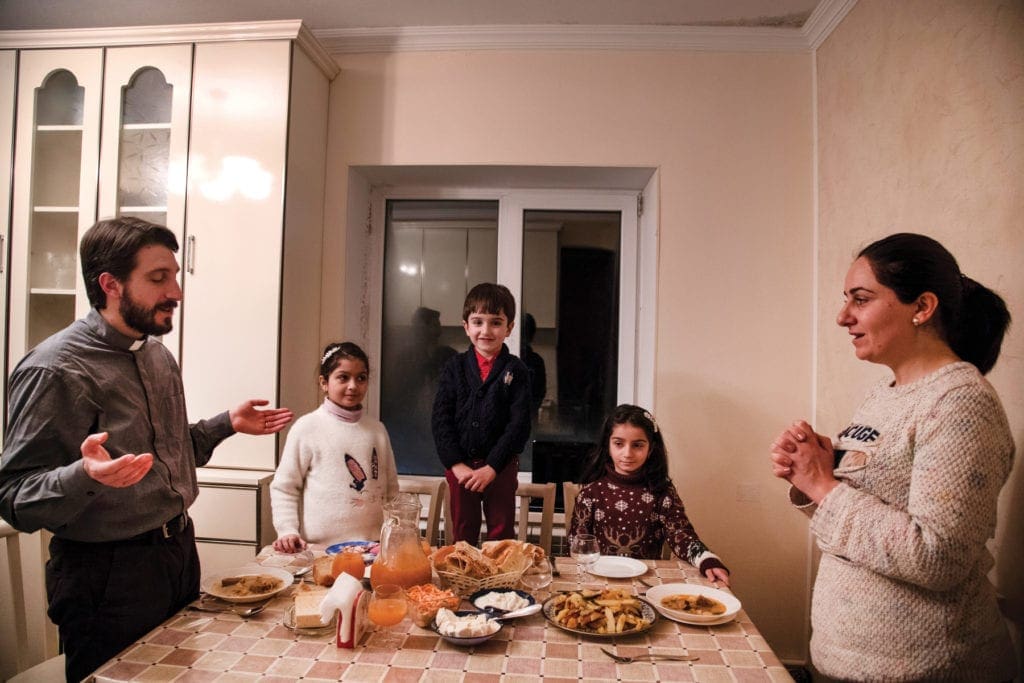 My dear Ann shares in my priestly vocation: She understands and encourages me after my long days in the villages as I serve the people of God. Never an obstacle, she suggests new ideas and initiatives and relates her own work with Caritas — which focuses on advocating for equal and inclusive educational opportunities — with those we serve with joy. And together we make time for daily family prayers, which include the recitation of the Rosary, though it is very difficult with my noisy children!
What I find most challenging is to nurture a family that can witness as a modest, devoted, prayerful unit, active in community life. We are far from being a model family, but I am called to work in that direction, with the help of God, in the same way that I myself have to be a model for the many whom I am called to serve — to resemble the words I preach as a servant of Jesus.
The way of a married priest is challenging. But if God calls certain men in the Eastern churches to this vocation, then it is worth the toil; the Lord not only bestows grace, but offers abundant fruit! Perhaps the married priesthood is a jewel of the Lord's church, which needs to be studied and evaluated properly.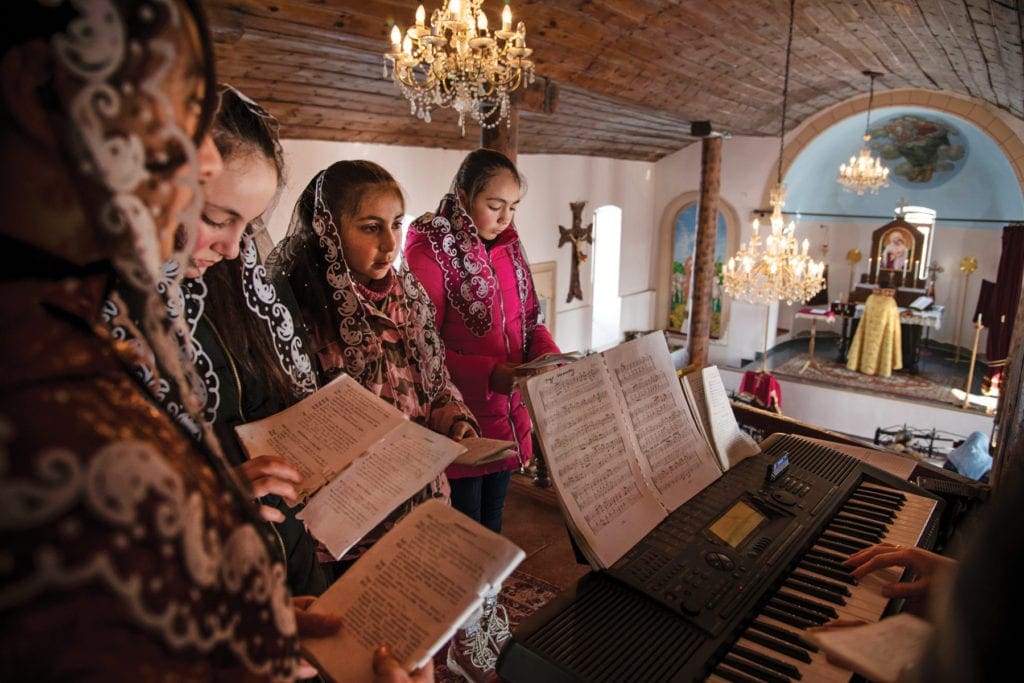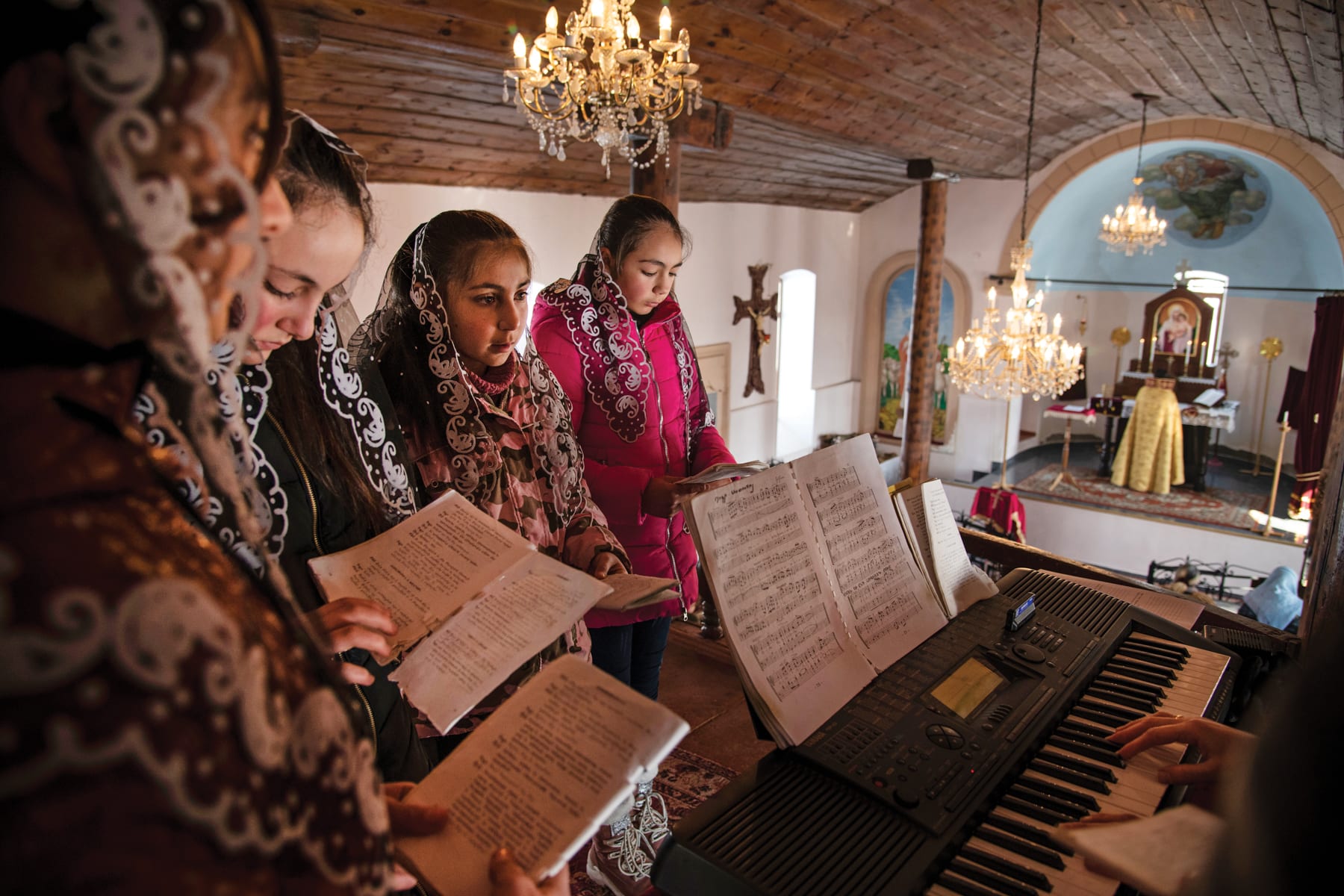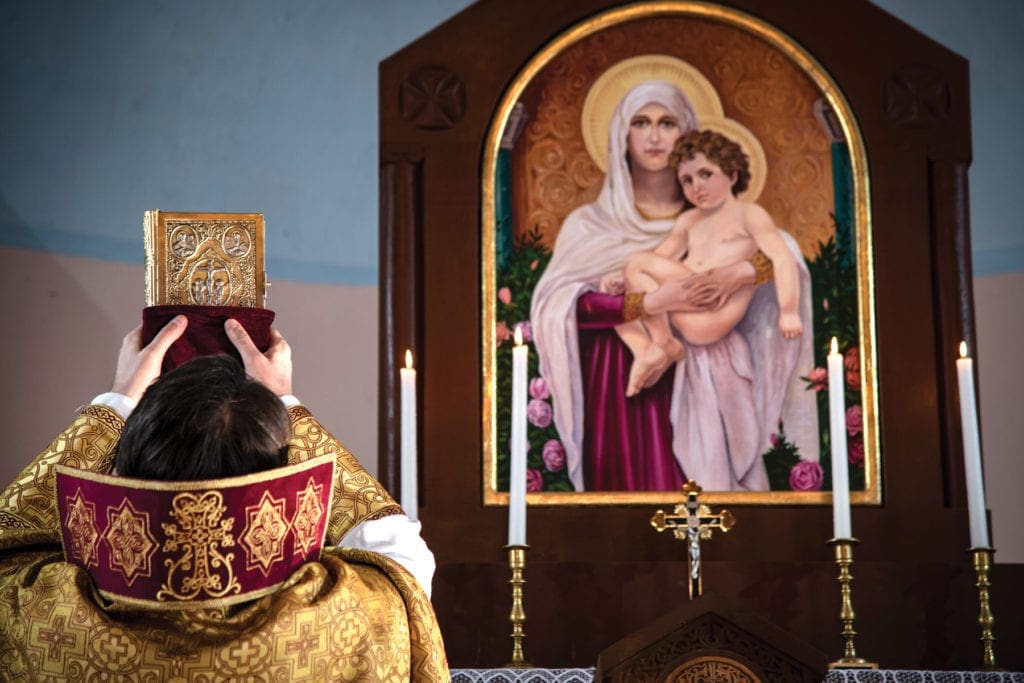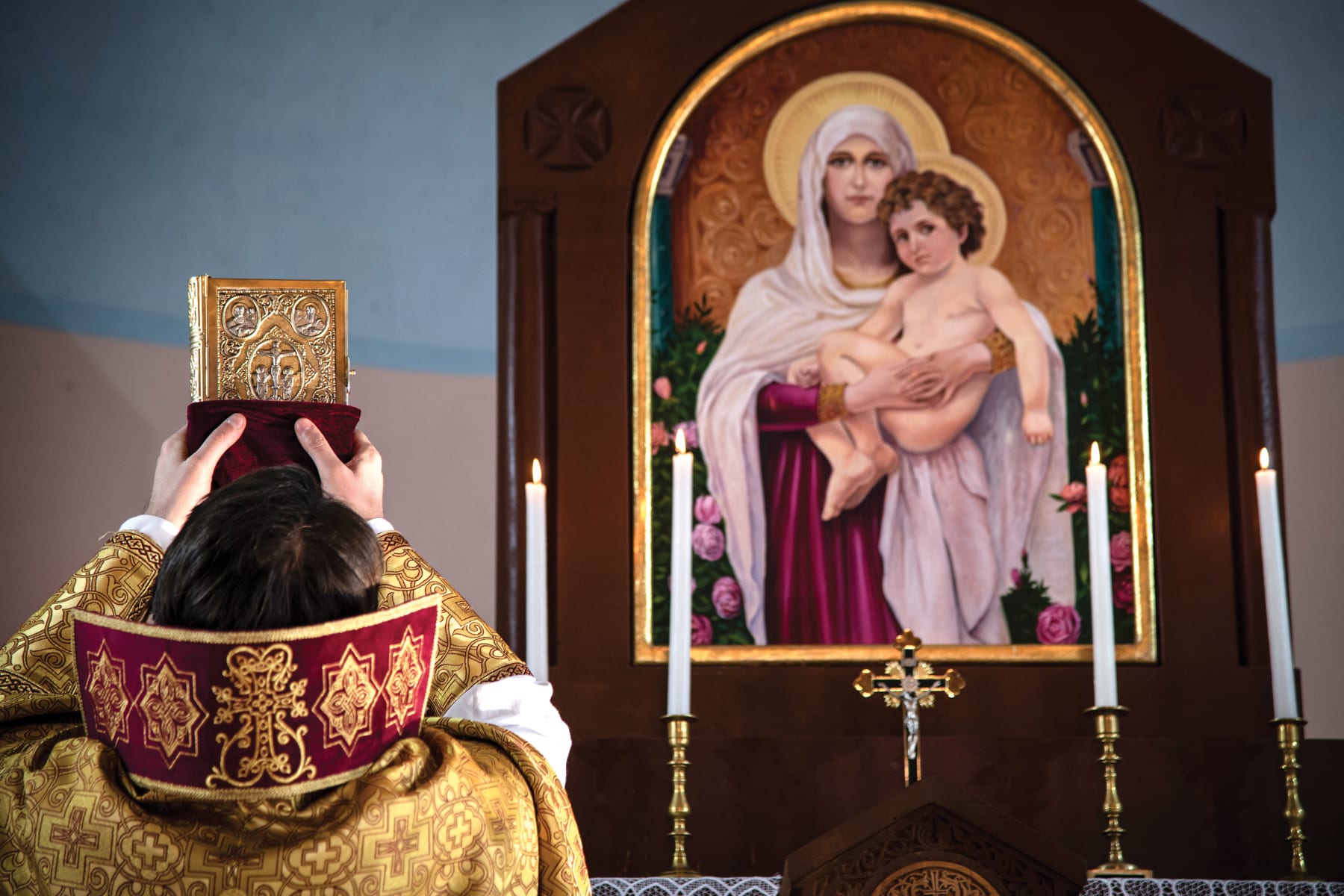 In all this joyful toil and turmoil, I am always trying to find some time to work. But when I fail to find it, I am sure that at least late at night, when everyone has fallen asleep, in deep and serene silence, I will sit at last and read some fine literature or mostly pray, pray, pray and ask divine graces to continue in a happy and hopeful manner.
Oh! I am indeed happy, because, my Lord always hears my prayerful cries at night and abundantly pours over me his graces and love, through the intercession of my holy mother, the Blessed Virgin Mary!
May God bless all of us to repeat someday these very words of St. Paul, in his second letter to Timothy: "I have competed well; I have finished the race; I have kept the faith."