It is the final day of the librarian workshop at the Pontifical Mission Educational and Cultural Center in Bethlehem. For those already certified school librarians, the workshop was a refresher, bringing them up to date with the latest technology, ideas and methods. But for Eman Nazzal, an Arabic and math teacher at the Salesian Sisters School in the West Bank's Cremisan Valley, the workshop gave her a whole toolkit of new ideas.
The Salesian Sisters School lies just outside the Palestinian town of Beit Jala along Israel's separation barrier from the Palestinian West Bank. Given its location, Israeli officials do not permit the school to expand. Since every room is needed for classroom space, the school does not have an actual library. Instead, Ms. Nazzal manages a set of cupboards that stores the school's modest collection.
"I am working on making our 'library' better," says Ms. Nazzal. "Here, they gave me ideas of activities to help the students enjoy reading. I have new information. If we can [build up] our library in the future, I can help benefit the children."
Ms. Nazzal expresses the precise objectives of Myriam Jaraiseh, the coordinator of the workshop held in Bethlehem: to help create opportunities where there were none, to motivate students and to build capacity and leadership. Ms. Jaraiseh, 38, came to her position through a program developed by CNEWA that prepares young Christians for leadership in Christian institutions throughout the Holy Land.
CNEWA's investment in Ms. Jaraiseh's education — she received a scholarship for a graduate degree in sustainable development — has given her the tools to lead, enabling her to empower others. She is one of the program's success stories.
"I became more confident and I have more to share and serve my community," she says, adding that she chose to study "something new that could help build our [Christian] institutions." Her knowledge base broadened as well.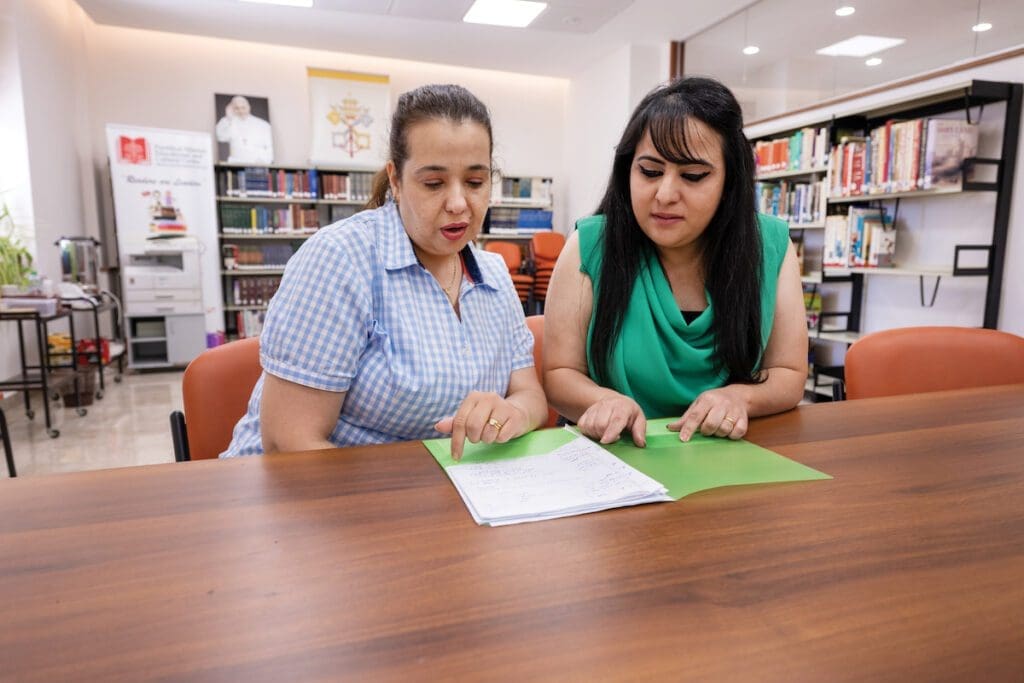 It is not easy being a Christian in the Holy Land, says Ms. Jaraiseh. The situation is complex and wrought with political difficulties and challenges, and many of her family members and Christian friends have left in search of better opportunities abroad.
But the mother of one is determined to stay in Bethlehem and she feels supported in her decision by the local church and Pontifical Mission, which has been on the ground in the Holy Land since it was founded as an outreach of CNEWA in the Middle East in 1949.
"They are giving you hope, that 'Yes, you can make it, you can go and make a difference. We are investing in your soul to give you a feeling of belonging,' " she says.
The new program, called "Preparing the Next Generation of Christian Leadership," took about four years to develop. Its content and design drew heavily on a comprehensive survey conducted at the height of the COVID-19 pandemic by CNEWA-Pontifical Mission and the ecumenical Christian Dar al-Kalima University in Bethlehem, says Joseph Hazboun, who directs CNEWA's efforts in Palestine and Israel.
The survey results reveal that some 300 church-related institutions provide health care, education and social services to about 2.5 million people in Palestine — Christian and Muslim — representing a third of the population. While the Christian community is only 1.5 percent of the population in Palestine, these church-related institutions combined form the third-largest employer in Gaza and the West Bank, providing almost 10,000 jobs.
And yet, the survey also indicates a poor sense of belonging and rootedness in the Holy Land among young Christians — results that were disconcerting to Mr. Hazboun and others.
"So, we started digging for the reasons," he says. "One is that the Christians don't know where they come from."
A conference held in September 2019 on the Palestinian school curriculum, also used in Christian schools, confirmed suspicions that the history of Palestine before Islam is absent, he points out. However, it teaches about the Crusades and the missionary activities in the 18th and 19th centuries, when religious congregations came to the region to provide services to the people.
"So, the impression Muslim and Christian students get in our schools is that we [Christians] are a result of the Crusades or a result of the missionary activities of the 18th and 19th centuries, which is not true.
"It feels like Christians have lost the connection between Jesus, his mission and the holy places, the first Christian community and the continuing Christian presence since the first century until today," he continues.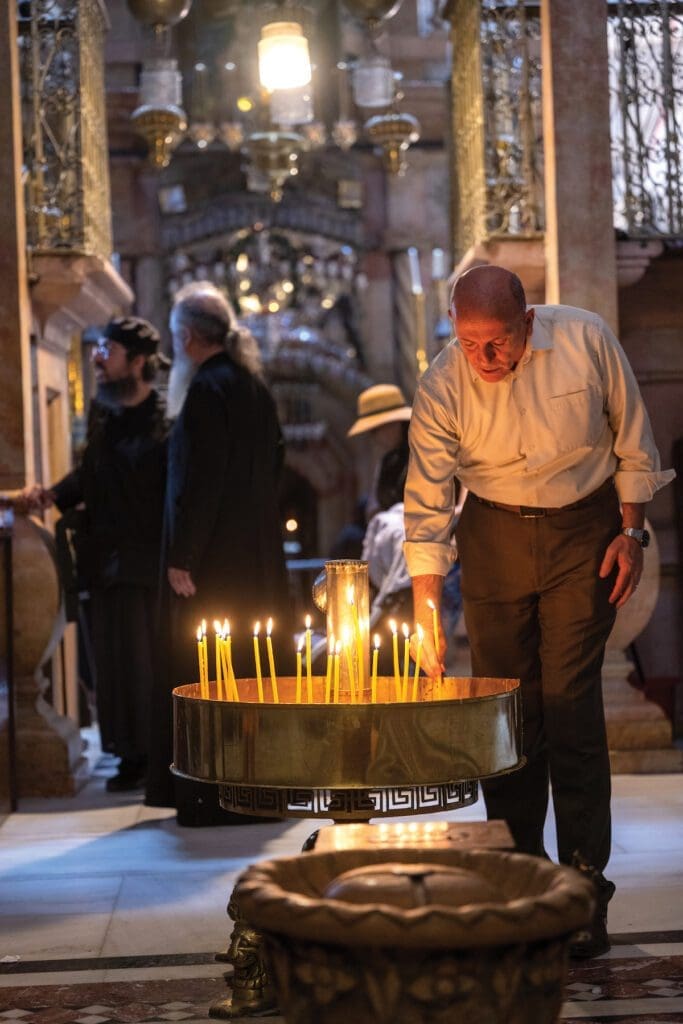 It does not help that Christian religious education in schools concentrates only on dogma and the sacraments, he adds, and little on the historic context of the church in the Holy Land and the unbroken presence of the local church since the time of Jesus.
In response to these concerns, and the lack of skills among young Christians to take on leadership positions in the community, CNEWA created the multi-faceted program, "Preparing the Next Generation of Christian Leadership." It includes graduate studies for young Christian leaders at Dar al-Kalima University, a revitalization of the Arab Catholic Scouts, and support for Christian leaders in Gaza and youth programs fostering committed Christian leadership.
The local Christian community, although proud of what it has contributed to Palestinian society, must now take a step back and look inward to help build itself up, says Usama Salman, program manager of the strategic planning and research department of CNEWA's Jerusalem office.
His work has involved grouping the various Christian communities into regions and analyzing each region for its unique political, social, cultural and religious issues.
For example, Jerusalem, where Christians number 9,000 at most, has a significant lack of housing in the Old City for Christian families, who encounter a myriad of discouraging challenges that some observers believe are concerted efforts to force Palestinians out. Many Christian pilgrims to Jerusalem are not aware of the indigenous Christian community there, he says.
"We feel so isolated," he adds. "We have to start working on awareness and advocacy strategies in order to strengthen the Christian presence."
One strategy is to create an online platform for Christians in the Old City that promotes local employment opportunities. Another is to provide career guidance and scholarships in underserved fields, such as renovation engineering and real estate development, which would enable the Christian community to resolve its housing shortage, he says.
"Local Christian people are skilled people. We need to use the intelligence of the local Christian population," he says.
Dar al-Kalima University's graduate program in the administration of cultural institutions received official accreditation from the Palestinian Ministry of Education in June and is set to begin with its first cohort of 20 students in September, says the Reverend Mitri Raheb, university founder and president. Funding from CNEWA will cover partial scholarships.
"This is a huge step," says the renowned theologian and pastor.
The two-year master's degree offers courses in management, leadership, fundraising and cultural studies, including classes on what distinguishes a Christian institution from other service providers. Its aim is to prepare young Christians for middle management positions in Christian institutions in the Holy Land.
"Many organizations are working as they have since the beginning, with no innovation, no new programs, no working strategy.
"So, this is why we started thinking about what is the best thing we can do right now to help Christianity, not only to survive, but to thrive in the Holy Land," says Reverend Raheb.
The unemployment rate in the West Bank is 27 percent, he points out, but among adults in their 20s and 30s, it is 45 percent.
"Young people end up without much hope, living day by day and frustrated, often migrating, depending on where they find opportunities," he says.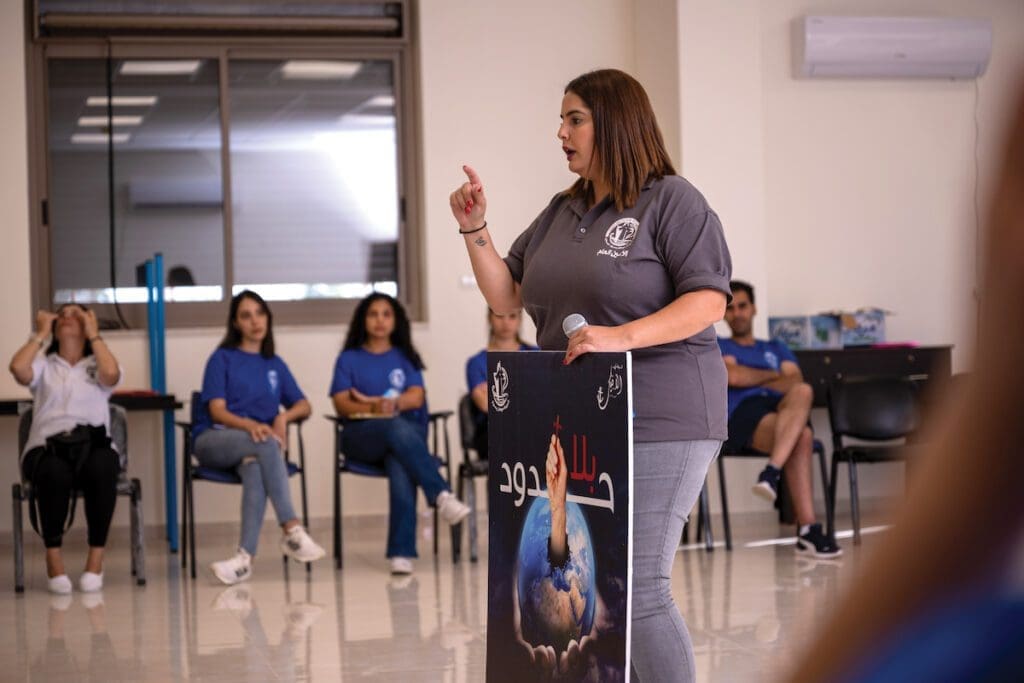 According to the Lutheran pastor, the new program, however, is already generating interest among young Christians.
"This may be one of the most important things we can do to help Christians, not as humanitarian aid but as empowerment," he says.
"For me there is a lot of excitement, too," he adds. "Imagine the energy that will come out of this program when we have all these young leaders studying together, spending two years together — and the ecumenical benefit that will come from this. And it will lead Christian organizations in the future [and] will create bonds of friendship that will be really important for the future of the church in the Holy Land."
The faint sound of bagpipes and drums travels up the stairs from the basement of the Arab Catholic Scout Group building in Jerusalem's Old City.
It is a Thursday afternoon, and the Scouts are holding a marching band practice. The band performs in parades on Christian holidays. These parades are important because they allow Christians to feel like they have a presence in their towns.
Elias Habash, 42, a new troop leader, says the impact of the Catholic Scouts in the Christian Quarter of the Old City is crucial, as there are very few venues where young Christians can meet and socialize.
Based on the survey results, however, CNEWA decided to pivot its support of the Catholic Scouts, going beyond the Scouts' local longstanding programs to focus instead on the promotion of traditional Scouting values, such as leadership, volunteerism, community service, respect for the other and working together, says Mr. Hazboun.
In addition, the Scouts will help to strengthen young people's Christian identity and sense of belonging and teach about the Christian contribution to the Middle East and the Holy Land.
"It is a challenge, and our goal is to build Christian Scout leaders, to gather and know each other, to provide opportunities for sports, camping trips and hiking," says Mr. Habash.
Through his own example of spiritual commitment and volunteerism, he says, he also hopes to teach his scouts about responsibility, commitment and the importance of contributing to the community. Mr. Habash, who grew up in Scouting, now brings his son to the meetings.
"We take our youth to museums and the holy places, show them our roots and identity here. They think they can go to another land, but they will not belong to that land," he says.
The Catholic Scouts also learn about important Palestinians, including Christian poet and nationalist Khalil Sakakini.
"He lived here in the Christian Quarter and had an effect on the Arabic language," says Mr. Habash. "We can be like him and have an effect."
George Antone, 41, is the sole person from his family of origin still living in Gaza. His retired parents and five siblings all left and live abroad.
As a Christian and the father of three girls, he sees the importance of remaining in Gaza and supporting the Christian community through his work, as well as through his social and spiritual activities. Currently, he is the director of the Caritas Medical Center and a lecturer at the Latin Patriarchate Thomas Aquinas Center. Previously, he worked for Holy Family Latin Parish and CNEWA.
It is necessary "to explain why [Christians] should stay in Gaza as the salt in this land, and to ensure families their children are really having faith formation through their church," he says.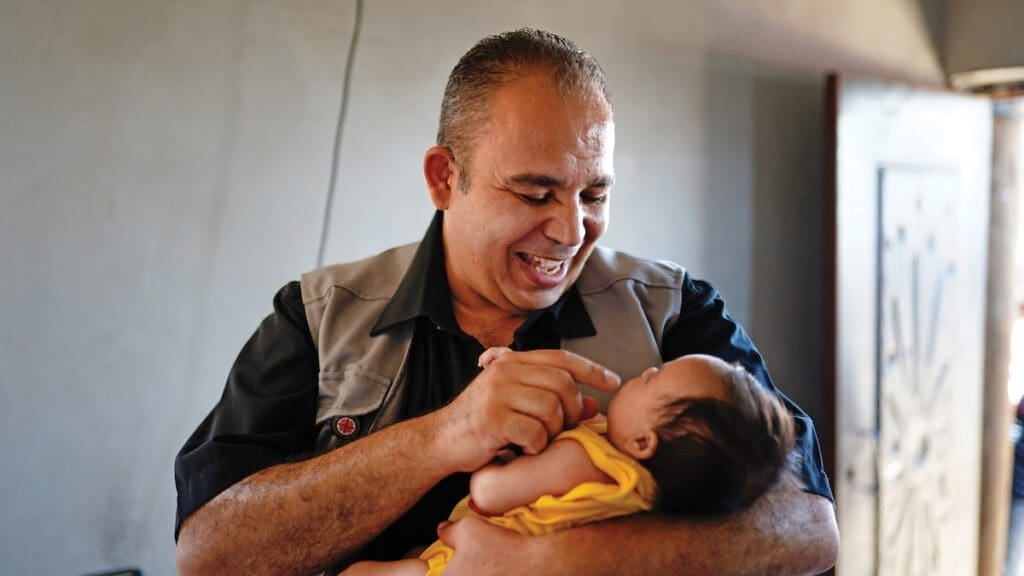 "We as Christians living in the Gaza Strip might lose our lives, but we will never lose our faith,"
he continues. "Catholic institutions in general and CNEWA-Pontifical Mission in particular are
[providing] many projects to strengthen our existence in Gaza, strengthening our identity and sense of belonging among the youth. We are the salt that helps the whole community, Christians and Muslims together."
Nadine Bitar-Abu Sahlia, 32, was recently elected general secretary of The Youth of Jesus' Homeland, a project of Christian Youth in Palestine, sponsored by the Latin Patriarchate of Jerusalem.
Ms. Bitar-Abu Sahlia plays a leading role in strengthening the spiritual life of young Christians in the Holy Land, under the chaplaincy of the Reverend Bashar Fawadleh. CNEWA supports the group, which also works to foster commitment to the church among young people.
"Youth ministry comes to fill this important longing of our youth to hear the Word of God," she says at the start of a summer camp session for young adult Christians on Star Mountain, near the West Bank city of Ramallah.
"Unfortunately, in our parishes we get used to the same techniques and we think we don't have to hear the Word of God anymore. We don't have a renewal of faith, so it becomes dull.
"At this point, we need something new for the Word of God to come and change our souls."
Of course, it is not the Word of God that needs to be changed, she clarifies, but rather the ways in which young adults are invited to experience and engage with the Word of God, in an atmosphere that is nonjudgmental, loving and welcoming.
Ms. Bitar-Abu Sahlia recalls the words of Latin Patriarch Pierbattista Pizzaballa, who continually tells Christians in the Holy Land to stop referring to themselves as a minority.
"The moment they have the full understanding of their faith, they are automatically rooted in their land," she says about the young people, and they feel the importance and purpose of their presence here.
"If you understand the message of Christ and if you understand the mission he wanted us to do — which he started and asked us to continue — and if you understand that this land is the only place on Earth where you can read biblical text and say, 'Here Jesus was born, here Jesus was crucified, here Jesus resurrected, from here our faith started,' you see that is a huge thing."
---
Judith Sudilovsky is an award-winning veteran journalist covering Israel and Palestine for Catholic News Service and other publications, including ONE magazine.
The CNEWA Connection
Preparing young people to lead the Holy Land's many Christian social service institutions is a priority of CNEWA's Pontifical Mission office in Jerusalem. Although Christians are a minority in Palestine, church-run efforts provide health care, education and social services for the most vulnerable for more than a third of the population. By empowering young Christians, these works will grow and flourish with strong, compassionate leadership, and strengthen the Christian presence in the land of its birth.
To support this important mission, call 1-866-322-4441 (Canada) or 1-800-442-6392 (United States) or visit https://cnewa.org/campaigns/palestine/