Father Douglas May grew up in a small town near Buffalo, New York, but now serves as a Maryknoll missionary in Cairo.
When an American, Latin rite Catholic priest finds himself living and working with Eastern Catholics among Muslims and Orthodox Christians, he is bombarded with emotions from awe and puzzlement to déjà vu and arrogance.
As a seminarian at Maryknoll 33 years ago, I found dogma, church history and liturgy boring as academic subjects. Since my first direct encounter with the Coptic and several other Eastern Catholic churches in Egypt 30 years ago, what I found boring on paper has been anything but boring in real life. As an "outsider," there is so much richness to experience, history to fathom, wisdom to ponder, controversy to understand and a global church vision to offer.
The Coptic Church traces its history to ancient Alexandria and St. Mark the Evangelist. Egypt is the land of many prophets and church fathers. The monastic movement was founded in Egypt by two great monks, Anthony and Pachomius. Theologies and heresies battled here, causing schisms in the church that exist in some form even to this day.
One of the first schisms in Christian history regarded the essence of Jesus: Was he "true God and true Man?" The bishops of Rome and Alexandria parted ways after an ecumenical council in 451 offered a solution; which the church of Egypt largely resisted. What little remained of the Catholic Church in Egypt after that time was Greek-speaking and of the Byzantine tradition. And this disappeared after the Great Schism of 1054. Near the end of the 18th century, the Catholic Church tried to reestablish itself, but little happened until a group of Orthodox Copts entered the Catholic Church and formed a Coptic Catholic rite, which was later recognized by the Egyptian government in 1900. The first Coptic Catholic seminary was opened in that same year.
Since the seventh century, Islam in Egypt has grown — slowly — at the expense of the church. Egyptian churches struggled to preserve their identities while being tempted to "ghettoize" themselves.
Working with Eastern and Latin Catholics in Egypt, combined with having Muslim friends, has put me in a unique position. First, I felt like a "space invader" intruding into the many subcultures of Egypt as an unwelcome outsider. Now, I feel more like a "bee" buzzing from one subculture to the next, picking up "pollen" from one and leaving a little bit of it on another as well as on myself.
I find myself challenging some of what I encounter and being challenged by much more. In many ways, the reforms of Vatican II have just started to work their way into the Eastern churches. Vatican II was originally perceived as a Latin rite council that had little to say to the Eastern churches. Only in the last decade or two have the Eastern churches really had to deal with the social and ecclesial issues that the Western church has had to deal with for the last five decades.
For a decade, I often struggled with the clericalism and the rigidity of the formation-education style at St. Leo the Great Coptic Catholic Seminary. There was a sense that the Coptic Catholic Church must live in the shadows of Islam, Orthodoxy and Latin Catholicism. When John Paul II came to Egypt in 2000, my friend, Amir, ran up to me after Mass all excited, saying: "This is the first time in my life that I have been proud to be Christian and Catholic at the same time!"
John Paul's visit gave Egyptian Catholics a sense of global identity they had never experienced.
The Eastern Catholic churches of Egypt are beginning to emerge from these shadows. They are ready to offer their contributions to the world. A former Syriac Catholic bishop of Cairo and professor at the Coptic Catholic Seminary was, until recently, the cardinal prefect of the Congregation for the Eastern Churches in Rome. As a former patriarch, Cardinal Ignace Moussa Daoud's outreach to his Orthodox counterpart was cited by some observer's for his selection to the post by Pope John Paul II in 2001. They would often refer to themselves as "brother patriarchs" and "co-patriarchs," which is seldom heard in Eastern church circles.
The former Armenian Catholic bishop in Cairo has been the Armenian Catholic patriarch for well over a decade, and he is following the lead of his Syriac Catholic colleague. The former Coptic Catholic Patriarch Cardinal Antonius Naguib (who resigned earlier this year for reasons of health), has encouraged the renewal of the Coptic tradition, maintaining for example the Eastern Christian tradition of a married and a celibate clergy; in the Eastern churches, celibacy is seen as part of a "monastic call" that does not always aid a diocesan priest in living a pastoral life of service.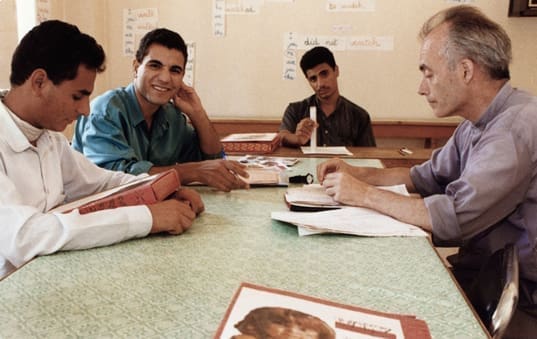 My challenge in Egypt, since the January Revolution began last year, is to encourage seminarians, priests and bishops to step out into the perilous world of social justice concerns. In Egypt, there are long-held traditions of religious and sexual discrimination in society along with denying the laity an active role in church affairs.
Acknowledging first the faults of my own country and church, I urge local church leaders to speak out and act on these issues. For example, 13 years ago I helped Bishop Ibrahim Sedrak, the former rector of the seminary, attend the Vatican II Institute renewal program in Menlo Park, California. It was a rewarding experience, and one I hope will help him in his new role as patriarch of the Coptic Catholic Church.
During my ten years at the Coptic Catholic seminary, I would introduce social justice issues into all of my teaching and get the seminarians to view Egyptian issues in a more global and ecumenical context. I often exposed "blind spots" of injustice that may have been only visible to me as an "outsider," and they often confronted me with my own personal, national and ecclesial blind spots.
I tried to bring Muslim, foreign and female friends to the seminary so that the seminarians could view my interactions. In my homilies at both the seminary and expatriate parishes where I still help out, I habitually insert justice and peace issues that seem to relate to the readings.
Over the years, I have drawn pictures of an Egyptian church building having all its doors and windows bricked up for fear of the outside world. Now, the Coptic and Eastern Catholic churches of the Egypt need to knock down these protective barriers and be new witnesses to what they can offer at home and be bold witnesses in what they can offer to the world.
It is an exciting adventure to be part of the process of a church risking its security and taking its place in the global Catholic community. Egypt's Eastern Catholic churches are very much part of the mosaic that forms the Catholic Church.