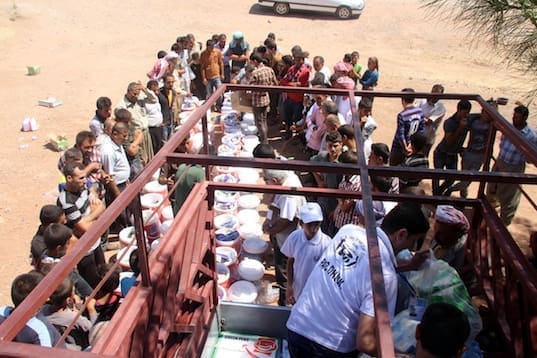 Members of the Yazidi religious minority who fled from violence in Mosul, Iraq, receive aid on 21 August in Dohuk province, in the northern part of the country. The Franciscan custos of the Holy Land said force alone cannot stop "religious cleansing" in the Middle East. (photo: CNS/EPA)
Armenian Apostolic catholicos condemns atrocities against Yazidis (Mother See of Holy Etchmiadzin) His Holiness Karekin II, patriarch and catholicos of All Armenians, has sent a supportive letter to the temporal leader of All Yazidis, His Sublime Highness Mir Tahsin Saied Beg, which was delivered through His Eminence Archbishop Avak Asadourian, primate of the Armenian Eparchy of Iraq. "From the spiritual center of All Armenians, the Mother See of Holy Etchmiadzin, we convey to you our condolences on the tragedy suffered by the Yazidi people in Iraq. We strongly condemn the atrocities against the Yazidi people, and are deeply disturbed by the inhumane violence that has destroyed the lives of countless innocent victims in recent days," the letter said in part?
Iraqi patriarch: Do not remain indifferent to our suffering (Vatican Radio) "The international community, and in particular the European Union and the United States cannot remain indifferent" to the "humanitarian catastrophe" unfolding at the hands of Islamic State militants. With these words, Chaldean Patriarch Louis Raphael renewed his urgent appeal on behalf of Christians and other persecuted minorities in Iraq?
In Zaatari refugee camp, early marriage often trumps school (Al Monitor) Rahaf still giggles when she talks about her husband. Newly married to another resident of Zaatari, the world's largest Syrian refugee camp, the 16-year-old from Daraa carries a picture from their wedding day under her dress, "just above her heart," she says. "I'm lucky. He's Syrian, too," she gushes. Her husband, Gassem, is 25 and the couple hopes to have children soon. Such is the case for other Syrian girls living in Zaatari: The path of marriage trumped the option of going to school?
Migrant workers in Jordan face abuse (Daily Star Lebanon) When Lucy met a representative of a Jordanian employment agency in the Philippines, the official promised her a sales position in Jordan with a salary increase after two months, allowing Lucy to send money back to her family overseas. Lucy, a Filipino migrant worker in Amman, Jordan, requested that her full name not be used, fearing to speak on a sensitive topic. Yet when she arrived in Jordan, she quickly realized that her working environment was far different than promised. The agency placed her instead as a domestic worker earning a mere $150 monthly. Forced to work long hours, she was not even permitted to carry her own cell phone. Lucy's experience is typical of the problems facing many migrant workers in Jordan, struggling amid miserable treatment by their employers — and sometimes by the Jordanian authorities themselves?
As battles rage, Catholics in Ukraine request Independence Day prayers (CNS) As Ukrainians prepared to mark their 24 August Independence Day under the cloud of fierce fighting in the east, Catholic leaders condemned the threat to Ukraine's territorial integrity and prayed for a speedy end to the hostilities. At the same time, Ukrainian Greek Catholic Major Archbishop Sviatoslav Shevchuk issued a rebuttal to Russian Orthodox Patriarch Kirill of Moscow's claims that that the Ukrainian Catholic Church and its priests were fomenting hatred and violence against believers who belong to the Orthodox Church affiliated with Moscow?