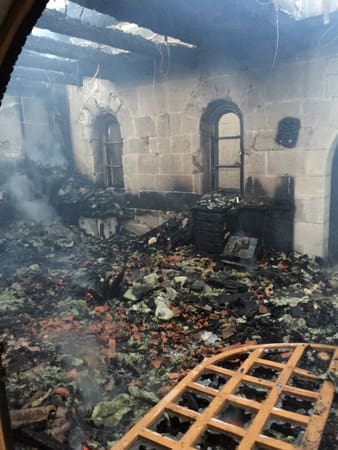 Fire damaged the historic Church of the Multiplication of Loaves and Fish in northern Israel.
(photo: Israel Fire and Rescue Services/Haaretz)
A fire overnight did serious damage to a church built at the site where tradition holds that Jesus fed 5,000 in the miracle of the loaves and fish:
A fire broke out late Wednesday night at the historic Church of the Multiplication of the Loaves and Fish at Tabgha, located on the Sea of Galilee in northern Israel. Sixteen yeshiva students were arrested Thursday morning over suspected involvement in the arson.

The detained youths reportedly are residents of the West Bank and are being represented by the right-wing Honenu legal rights organization.

Prime Minister Benjamin Netanyahu ordered the head of Israel's Shin Bet security service, Yoram Cohen, to conduct an accelerated investigation into the incident, his office announced.

"The shocking torching of a church is an attack on all of us," Netanyahu said. "Freedom of worship in Israel is one of the foundation stones of our values and is protected by law. We will exercise the full weight of the law with those responsible for this criminal act. Hate and intolerance have no place in our society."

Public Security Minister Gilad Erdan denounced the attack as an "act of lowly cowardice which I fiercely condemn." He ordered the northern district police to make investigation of this incident a top priority, adding: "We will not let anyone disrupt the coexistence between religions and ethnicities in Israel. Harming the principle of tolerance between religions is a blow to the most crucial values in Israel, and we will show zero tolerance for act like these."

The Catholic Church in Israel told Haaretz that they saw this attack as a continuation of the aggression against holy Christian sites over the last few years, which it said the Israeli government and authorities have failed to deal with accordingly. A report on the matter has been given to the Vatican, the sources said.