Greece's constitution opens with an invocation to the Holy Trinity and identifies the Orthodox Church of Greece as the "prevailing" faith community of the nation. This provision acknowledges the role of the church in the formation of the modern Greek state and its influence among the republic's 10.7 million people, 98 percent of whom profess membership in the church.
Global calls for the elimination of this provision have intensified, especially since Greece joined the European Union in 1981. The statute has remained unaltered, however, despite two emendations since 1975.
While Orthodox Christianity assisted at the birth of modern Greece and has parented it for nearly two centuries, the Greek state actually created the Orthodox Church of Greece, thereby creating inherent church and state issues.
Christianity took root in the Greek-speaking world as the Roman Empire consolidated its hold on Greece and the Eastern Mediterranean. The Romans imposed their own code of law, but permitted the vanquished Greeks a large degree of autonomy, eventually adopting the Greek culture as their own. "Captive Greece," wrote the Roman poet Horace, "took captive her savage conqueror."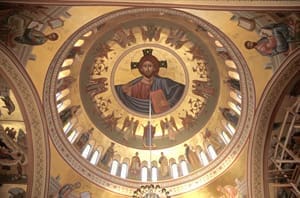 The Apostle Paul's work among the Athenians, Colossians, Corinthians, Ephesians, Galatians, Philippians and Thessalonians is well documented. Whether in the Roman provinces of Achaea, Epirus and Macedonia or in the diaspora of greater Greece, these Greek-speaking Christians formed urban communities that evolved into important centers of the Christian faith.
Paul's churches embraced the culture of the Hellenistic world, which provided the philosophical and theological vocabulary necessary to help them define and interpret the teachings of Jesus Christ. As the church grew throughout the empire, a distinctly Greek school of theology developed alongside a Syriac school that was dominant among learned Semitic Christians.
Often understood as cosmopolitan, the Greek school eventually asserted its preeminence when the Roman emperor, Constantine I, moved his government east, from Rome to the small Greek port of Byzantion on the Bosporus in the year 330.
Officially christened "New Rome," the imperial capital of Constantinople (today known as Istanbul) took on a distinct Christian identity after Theodosius I established Christianity as the state religion of the Eastern Roman Empire (or Byzantium) in 394. And though the inhabitants of Constantinople would proudly retain their Roman identity for more than 1,000 years, they would also understand themselves to be the heirs of the ancient Greeks.
Click here to read more.