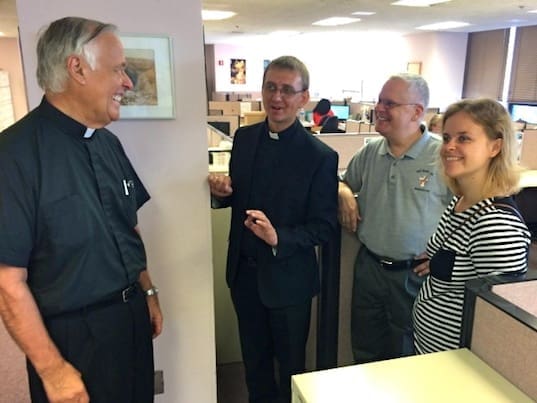 Msgr. John Kozar chats with the Rev. Volodymyr Malchyn, Deacon Greg Kandra and Father Volodymyr's wife Olena in the CNEWA offices in New York (photo: CNEWA).
This morning, a couple of visitors from Ukraine stopped by our New York offices: the Rev. Volodymyr Malchyn of the Ukrainian Greek Catholic Church and his wife, Olena. Father Volodymyr — vice chancellor of the curia of the major archbishop of Kiev-Halych, Sviatoslav Shevchuk — hosted Msgr. John Kozar when CNEWA's president visited Ukraine last year for the dedication of the new cathedral.
Our conversation this morning was an opportunity to get fresh news on what is happening in Ukraine. We reported extensively on the uprisings in Kiev last winter, and the world has been watching with some anxiety as the conflict between Russia and Ukraine has only intensified.
Father Volodymyr told us that the Maidan in downtown Kiev is a very different place today from what it was last winter. The square has been cleaned out and has returned to being a busy crossroads, not a place of protest. But it's also become a tourist destination. Visitors to Kiev are eager to see the spot that was the epicenter of last winter's uprisings.
He described to us a country that is undergoing something of a renaissance — and a conversion of spirit.
"We stood shoulder to shoulder and all who loved their country have come together. Ukrainians are coming together more and more," he said. "The country is undergoing a cleansing. There's a cancer of corruption that developed over time, and this [the protests] is like a surgery that is needed to cleanse the country."
Father Volodymyr was in the United States on 11 September 2001, and he told us he saw parallels between the atmosphere in the United States then and in Ukraine last winter. "There was a similar spirit of unity and compassion," he said, and he described Ukraine today as undergoing a "spiritual revolution."
Women gather inside a chapel on 18 August at a temporary tent camp set up for Ukrainian refugees near the Russian-Ukrainian border. The United Nations Office for the Coordination of Humanitarian Affairs estimated on 15 August that 155,800 Ukrainians had been displaced by fighting, more than 2,000 people had been killed since mid-April and another 5,000 had been injured. (photo: CNS/Alexander Demianchuk)
"The heart of the Ukrainian people is faith," he said, "and the heart of our faith is our liturgical tradition." It is a tradition he and many others are working to keep alive not only in his own country, but throughout the world.
Despite the difficulties his homeland is facing now, Father Volodymyr sees a future of possibility and hope. More people, he said, are rediscovering their faith, drawing closer to Christ, and realizing their innate dignity.
"What happened in the Maidan," he said, "was a pilgrimage from fear to dignity. We call it a 'Revolution of Dignity.' "