Armine Karapetyan takes what she needs from among the books carefully arranged on a high ledge in a corner of the old metal shed that serves as her home. She sits down on a sofa to do her homework, leaving the small table for her younger siblings. At 14, she understands the importance of small sacrifices.
The youngest of the family, Ani, 6, sits at the table focused on her schoolwork, leaving only a little space for her brother, Napoleon, 9, who reluctantly starts his work, as he has little else to do.
The Karapetyan children live huddled together with their mother in their 270-square-foot metal container — an iron dungeon — commonly called a domik. It is located in a former industrial district on the outskirts of Artashat, Armenia, about 20 miles south of the capital, Yerevan. Now emptied of all industry, the district is isolated from the town, which has a population of about 19,000.
"We have been living here for eight years," says the children's mother, Alina. Then, she rubs her tired eyes with her work-worn hands. She had been harvesting since early morning.
"This is what we could afford, and we still haven't fully paid off our debt," she adds. "My husband died last year, and I lost all hope of getting out of here."
The 39-year-old mother says she and her children can barely survive on the monthly government benefits that total 120,000 drams ($297), so each day she leaves her children at home alone to harvest crops in neighboring communities.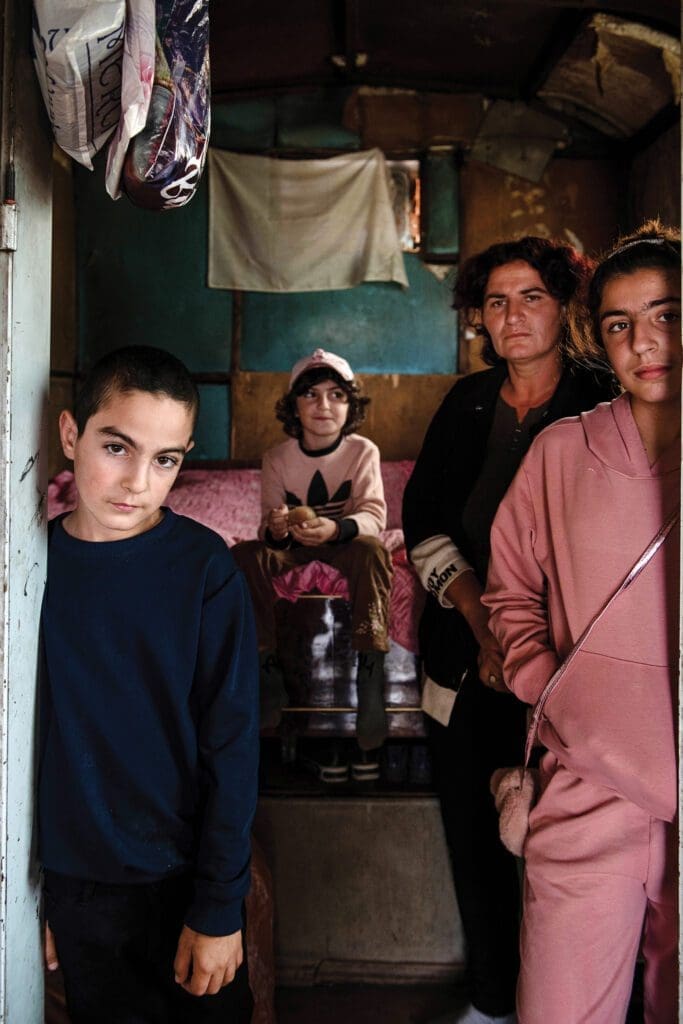 "What should I do? I'm trying to make ends meet," she says. "All I earn is spent on buying firewood, so we can at least survive through the winter. Things are easier in the summer, but there are many difficulties in the winter.
"We can somehow heat the domik, but in the auxiliary space under the tent next door, where we have our stove, cupboard and refrigerator, it is bitterly cold, and this cold gets into our bones, with the rainwater that falls on our heads."
However, the Little Prince Center, a child care initiative of Caritas Armenia, has become a source of hope for Mrs. Karapetyan. Armine and Napoleon attend twice weekly; Ani is still too young to enroll.
"There, I know my children are in a warm, clean and safe environment. And the most important thing is they eat hot, normal meals," says Mrs. Karapetyan. She is grateful for what they learn at the center and the opportunities for her children to socialize.
"They have been attending for only a few months, but they have now opened up so much," she says.
"They communicate with others freely. They used to be very timid, but now they look happy. They have become cultured and have learned good manners and proper ways of speaking."
The center also provides the family regularly with food, hygiene items, stationery and clothing.
"I experience a lot of hardship," says the widow.
"I feel very sad this center is the only bright spot in our life. When my children come back home, I see how happy they are and, most importantly, they are not hungry."
The Little Prince Center, located in the heart of Artashat, has been a "bright spot" in town since it opened in 2016. Twice a week, 95 children from Artashat and neighboring communities gather within the center's brightly colored walls. Its mission is to contribute to the protection of children, young people and their families by promoting healthy living, teaching life skills and providing social and psychological support.
Children must be 9 years old to enroll. Currently, 40 children, aged 9-11, and 55 adolescents, aged 12-18, take part; 48 are boys and 47 are girls. Their parents, siblings and friends —numbering another 116 people — also benefit from additional programming.
The children come to the center at the end of their school day, starting at 2 p.m., just as the appetizing smell of a warm meal starts to waft in the air.
Project manager Armine Yepremyan says the center emphasizes the importance of providing healthy, calorie-rich food to the children. For some children, this meal is the only proper food they will have all day, she adds.
The children will then participate in a wide range of activities, where they learn sewing, dancing, singing, computer skills, cooking and etiquette. They also benefit from the services of a psychologist and a social worker. The children receive hygiene products twice a year and stationery and gifts once a year. The center also provides shoes and clothing to those children in need of them.
Social worker Gayane Hovhannisyan says children are selected for the program based on an application process. Most of the parents who submit the application for their children face serious social, economic and psychological problems, and many lack parenting skills, she says.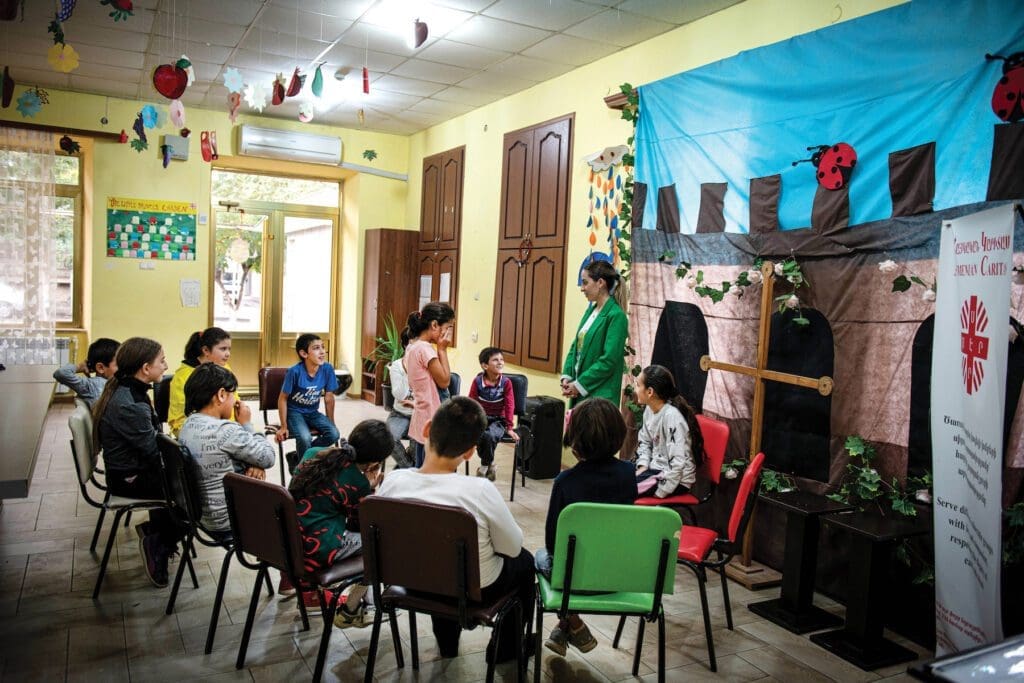 "Because of the lack of parenting skills, the work done at the center can often be wasted," she says. "For this reason, we also work with parents. We regularly hold parenting skills courses for them, presenting the peculiarities that children have according to age, children's rights and responsibilities, children's needs and demands, emphasizing the prevention of violence."
Social worker Anush Zazyan says the families' socioeconomic problems are due mainly to high unemployment and underemployment in the region. The center helps parents improve their socioeconomic situation by offering career training. To date, eight parents were trained as tailors, five as hair stylists, four as manicurists, four in confectionery and one as a make-up artist. Another group of 15 parents participated in entrepreneurship training that included learning how to write a business plan.
"They are now familiar with the labor market," says Ms. Zazyan. "They have gained a competitive edge and are able to provide the main income for their families."
The center also works to develop a family's independence and self-sufficiency, she adds, and children are assisted through guidance counseling in choosing a future profession.
"If we keep a family for years, first of all, it makes the beneficiary dependent on our services, as well as on our work, on our team, and this means that our work has failed to yield results," she says.
In addition to the challenges of their personal family situation, Ms. Yepremyan says, the children at the center continue to struggle with the consequences of the COVID-19 pandemic and the country's ongoing political strife.
The 44-day war in Nagorno-Karabakh that began in September 2020 had disastrous consequences for Armenia, which suffered 4,000 human casualties and substantial territorial losses. Since then, regular escalation along the restive Armenian-Azerbaijani border continues to result in loss of life and keeps Armenian society in constant turmoil.
The Little Prince Center tries to involve as many children as possible, including those displaced by the Nagorno-Karabakh war, says Ms. Yepremyan, since no other program for at-risk children exists in the region.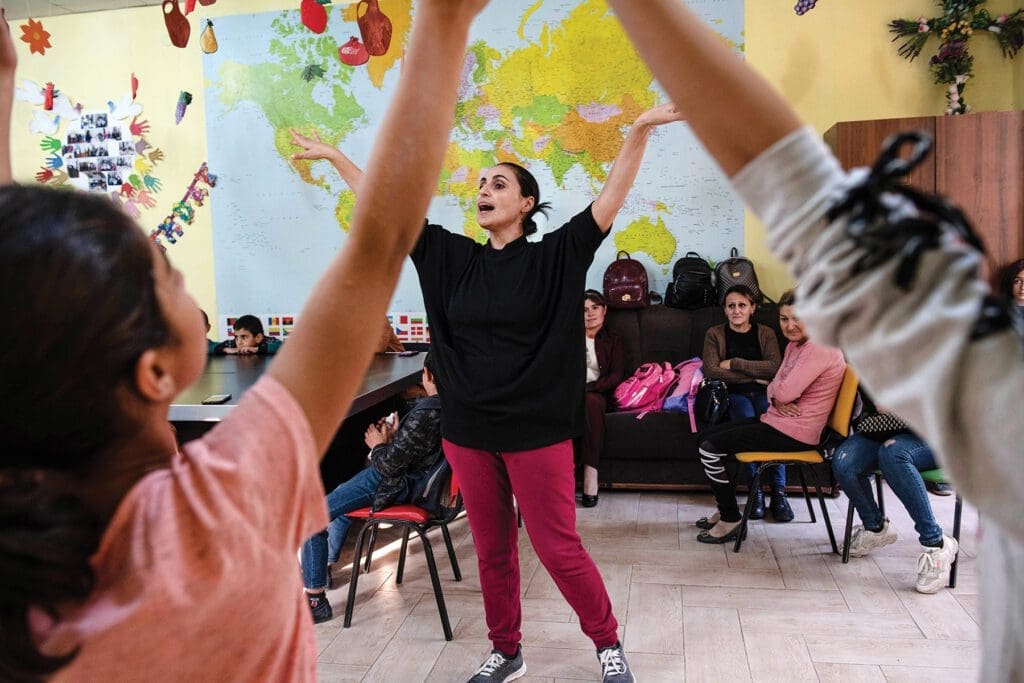 The children "have endless fears, they are so stressed that it also affects the quality of their education," she says. However, regular discussion groups, facilitated by a psychologist and social workers, have helped the children significantly, she adds.
Twice a week, Arsen Yepremyan travels on public transit from the village of Taperakan to attend the program at the Little Prince Center in Artashat.
"Here I get what I wouldn't get anywhere else," he says, smiling. "When you come here, your daily life changes completely. First, we eat delicious meals. Then, we attend a group of our choice and not only have a good time, but also gain very important knowledge."
The 13-year-old is taking the computer course, which covers everything from basic computer skills to how to create software and websites. He is interested in robotics and hopes one day to operate robots he will engineer himself.
In the sewing room, the children sit next to the sewing machines placed in neat rows. They follow the group leader's instructions and grow more confident with each proper stitch they make.
Tamara Mikayelyan shows off a doll she crocheted and then inspects a bundle of threads, carefully selecting the colors she needs to start a new project in her crochet class. Colorful handbags, stuffed toys — teddy bears, bunnies, giraffes and frogs — are displayed on a shelf.
The 11-year-old has been attending the center for only two months and says she chose to learn how to crochet to help earn some income for her family. She and her brother are being raised by their single mother, who can barely care for their needs.
"I can make a purse. Now I want to make a toy snowman. I am preparing for winter, the new year. Maybe I will give it away or I can even sell it," she says, as she prepares for her work. After crochet class, Tamara goes to dance class, where the children learn both modern and Armenian folk dances.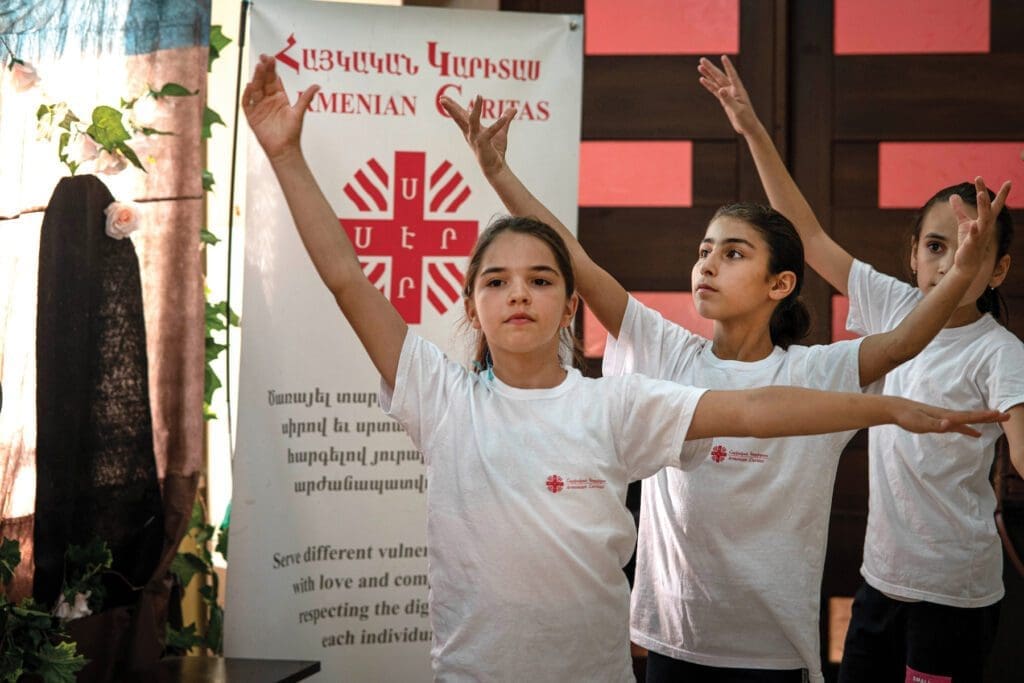 All of the children participate in a class on proper etiquette and good manners, taught by Kristine Khachatryan, a volunteer and the center's senior group leader.
"It is very important that children learn good manners from a young age," says Mrs. Khachatryan, who believes a civilized society is a prerequisite for the creation of a proper state. "Most of the children do not know basic table manners.
"We try to explain the most important things in life to children who are in a difficult life situation," she continues. "We have to cross this fast-flowing river holding each other's hand, otherwise we will fail."
Mrs. Khachatryan says the local priests often visit and have important conversations with the children about religion, education and other life issues, "which is very much needed."
Knarik Simonyan, Liana Simonyan's 11-year-old daughter, has been attending the center for a few months and already her mother has noticed a positive effect.
"She rarely talked to anyone before. She was kind of isolated, but now she is one of the most active children, freely communicating with all," says Mrs. Simonyan, pointing to her daughter in the dance class. Knarik follows the teacher with great enthusiasm and performs the dance moves gracefully.
"The child has tasty meals here," says Mrs. Simonyan. "You do understand how important that is for a parent, right? I know she will go to bed with a full stomach at least twice a week."
At 40 years old, Mrs. Simonyan lives with a heart condition. Her legs are swollen and in pain and, although she has difficulty walking, she always accompanies her daughter to the center to ensure she does not miss any classes. Mrs. Simonyan joined the sewing and pattern-making group herself.
"It's true, I can't see well, but I want to learn how to sew well," she says. "I'm doing well already. I hope I will be able to take care of my family's needs."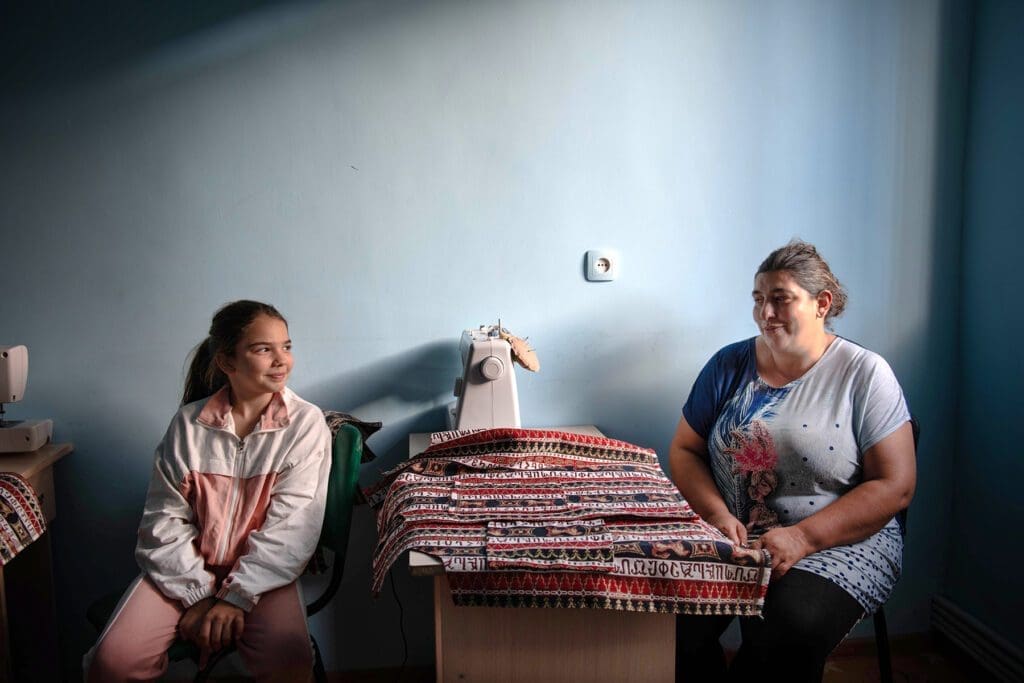 Mrs. Simonyan works as a cleaner, but her large family lives in poor conditions and has many needs — her two eldest sons have health problems. She says the center has become an oasis from her everyday worries, a place where people educate children with care and where parents can learn a lot.
"Sometimes I can hear what is being taught and I gain a lot of knowledge, for example, about how to host and entertain guests in your home. I would gladly come every day with my daughter. I would stay here all day. I would really like them to include parents in more programs," she says.
"They are so caring here that you forget all your troubles," she continues. "I would like my child to spend more time here. The conditions are much better than in our home. My child sees only good things here. I often bring her so she does not witness arguments in our home; the child is more secure and feels better here."
The woman wipes away tears, as she watches the workers attend to her child. Her gaze communicates gratitude.
Mrs. Simonyan says only a person armed with knowledge can overcome difficulties.
"My abilities are not enough to help my daughter," she adds. "But I see that she is good at learning. I want my child to learn the best, so she doesn't have to suffer like me, and she can learn a lot of things here."
---
A communications specialist, Gohar Abrahamyan manages issues of justice and peace in the Caucasus for local and international media.
The CNEWA Connection
While visiting Armenia in September, CNEWA president Msgr. Peter I. Vaccari visited the Little Prince Center, which is one of several child care programs named for the Little Prince supported by CNEWA in Armenia. The center in Artashat alone provides meals, medical attention, counseling, tutoring and more to approximately 100 children. The centers are staffed by social workers, psychologists and counselors, illustrating how psychosocial support is one of the pillars of the center's work. CNEWA is committed to helping families in Georgia and Armenia through the local churches and their social service arms, the Caritas family.
To support this important mission, call 1-866-322-4441 (Canada) or 1-800-442-6392 (United States) or visit https://cnewa.org/work/armenia/