Editors' note: The author changed the names of some children profiled here to protect their privacy.
It was late afternoon when Sister Lutgarda Camilleri walked into Kidane Meheret Children's Home. As she opened the front door unannounced, the toddlers immediately stopped playing and shifted their gaze toward her. She had caught them off guard. Then, joyously they all rushed to greet her, hugging her one by one.
The home for children, named for the Mother of God, Covenant of Mercy, is located within the compound of a Catholic parish of the same name in Kebena, a suburb south of Addis Ababa. It currently houses 86 children, some with serious health conditions, including H.I.V./AIDS, autism and a variety of special needs.
"We come from different backgrounds, but we come for the same reason," says Wondemagegn Breen, 29, who lived at the orphanage until his adoption by an American family in 2006. He resides in Seattle and was visiting the home in October.
"The fact that most of us lose our family at a young age and we come to a place where everybody has the same story… you don't feel alone or left out," he says.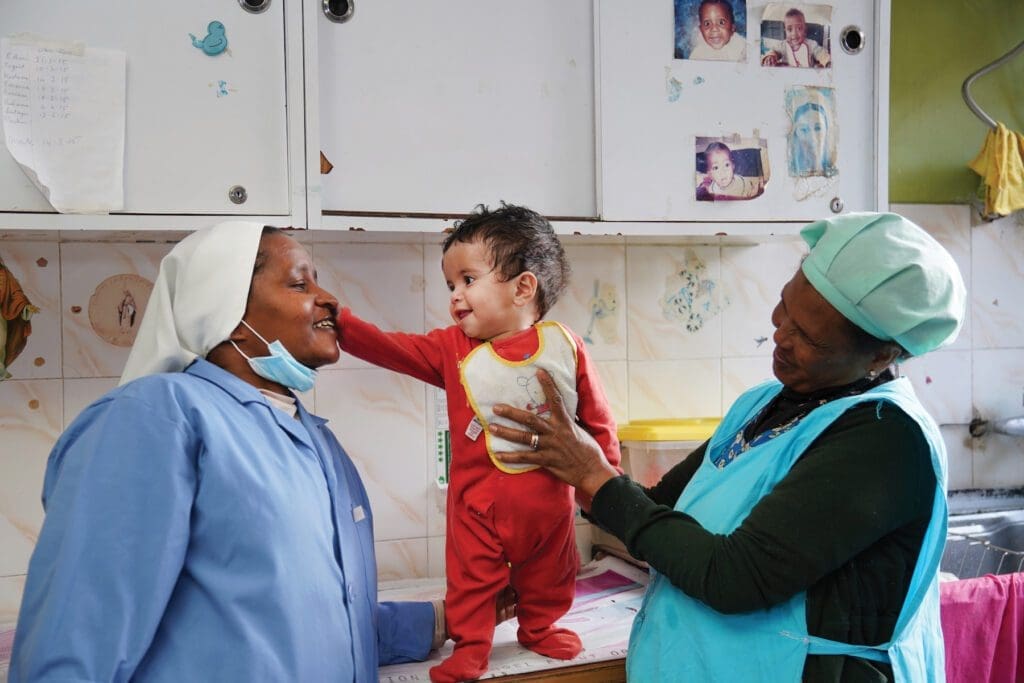 "When children would arrive at the orphanage, nobody would tell us, 'This person has H.I.V./AIDS.' We just had pure love [for each other]," he adds.
Six children currently at Kidane Meheret live with H.I.V./AIDS, which is still a significant concern in Ethiopia. World Bank Data for 2021 indicates 42,000 children in Ethiopia, 14 years old and younger, and 3,500 young people aged 15-24 are infected with H.I.V./AIDS. A few young adults with H.I.V./AIDS, after graduating high school, have moved on from the home to attend university or to start life on their own.
Established by the Franciscan Missionaries of Our Lady in 1933, Kidane Meheret is thought to be the first home of its kind in Ethiopia. The Franciscan Sisters of the Heart of Jesus, a Maltese order, assumed responsibility for the home in 1996, succeeding an Ethiopian religious, Sister Josepha Tesemma, who ran it alone until her death at the age of 95.
Sister Lutgarda, who had moved from Malta to Ethiopia in 1969 to work at Kidane Meheret Catholic School, now serves as the director. Her community administers four other child care programs in the country.
Sintayehu sits in his crib and smiles as he watches Sister Lutgarda approach.
"Buchu, Buchu! Mwah, mwah!" Sister Lutgarda cries out, blowing the 16-month-old a kiss from afar. "We call him Buchu," she says. "That's his nickname."
Sister Eyerusalem Balcha, who stands next to Sintayehu's crib, recounts the boy's first days at the orphanage.
"When Buchu came, he was underweight and tiny. We were saddened by his situation and feared he wouldn't survive," she says. "But look at him! Now, he drinks his formula, he is playful, healthy and a big boy!"
The sisters share the stories of several children in their care. Tadele, 7, is autistic and lies on his bed most of the time. He does not speak and has a physical disability. Ruhama, 2, was abandoned by her mother who was raped and feared her family's anger and shame. Eight-month-old Paulos, too, was abandoned by his mother, who is currently under medical care after being raped in Saudi Arabia, where she was a migrant worker. Hilina, 12, has severe physical disabilities. She cannot speak and lies in bed all day. But the sisters say her health improved significantly after she arrived at the home two years ago severely malnourished and underweight. Sister Lutgarda caresses Hilina's head.
"We don't know what happened to her," she says about the neglect the young girl had experienced.
Then she points out Gabriel among the children on the playground. "When he came, he was 10 days old and undernourished. No one believed he would live," she says. Now 11 years old, Gabriel is in the sixth grade and is a skilled soccer player.
The home receives children who are orphaned, abandoned or disabled through a public system governed by Ethiopia's Ministry of Women, Children and Youth Affairs. Previously, the sisters would take in children they found abandoned near the home or brought to them by police, but new federal laws regulating the care of children changed about 10 years ago, Sister Lutgarda explains.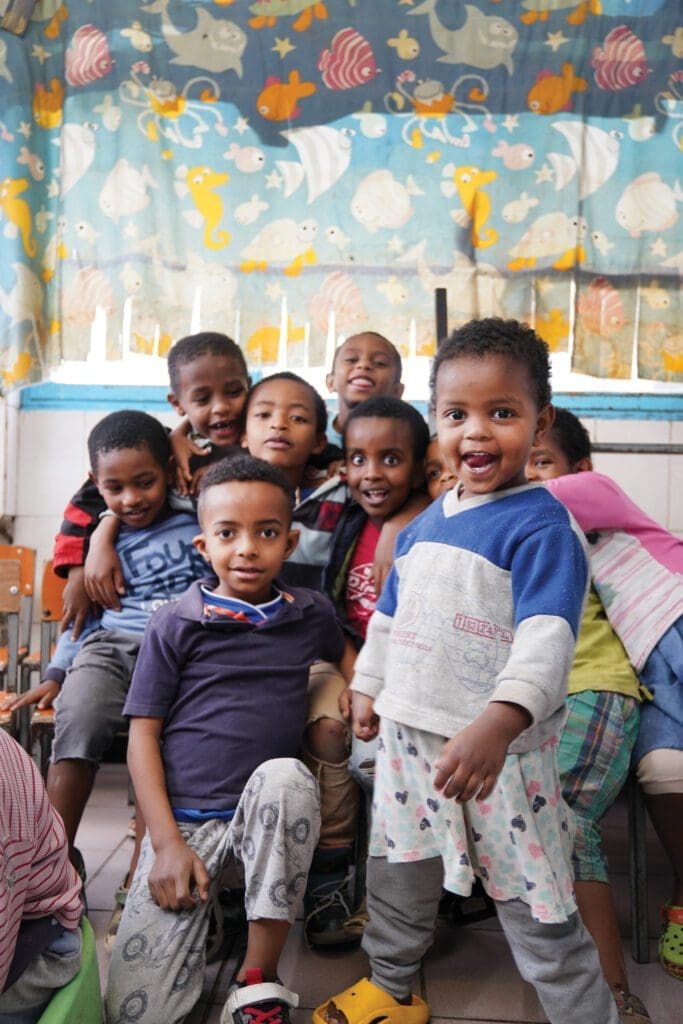 Mr. Breen gets emotional speaking about how the support he received at Kidane Meheret has impacted his life.
"You could see what kind of men and women we have become [and yet] it is home for us. It never changes," he says.
Mr. Breen works in the Seattle area as a direct support professional for an organization that provides residential care to adults with special needs and runs his own business as a personal trainer and exercise science specialist.
His first trip back to Ethiopia since his adoption was in 2015, and he has returned to visit every two years since — for three to four months at a time — to volunteer.
He established a network of more than 25 people in Seattle, who also were adopted from the children's home and who contribute funds so Mr. Breen can purchase food and other supplies during his months-long stays.
This year, Mr. Breen volunteered from September to November in the form of teaching and mentoring.
"I advise the children on how they should treat each other," he says. "This year, some of the children want to develop their English language skills, so I tutor them."
Many of the children feel the pain of abandonment and hope to be adopted, he adds, but adoption does not happen for most of them.
"These kids need love," he says. "They just enjoy it when people come."
Sister Lutgarda explains adoptions decreased significantly since foreign adoptions were banned by the Ethiopian government in January 2018, citing concerns about the safety of Ethiopian children abroad. In response, the sisters began an international sponsorship program to help pay for the children's time at the home. Some local people will offer to purchase clothing or other supplies, although such assistance has dropped off since the COVID-19 pandemic, she says.
About 88 miles south of Addis Ababa, in the provincial city of Meki, 25 girls live in a home founded in 2011, also named Kidane Meheret.
Edna came to Kidane Meheret Girls Hostel when she was in the fourth grade, after being gang-raped at age 12. Her parents reported the crime to the police. However, the men who raped Edna knew her father was an alcoholic and appealed to his addiction to buy his silence. Her mother stopped pursuing the matter with the police after the men threatened her life.
Edna, now 15 and in the eighth grade, suffers from a painful menstrual cycle and other women's health issues. She has found a supportive and caring community of adults and peers at the home. Abeba, too, was gang-raped by seven men, but her parents who struggle with alcoholism never followed up with authorities. A social worker who worked at the hostel learned about the crime and reported it to the police, who did nothing. Abeba was given refuge at the hostel and is currently attending university, despite the psychological and physical health issues she faces. Liya was walking home from school when she was approached by a group of men who tried to abduct her for a forced marriage. She managed to run back into the school building for safety, but the incident traumatized her, and she struggles with the effects of the trauma. She, too, has found a new home at Kidane Meheret.
"The girls are excellent in school but come from families with poor financial backgrounds, girls who are orphaned, who are victims of sexual violence, and those who were or are at risk of abduction for marriage," says Tigist Mekonen, a social worker employed by the home for eight years.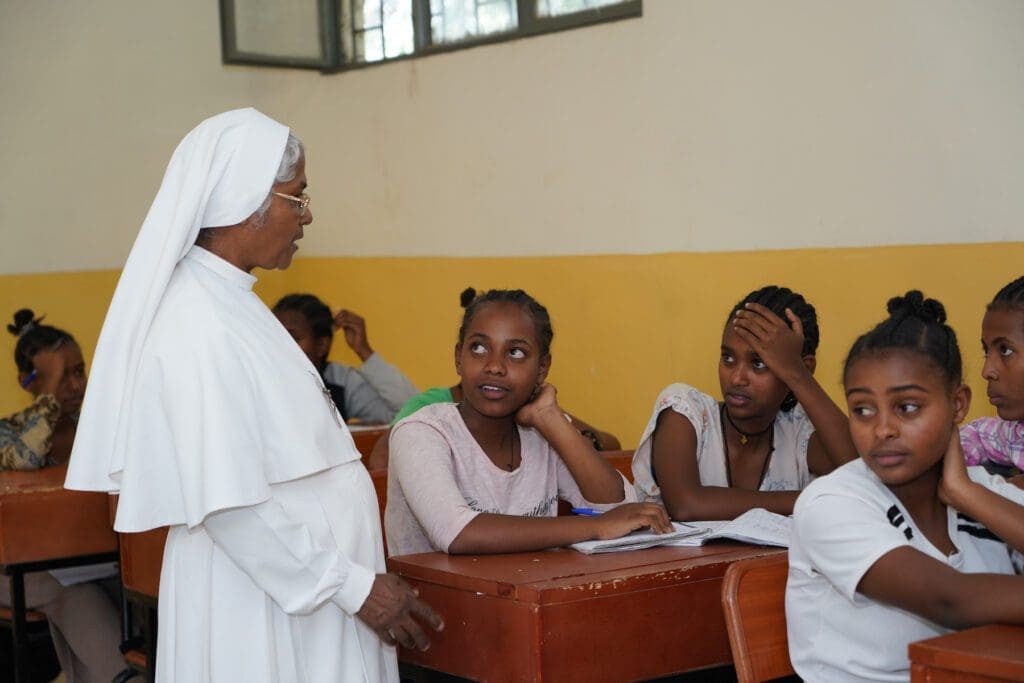 "Sometimes families bring their daughters and, after evaluating their financial status, we take them in," she explains. "In the case of girls who were victims of sexual violence, the local Women and Children's Affairs Office sends them, because that's where the girls go to plead for support."
Keeping the girls' background and experiences confidential is paramount for the sake of their mental health, she adds.
"The girls here don't know what happened to whom," she explains. "We are very careful that their psychological health is not jeopardized."
The girls may live there until they graduate high school. Then, for those who wish to go to university, the leadership team of the home coordinates a sponsorship through the Meki Catholic Secretariat.
More than 15 alumnae have graduated with university degrees in a variety of fields, including accounting, medicine, public health administration, journalism and agriculture.
"They are all successful in their careers," says Ms. Mekonen.
Girls and women face many hardships in Ethiopia — social inequality, domestic abuse, exploitation and sexual violence. Sadly, sweeping crimes against girls under the rug is common.
Child marriage, for instance, despite being banned by the Ethiopian government in 2000, remains a significant problem. According to a UNICEF study in 2020, 40 percent of Ethiopian women aged 20-24 were married before the age of 18, and 14 percent were married before their 15th birthday. These statistics place Ethiopia 14th worldwide for the prevalence of child marriage based on national percentages. However, Ethiopia is ranked fourth worldwide for the absolute number of women aged 20-24 who were married before age 18, nearly 2.3 million. India, Bangladesh and Nigeria take the top three spots.
The abduction of girls for forced marriage is a related problem, often linked with extreme poverty, and more prevalent in the country's south. A 2016 UNICEF report indicates at least 13 percent of the married women aged 12-24 in one southern region had been abducted and forced to marry their abductor.
The staff at Kidane Meheret Girls Hostel in Meki works to protect girls from exploitation and violence and assists them in building a brighter future. They say the need is greater than what the Catholic-run home can provide. The increased cost of living creates greater stress on families and girls bear the brunt; it also prevents the administrators from taking in more girls.
"When the hostel was founded, we were able to accept 31 girls. The number had to decrease over time due to the cost of living," explains Ms. Mekonen. "We currently have 24 girls and were only able to take in two new girls this year."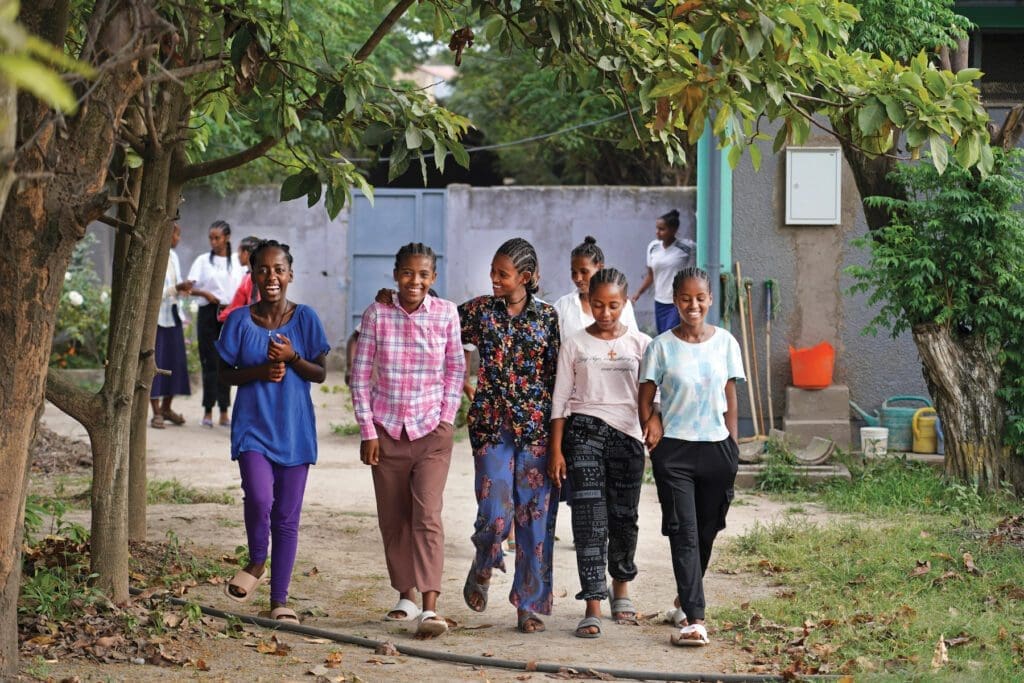 Sister Anney Joseph, a member of the Missionary Sisters of Mary Help of Christians, an Indian order, has directed the home for the past four years, managing the entire operation, including raising funds to cover the girls' school fees, food and other living expenses.
"A drop of water makes the ocean," says Sister Anney. "We are always grateful to God for the support we get."
"This is a work of love. Donors don't know these girls, but reaching them through CNEWA is a big deal for them," she continues. "If CNEWA's support was not there it would be impossible for us to continue."
The girls study at Meki Catholic School nearby. All close in age, they also receive "counseling and spiritual advice … without mentioning the fact that some of them might have experienced violence, loss of family or other issues," says Ms. Mekonen. "We try to teach them that they can see beyond those issues and build their lives positively."
The young women are encouraged to pursue their education. They are taught ethics and morals and basic life skills, including personal care and hygiene, as well as "the consequences relationships and sex at an early age may bring," she adds.
"We take on the responsibility of the girls like mothers. If they are sick, we take care of them," she says. "We all live with love and respect."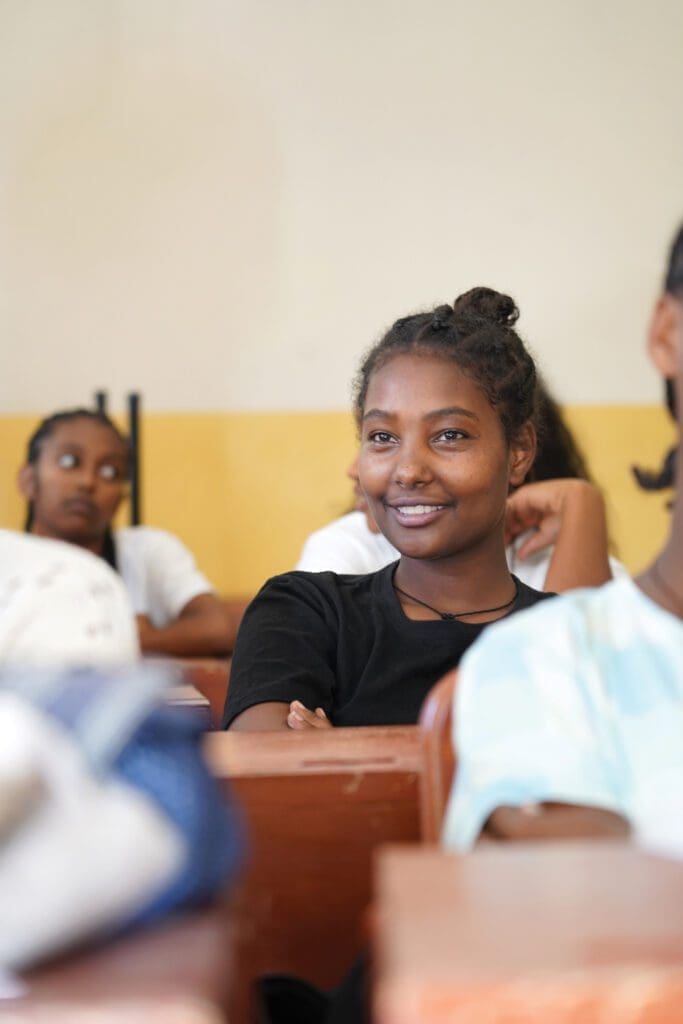 Yohanna Haile, a social worker who has worked at the home for three years, explains the girls are given daily chores to help prepare them for life on their own. They clean their individual rooms, the bathroom, the dining room, and their surroundings as assigned, according to a schedule, and they cook their stews every Sunday.
"Whatever may be the background of the girls, when they come here, they are provided with a better life than they had before," says Ms. Haile. "The home is where they learn a lot of things about life and exchange experiences with each other.
"It is a place they love. It is a place they want to maintain for the girls who will succeed them."
CNEWA's regional director for Ethiopia, Argaw Fantu, cites Kidane Meheret in Addis Ababa and Kidane Meheret in Meki as prime examples of how the Catholic Church in the northeast African nation combats trafficking and the exploitation of children and other vulnerable members of society. While Catholics constitute a tiny minority of the total population, Catholic-run child care programs, more than 200 of which are kindergartens and elementary schools, make up the second-largest educational system in the country.
"Through education and instruction, children and those targeted for exploitation are instructed on how to prevent their own exploitation," he says of the church's commitment to the safeguarding of "the Lord's little ones."
---
Hikma A. Abdulmejid is a freelance journalist and lecturer in journalism and communications at Addis Ababa University in Ethiopia. She has been published in Addis Fortune and writes for a number of U.N. agencies.
The CNEWA Connection
As children's lives are uprooted due to conflict, economics or violence, CNEWA works to ensure there are programs available to protect and support them. The programs highlighted here, both dedicated to the Virgin Mary, are examples of the local church's commitment to care for and support the vulnerable, and CNEWA's own commitment to accompany the people God in Ethiopia as they live out the Gospel.
Thanks to its generous benefactors, CNEWA has supported both programs, working side by side with sisters and lay professionals as they strive to provide the best of care to the children.
To support this crucial work, call 1-866-322-4441 (Canada) or 1-800-442-6392 (United States) or visit https://cnewa.org/work/ethiopia/