Sandbagging is not part of the usual program of formation for the priesthood, but it was priority for seminarians just outside Kyiv hours after Russia invaded Ukraine on 24 February.
That morning, Divine Liturgy was celebrated in a lecture hall in the basement of the Ukrainian Greek Catholic seminary as a precautionary measure after rocket fire in a nearby village awakened the seminary community at around 5 a.m.
Seminarians spent most of the day preparing a makeshift bomb shelter on the campus of the seminary, located in Kniazhychi, a town in the eastern suburbs of the Ukrainian capital. Air raid sirens interrupted their work, sending them to the basement for cover. The rector canceled class for the rest of the week and by the end of the day, unsure about how the fighting could escalate, ordered an evacuation, sending seminarians home to their families.
However, by 3 March, the seminarians were directed to pick up their studies online, starting first with one class only. As of 14 March, they were back to a full course load.
They returned to the seminary campus — dedicated to Sts. Basil, John Chrysostom and Gregory the Theologian — by mid-May and completed the academic year on time. Archbishop Sviatoslav Shevchuk of Kyiv-Halych attended the graduation ceremony on the scheduled date, 13 June, and as planned five men were ordained subdeacons the next day, advancing toward priestly ordination.
Away for the summer months on various assignments, 66 seminarians were expected to return for the start of class on 30 August, among them nine new candidates in their first year.
While it seems like business as usual at the Kyiv seminary, life has been anything but normal since the war began, says the Reverend Roman Ostrovskyy, vice rector for academic affairs.
"The mood at the seminary this past semester swung like a pendulum," he says. "I'll admit that on the first three or four days of the war, I didn't understand one word of the liturgy. I felt like I was in a daze. The seminarians said they felt the same.
"Some seminarians would ask me whether it was their duty to join the army and defend Ukraine. I tried to keep a sense of calm among them," Father Ostrovskyy recalls.
"When regular classes resumed, it was as if the seminarians got a new lease on life," he continues. "Amid the insanity of war, they needed something stable, useful, simple that could give them a sense of meaning in life."
Father Ostrovskyy says the decision to bring the seminarians back to Kyiv was "very difficult, wrought with many questions, above all about the seminarians' safety," but Archbishop Shevchuk's guidance was instrumental in this decision.
"And we managed to return and resume 'normal life' in the seminary," he says. "Unfortunately, 'normal life' during a war doesn't really exist.
"After the bombardment of cities and civilians, everyone understands they could die any day. Safety does not exist in any part of Ukraine," he says. "And yet not one seminarian has left the country."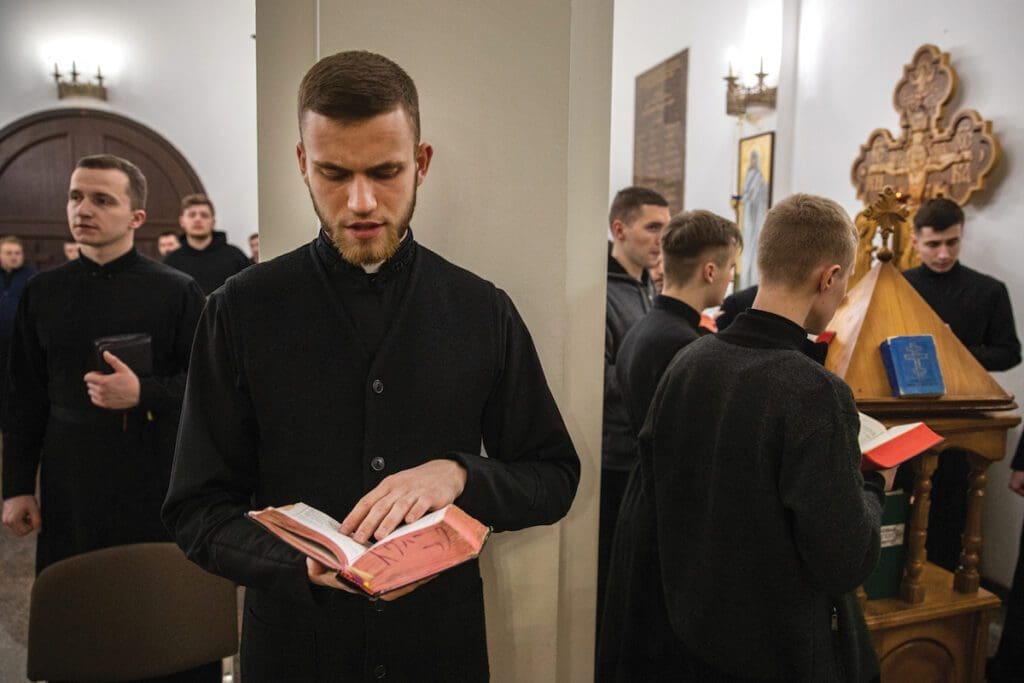 Serving on the front lines is not what seminarian Vitality Oliynyk had in mind when he dreamed of becoming a priest. But he admits he has pondered the question in recent months on more than one occasion.
"A priest on the field of battle is indispensable," he says. "Since not everyone can evacuate from
these territories, the priest is to be their pillar. He is to be the spiritual support for those who … stare every day into the eyes of death."
As part of its formation program, the Kyiv seminary offers seminarians opportunities to gain experience about military chaplaincy and pastoral care in times of war.
"Military chaplains who are in the zone of military operations in Donbas come to the seminary and share with us their practice and experience, and we draw a great deal from the experiences they encounter there," says Mr. Oliynyk. "They tell us about the challenges of the service members and the local population they meet."
Seminarians take classes on how to provide basic medical assistance in the field and may also shadow military chaplains in theaters of war, where they meet, pray and speak with soldiers.
"And this is the best moral, psychological preparation for this kind of service," says Mr. Oliynyk.
His seminary rector, the Reverend Petro Zhuk, says forming priests and seminarians for military chaplaincy started long before Russia's invasion on 24 February.
"Ukraine has been in a time of war for many years now," says Father Zhuk, referring to Russia's occupation of Crimea and fighting in eastern Ukraine, which has claimed more than 10,000 lives since it began in 2014. "We understood that it is important to prepare priests to serve the needs of those in the military."
As the seminary closest to military action, he adds, "we always discuss these issues with our students."
"Social service, communication, military chaplaincy, as well as hospital and prison ministry are very important now," says Father Zhuk.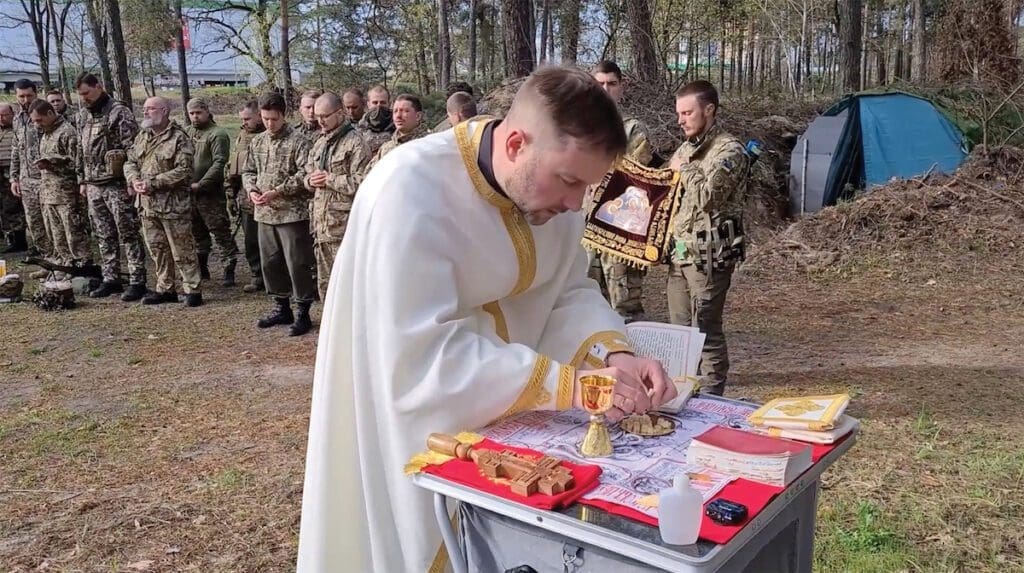 In almost a decade of ongoing conflict, war and pandemic, Ukrainian Greek Catholic seminaries have worked to give their students a better understanding of the experience of human tragedy, teaching them how to respond with depth and compassion to questions of suffering, says the Reverend Ihor Boyko, rector of the Lviv Theological Seminary of the Holy Spirit.
In 2013, for example, seminarians in Lviv took part in the Revolution of Dignity, joining the demonstrations and gathering with the families of victims to accompany them through their grief.
"It was very difficult. Families came here [to the seminary] saddened," recalls Father Boyko.
"I taught the seminarians how to be with them, to listen to their pain, because we have to be with our people in joy and in sorrow."
The seminary in Lviv runs a program for seminarians interested in learning about and supporting chaplaincies for the military, providing seminarians the opportunity to visit military units in Lviv and the surrounding region, where they spend time and pray with the troops, offer catechesis or discuss issues of concern.
Military chaplains and personnel will come to Lviv, too, to share their experiences with seminarians.
"Very often seminarians also meet with relatives, families, with those who have lost their loved ones [in battle], to comfort them, console them and be with them in their time of difficulty," he adds.
"We can't force anyone to do this," says Father Boyko, adding, however, that "every seminarian should feel free to do this."
Markian Luchkiv, 24, a sixth-year seminarian in Lviv, entered seminary right after high school. Inspired by the example of his parish priest in Sukhovolya, a village near Lviv, he had been thinking about the priesthood since childhood and his family supported him in his choice of vocation.
"A priest should always go to the people, not distance himself from them or consider himself superior," he says.
"As a future priest, I feel a responsibility, in the hardest times, to be together with that neighbor who needs spiritual care, to be close to that soldier who is possibly spiritually wounded and needs conversation, the sacraments or Divine Liturgy," he adds.
"As a priest, I am called to be with people irrespective of whether it is a peaceful time or a time of armed conflict."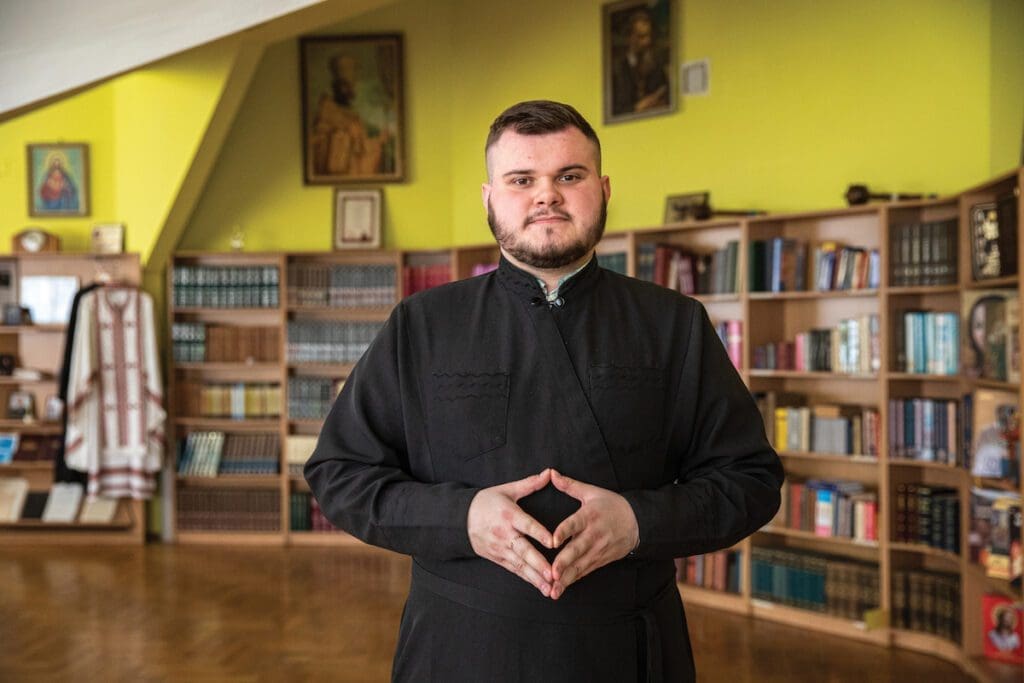 The seminaries in Kyiv and Lviv are among six Greek Catholic seminaries in Ukraine, which have a combined enrollment of about 720 men. Among the six, five form men to serve in the Ukrainian Greek Catholic Church and one forms men for priesthood in the Byzantine Catholic Church, which has eparchies scattered throughout Central Europe and North America.
The Greek Catholic seminary in Lviv was established in 1929, succeeding a theologate established by the Habsburg emperor in 1783. For a time, it was the only seminary for the formation of Greek Catholic priests in what is today western Ukraine.
However, the Soviet regime banned the Ukrainian Greek Catholic Church and shuttered the seminary during World War II, driving underground seminary formation, priestly ordinations and all other aspects of church life for decades.
"Small groups of four or five people secretly gathered at our house, and priests came and prepared them for ordination," recalls Father Boyko in Lviv.
The Theological Seminary of the Holy Spirit in Lviv began in a new location in 1990, as the Soviet Union and its Iron Curtain unraveled, and the Ukrainian Greek Catholic Church experienced a boom in priestly vocations. In addition, some 300 Greek Catholic priests surfaced, publicly identifying as priests of the once-banned church. Today, about 3,000 priests serve between 4 and 5 million faithful. While influential culturally and socially, Ukraine's Greek Catholics remain a minority in an overwhelmingly Orthodox nation.
Both the Kyiv and Lviv seminaries today are affiliated with the faculty of philosophy and theology at Ukrainian Catholic University (UCU) for the academic requirements of seminary formation. The Lviv seminary has a residence on the UCU campus for seminarians, who attend lectures with the other university students.
Father Boyko says many young men still express interest in the priesthood, but admits enrollment has dropped since he began as rector, from 225 in 2013 to 178 in 2022.
"Going to seminary today is a challenge for a young man," says Father Boyko. "He understands that he must boldly testify to his friends, family and relatives," who often do not support his vocational decision and realize only much later that his call was right for him.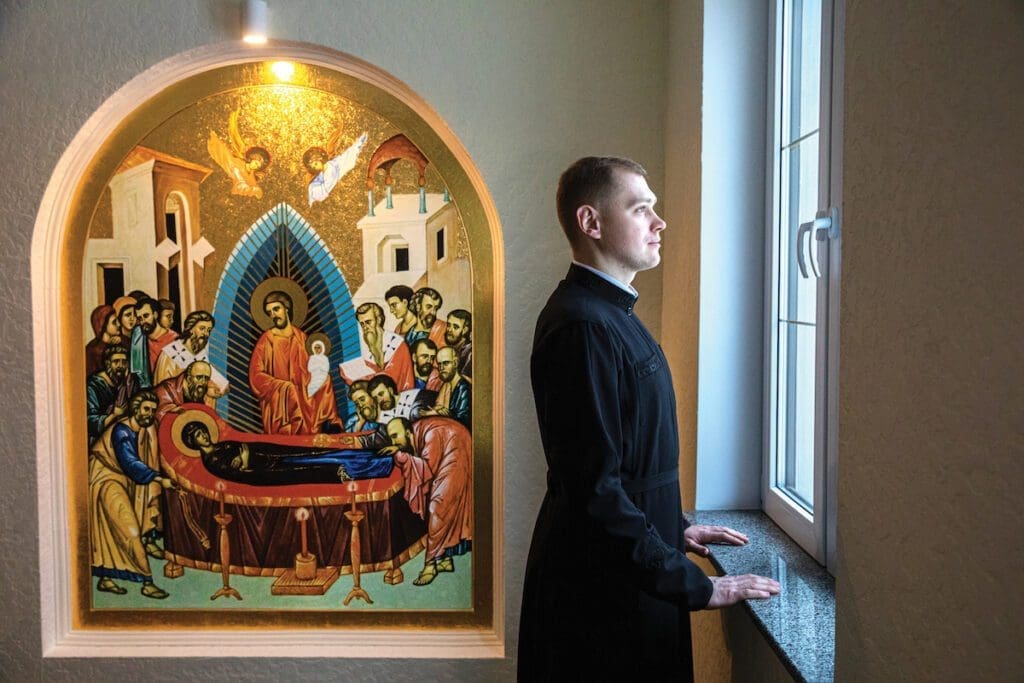 Father Zhuk in Kyiv also notes the challenges presented by the limitless opportunities available to young people in the global economy. The media and social networks promote particular images of success, putting pressure on young people to achieve a lifestyle that depends on a higher income, he says. In Ukraine as elsewhere, priests are among the low-income earners.
Young men will often be advised by family and friends to first "get a profession, and then, if you
still want, go and serve God," he adds.
He maintains there is no vocations crisis on God's end of things; God continues to call men to the priesthood. The crisis is in the lack of response to God's call, he says, a crisis impacting the church outside Ukraine as well.
The Kyiv seminary is the newest institution of higher learning in the Ukrainian Greek Catholic Church and has been implementing a growth plan in recent years, despite its proximity to theaters of war.
In 2010, Cardinal Lubomyr Husar, then the major archbishop of the Ukrainian Greek Catholic Church, established the Kyiv Theological Seminary of the Three Holy Hierarchs, renovating two private residences connected by a chapel. However, the need for more space launched an expansion project in 2020.
The shell of the building, which includes more bedrooms, a larger kitchen, library and a fitness room, is largely complete. Windows have yet to be installed and the interior needs finishing. CNEWA funded the original seminary, and now its extension, thanks to generous grants from benefactors in Canada.
Father Ostrovskyy, the vice rector, says the hope is to continue the project, despite the war. "In Ukraine, you need to live by hope."
While the library is not yet complete, the seminary is receiving donations for its stacks, the largest of which — the 25,000-volume English and Ukrainian collection of the Reverend Andriy Chirovsky in the United States, founding director of the Metropolitan Andrey Sheptytsky Institute for Eastern Christian Studies in Toronto — arrived in March.
"Initially, no one believed there would be vocations to fill this seminary," aside from Cardinal Husar, says Father Ostrovskyy.
"The most incredible thing is, in the center of Ukraine, in a region where people did not believe the Greek Catholic Church could be restored, we have a seminary and a library with one of the best theological collections in the region, if not the country."
Father Zhuk, the rector, says the approach in all seminaries of the Ukrainian Greek Catholic Church has changed in recent years, becoming more integrative and seeking to develop the whole person by focusing on four areas — human, pastoral, intellectual and spiritual — that are important to nurture priestly identity.
First among these is spiritual formation, "nurtured through the various liturgical services, spiritual direction and opportunities to encounter the Living God" in daily life at the seminary, he explains.
Human development focuses on the seminarian's ability to communicate, relate and live well with others. Seminarians are actively involved in various aspects of community life at the institution, from problem-solving and relationship-building to daily chores, such as cleaning, preparing meals and washing dishes.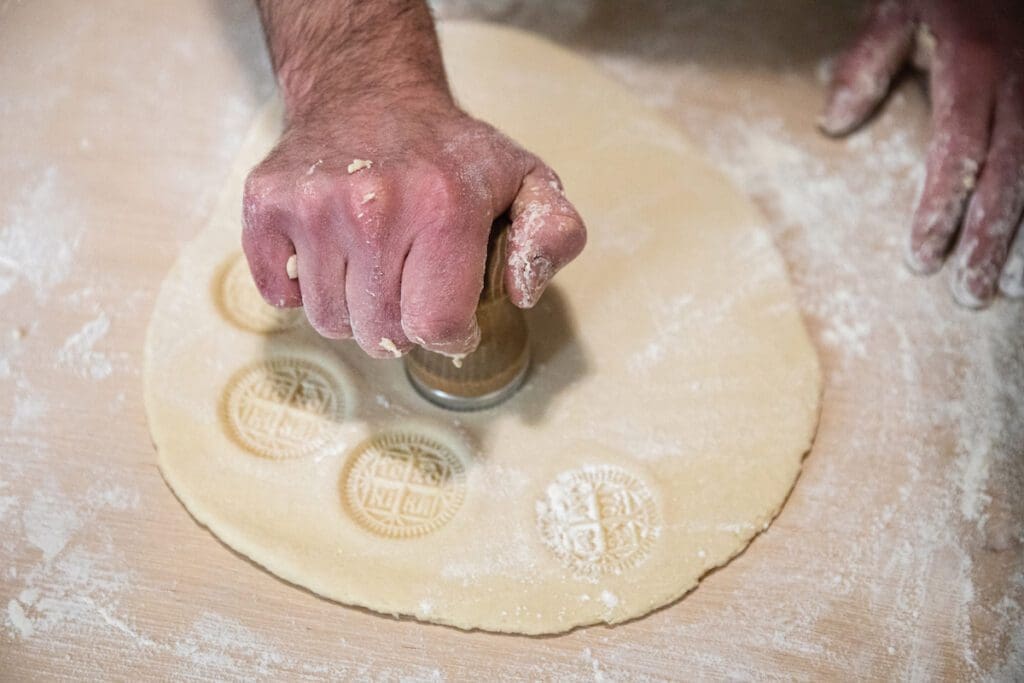 Intellectual formation requires a seminarian to take more than 120 courses over six years. The first two years focus on philosophy and classical languages, namely Greek, Latin and Church Slavonic. The next two years focus on theology, as well as Scripture, liturgy, homiletics and a variety of pastoral topics.
Pastoral formation prepares the seminarian to be present and minister to the people in their need according to the Gospel. A priest does not have to be ideal; he has to be "real, alive," says Father Zhuk, and capable of sharing his experiences and concerns.
"Today, people need a witness, priests who testify with their lives about what they teach," he adds.
Education in these four dimensions should make seminarians "better pastors," says Bishop Bohdan J. Danylo of the Ukrainian Greek Catholic Eparchy of St. Josaphat in Parma, Ohio, a former seminary rector in the United States.
Better pastors, he continues, are able to meet people, with their "challenges, blessings and problems," where they are at and help draw them closer to God.
As the head of the Ukrainian Greek Catholic Church's global Commission for Clergy, which oversees seminary and priestly formation, Bishop Danylo notes how these years of war have impacted seminary formation and are preparing a different generation of priests, with hearts more attuned to people's suffering.
"They are closer to a man and his challenges than at other times," he says. "Because when there is a war, you understand human pain and anxiety. You understand these challenges, and [you] must respond and seek a deeper answer."
---
Anna Nekrasova-Wilson is a journalist and producer from Ukraine, currently based in London. She has worked with USA TODAY, Die Zeit and The Wall Street Journal. Laura Ieraci is assistant editor of ONE. Konstantin Chernichkin in Lviv and Olenka Laschuk in Toronto contributed to this report.
The CNEWA Connection
Since the clouds of war began to gather over Ukraine last winter, CNEWA has rushed more than $5.5 million in emergency aid for food, shelter, medicine, psychological and spiritual support for those who have fled their homeland and those who have remained. All of this assistance is directed through our partners — for example, the Caritas network, Ukrainian Catholic University in Lviv, the Sisters of St. Basil the Great, eparchies of the Greek Catholic churches in the region, and the Knights of Columbus in Poland.
CNEWA's commitment to the formation of priests, sisters and laity in Ukraine continues, even in times of crisis, through our person-to-person sponsorship program. To support this important mission, call 1-866-322-4441 (Canada) or 1-800-442-6392 (United States) or visit https://cnewa.org/campaigns/ukraine/