The need for ecumenical and interreligious dialogue is ever present, said Msgr. Peter I. Vaccari in the first episode of "Connections With Msgr. Peter" in the new year.
Held on the final day of the Week of Prayer for Christian Unity, 25 January, CNEWA's president recalled Jesus' journey to Calvary, during which Jesus prayed for his disciples to be united as one: "Holy Father, keep them in your name that you have given me, so that they may be one just as we are" (Jn 17:11).
"Yet we know the reality is so different," said Msgr. Vaccari. "We are not united; we are not one. There is division all over. There is division among Christians, and there is division that goes beyond that, that is of painful concern to all of us."
"So, I invite you, sometime this evening, as the church concludes this week, to pray — to pray for Christian unity."
Msgr. Vaccari welcomed Thomas Varghese, director of programs for CNEWA, as his guest on the show to discuss their recent trip to India, where they visited CNEWA-funded programs, including seminaries, novitiates, the Home of Faith, which cares for children with disabilities, and Our Home of Mercy, a home for elderly women and women in crisis situations, run by the Sisters of the Destitute.
"It is CNEWA who stood with them, especially during COVID-19," said Mr. Varghese. "Most of the institutions closed down, but these seminaries and novitiate houses had no support from elsewhere."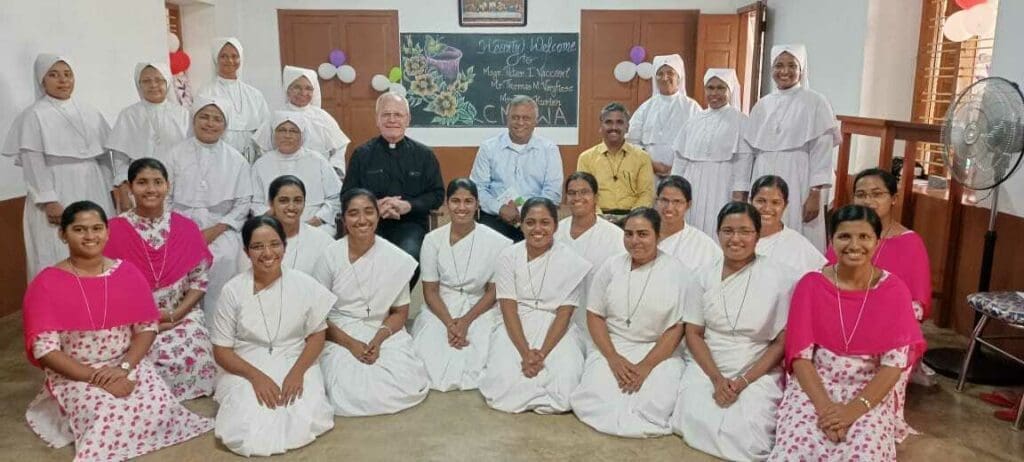 They emphasized how these institutions are able to care for those in need and continue the good work of the church thanks to the generosity of CNEWA's donors.
"CNEWA is there, and so we are able to remain there, and we're able to continue our support, precisely because of your interest, your prayers, your being informed as to the nature of the mission of CNEWA and your generosity," Msgr. Vaccari told his audience.
While in India, they also visited the Archdiocese of Trivandrum's program for Dalit children in Kerala and met with the apostolic nuncio to India, Archbishop Leopoldo Girelli.
Msgr. Vaccari asked viewers to consider the spirit of almsgiving and to extend their generosity to CNEWA in this upcoming Lenten season. He encouraged friends of CNEWA to come out for a golf outing fundraiser on 18 May on Long Island to support the agency's mission.
He concluded with words of gratitude to Noel Selegzi for his three years of dedicated service to CNEWA as director of development, as Mr. Selegzi prepares to move into a new role with another organization.