In a show of solidarity with Ukraine, the Canadian office of Catholic Near East Welfare Association partnered with the Metropolitan Andrey Sheptytsky Institute for Eastern Christian Studies at the University of Toronto to host an outdoor celebration for the feast of Theophany, also known as the Baptism of Jesus, in Montreal on 5 January.
Bishop Bryan J. Bayda, CSsR, Ukrainian Greek Catholic bishop of Toronto and all Eastern Canada, led the traditional Great Water Blessing associated with the feast at the city's Old Port. The event included what organizers believe to be the first public Great Water Blessing of the St. Lawrence River.
About 30 people braved the snow and freezing temperatures to gather at the Congregation of Notre Dame's historic Bon-Secours Chapel for a brief prayer, before processing less than a mile to the Clock Tower, another city landmark on the river's shore.
There, Bishop Bayda led the hourlong service and blessed the St. Lawrence, which he noted connects his entire eparchy, from Central Canada to the Atlantic Ocean.
"For me, the significance of today is layered," he said in an interview.
First, the feast commemorates God's love made manifest to the world, to which all are called to witness, he said.
"The witness to all of us, in fact, are Ukrainians, who, despite the unthinkable, horrible aggression they're experiencing, are still able to love, still able to forgive," he said. "What a powerful witness to the presence of God in our lives."
"In turn, we are welcoming those Ukrainians who can come to Canada," he continued. "We're all challenged to witness, to welcome. This is a humanitarian effort to witness the love of God."
Bishop Bayda recognized the ongoing need to raise awareness about the war in Ukraine, coming to its one-year mark on 24 February, and the humanitarian crisis it has created.
"Events like this try to bring attention to that," he said, "and bring it to the attention of the press, who can get it into the homes and minds of the people, notwithstanding so many other tragedies around the globe right now."
Dr. Pascal Bastien, president of the Sheptytsky Institute Foundation and main organizer of the event, noted the Baptism of Jesus is among the most important feasts for Byzantine Christians, celebrated on 6 January each year. As part of the celebration, Byzantine Christians traditionally bless a major body of water.
"However, this year, these prayers are made painfully concrete by the fact that this same feast and these same prayers are being prayed by our suffering brothers and sisters in war-torn Ukraine," said Dr. Bastien.
"We are not separate from this suffering," he said, "and in fact we can find fruitful ways, through prayer and action, to work toward peace."
Adriana Bara, director of CNEWA Canada, remarked on the solidarity, prayer and fellowship that characterized the service.
"People in difficult situations need our material support, but also spiritual support," she said. "Let's not forget to pray for our brothers and sisters in Ukraine and all people who are suffering, persecuted, displaced, and those who live in poverty."
CNEWA has been working in Ukraine for decades, supporting the humanitarian and pastoral efforts of the church. Since war broke on 24 February 2022, CNEWA has issued about $6 million to support humanitarian aid efforts in Ukraine, she said.
"This is a natural pairing," Dr. Bastien added about the collaboration between CNEWA and Sheptytsky Institute. "CNEWA is on the ground and in regular contact with the very same Eastern Christian churches whose traditions we work to uphold."
To support CNEWA's emergency relief work, go to: https://cnewa.org/donate/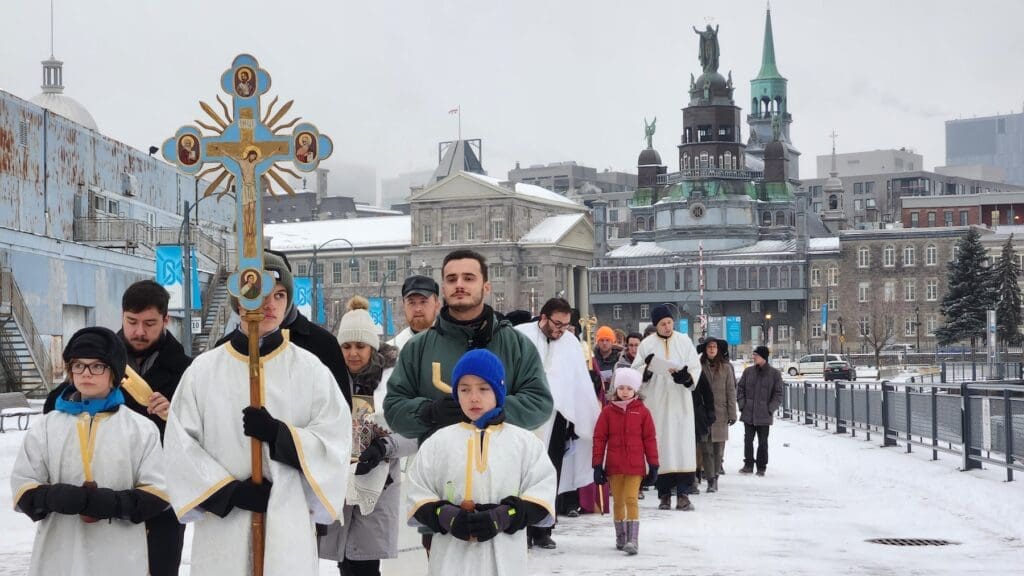 ---
Laura Ieraci is assistant editor of ONE.