I am just back from a week of meetings in Rome and I want to share with you some of the highlights and even the excitement that surrounded them.
Carl Hétu (our national director in Canada) and I were part of a group of funding agencies called to Rome by Cardinal Leonardo Sandri, Prefect of the Congregation for Oriental Churches, for an annual meeting to discuss how we might more effectively respond to the pressing needs of Eastern Catholics suffering greatly in areas served by CNEWA. We are the only agency in this consortium (called ROACO) that is pontifical and completely dedicated to assisting the Eastern Catholic churches in some very troubled parts of the world.
But before I get into some of the compelling content of our sessions, let me tell where I was living while in Rome. Carl and I were hosted at the Domus Santae Martae, a Vatican residence that just happens to be the home of our Holy Father, Pope Francis. Imagine the surprise of "running into the Holy Father" at various intervals in the lobby, coming out of the elevator, coming down the stairs. And imagine the sheer excitement of realizing that the figure in white entering the dining room for breakfast was none other than Pope Francis. Yes, we were actually guests at the Holy Father's new residence and what an honor it was. Although there is discreet security surrounding him at all times, he carries himself in a very relaxed way and freely gives waves and many, many smiles as he comes and goes.
Now for the various sessions:
Syria
As we so vividly are reminded each day in the news, the situation is Syria is abominable: everyone is suffering and many thousands are dying. Violence, hatred, vengeance — the realities of war — are confronted on every side.
The suffering of the Christians in Syria was dramatically and poignantly shared with us by a team of presenters. The apostolic nuncio to Syria, Archbishop Mario Zenari, described what was happening in the country as a reign of terror and fear. He said that threats of vengeance were directed especially at Christians, as they have generally neither taken up arms in the resistance nor openly sided with the regime. He claimed the "Arab Spring" had been stolen from the people.
A brave Franciscan parish priest joined us to give some brutal descriptions of how the war pits everyone against the other. Former neighbors and friends are now sworn enemies, people (even young teenagers) are captured and tortured and forced to "confess" and give names of their friends. Many have been executed. His particular town has been overrun by both sides on several occasions and so everyone is an enemy. Despite the threats directed personally to him by resistance fighters, radical Islamists and military sympathizers, he does not flinch in his determination to bring a small ray of hope to all: people of every faith and of no faith.
We were blessed with the testimony of a religious sister working in Damascus (a Daughter of Charity) who works mainly with abandoned women and children, but who always keeps the door open for all, at every time of day and night, never knowing if the people knocking at the door are friend or foe. With a deep faith and trust in God she and the other sisters strive to bring the Syrian people a brief respite from the cruel reality of war that surrounds everyone. Sister also highlighted how emotionally draining it is to have countless children wandering aimlessly looking for their parents or a mother and wife looking for her husband who has gone off to war or been taken prisoner.
The crisis in Syria was also described by a brave Jesuit priest who works with refugees in various areas of Syria. The war is not limited to a few areas of conflict, as more than one million homes have been destroyed and many millions have been displaced. Christians have largely stayed in Syria, not fleeing to Jordan, Lebanon or Turkey, but "hunkering down" with family and friends, sometimes with huge numbers crowded into bombed out and filthy dwellings with 40-50 people crowded together. But in his humble way he brings them the sacraments and the hope of Christ, and maybe a sack of rice.
Egypt
The new Coptic Catholic patriarch of Egypt, His Beatitude Ibrahim Isaac, joined us for an extended presentation and discussion about the trauma for the church in Egypt. He commented that what was supposed to be an "Arab Spring" had turned into an "autumn." Islamic fundamentalism has spread much fear for Christians. There is a strong movement from the villages (where Christians have previously felt more secure) to towns and cities. Slowly, Christians are losing their identity as they delicately tread the difficult waters of "fitting in" with the new order.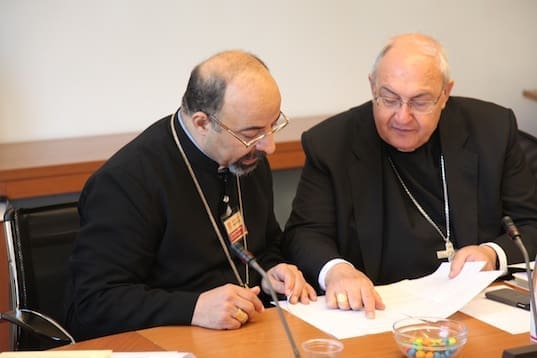 The patriarch is a very ebullient and a cheerful man and exudes confidence in the help of God. He is not naïve, though, about the where his nation and where the church might be going. But he stresses the positives: 170 Catholic schools whose doors are opened to all, clinics and hospitals who serve in the name of our Lord, orphanages who give comfort to lost or separated children. The church maintains her presence and gives hope to many, regardless of their religious group or political preferences. By the way, CNEWA is blessed to offer support to many of these programs. The patriarch privately asked me to thank you for your abiding support and especially your prayers of solidarity.
He highlighted the need to support basic human rights, the rights of women, the need to educate the young to become political leaders who can defend the rights of all and the importance of ecumenical outreach to the Coptic Orthodox Church, our big brother in Egypt. I told the Patriarch I was planning to visit him and his dear people next February and he was most enthusiastic to assist me in executing this pastoral visit.
Iraq
For those of us involved in helping the church in Iraq, we know how underreported the suffering is there and the consequent flight of two thirds of its Christian community. Patriarch Louis Raphael, who was recently elected to govern the Chaldean Church (which represents about 80 percent of the Catholics of this country), gave some dramatic testimony of the suffering and plight of the Iraqi people. Although this is a country blessed with many resources and the ability to contribute to the wellbeing of the entire Middle East, conditions resulting from religious and political persecution have wreaked havoc and violence on the vast majority of Christians in this country.
Can you imagine when two-thirds of your family has fled because of violence or the lack of a future filled with peace? This is his reality. Some have wrongly described him as pessimistic or fatalistic, but his approach is that of a realist. And while he places hope and confidence in Almighty God, he places great importance on unity: in his own church, with other churches, and national unity above political unity.
I think he surprised some of our group (after all, we represent funding agencies) when he said very openly that he did not join us in Rome to ask for money or for support for important projects, but rather to seek solidarity in prayer and to invite us to engage our governments in the dialogue for a lasting peace in his country, for basic human rights and freedoms.
He is a very practical man and realizes that he also needs to shore up the organization of this important and historic church with better administration and coordination and communication. We all pledged to do our best at being advocates for this suffering church.
Another feature of this annual gathering is to receive a report from some of the religious leaders in the Holy Land, namely the apostolic nuncio to Israel and the apostolic delegate to Jerusalem and Palestine, Archbishop Giuseppe Lazzarotto, and the custos of the Holy Land, Father Pierbattista Pizzaballa, O.F.M.
The nuncio stressed how the church has placed priorities on housing for young Christian families, education (especially higher education), and the heightened need for jobs. He also highlighted how the church seeks to preserve the rights of Christians in Palestine to build a positive society and to be productive citizens.
The custos (who administers the holy sites entrusted to the Franciscans) referred to the challenging equilibrium in preserving the "stones of memory" (the historical sites where salvation history is recorded) and serving the spiritual needs of the "living stones" (those witnesses to Christ now living in these holy places). The landscape in both dimensions is very complex and the costs are always greater than can be accommodated. As you can appreciate if you have been blessed to make a pilgrimage to the Holy Land, we must make every effort to cherish all these stones.
As a fitting conclusion to these days of emotionally charged content and what some would describe as depressing, we were graciously received in an audience by Pope Francis. After his words of thankfulness to all for the generosity of our donors, the Holy Father gave us some uplifting words about the suffering of the church in Syria, Egypt and Iraq and encouraged us never to lose hope and reminded us that charity must always accompany faith.
In a strong personal plea, he urged us not to give up on Syria and to keep the Syrian people in our hearts and prayers. And he gave us the formula of how a Catholic best responds in all circumstances: to be "rooted in faith, nourished in prayer, especially in the Holy Eucharist, the Sacrament of faith and charity." ?
The pope then appealed to the powerful and the weak, appealing to world leaders and organizations to seek an end to all pain and violence and discrimination. And to those suffering, the message was loud and clear: "Never lose hope."
After the ROACO meetings I continued on for two days, attending the meetings of the Board of Regents of Bethlehem University. CNEWA is one of the founders of this great success story in Palestine. As the only Catholic institute of higher learning in Palestine, it serves as a beacon for the rights of all Palestinians and how the Catholic Church seeks to inspire the young people of Palestine to become productive citizens and to contribute to the good of all.
Proudly the university is preparing to celebrate its 40th anniversary this October. It is also in the midst of a significant expansion program that will position it for even better service to the community in the future. The university, which is run by the De La Salle Brothers of the Christian Schools, has a very close working partnership with the Franciscans entrusted with the care of the holy sites in the Holy Land, the Papal nuncio and the Latin patriarch of Jerusalem.
It was indeed an eventful week for me and I hope you have assimilated some of the emotional content, the challenges that confront us, the honor entrusted to CNEWA by our Holy Father to respond to the needs of the Eastern Catholic churches in these areas of conflict — and the sheer delight of being so close to our Holy Father.
God bless Pope Francis and God bless all of you for your prayerful support and generous gifts.
+++
For more on Msgr. Kozar's trip to Rome, and his thoughts on the struggles of people in the Middle East, check out this report from Catholic News Agency, along with this audio interview with Vatican Radio (old/broken link: https://www.news.va/en/news/vatican-mourns-killing-of-monk-latest-victim-of-sy).