If you were looking for a figure representing the diversity and religious harmony of Jordan, you couldn't do much better than a man who was born in Gaza, was raised a Quaker, married a Muslim, and now serves as the mayor of the capital city of Amman.
Meet Mayor Akel Biltaji.
I did Monday night — along with the other religious bloggers and writers who are touring Jordan this week at the invitation of the Jordan Tourism Board. The mayor agreed to give us some time to talk about issues facing his city and his country. So a little after 6 p.m., we boarded our bus and made our way to Amman's imposing city hall.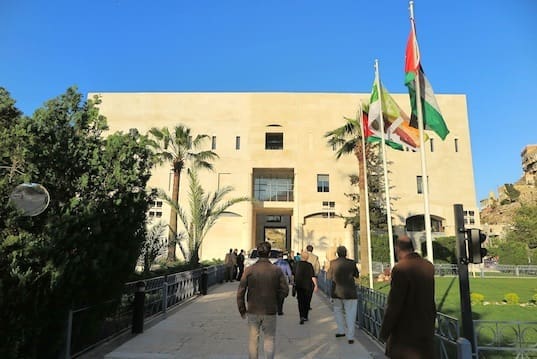 We were ushered in through security and up a winding stairway to a large conference room.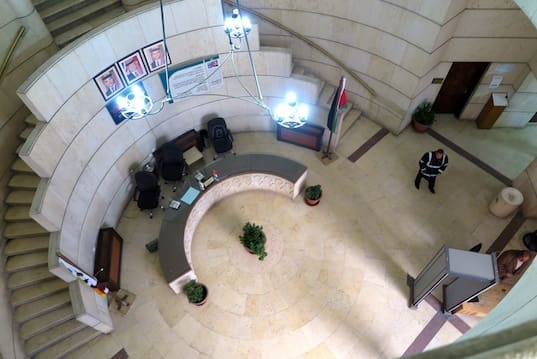 And there we suddenly saw the mayor: an elegant figure with a shock of white hair and a trim moustache, greeting each of us at the entrance to the room, shaking our hands, making chit-chat and asking us where we were from. We took our places around a large square conference table. The mayor's communications staff also joined us.
Dapper, warm, talkative, effusive, the 64-year-old mayor is the very model of modern major politico. He's also a born diplomat. When one of our bloggers asked him which cities in America he liked the most, he slyly worked his way around the room and extolled the virtues of every home town of every writer at the table.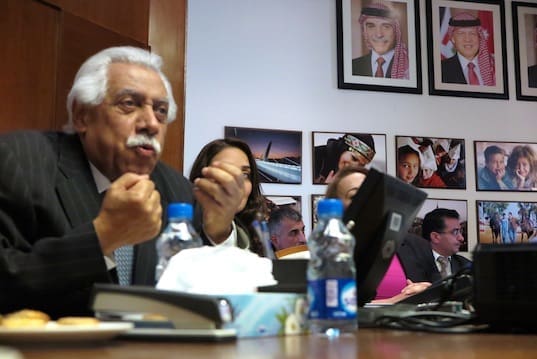 He has an instinct for people. And his background in management is impressive. From his official biography:
Raised and educated in the Hashemite Kingdom of Jordan, he obtained his High School Diploma and the London General Certificate Examination at the American Friends Schools (Quaker) in 1959. Mr. Biltaji graduated in the summer of 1962 with a degree in education and joined the Arabian American Oil Company (ARAMCO) the same year. In the summer of 1969, Mr. Biltaji returned to Jordan to join the National Carrier ALIA, the Royal Jordanian Airlines as a senior management officer. In his 28-year distinguished airline career, Mr. Biltaji served in different capacities, the last of which was senior vice president.

His Majesty the Late King Hussein appointed him in March 1997 as the country's minister of Tourism and Antiquities, where he continued to serve in this portfolio under His Majesty King Abdullah II until June, 2001, when he was appointed by King Abdullah II as chief commissioner to the newly declared Region of the Aqaba Special Economic Zone Authority

In February, 2004, His Majesty King Abdullah II appointed Minister Biltaji as His Majesty's advisor on Tourism Promotion, Foreign Direct Investment and Country Branding. In November 2005, he was also appointed as a member of the House of Senate, where he served as chairman of the Tourism and Heritage House Committee, and member of the Foreign Relations and Education Committees.
You would think the mayor of a major world capital would have better things to do than chat with writers after business hours on a Monday night. But for over an hour, Mayor Biltaji — in between extolling the virtues of his city and selling it to all those in the room — entertained questions on a number of topics.
Some highlights:
On Jordan's significance to the world: "This is the land of the sunrise of faith. … Judaism, Christianity and Islam. The mix is here. The heritage, the antiquities, it's all around. This is the source of a spirit of compassion. When we count the apostles and the prophets that have touched this land, we are blessed. It means they left something and it stayed, and we hope to be the custodians to these relics and antiquities."
On the importance of religious acceptance: "What is so unique about us here is acceptance. It's not tolerance. Tolerance is a bit condescending, you know? That's not coexistence. What matters is acceptance. Once you accept, you find yourself falling into taking the other in and being taken in, too, by the other. Once you surrender to that, that's how things should be. "
On how Jordan is coping with refugees: "We're managing. We are sharing with them whatever we can and making them feel at home. Just imagine if one-third of the U.S. just crossed the Mexican borders into the U.S. We have one-third the population, 30 percent of people living here have come from other places and are sharing very scarce resources. But this is part of our idea of acceptance. This is what is unique about Jordan. To have [been] born in Gaza, brought up in Jaffa, become a Jordanian — now I'm the mayor of four million people. Where else in the world can you do that? Lebanon? You can't. They have kept the refugees in something like a ghetto. Here, certain refugees who came here years ago and made a life here have insisted on staying in camps as a symbol of the right to return. Some are members of parliament, members of city council, but they are Jordanians living in the camp. The identity is there. Refugees are included here in the political life of the country. Lebanon is different. It's very sectarian. But here? We have 1.6 million Syrians — 20 percent of our schools in the north are full of Syrian refugees. But this, again is a sign of resilience, of compassion."
At the conclusion, he wished us well and thanked us for coming to his country — and for helping to tell its story. He acknowledged that many people misunderstand Jordan and don't realize that in a corner of the world rife with turmoil and terror, the Hashemite Kingdom remains stable, modern and secure. Again and again he attributed that to the leadership of the king, and what the mayor called a sense of "acceptance" of many cultures and faiths.
I think we all left the meeting wishing nothing but the best for the mayor and the land he so clearly loves. In comparison to the storms raging around it, Jordan is a sea of tranquility. Let's pray it stays that way. The Middle East needs more Jordans — and more cheerleaders for the region like Akel Biltaji.