When Menhem Maroun reflects on his Catholic education growing up in Lebanon, he is especially grateful for the values he attained.
"We learned how to live together, to live in peace, to accept the other," he says. "We can't have peace among people and nations if we don't have love, if we don't have the teachings of Jesus."
Noting that Catholic schools in Lebanon have always included Muslims, Mr. Maroun pointed out that such blending "initiates and introduces students … to Christianity as a religion of tolerance and forgiveness."
Mr. Maroun went abroad to earn a degree in electrical engineering from Dayton University in the United States in 1982. He returned to Lebanon, establishing an electrical engineering firm in 1986.
Coupled with his success in business, Mr. Maroun devotes his time to several Christian organizations, including Labora, which helps young Christians in Lebanon to find employment, thus helping them to stay in their homeland. He also dedicates time with Télé Lumière, the first Christian television station in Lebanon and the Arab world, which broadcasts satellite programming worldwide under the name Noursat.
Mr. Maroun also founded the Family of Father Jacoub, a lay spiritual group, and co-founded "Liban Message," inspired by St. John Paul II's Synod for Lebanon and the late pope's proclamation that "Lebanon is more than a country, it is a message of freedom and an example of coexistence for East and West."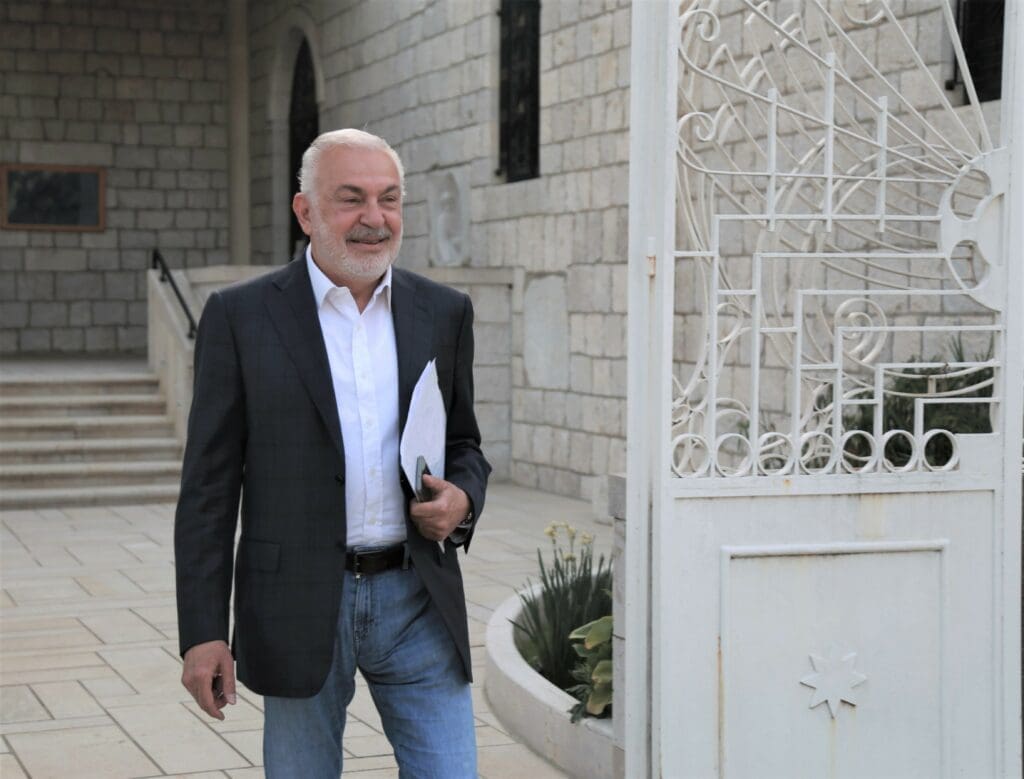 Mr. Maroun, a Maronite Catholic who attends daily Mass, believes part of his responsibility, which comes with being born a Christian in the Middle East, is to participate in the saving mission of God.
Catholic schools in Lebanon are very important to the church for vocations and, in this sense, are the "human reservoir of the church," Mr. Maroun points out.
Mr. Maroun's alma mater, St. George School, run by the Maronite Church in the Zalka suburb of Beirut, has produced many vocations. Recent alumni include nine priests and one nun. Two alumni have been ordained bishops: Archbishop Antoine Bou Najem of the Maronite Archdiocese of Antélias, Lebanon, in 2021, and Bishop Paul Antoine Nassif, apostolic exarch of the Syriac Catholic Church in Canada, in 2016.
But the future of Catholic schools in Lebanon is in jeopardy, as the country spirals further into economic meltdown. According to the United Nations Economic and Social Commission for Western Asia, three-quarters of the population in Lebanon now lives in poverty. Without outside financial support, many of the schools are in danger of closing.
"If Catholic schools close, it will be the end of Lebanon as we know it. Without Catholic schools, Lebanon will be dead," Mr. Maroun says grimly.
Despite the crises, he says his faith prevails.
"I always have hope for Lebanon."
To learn what you can do to help, visit https://cnewa.org/campaigns/lebanon/
Read Abi Raad's feature article, Catholic Education: Lifeblood of a Nation.
---
Doreen Abi Raad is a freelance writer in Beirut. She also writes for Catholic News Service and the National Catholic Register.