A bronze statue of Mary towers over the city of Zahleh and the surrounding Bekaa Valley. Steps away, St. Rita School lies beneath the shadow of her protection.
At noon, the Angelus bells ring and echoes of "Ya Umm Allah" ("Mother of God"), a Marian hymn in Arabic, drift into the classrooms from the shrine's loudspeakers.
Inside St. Rita's, students and teachers are reviewing lessons in preparation for exams. It is the first time they are gathering after extensive online learning due to COVID-19 restrictions. Despite their excitement to reunite with friends, students are engaged seriously with great focus.
Zahleh, about 18 miles from the Syrian border, is a largely Melkite Greek Catholic city. But with the influx of Syrian refugees escaping the civil war that began some 10 years ago, Zahleh and the Bekaa Valley became host to nearly 40 percent of Lebanon's total Syrian refugee population of more than one million, most of whom are Muslim.
From the onset of the refugee crisis, Archbishop Issam John Darwish of the Melkite Greek Catholic Archeparchy of Zahleh and Furzol supported about 1,200 Syrian refugee families, Christian and Muslim.
Initially, there were problems of acceptance between the local Lebanese community and the Syrian refugees. To foster fraternity, the archeparchy organized activities, such as camps for children, youth groups, women's meetings and other initiatives, that have been successful at building bridges between the two communities and nurturing solid friendships.
St. Rita School is one of the fruits of that fraternity.
"In this school, we have a combination of Syrian and Lebanese and also of Christian and Muslim students," says school director Zeina Ammoury. "We are helping them to live together. We treat them as brothers and sisters in class. Here we are as one family."
Of St. Rita's 230 students, 82 are Syrian; 70 percent of the students are Christian, and 30 percent are Muslim.
Lebanon's Catholic schools have a longstanding tradition of educating Muslim and Christian students alike.
"This is what makes Lebanon so unique," says the archbishop. "In most of the Catholic schools, we have Muslims and Christians. They teach Christian values, as well as what is in common with Muslims, such as the values of family, good relations between neighbors and how to live as brothers and sisters in the same country.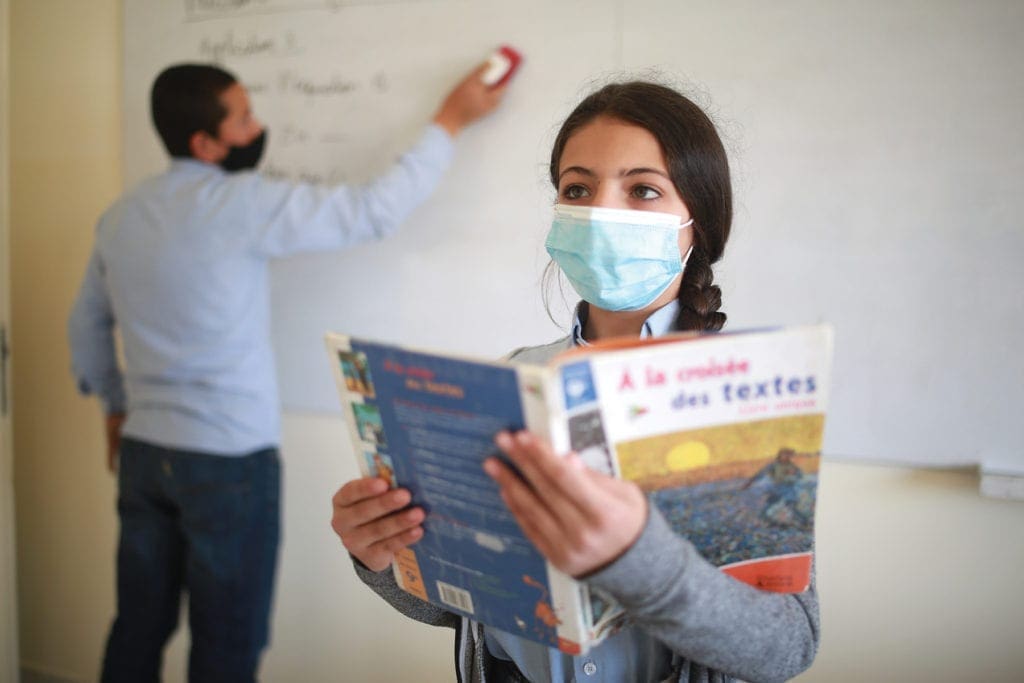 "This creates an ambience of dialogue, acceptance and fraternity between Muslims and Christians. Muslims love to send their children to Catholic schools. This is the reality.
"And without Catholic education in Lebanon, society will collapse," he underlines.
Math teacher Sabine Ramia sees her role at St. Rita's as more than an educator.
"I don't just explain the lesson," she says. "I take time to explain morals and values, the skills they will use, not just in school, but as a person throughout their lives."
"This school is like my second home," says Loujein Kroma, her knapsack packed with books and notebooks open beside her.
"They teach us love and how to respect others' opinions," the self-assured fifth grader, a Syrian Melkite Greek Catholic, says of St. Rita's.
When asked what she would like to be when she grows up, Loujein confidently responds without hesitation, her eyes shining: "A doctor."
Established by the archeparchy in 1947, St. Rita's moved to its current location in 1989.
But the future of St. Rita's — as with so many Catholic schools in Lebanon — is in jeopardy, as the country slides deeper into economic crisis. With parents struggling to provide basic needs for their families and unable to pay tuition, Lebanon's Catholic schools need donor support to sustain their mission.
"Without the help of our brothers and sisters in the West, such as CNEWA, we cannot continue," Archbishop Darwish says matter-of-factly.
If not for CNEWA's help, he acknowledges, St. Rita School would have closed three years ago.
The Lebanese currency has lost nearly 90 percent of its value since late 2019. So, a salary equal to $1,000 has slipped to $100, plunging the middle class into sudden poverty and sinking the poor further into destitution.
According to the United Nations, an estimated 55 percent of the Lebanese population now lives below the poverty line in a country previously considered largely middle class. Unemployment is rampant, inflation is soaring and people are struggling to afford basic necessities.
"How can I ask parents to pay their children's tuition when they can barely afford to buy bread?" says Ms. Ammoury, the school director.
Public schools are not considered a viable option, as the level of education is not up to par. Furthermore, there are not enough public schools for all the students in the country.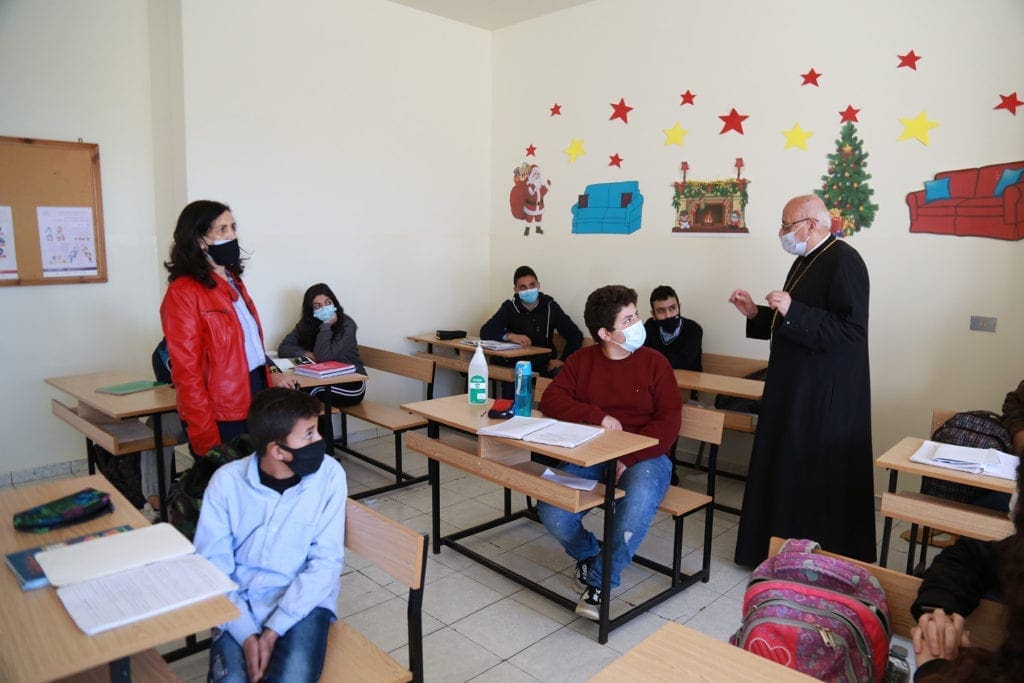 Lebanon's Catholic school legacy stems from the Pontifical Maronite College in Rome, founded by Pope Gregory XIII in 1584 for the formation of Maronite priests. Many of them, returning to the lands that make up part of modern Lebanon, came home filled with a zeal to educate, opening schools all over their homeland.
Missionaries from European Catholic orders followed, building Catholic schools around the country and establishing the educational system from the ground up.
In a letter last spring to Lebanese President Michel Aoun, the General Secretariat of Catholic Schools in Lebanon warned of pending Catholic school closures in the midst of the economic crisis. In addition to calling on the government to assume its responsibilities as regards education, the letter also stressed the important and historic role of religious congregations of men and women for hundreds of years.
"They have carried out pioneering work in towns and villages, participating in the elimination of illiteracy, without any discrimination as to regional, social or religious affiliation, thus contributing to the constitution of Lebanon's fundamental wealth, its exceptional human resources," the secretariat wrote. "In this, they have remained faithful to the mission of the church, as 'mother and educator,' ensuring the development of man in knowledge, love, solidarity and national belonging."
Cardinal Bechara Boutros Rai, patriarch of Antioch of the Maronites, has also been vocal about the importance of Catholic education, often referring to the country's Catholic schools as "one of the pillars of Lebanon."
Currently, there are 365 Catholic schools in Lebanon, belonging to 59 different eparchies and congregations, educating some 300,000 students.
Known for its high-level academics, Lebanon's Catholic schools are typically trilingual, with students learning in Arabic, French and English. Graduates often continue higher studies in the best universities in the West.
In the Geitaoui neighborhood of Beirut, Immaculate Conception School has been a landmark since it was established by the Daughters of Charity 126 years ago. Its current enrollment of nearly 500 students, of whom 30 percent are Muslim, includes refugees and migrants.
"We are working on charity, on fraternity and living together — all religions — and taking care of the poor," says Sister Marlene Youssef, director of the school.
Immaculate Conception suffered tremendous devastation from the catastrophic Beirut port blast in August 2020, blowing out windows and doors and catapulting contents of the building's 90 rooms. Damages totaled $1.4 million.
"We lost everything," says Sister Marlene.
She and Iranian-born Sister Sophie Khosrovian had just finished praying together minutes before the massive explosion. Thankfully, no children were in the school at the time. Sister Marlene says she "was saved by a miracle," but 76-year-old Sister Sophie succumbed to her injuries.
"She loved Lebanon and this school," Sister Marlene says of her beloved sister.
With the help of CNEWA and other church organizations, the school's reconstruction is underway and should be completed this summer.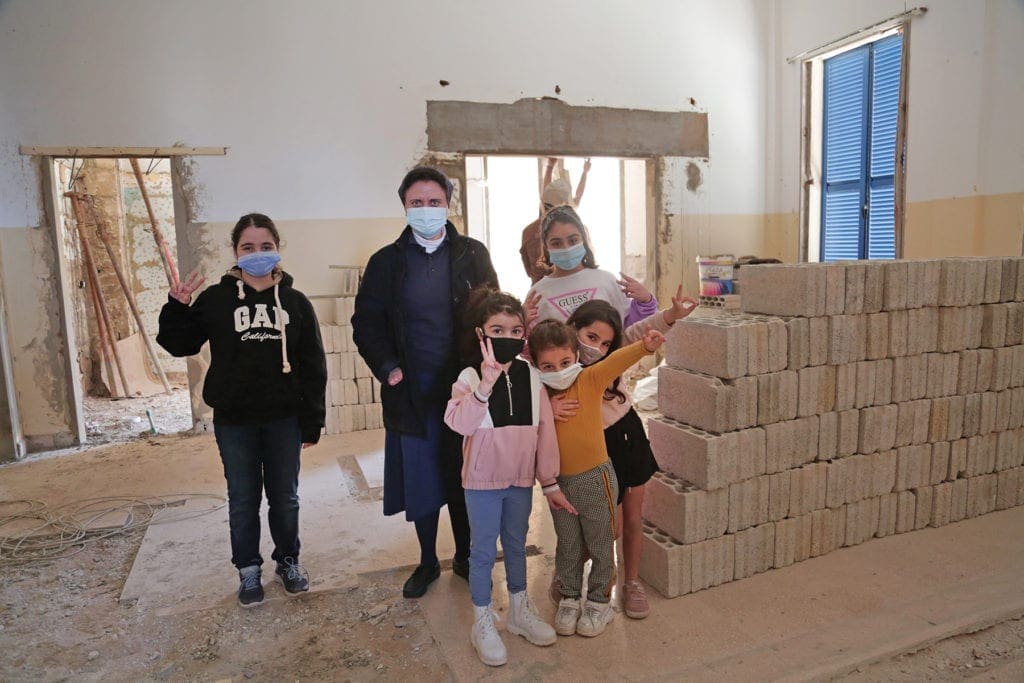 "The education here is Catholic, based on Christian values. We are helping so many children from different religions to live together, to build a new Lebanon. That's why we must continue our mission," says Sister Marlene, amid the constant clatter of banging and ear-piercing rounds of drilling.
Aside from the building restoration work, Sister Marlene adds, the needs of the school's families and teachers affected by the blast keep increasing, exacerbated by the country's deteriorating economic situation.
"At this point, they are very poor and barely surviving," she says. "As a Catholic school, we took it upon ourselves to help them and, despite all the difficulties, to keep our doors open for their children. And we made their hardship our hardship."
The sisters' solidarity with these affected families is rooted in the charism of the Daughters of Charity — founded in Paris in 1633 by Sts. Vincent de Paul and Louise de Marillac — of service to the poor and suffering. They rely on donations to help the families with food and clothing.
"The parents don't have work," Sister Marlene points out.
"My priority now is to help our students with tuition," she adds. "For that, we count on donors."
Marie Ange Garabedian's bond with Immaculate Conception School began when she was 8 months old in the school's nursery.
"It's been so special for me to grow up in this school," says the eighth-grade Maronite, who aims to be a fashion designer.
"I rushed to the school the morning after the explosion and I cried. I couldn't believe how everything was destroyed. It's so hard to see my school like this, my second home," she says.
Her eyes again fill with shock as she enters a gutted classroom during a recent visit to the school.
"Every night I pray for things to get better in Lebanon," Marie Ange says.
Seventy miles south of Beirut, nestled in the hills overlooking the Mediterranean Sea and hugging the border with Israel, lies the village of Rmeish — an island of Christianity in a region of Lebanon that is about 90 percent Muslim. Rmeish's nearly 6,000 Lebanese residents are all Christian, though about 1,000 Syrian refugees, mostly Muslim, have made the village their home, for now.
Since it was established in 1959, Our Lady of Lebanon School has shone "as a light and the life of Rmeish," says the Rev. Najib El Amil, the Maronite parish priest, who has served at the school for 30 years.
The school is run by the Lebanese Antonine Sisters, whose main mission is to educate children in remote areas. Of the school's 565 students, 45 are Muslim.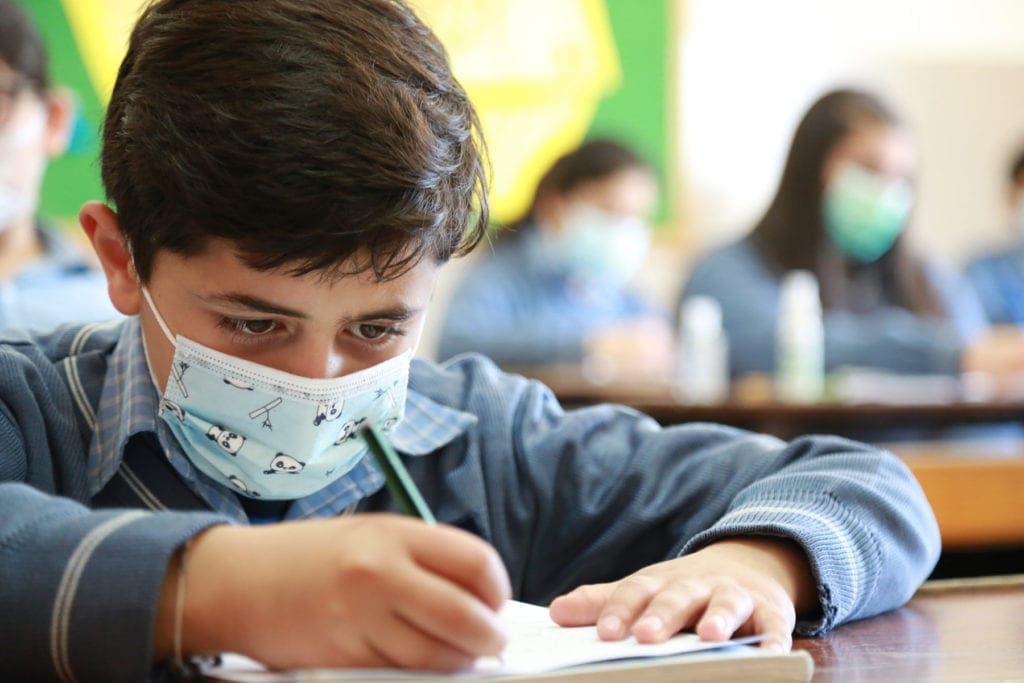 Posters with encouraging messages in English, French and Arabic adorn the school's hallways: "Light the Flame of Hope," "Be Courageous, You are in the Heart of God," "Let Your Light Shine."
Sister Marie Nassar, director of Our Lady of Lebanon, praises the dedication of the teachers.
"They treat the children like their own. They are so caring, loving and very attentive to their problems. They know each one's family," she says.
Pierre Habib, who has been teaching history, geography, civil studies and Arabic at the school for 30 years, sums up his approach to his vocation: "Teaching is love. If there is no love, it is like a garden without water."
Tala el Wazwaz, an eighth-grade Shiite Muslim student who aims to be a surgeon, says, "Sister Marie and all my teachers always encourage me to be strong and to ask questions if I don't understand something. I feel very loved here at school and I like to learn about other religions."
For Pauliana Hage, an eighth-grade Maronite, Our Lady of Lebanon "is such a part of me, and it is very important to this village. The teachers are amazing."
Pauliana would like to be a doctor, like her father, who also attended the school.
The school does not refuse any student who cannot pay tuition, says Sister Marie, as there are no other alternatives to education — Our Lady of Lebanon is the only Catholic school in the village.
"We help the families as much as we can," says Sister Marie. "Where will they go if we can't continue our mission with them?"
"Our priority is to keep the school going," says Sister Marie, even as the economic situation for families "is getting worse."
The strong, energetic sister is overcome with emotion as she admits, "Honestly, sometimes I cry myself to sleep at night, worrying about how I will pay the teachers."
"We need financial support," she says. "This school is so vital to this region."
In this dire situation, she adds, "every donation is a treasure."
Immaculate Conception, Our Lady of Lebanon and St. Rita's are considered semi-gratuity schools, located in remote or impoverished areas. Tuition is nominal and the Lebanese government is to provide a subsidy of about 50 percent for a portion of the student body.
But the government has not paid any of the funds owed to semi-gratuity schools since 2016. With parents falling increasingly behind on tuition payments as each year passes, the future of the schools is uncertain.
Alumni of Lebanon's Catholic schools also share their deep concern regarding the future of Catholic education in the country.
Dr. Pierre Yared, general director of Beirut's Geitaoui Hospital, looks back on his Catholic education at Mont La Salle School, run by the Brothers of the Christian Schools founded by St. Jean-Baptiste de La Salle. Dr. Yared recalls the values of "honesty, love and transparency" he learned there.
"All these values and the respect of the human being are so important in the medical field," he says. "We were hard workers and the discipline was very strict," he adds, recalling moments in the classroom.
One of Lebanon's first hospitals, Geitaoui is entrusted to the Maronite Sisters of the Holy Family. It suffered extensive damage in the Beirut port blast and CNEWA has helped with the restoration.
"Catholic schools are the blood of our society in Lebanon," he continues. "If these schools close, or can't continue their mission, it will be a disaster for Lebanon."
Ella Bitar's most vivid childhood memories are her "best years" at Besançon, the school of the Sisters of Charity of St. Jeanne-Antide Thouret.
"The sisters had such a great impact on my life," she says. "They gave us so many values: to help people, to have a heart for the poor," all of which accompany her in her role with the Society of St. Vincent de Paul as the international territorial vice-president for the Middle East.
In her 33 years with the Society of St. Vincent de Paul, Mrs. Bitar has never seen the situation in Lebanon as dire as it is now.
"Like never before. People have no hope," she says.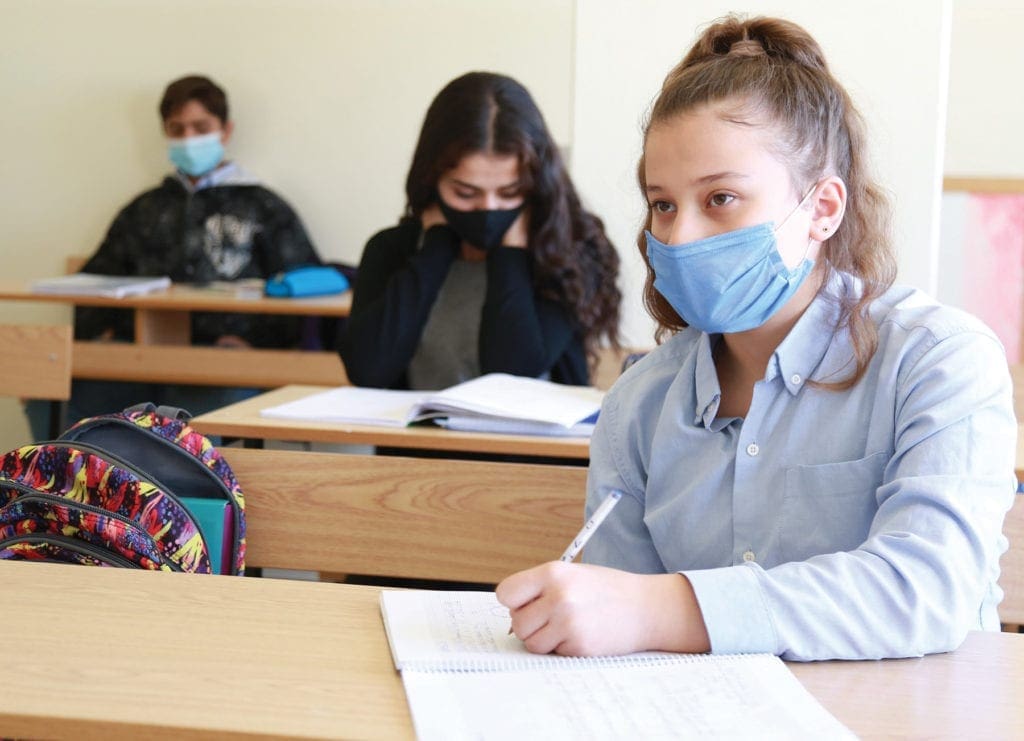 In coordination with the St. Vincent de Paul Society in the United States, Mrs. Bitar has organized an initiative to support Catholic school tuitions for 1,000 Lebanese children in need.
"If we lose Catholic education, then Lebanon is finished," she says, with a single clap of her hands to emphasize her point.
Mrs. Bitar stresses it was a priority for her and her husband to educate their four children in Catholic schools, a legacy that continues with their grandchildren.
Her daughter, Marianne Bitar Karam, credits her education at Jesus and Mary School, run by the congregation of the same name as an all-girls school at the time, for learning discipline, organization and acceptance of others regardless of their background.
"I'm a very big advocate of girls and women. This is translated in my work, especially when it comes to education and their professional journey," says Mrs. Karam, who works for Digital Opportunity Trust as the country director for Lebanon and the regional lead for the Middle East and North Africa.
"We up-skill community members with technology, entrepreneurial and business skills," she explains of the Canadian nonprofit's mission of training women and youth to use technology in order to improve their employment opportunities.
"Lebanon has nothing to export," Mrs. Bitar adds. "The only thing we can export is our knowledge and our education. If we lose this, we have nothing."
---
Doreen Abi Raad is a freelance writer in Beirut. She also writes for Catholic News Service and the National Catholic Register.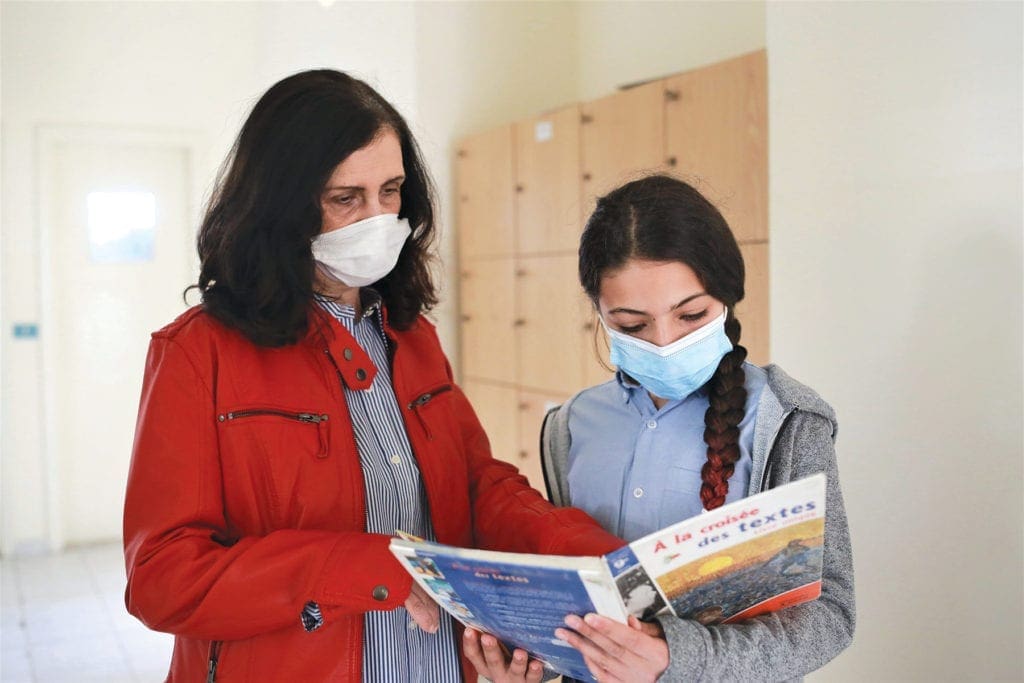 The CNEWA Connection
CNEWA has long accompanied local churches in Lebanon, and key to this has been supporting schools, religious congregations and places that seek to help the young.
But that is just the beginning. More recently, CNEWA also has been lending pastoral and humanitarian support to the nation on a variety of fronts as it struggles to rebuild and recover after last year's horrific explosion on the Beirut waterfront. CNEWA was among the first to respond. CNEWA, with our partners on the ground, distributed food and supplies to thousands of families. We also coordinated worldwide Catholic aid for Lebanon's Catholic health care and school systems.
Among many other projects, CNEWA also spearheaded a campaign to renovate the Rosary Sisters and Geitaoui hospitals, both damaged in the blast.
Lebanon remains a vital and important part of the land we call "holy," with deep roots of faith and religious tolerance. Your gift can ensure that this legacy endures during especially difficult times.
To support the people of Lebanon, call: 1-800-442-6392 (United States) or 1-866-322-4441 (Canada).