CNEWA and COVID in India
The second wave of the COVID-19 pandemic in India has brought devastation across the nation. With daily death rates as high as 4,000, the number of COVID-related deaths now exceeds 350,000. At press time, daily infection rates had dropped from 400,000 earlier in May to 300,000, although medical professionals feared cases and deaths were underreported.
"The situation is horrible," said M.L. Thomas, director of CNEWA's India office.
Speaking to ONE from his home in Kerala, Mr. Thomas said people were dying due to a shortage of medical oxygen; a scarcity of remdesivir, the drug now commonly used to treat COVID-19; and lack of care due to an overburdened hospital system.
"In some COVID wards, patients are sharing beds, while others wait outside for treatment," he said. "Ambulances are working around the clock, assisting those in need of critical care — and transporting COVID victims to crematoriums. Numerous corpses are waiting to be cremated or buried. Vaccine shortages — only 2.1 percent of the population was vaccinated by mid-May — mean there is no way of predicting an end to the loss of life."
The lockdowns and restrictions have made daily wage earners and the poor even more vulnerable.
"Many initiatives of the church are reaching out to the poor," he said. However, "it's falling short definitely."
Faced with this need, CNEWA issued an initial response of "food packages for more than 16,000 families; medicine kits for 1,250 families; 3,400 P.P.E. kits; more than 7,000 boxes of soap, sanitizer, masks, gloves and face shields; 45 disinfectant foggers; 10 oxygen flowmeters and humidifier bottles; 10 medical cots; and 500 sets of bed linens," he said, adding the Syro-Malabar and Syro-Malankara Catholic churches are involved in procuring and distributing the items.
The church in India has experienced significant loss of life from COVID-19, including more than 200 priests, 210 women religious and three bishops, of whom two were retired.
Bishop Jacob Barnabas Chacko Aerath of the Syro-Malankara Eparchy of St. John Chrysostom of Gurgaon, based in New Delhi, contracted COVID-19 and, at press time, was on a ventilator in a critical state.
Mar Barnabas had been working among the poor during the first wave of the pandemic, distributing food in Delhi and the further reaches of his eparchy. The bishop, from his hospital bed, has insisted his priests continue the relief work among the poor.
Learn how you can help at cnewa.org/india.
Ethiopia's Two Crises
In May, a priest of the Catholic Eparchy of Adigrat in Ethiopia's northern Tigray region, where war broke out last November, said killings, abductions and rape continue in Tigray. The bishops issued a humanitarian appeal, saying people continue to flee or be displaced, seeking safety in camps. Local churches are overwhelmed, farmers are unable to grow crops and food shortages are grave. CNEWA responded with humanitarian aid.
"We have sent funds to provide basic provisions to more than 80 diocesan priests who are stranded in 34 parishes," said Argaw Fantu, CNEWA's regional director in Addis Ababa.
"The bishop and his pastoral team are very grateful to CNEWA for rushing this special support," he said. "It is the only agency that has responded to these urgent needs."
In addition, CNEWA rushed $25,000 to benefit needy children, who would normally receive nutritious biscuits at school. With schools currently closed, the program distributes food to them at home through local parishes.
Ethiopia is also fighting against a growing number of COVID-19 cases. Freelance journalist Maria Gerth-Niculescu in Addis Ababa told CNEWA the country has between 1,500 and 2,000 official new COVID-positive cases daily, but testing capacity is very limited.
"The number of severe cases has also increased drastically," she said. "The health personnel are overworked and hospitals are facing a shortage of protective equipment."
The few Catholic health care facilities in rural areas are equally overwhelmed by the need, said Mr. Fantu.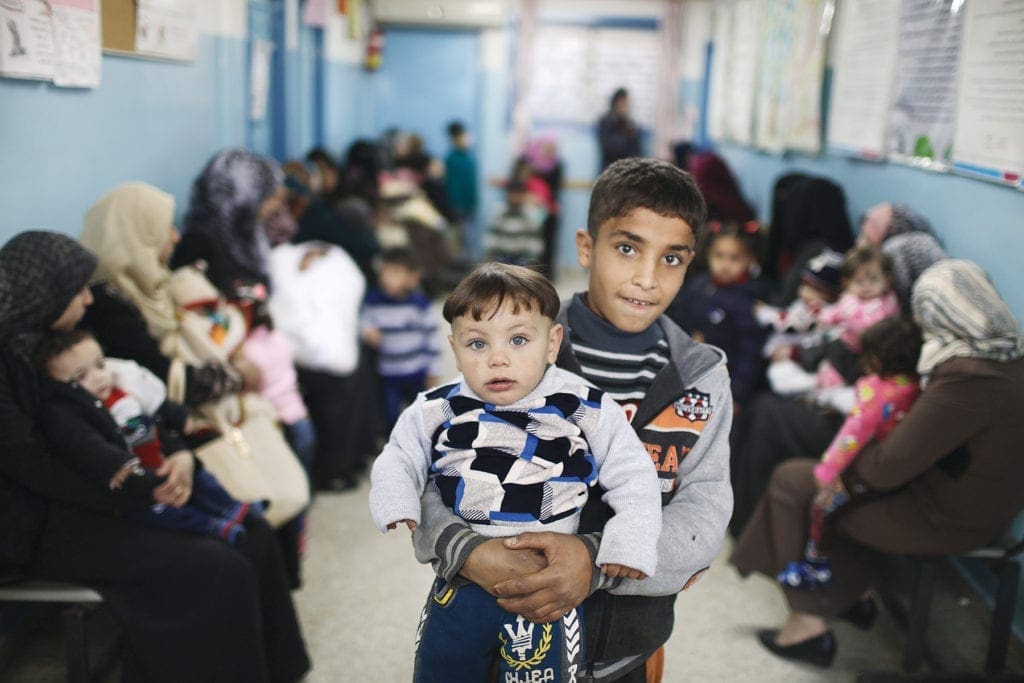 Holy Land Cease-fire
As we go to press, a fragile cease-fire appears to be holding between Israel and Palestine, after days of terror and bloodshed in May. At last report, the death toll in Gaza surpassed 200; among the dead were 60 children. At least 10 people, including two children, were killed in Israel. Tens of thousands in Gaza are reported to be homeless.
"Everyone on both sides is terrified, exhausted and sleepless," said Joseph Hazboun, CNEWA's regional director for Palestine and Israel. "For everybody, this is a nightmare."
Mr. Hazboun said, despite the cease-fire, construction materials are expected to be banned from entering Gaza, "which means no reconstruction efforts will take place for a few years." He also spoke of the psychosocial trauma caused by the war, especially among children, and the need "to work together to bring back some sense and meaning to the lives of people."