The cry of the Syrian people is growing louder.
After 10 years of war, including two years of economic crisis, almost all Syrian families are affected in one way or another, either by the loss of a family member or by emigration. Great suffering has ripped hearts that still bleed today.
Amid so much suffering, my sisters and I faced a dead end: what to do to console those around us?
Our first role has been to be present to them, to listen to the people quietly or sometimes to cry with them. Before these hopeless people, it has been very important for us to be a sign of hope. This disastrous situation has made our religious community a "Wall of Lamentations." People come to us to cry — to cry for help — and to seek consolation.
Our congregation, the Sisters of Charity of St. Jeanne-Antide Thouret, was founded in Besançon, France, in 1799, and approved by Pope Pius VII in 1819. From the beginning of our congregational journey, our sisters have taken the vows of poverty, chastity and obedience. We live in familial community; our style of life is built on charity, modesty and simplicity. Helping the poor is the main pillar of our mission.
In Syria, our mission has taken on three forms: educational, pastoral and social.
Currently, we are four sisters in the community of Damascus, living and working in the suburbs of Jaramana and Al Mleha. One sister is a full-time social worker, and three sisters work full time at the local parish, St. Joseph Melkite Greek Catholic Church, and at our school, Al Riaya School in nearby Bab Sharqi.
We have been very affected by the situation of war and crisis since it began. Our Besançon School in Al Mleha was located in a "hot zone," and half of our students left within a month. We were like a mother who lost her children, without even being able to say goodbye. Many families fled the country, our school was damaged by the war and, in November 2012, we were forced to leave our home and our school in Al Mleha.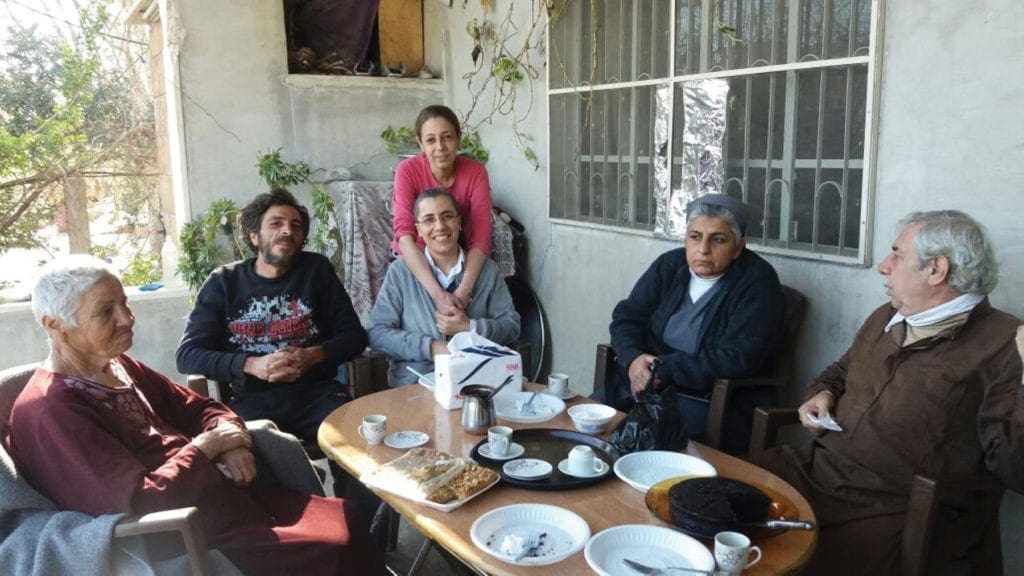 We found refuge among our community in Jaramana, where we joined their mission, running Al Riaya School during the day and making visits to the displaced in the evening. We were in an undesirable situation overnight: what to do and where to go with our students? Like real soldiers, we did not give up. This sad event was an opportunity to spread love and adapt to a new situation with our displaced students at Al Riaya School.
According to our educational and pastoral mission, we began to organize daily prayers with different families, as well as psychological counseling sessions to help children, teachers and families during these hard times. We began advocating for a dignified life for families by seeking aid through humanitarian agencies: food, schooling for students, rent for displaced families and financial support for education.
Our catechism has been at the heart of our mission. We continue to hear the same questions from the people: "Where is God? Why doesn't he intervene? Why didn't he save my mother, my father, my son, my friend?"
We have had to explain to them that God is always with us, he suffers with us. It is humankind who is far from God, who commits these evil acts and kills innocent people. God, who is love, did not even save his own Son who suffered on the cross because, in the end, the Resurrection is the answer to all sufferings. It is the only hope for every Christian.
Pope Francis has proclaimed this year as the "Year of St. Joseph," dedicated to this great and humble saint who teaches us how to say, "Yes, I am the guardian of my brother and sister," as he was the guardian of Jesus.
Sister Joseph-Marie Chanaa' is responsible for all of the social work activities of our congregation.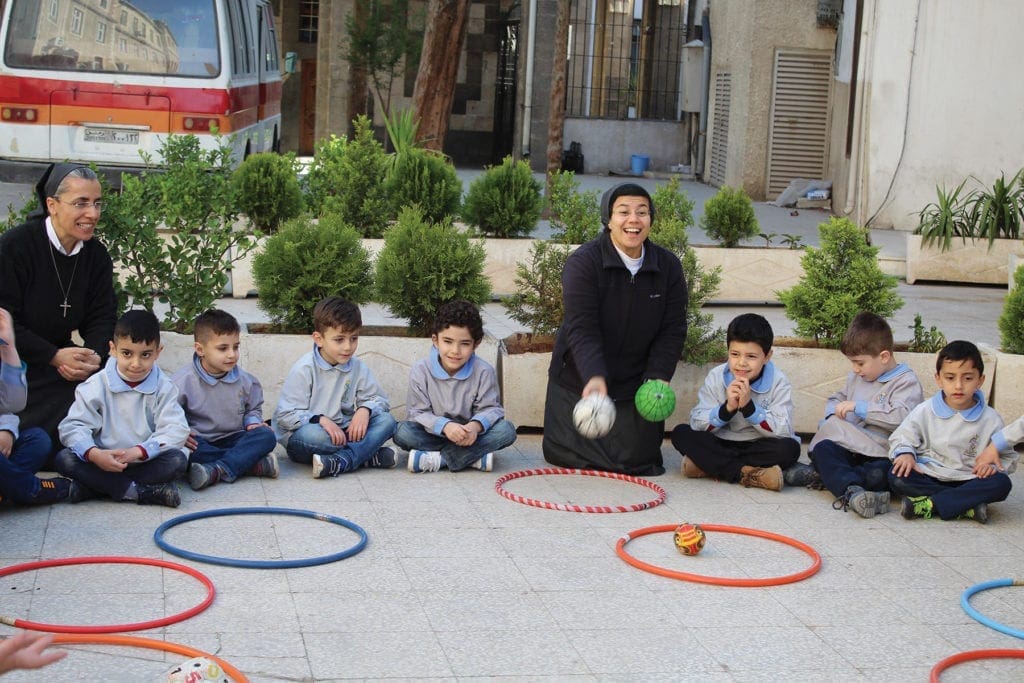 "At the beginning of the war," she says, "we were asked by our superiors if we wanted to leave Syria. The answer by all the sisters was, 'no.' We remained in solidarity with our people. Our relief work has consisted of serving our brothers and sisters affected and displaced by the war waged on Syria. We asked church-affiliated organizations for help and assistance. CNEWA has responded to our needs with love and care, and we experience that love through different programs, from emergency aid to educational and pastoral support."
We have collaborated with CNEWA on several programs, such as a children's milk program in Damascus and neighboring villages, which is ongoing and serves hundreds of children.
A food package program was, and still is, very vital. Hundreds of families do not have any source of income and are unable to secure food and basic necessities. They live in poverty and have been greatly affected by COVID-19 and its economic and health impacts. This program responds to their needs.
In addition, the clothing distribution program during the Advent and Lenten seasons continues to serve needy children and families, providing them with suitable clothing for Syria's cold winter and hot summer months.
Our catechetical and pastoral program for Christian families in Syria supports them spiritually and psychologically, giving them strength through the Word of God, to be able to survive and adapt to their difficult situation.
CNEWA has been our main support in efficiently and effectively helping the poor and needy during this indiscriminate war on our country and our people. These are our brothers and sisters: We were never going to abandon them and we never will.
The most important challenge for us at this time is serving the poor of today, with the strengths we have, given our rising average age and lack of vocations.
The Christian community in Syria has shrunk, from 10 percent of the population in the 1940s to 6 percent in 2020, due to greater emigration and declining birth rates. We are becoming a much smaller minority, but that does not mean we do not contribute to Syrian society. Our institutions, schools, hospitals and educated community members help in developing Syrian society and working toward a more harmonious coexistence.