Fatima worked as a housekeeper for a Tbilisi hotel before COVID-19 paralyzed Georgia's hospitality sector, putting thousands of people out of work. With nowhere to go, the unemployed, single mother left the Georgian capital with her three children for Gori, about 55 miles west of Tbilisi, to live with her father. Then, her brother was released from prison and moved in, too.
Fatima is no stranger to domestic violence or to moving in times of crisis, having been displaced by war in Abkhazia, a breakaway region in Georgia's northwest, 30 years earlier. To protect her children from her brother's increasing abuse, they fled to a Gori police station. The authorities made phone calls and found them a spot at the St. Barbare Mother and Child Care Center in Tbilisi.
Fatima recalls the welcome she and her children received when they arrived.
"We were hungry and Caritas prepared us a supra (feast) and gave us clothes," Fatima says, as her emotions begin to overwhelm her. "My family is one big tragedy, but this is my little paradise."
An aura of safety, warmth and compassion permeates the center — one not often found in state shelters, where people tend to be treated as numbers. St. Barbare's beneficiaries — single mothers who are often victims of violence — receive sincere, personal attention.
Founded in 2017, St. Barbare's helps women manage the crises and challenges of single motherhood and transition into new, independent living. The project works alongside the Georgian government, which chooses eligible beneficiaries. The state has no budget to operate such programs and depends on organizations, such as Caritas, to help Georgia's neediest citizens.
The center can accommodate up to 15 beneficiaries at a time for a maximum one-year stay. Staff includes a full-time, round-the-clock babysitter, so that no one is ever alone, as well as a cook, psychologist, social worker and pediatrician. Gvantsa Bakradze, the center's program coordinator, says it is not easy to prepare single mothers for independent living within a year's time.
"It's hard to leave, everything is here: a roof, food, childcare," Ms. Bakradze says. "We have to nurture self-motivation; no one is going to take care of you forever."
In Georgia, family values are deeply ingrained into a patriarchal concept of "tradition" that typically goes unquestioned. When the fabric of the family unit is broken through poverty, violence and substance abuse, women, who are expected to care for the family, bear the greatest burden.
According to a 2017 U.N. study, one in seven women in Georgia are victims of domestic violence. Yet, nearly a quarter of women surveyed believe wife-beating is justified under certain circumstances and that a woman should obey her husband even if she disagrees with him.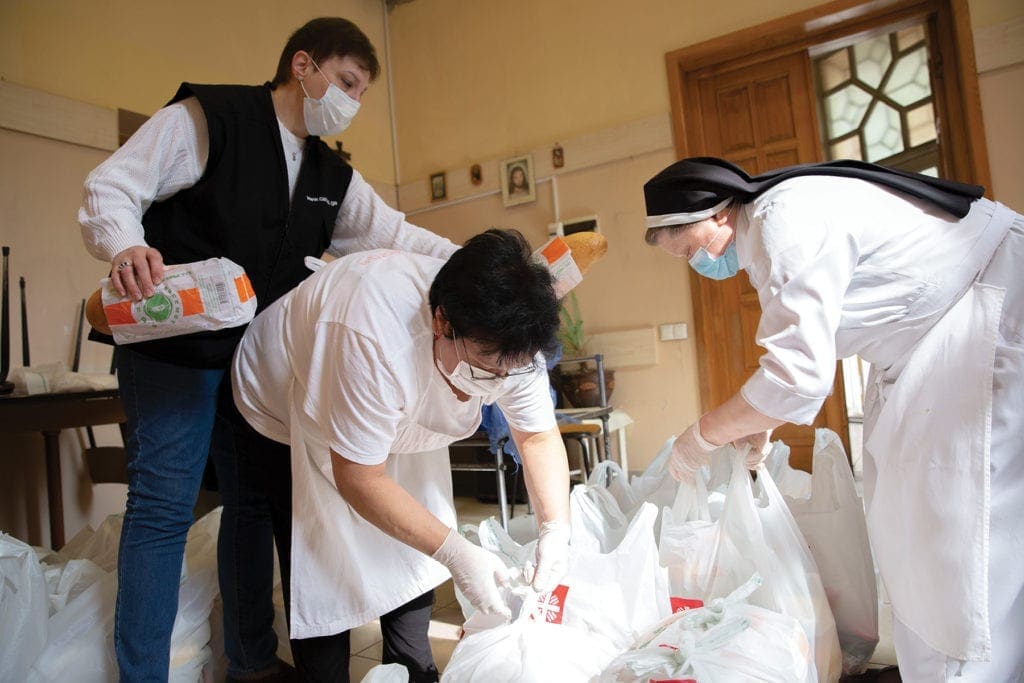 Ms. Bakradze notes the enormous stigma single mothers face in Georgia. The common perception is that they are promiscuous and unworthy of respect; or their husbands left them because they "deserved it." They often become victims of bullying and violence, sometimes within their own families.
"We have a girl here that was married off when she was 16 and abused by her husband and his family until she ran back home with her baby, where she was abused by her father," Ms. Bakradze recounts.
The girl, an ethnic Azerbaijani, is now 20, uneducated but learning Georgian and manicuring through the center, although she shows a gifted talent for cooking, which Ms. Bakradze and her team are encouraging her to develop.
"On Nowruz (Persian spring equinox festival), she prepared a dish of sweets and delivered it to everyone. It was wonderful!" says Ms. Bakradze.
"We have Christians, Muslims, atheists under one roof and we celebrate everything together. We do things like Christmas and Easter twice — both Catholic and Orthodox — and people love it. Everyone cooks together," she adds.
To help develop relationships with estranged family members and the children's fathers, the center encourages visitations and gives beneficiaries 20 "free days" away from the center. COVID-19, however, has made it difficult to maintain this arrangement. The lockdown and school closures also overwhelmed the center's caregivers, testing both the staff and beneficiaries.
Nato and her 2-year-old son arrived at the center not too long ago. Originally from Eastern Georgia, she had married a man against her parents' wishes, estranging her from her family. Later, when her husband became abusive, she fled to a state shelter in Gori. Her husband retaliated by murdering her father, an act Nato's family blames entirely on her.
Nato was going to be released from the Gori state shelter with nowhere to go when she learned about St. Barbare's. The center helped her find hairstyling classes and, today, Nato works at a hair salon in the neighborhood. She and her son live in a small flat the center helped her find nearby. Although she works seven days a week, Nato is upbeat about her newfound independence and hopes to open her own salon someday.
"I can't imagine what would have happened to me, if not for this center," Nato beams.
"Whoever the donors are, I want to thank them."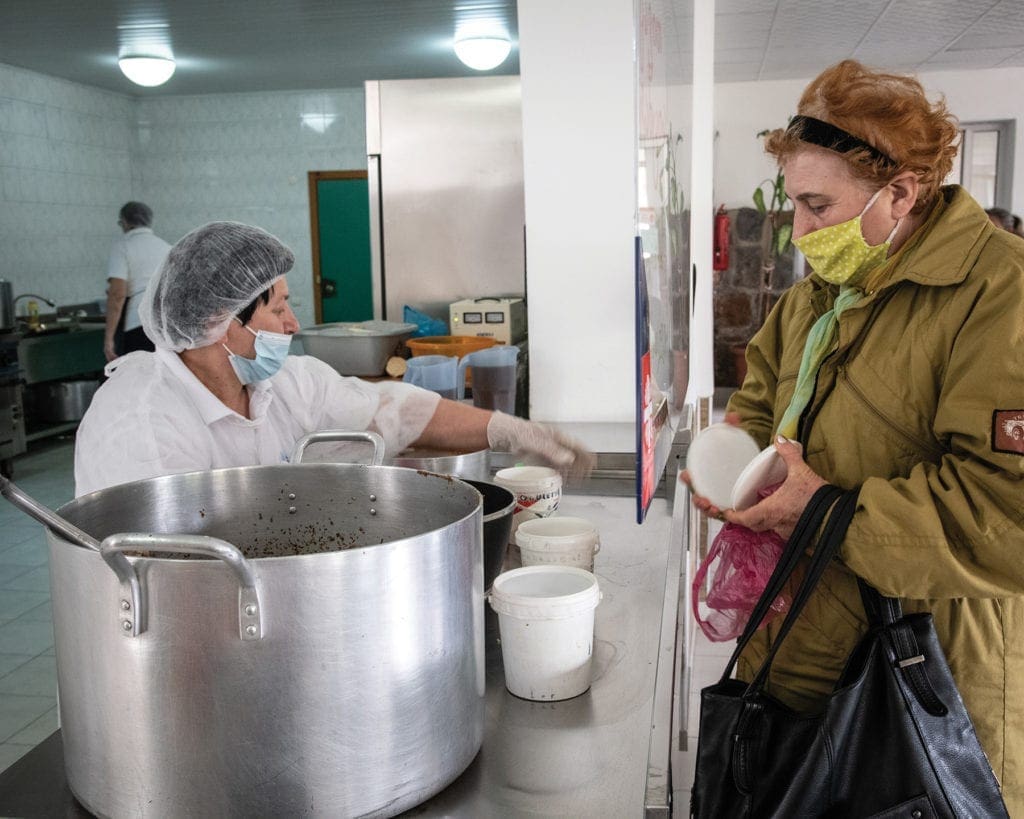 The center is located in the Caritas center in the Didube district of Tbilisi. Established in 2003, the complex includes a children's day center, an art therapy studio, offering both music and dance, and a large theater auditorium, available to St. Barbare's child beneficiaries.
On the first floor of the complex is a large cafeteria that functions as a soup kitchen, preparing hot meals daily for 250 seniors and 200 children.
Caritas Georgia opened its first of two soup kitchens in Tbilisi in 1995, when the country was in the grips of economic collapse and smoldering from separatist wars in Abkhazia and South Ossetia and civil war in Tbilisi. Although Georgia has since recovered with record economic growth, the disparity between the haves and have-nots is considerable, with 20 percent of the population living under the poverty line.
Georgia's elderly bear the brunt of the economic disparity. Since the average monthly state pension is only 240 lari (about $70), healthy pensioners keep working. Eleven percent of Georgia's workforce is over the age of 65. As well, according to the 2014 census, one in five elderly women and one in 10 elderly men live alone. Seniors in poor health and living alone face destitution.
The state has few social programs for seniors. Its soup kitchens allocate only 1.3 lari (38 cents) per person per day — enough for a bowl of soup and a piece of bread. At Caritas, beneficiaries receive soup, a side of pasta, buckwheat, potatoes or rice, vegetables, meat, bread and tea.
"We try to balance a healthy diet with only fresh ingredients," says Larisa Molashvili, a 25-year Caritas Georgia volunteer. "The only thing frozen is chicken."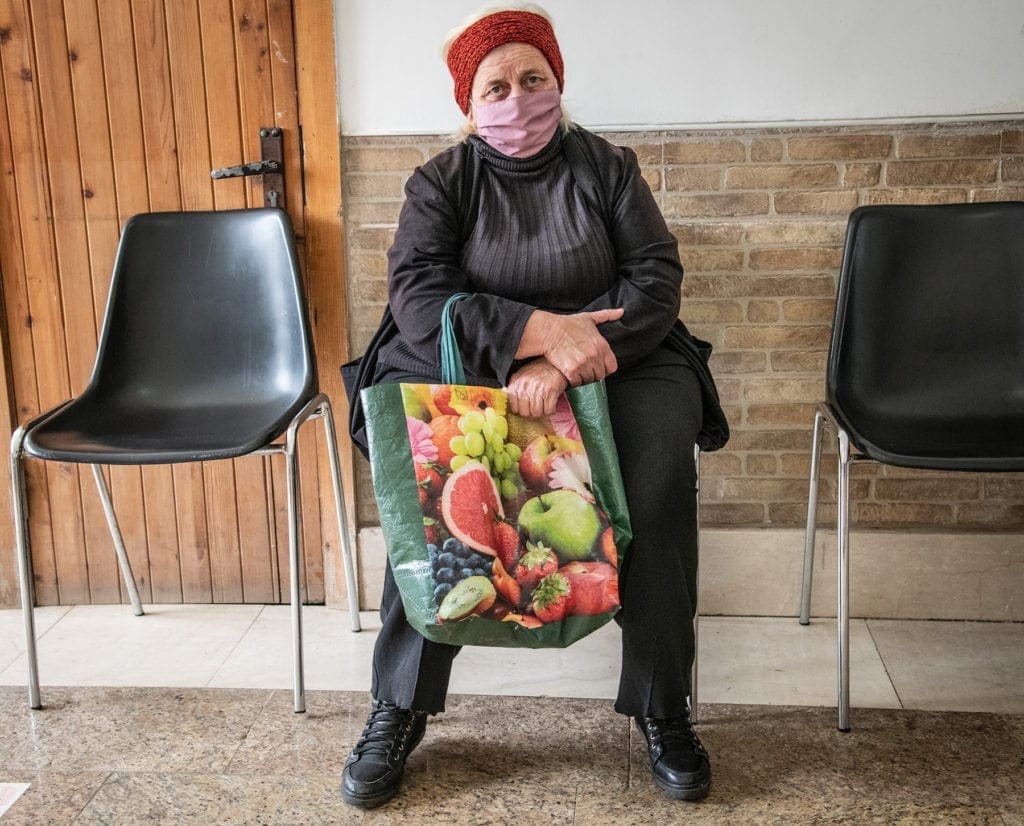 The kitchen also plays a vital role in the social lives of its seniors, who need the physical contact with their peers for mental health, she explains. Seniors may also spend time at the Caritas Harmony Center, a separate program with its own activities, housed in a space that can hold 40 people.
"They can visit and wait for dinner at 6 o'clock," Ms. Molashvili explains.
However, these social activities came crashing to a halt during the pandemic, an extremely challenging period in Caritas Georgia's history. Project coordinators and volunteers had to shut the kitchen and find a way to continue feeding hundreds of hungry people.
"We had to switch to delivery mode. It was a huge thing," says Inga Chkheidze, who has been with Caritas for 10 years, running the social care program for the past three.
Ms. Chkheidze and her volunteer team had to make tough calls on what to deliver and find the optimum frequency for delivery, now twice a month. Not every beneficiary has the means to cook, so groceries must be chosen carefully, she explains. Many seniors live in atrocious conditions. Some have physical challenges and for months were forced to stay indoors.
"Our greatest motivation comes from seeing the work we are doing is right," Ms. Chkheidze says. "Many of these people are very lonely. Elder care is one of the biggest problems in Georgia. Medical insurance covers little and the government offers no social support."
While COVID-19 restrictions in Tbilisi have kept the soup kitchen closed, case numbers in Kutaisi, Georgia's second-largest city, have been sufficiently low to keep the Caritas soup kitchen there open. Sister Loredana Monetti, a member of the Little Sisters of St. Joseph, has been with Caritas Georgia for 25 years and, in 2006, helped establish the Kutaisi soup kitchen, originally a day center for vulnerable children.
However, when two factories had closed — major employers in the district — seniors began arriving at the Youth Day Care Center, asking for food. Sister Loredana raised funds and expanded the kitchen services, which now feed 96 children and 70 seniors daily.
"The kitchen saves lives," says the sister. "We went from serving 60 older beneficiaries to 70. This indicates the situation is worsening."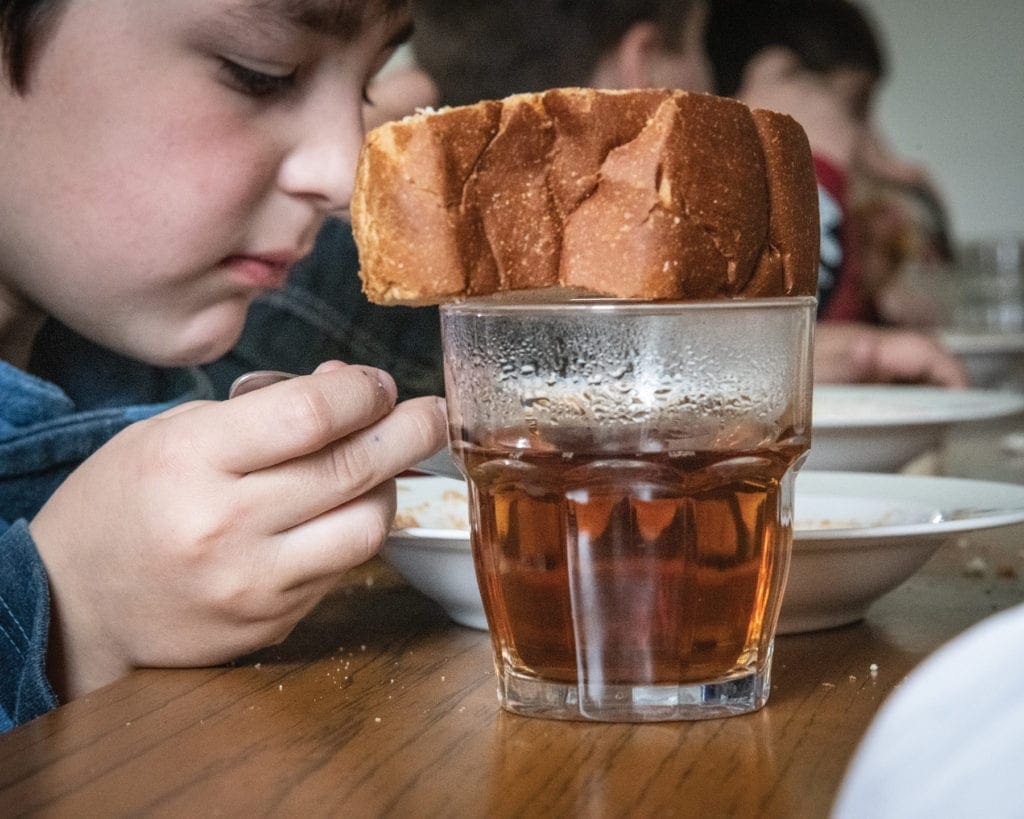 The economic situation is indeed getting worse quickly. The annual inflation rate in Georgia soared to 7.2 percent in March from 3.6 percent in February, and consumer prices continue to climb. A loaf of bread that cost 50 tetri (14 cents) a few years ago now costs one lari (30 cents). Meanwhile, pensions have remained unchanged. Such conditions are enough to push a vulnerable family living on the edge, over it.
Manana Vashakidze, 66, is a single mother, who cares for her 32-year-old son with physical challenges on a combined pension of $110. Her pension must also pay for her son's medicine.
"I can't afford it," she admits. "I don't know how I would live without this help [from Caritas]. I am very lucky. I believe in God, that he is watching over me."
As in Tbilisi, the Kutaisi kitchen also functions as a social gathering spot in normal times, but not during the pandemic. Nevertheless, beneficiaries often come to the soup kitchen in pairs or trios to fetch parcels of food instead of having them delivered.
Liana Zambakhidze has been feeding Kutaisi's poor for 27 years. She helped Sister Loredana establish the kitchen and day center and now coordinates volunteers.
"This is a difficult project, but it really changes lives. Our most basic need for survival is to eat," says Ms. Zambakhidze.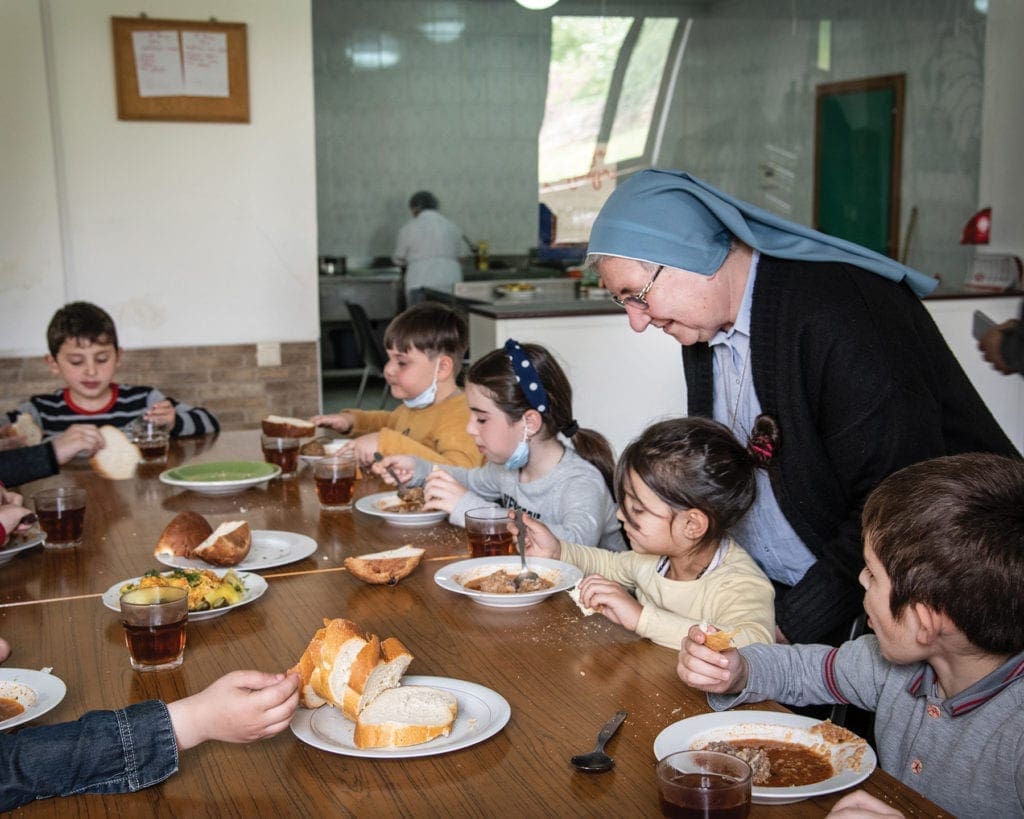 On this day, the cafeteria is half-filled with two dozen children, enrolled in the day center program by the state. Many are from single family households, others from homes broken by poverty's byproducts of abuse and dysfunction. They typically live near the center and come between school hours. Today's lunch is meatball soup, potato, pickle and carrot salad, beef and buckwheat cutlet, bread, tea and juice. Their stomachs full, the children jump in to help clean the tables.
About 70 miles west of Kutaisi is Batumi, an old, port town that has been undergoing a remarkable, if not chaotic, transformation into a major Black Sea resort town of modern high-rise hotels and casinos — built helter-skelter between 19th-century buildings and Soviet-era apartment blocks. Tucked away, off a narrow side street in the middle of Old Town, Caritas operates a shelter for the homeless.
Georgia has been dealing with homelessness since the early 1990s, when civil wars displaced a quarter-million people and war with Russia in 2008 displaced an additional 20,000. In addition, thousands of citizens, who are not victims of ethnic cleansing but casualties of other complex social problems, live on the streets or illegally occupy vacant dwellings. While the state has addressed most housing issues for internally displaced people, it has no data on the number of homeless people in Georgia, nor a legislative definition of a "homeless person."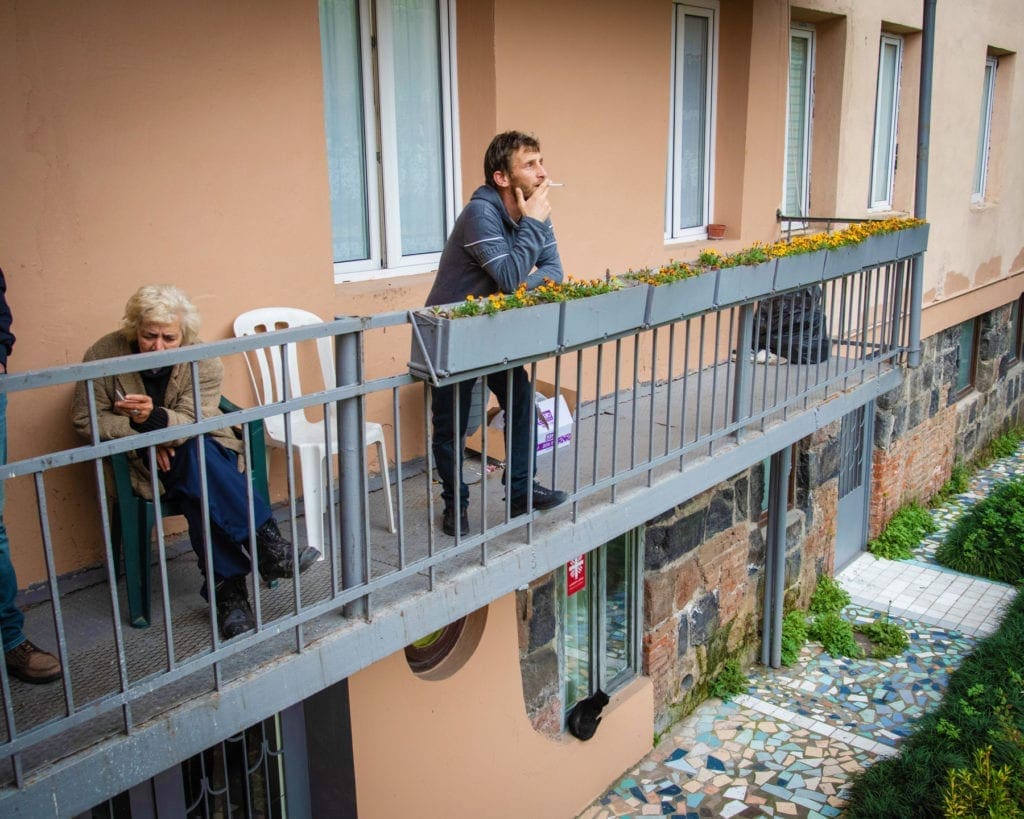 In 2003, Caritas staff member Tamaz Mghebrishvili saw far too many people living on Batumi's streets. He and the Rev. Gabriel Bragantini, episcopal vicar of the Catholic Church in Western Georgia, lobbied the state for assistance. The state gave them a shell of a building, which Mr. Mghebrishvili and some diligent volunteers turned into a functioning shelter that today provides beds and showers for 35 people, and helps beneficiaries to resolve personal issues, when possible, and resume life in their own homes.
Beneficiaries are admitted for an initial three-month period. During this time, any issues that may have led them into homelessness are assessed. They may renew their contract every three months and stay as long as needed. Some beneficiaries have been here for up to seven years. They must vacate the shelter each day at 9 a.m., and return before 9 p.m. One woman from Kyrgyzstan goes out to sell sunflower seeds, some panhandle and others seek odd jobs.
"If someone comes and doesn't have an ID, we help them get one so they can register. We help find lawyers, rebuild relationships with families and have a separate program, the House for Hope, for alcohol dependence," says Mr. Mghebrishvili, the shelter's coordinator, known as "the everything guy."
He comes to the shelter each morning and then is off running errands or volunteering at the House for Hope. His dedication and spirit, as with all Caritas staff and volunteers, are as boundless as they are admirable.
For instance, in spring 2020, when Georgia went into full lockdown because of the pandemic, the shelter's staff chose to lock down together with the beneficiaries for the entire two-month period, rather than close the project temporarily. Mr. Mghebrishvili is proud the shelter has not had a single case of COVID-19, including last autumn when the second wave brought hundreds of cases a day to Batumi.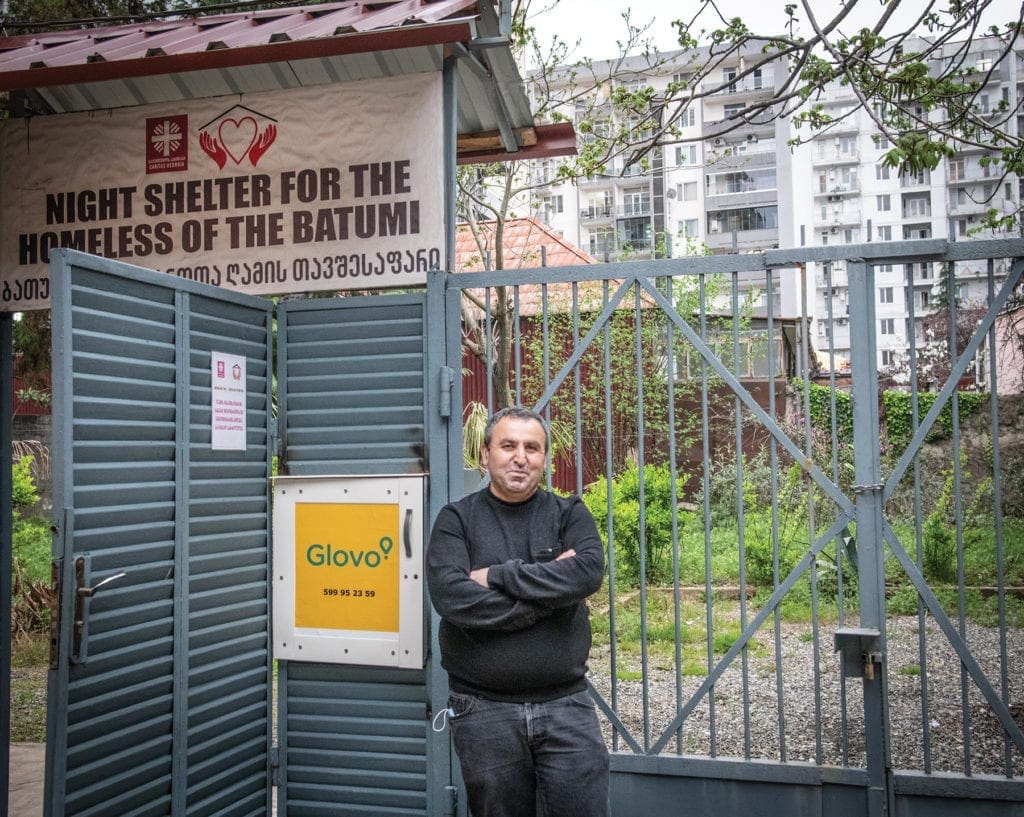 Unlike state shelters in Batumi, which only admit local residents, Caritas's doors are open to everyone, regardless of their sex, religion or place of origin. Those who come seeking help may be socially excluded because they are all alone or have no means to find mental health care. They may be substance abusers or gamblers. They may have defaulted on bank loans, been victims of real estate scams or, like 32-year-old Vitaly Lazavoy, simply been unable to find work.
An only child, he was 10 when his parents died in Batumi. The state sent him to an orphanage across the country in Eastern Georgia. He returned to his hometown at 18, picking up odd jobs, mostly in construction. At the time, Batumi was experiencing a massive building boom, one that began to slow down somewhat before the pandemic and which is now at a near halt.
Unable to pay his rent, Mr. Lazavoy was sleeping on the streets when he heard about Caritas two years ago. He has since been coming off and on, whenever a lack of work makes it impossible for him to live independently.
"I am all alone," Mr. Lazavoy says gently.
"I don't know where I would be without this place."
CNEWA supports these centers of Caritas Georgia — the charitable arm of Georgia's Armenian, Chaldean and Roman Catholic communities — which has been serving the country's vulnerable populations since 1994. While Catholics represent only 2 percent of the population in the predominately Orthodox country, Catholic social services and charities are extensive.
Anahit Mkhoyan, executive director of Caritas Georgia, believes more than a century of Catholic social teaching has led to the institutionalized tradition of Catholic "faith-in-action" social programs that have positioned the church well in Georgia, despite its small size.
"Catholic social teaching is in reality the basis of Caritas's work, because it is rooted in God's special love for the poor and we, as Caritas, serve that special love," she says. "Our commitment to the poor is built on this fundamental principle of Catholic social teaching.
"At Caritas, we work to build a more humane community that exercises greater social responsibility toward those in need."
---
Paul Rimple is a freelance print and radio journalist based in Tbilisi, Georgia. His current bylines include Foreign Policy, BBC, CNN and The Guardian.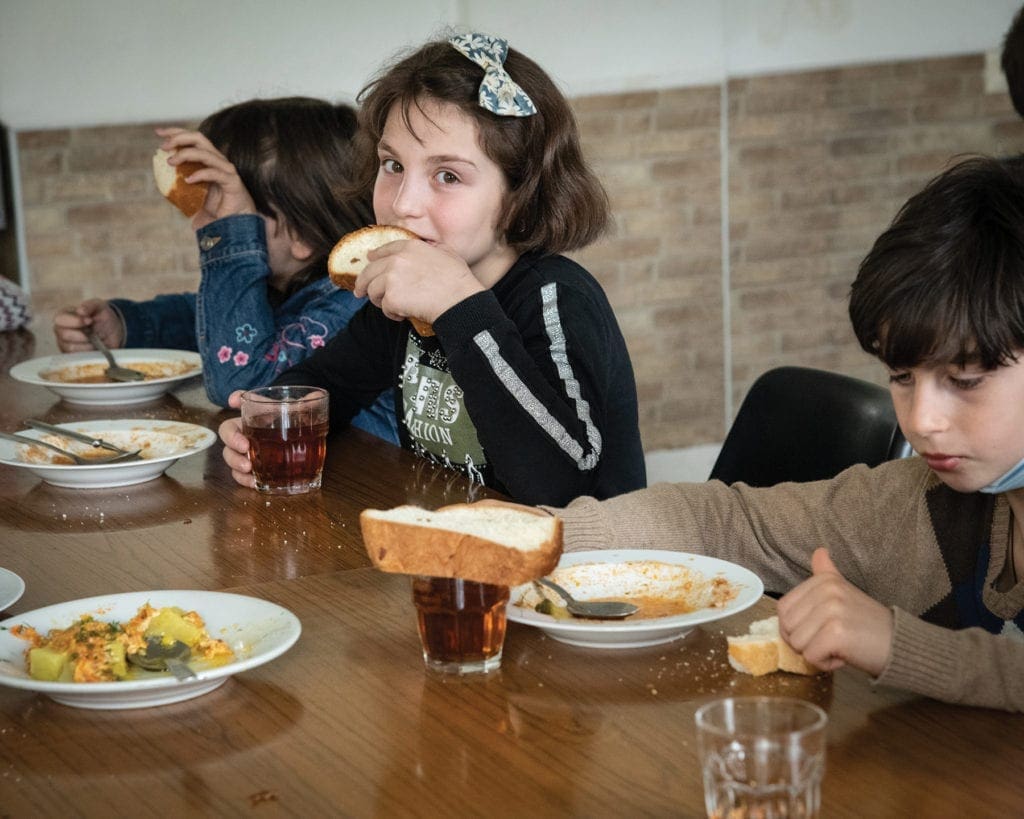 The CNEWA Connection
For decades, CNEWA has worked to help uplift those in need in Georgia, partnering with Caritas Georgia to give assistance to the sick, the orphaned and those living daily with the hardships of poverty or hunger.
Georgia has been contending for generations with the aftershocks of earthquakes, war and political upheaval. CNEWA continues to stand with the people and help them know they are not forgotten.
The projects and programs have expanded and evolved as the needs have changed. CNEWA has helped support soup kitchens and centers for the elderly — the "new orphans" who have been all but forgotten by succeeding generations, who have fled a long-suffering Georgia for better opportunities elsewhere.
As Chorbishop Benyamin Beth Yadgar wrote previously in ONE: "It is important to help people realize that only by our good deeds can we be the living example of the eternal principles of Christianity — the infinite love and care for our neighbors and those in need."
To help us in this mission, call: 1-800-442-6392 (United States) or 1-866-322-4441 (Canada).