Editors' note: India has experienced one of the worst COVID-19 infection rates in the world. At its peak, last spring, India recorded 400,000 new cases per day. By fall, the number of new cases had dropped to 10,000 per day. Despite the dramatic improvement, the battle is far from over. As of mid-November, India had recorded more than 465,000 COVID-related deaths. In this letter, Sister Supriya shares her experience and the role of the church during the height of the pandemic. However, her work among those most affected by COVID-19 — the poor and marginalized — continues.
The wailing sound of the siren became more audible each second.
As I looked with curiosity out the window of my room, I could see an ambulance rush past, emblazoned with the words, "COVID-19." It stopped not far from my home and I saw, for the first time, men clad in P.P.E., escorting a masked, middle-aged man to the ambulance. That was about 18 months ago, at the beginning of the coronavirus pandemic in India. As days passed, this scene became all too common.
Over many months, which have turned into nearly two years, the mystery of COVID-19 continues to unfold its whirls slowly, leading me to ponder my role as a religious in this unprecedented predicament.
This contagion is so tremendous the whole world continues to combat it, and humankind experiences relentless fear and anxiety about what is to come. Nations try to implement different means to counter the pandemic. Nonetheless, it has killed more than five million people and capsized the lives of countless others. It is at the same time a health crisis and a socioeconomic catastrophe the world over.
All segments of the population are affected, but in particular the poor, the elderly and the sick. The grave suffering of those living in pitiable conditions — without the basics of food, water and shelter — is exacerbated.
Pandemics are not new in human history. Over millennia, they have determined the destiny of nations, cultures and peoples, causing the rise and fall of kings and rulers, depending on how they responded.
It is fitting then that as a global church we ask: How have we responded to this pandemic since the beginning of 2020, when the first lockdowns were imposed?
I have observed four types of responses from the church. The first, particularly visible during the first few weeks of the pandemic in India, was total withdrawal from society and its challenges into the safety of religious houses to live in selfish peace and to observe religious practices with no concern for the situation of people on the streets.
Another response was to adopt a very aggressive stance toward the pandemic, the people afflicted with the virus and those who succumbed to it, suggesting the virus was the result of sin.
"We deserve it because our actions are so," people who held this view would say. "It is a punishment from God."
The third type of response would indulge in paying lip-service to the victims of the pandemic, voicing what should be done while not lifting a finger to help.
The fourth involved taking a stand — and a very calculated risk — to reach out to people in need by providing food, shelter and medical care, as well as psychological and spiritual support. It involved praying for the victims, for those living in fear and for frontline heroes.
Among the frontline heroes, more than 500 priests and religious men and women have died in India so far, having taken the risk to care for those in need during the pandemic. I knew some of them, including Father Kuriakose Mundaplackal, the vicar general of our Syro-Malabar Catholic Eparchy of Bhadravathi, who was active in COVID-19 relief work. It was a heavy shock for all of us. Yet, the relief work did not stop.
In my case, it strengthened my commitment to take up the risk and to play an active role in the relief work, though with due precautions. These deaths made me reflect on how fragile life is and hence to utilize the precious time available to us in a fruitful manner. In my 13 years with the Daughters of the Sacred Heart of Jesus, and through the experiences of my fellow religious, I have come to realize the challenges we face as religious make our life more meaningful.
The first days of lockdown were a period of trial for me, as I had the feeling of selfishness, a desire to be on the safer side by avoiding contact with people. But the call of my duty and responsibility helped me to rectify this premonition.
I feel very blessed to be associated with our eparchy's Malnad Social Service Society (M.S.S.S.), which has undertaken a great deal of relief work during the pandemic. The deliberations about whether to act during the lockdown, as well as the different strategies we adopted, convinced me we can do everything by the grace of God.
Teams of dedicated volunteers were created to ensure the effectiveness of our activities, and I am privileged to guide them with the help of our director. Being a native of this place, I know the local language, which has made my work in the field and with my co-workers more effective. We also care for each other during more difficult times, supporting and helping each other as needed.
Six of our staff, as well as two of my community sisters who work in a H.I.V. health center, contracted COVID-19 and, at one time, all of us were in quarantine. However, none of these events deterred my focus; they motivated me to reach out to those in need with more vitality. We all marched together as a community to overcome this hurdle.
The principal strategy in our work has been spreading the message of social distancing, sanitizing one's hands and wearing masks, especially among the poor and the vulnerable, who are most affected by this virus. The main pursuit has been distributing food and hygiene kits to families in need.
One of our most effective projects has been offering individual counseling for people battling cancer, who have been alone with their pain and fate, paving the way to extreme sorrow and depression that could worsen their illness.
Many cancer patients could not continue treatment since most hospitals were unable to accommodate them. Some patients feared going for treatment due to the risk of contracting the virus. In this context, our individual telephone counseling helped to instill in them a sense of hope and encouragement to keep fighting this disease.
I have also visited and consoled children who have been orphaned by COVID-19.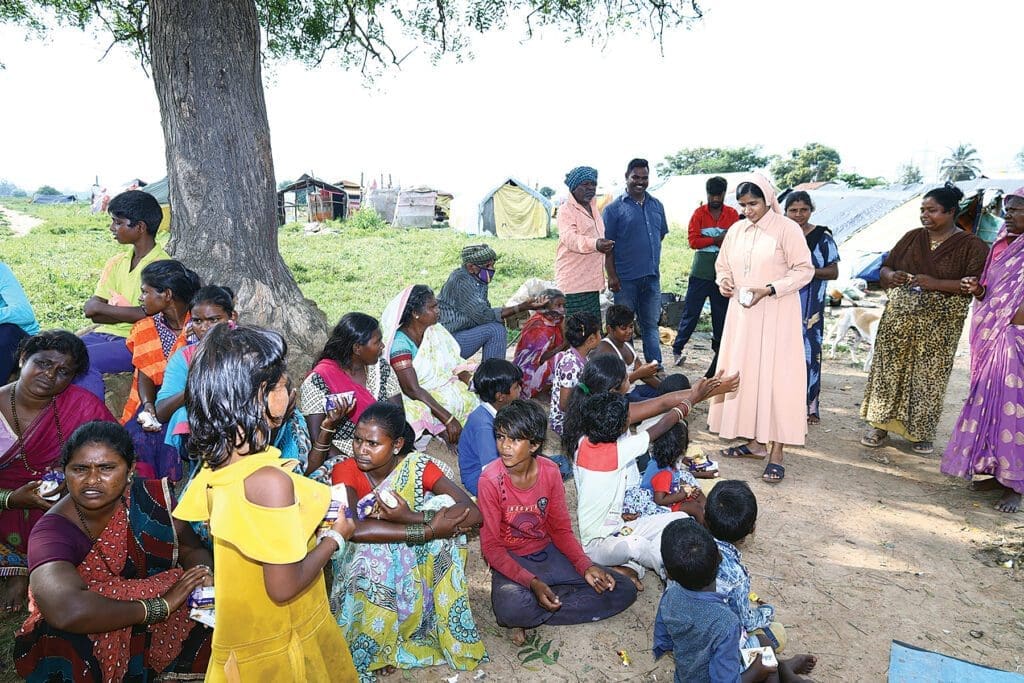 This ongoing work — in the midst of the pandemic — has been a great platform for me to share the love of Jesus. And through this work, I have found four attitudes, rooted in Christ, that contribute to the development and empowerment of the people in such hard times.
The first is focus. We should not change our focus from the Lord; if we lose that focus, we will fall into despair.
The second is humility. The coronavirus reminds us of the fragility of human nature. We, who took pride in 21st-century advancements in science and technology, have realized we are still vulnerable — even to a tiny, invisible virus. Therefore, let us humble ourselves in the presence of God and he will exalt us.
Third, we should combine the active and the contemplative life, what I call the "Mary and Martha Syndrome." We should be active in contemplation and contemplative in our action. We must find new ways to reach those in need, by providing for their physical, spiritual and psychological needs. Food in the form of ration kits or meals should be provided. However, we should also post spiritual talks on the Bible and the catechism online to help invigorate the people's faith. Quality prayer time with God would be more efficacious than all our activities.
Fourth, we must follow the call to be a living testimony to Christ. Works of charity, out of love for God and neighbor, surely will gain momentum and highlight our identity as Christians. Our daring and willingness to do relief work in such an alarming situation conforms us to true discipleship.
It is up to each of us to create a reality permeated by love and care for all, devoid of malice. We need to recommit ourselves and treat everyone as equals. We need to be humble enough to accept our limitations and vulnerabilities. In an earnest manner, we need to connect with God, who has created us and has a plan for each of us, and we need to cooperate with him. Let Jesus be at the fore and let us revive our relationship with him in our life. Let us become another Christ. Let us utilize this period as an opportunity to return to our spiritual roots and to proclaim Jesus for our time.
Gratitude to God pervades my mind, body and soul each morning I wake up to see the light of a new day. The conviction to spend the early hours of the day in the presence of the Lord in the Blessed Sacrament has been a blessing and the driving force for my day's activities. This contemplation is followed by community prayer and the Holy Qurbana, our Divine Liturgy. I firmly believe these are the hours that make the day.
At the end of my day with M.S.S.S., it is a great joy to be with my religious community, with whom I can share my experiences. After common evening prayer and the fulfillment of my responsibilities at the house, I settle in for some personal, spiritual reading and an examination of conscience. With the belief that everything that happened during the day was for God's greater glory, according to his will, I retire to bed, surrendering myself to his care, thanking him for the beautiful lessons he has taught me.
I reflect on the words of Scripture: "The steadfast love of the Lord never ceases, his mercies never come to an end; they are new every morning; great is your faithfulness. 'The Lord is my portion,' says my soul, 'therefore I will hope in him.' The Lord is good to those who wait for him, to the soul that seeks him. It is good that one should wait quietly for the salvation of the Lord" (Lam 3:22-26).
I would like to remind those who suffer from apprehension and worry that, even though we have not yet been able to contain the virus, God is in control of the situation. So, let us put our trust in the Lord and proceed with a positive attitude to life.