When 21-year-old Ermias Mengeshaw was sent away to study for a degree in economics, he was caught by surprise. The university was in Aksum, located in Ethiopia's northern Tigray region. His hometown, Emdibir, is more than 600 miles to the south.
Optimistic by nature, Ermias did not allow himself to dwell on the distance that would separate him from his roots. Instead, he embraced the experience. Such situations are common to many university students in Ethiopia.
"At first, daily life there was very pleasant, people were very kind, just like here [in Emdibir]. It was a very cheerful society and there wasn't any problem," he recalls, seated in his neat family garden surrounded by false banana trees, locally known as "inset."
Students admitted to university in Ethiopia have limited say when it comes to choosing the place and subject of their studies. Based on their grades, the current needs of the country and a list of preferred choices, the government decides where they will enroll. The government's philosophy behind this approach is to bring together young people from Ethiopia's 10 administrative regions to counter tribalism and to encourage students to be open to the plethora of cultures, languages and perspectives the country has to offer.
But this melting pot is also subject to conflicts. Ethiopia, home to more than 80 ethnic groups, is facing mounting political and interethnic tensions. As local microcosms of Ethiopian society, universities mirror — and sometimes amplify — current disputes.
For instance, after protests in the Oromia region in 2019, a wave of university violence forced thousands of students to return home. In some places, classes were paused for several weeks.
But the current conflict in Tigray, which is no longer contained there, has been the biggest challenge for students who, like Ermias, were trapped far from home for months after fighting broke out on 4 November 2020. The conflict opposes Tigrayan armed forces, partly led by the Tigray People's Liberation Front, and the Ethiopian national army, backed by forces from the Amhara region and neighboring Eritrea.
Over the course of the conflict, advocacy groups, international organizations and the church have denounced arbitrary killings of civilians, rapes, looting and property destruction. Aksum was not spared. An ancient city in northern Tigray, close to the border with Eritrea and famous for ancient Christian shrines and giant obelisks, Aksum was first occupied during the conflict by the Ethiopian federal army, then taken back by Tigrayan forces in June. This fall, as Tigrayan forces advanced south toward the nation's capital, the Ethiopian government declared a national state of emergency.
When the war broke out last year, Ermias was trapped at his university in Tigray for about seven months in an environment of rampant insecurity, robberies and uncertainty. Classes were suspended for months.
"Psychologically, we found it very difficult to be there during the war," he recounts. "Many of the students were worried. What if something were to happen to us, or if we were unable to return to our families, or if we were forced to join the war?"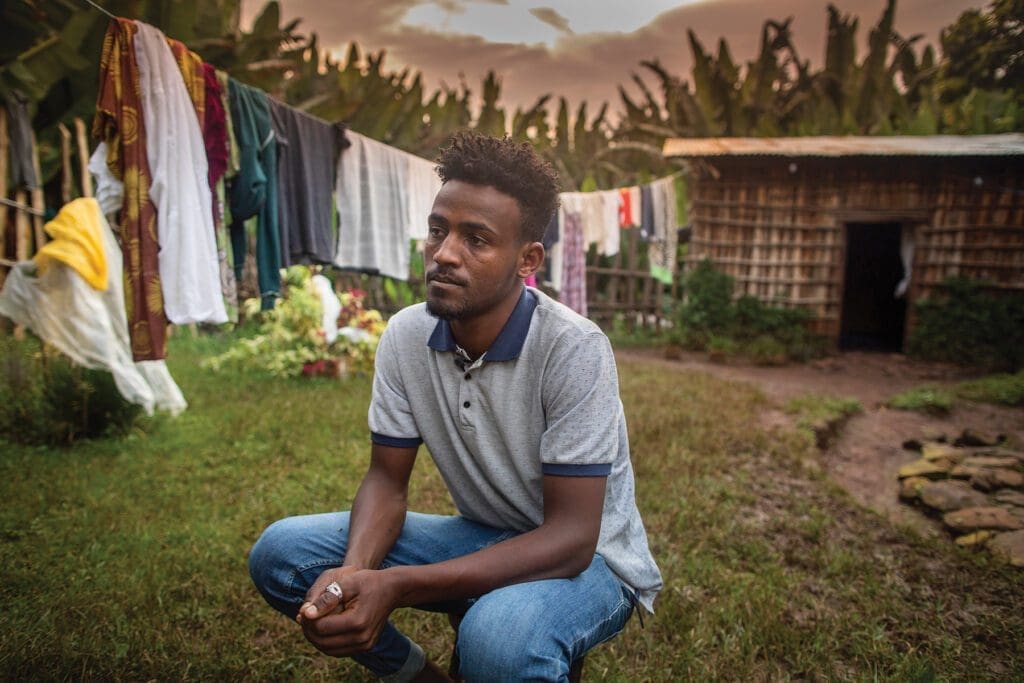 The wait ended in July, when students were evacuated through the neighboring Afar region before being driven to Ethiopia's capital, Addis Ababa — a tiring journey of several days. But, despite the relief of being back home, the trauma lingers for Ermias.
"We used to eat only one piece of bread for lunch and dinner," he says as he recalls his experience. "There were also some days when we went with no food at all."
Ermias is not alone on his journey to recovery. Many other young people face the same hurdles. However, psychological counseling is still uncommon in Ethiopia, where mental health awareness and financial resources for mental health are limited.
In this context of conflict, trauma and uncertainty, the Ethiopian Catholic Church has developed programs that gather young adults and try to assist them, through the lens of faith, in coping with the many societal tensions that exist. Guided by the call of Ethiopia's Catholic bishops, these programs also seek to raise up a new generation that is educated in and committed to peacebuilding and fraternity for the sake of Ethiopia's future.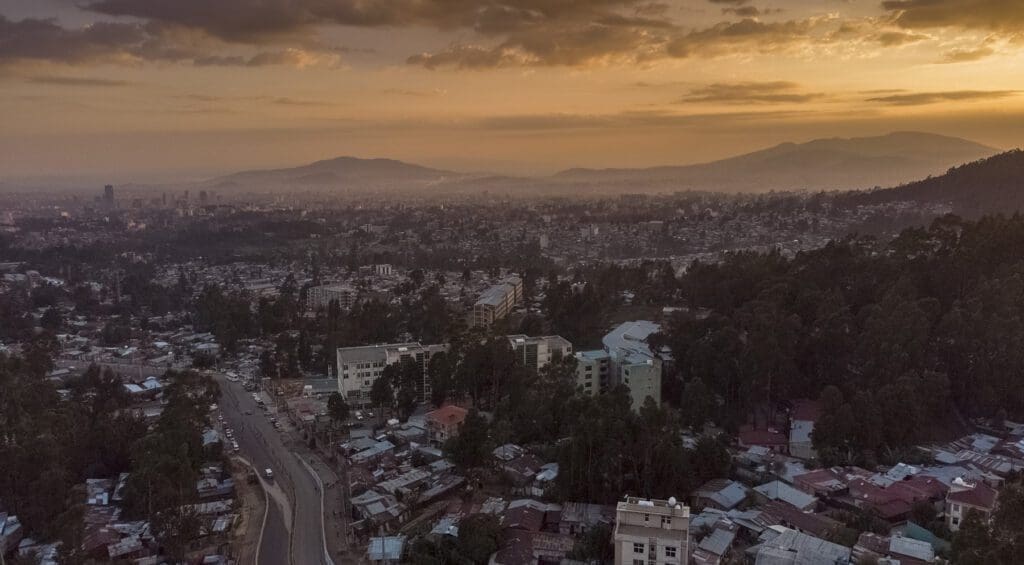 On a reddish field overlooking Addis Ababa's skyline, Tigist Ula, dressed in a sky-blue hoodie and black leggings, tosses a volleyball with her friends. Behind them, young men finish a soccer game as the sun sets behind hills of eucalyptus trees. Around the field, a small flock of sheep grazes unperturbed by the cheering.
The recreational afternoon is part of a youth program, organized by the Brothers of St. John. The Catholic religious community established a priory in Entoto, a neighborhood at the northern limits of Addis Ababa, in 2009 at the invitation of Cardinal Berhaneyesus Demerew Souraphiel, the metropolitan archbishop of the Ethiopian Catholic Church.
Tigist is part of the program, called School of Life. Each year, a small group of young people, ages 17 to 25, commit every weekend from September to June to stay at the St. John Center on the priory grounds for days of formation, prayer and community life.
During this time, the brothers accompany the young adults in their walk of faith and in "the discernment of their vocation in a wide sense," including their values, career choice and life's purpose, says Brother Benoît David D'Hamonville, who has been accompanying School of Life participants for the past three years.
Nine young adults are in School of Life this year. They also commit to service, helping the brothers with charitable good works in town or with other youth events and retreats, developing skills in leadership and peer ministry.
"Here we are busy. It has helped us to forget that problematic time [in Aksum]," Tigist explains. "Through adoration and prayer, it has helped us to get some relief."
A university student, Tigist, too, was evacuated from Tigray after the outbreak of the armed conflict. Due to the communications blackout in the region, the 21-year-old had lost touch with her family. Some relatives thought she had been killed.
Over the weekend of 1 to 3 October, Tigist and her fellow School of Life members helped the brothers host a retreat for about 20 other university students at the St. John Center. The weekend included moments of prayer, adoration, recreation and communal life. The guided discussions focused on fraternity and Pope Francis' latest encyclical on this theme, "Fratelli tutti."
This weekend retreat, like many others offered at the priory, aimed to help young Ethiopians grow in the knowledge and practice of the Christian faith. Most events at the priory are open to all young people, says Brother Benoît David, and young people from a variety of Christian traditions attend. By gathering youth from diverse cultural and socioeconomic backgrounds, it also exposes them to a variety of cultures and helps them to develop empathy for the other.
But as the country continues to splinter along political and ethnic lines, it is not easy for religious leaders to address these challenges. Brother Benoît David says the young people who participate in priory events rarely open up about the current conflict in the country, even though it has been going on for a year now.
"It's not easy for them, nor for us, to know what is happening [in the country] because we don't have a lot of information," he explains before making his way to the community's newly built St. John the Evangelist Church for evening prayer with the young people.
"I think we have to do more in the program to understand how peace can be achieved," he adds. While the young people "want peace in their heart," there are those who think evil can only be eradicated by violence.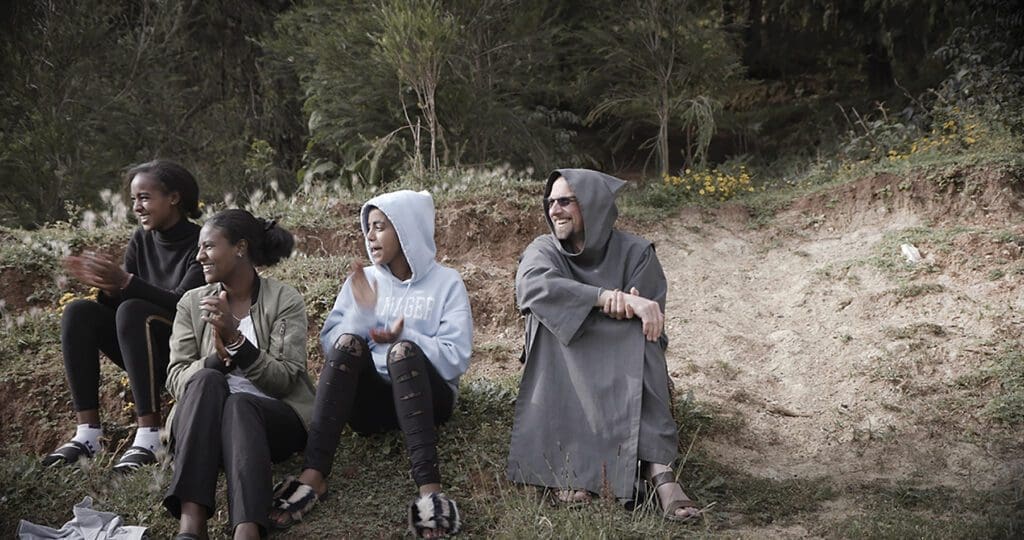 "That's not the good way," he says. "That means [their understanding of] peace is not clear and not in their hearts yet."
The French brother recognizes that embracing peace can be arduous when widespread misinformation is shaping young people's opinions. Numerous studies demonstrate that young minds are not always able to analyze conflict-prone narratives critically or to distinguish harmless social media content from hate speech. What results in some Ethiopian universities is that students gather in like-minded groups or with others from similar backgrounds, rather than mingling, revealing some seemingly unbridgeable divides.
However, some young people, accompanied by the church, are seeking to narrow the gaps.
Every year, the Catholic parish in Emdibir organizes a weekend for university students before the start of the new academic year. They gather for formation in their faith and in how to teach their communities to live with tolerance.
This year about 140 young people, ages 18 to 25, attend the program. Ermias, who was evacuated from Tigray, is among them.
The compound of St. Anthony Church opens to the main road through a large metal gate. Students enter from a narrow alley flanked with bushes and yellow flowers. As they approach the parking lot and the main building, handshakes and taps on the back mark the beginning of the day. They are dressed in jeans and casual shirts. Several young women wear the traditional Ethiopian white head scarf.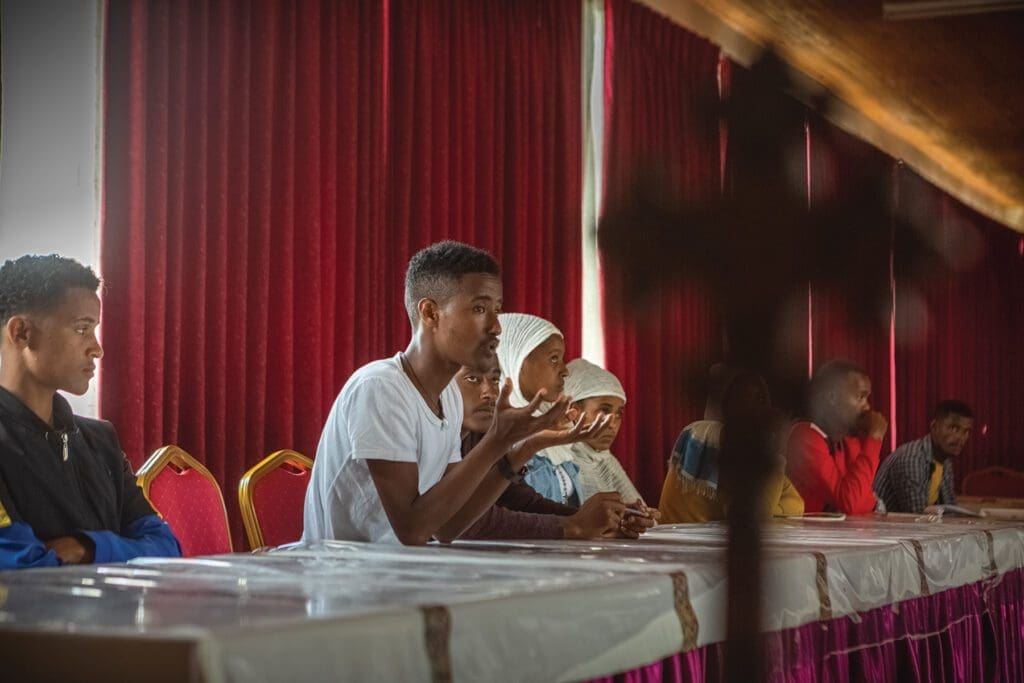 As the session starts, the Rev. Misrak Tiyu speaks in a sympathetic, warm voice. He is a priest of the Ethiopian Catholic Eparchy of Emdibir.
This year's topic is fraternity, Father Tiyu explains to the attentive young people seated in black chairs in the church's large auditorium. Its windows are framed with dark red curtains; the ceiling reaches high above a stage and a mezzanine.
Father Tiyu is dressed in a black cassock and walks calmly back and forth in front of the stage.
"The encyclical asks: Who is my neighbor? Who is my brother?" the priest explains. He, too, is teaching on Pope Francis' "Fratelli tutti."
"In our country there are a lot of problems: tribalism, factions, divisions, political difference. Due to all these problems, we get into conflicts wherever we go," Father Tiyu explains in an interview. "And university students live with people from different cultures in the country. So, we teach them to be tolerant, to live in peace with the entire community, and to be ambassadors of peace."
During the coffee break, most students queue patiently in joyful chatter for a snack and a hot beverage. Most of them speak in Amharic; others converse in Guragignia, the local language.
Seble Gezahegn has elegantly wrapped a pink scarf around her timid face. Her university is located in Debark in Ethiopia's northern Amhara region, which neighbors Tigray. She and her peers were evacuated from the university in July, which was partially occupied by soldiers, she says. She will stay with her family in Emdibir until the situation is stable enough for classes to resume.
"We are drifting more and more apart," Seble says regretfully about her fellow Ethiopians. "If we were to understand [brotherhood], we wouldn't face such problems. I wish for the bloodshed to be over," she adds softly.
Despite her observations about the state of her country, Seble appreciates the weekend's program on fraternity.
"It teaches us how to live when we are with other, different people," and how to be brothers and sisters "with those who are not" related to us, she says.
Seble adds she also "understood how to live by creating peace" with her co-nationals of other ethnicities, such as the Oromo or Amhara.
Emdibir is in the Gurage zone, about 120 miles south of Addis Ababa. It is known for relative peace and stability in the Southern Nations and Nationalities Region. According to residents, people of different religions cohabit peacefully, and disagreements are resolved through a traditional system of elders.
But even here, leaders know all too well that peace is fragile. The town is located close to the Oromia region, where political clashes are not unusual. With the conflict in Tigray possibly affecting other places in the country, religious leaders, local government officials and traditional authority figures meet regularly to discuss the current developments and share solutions.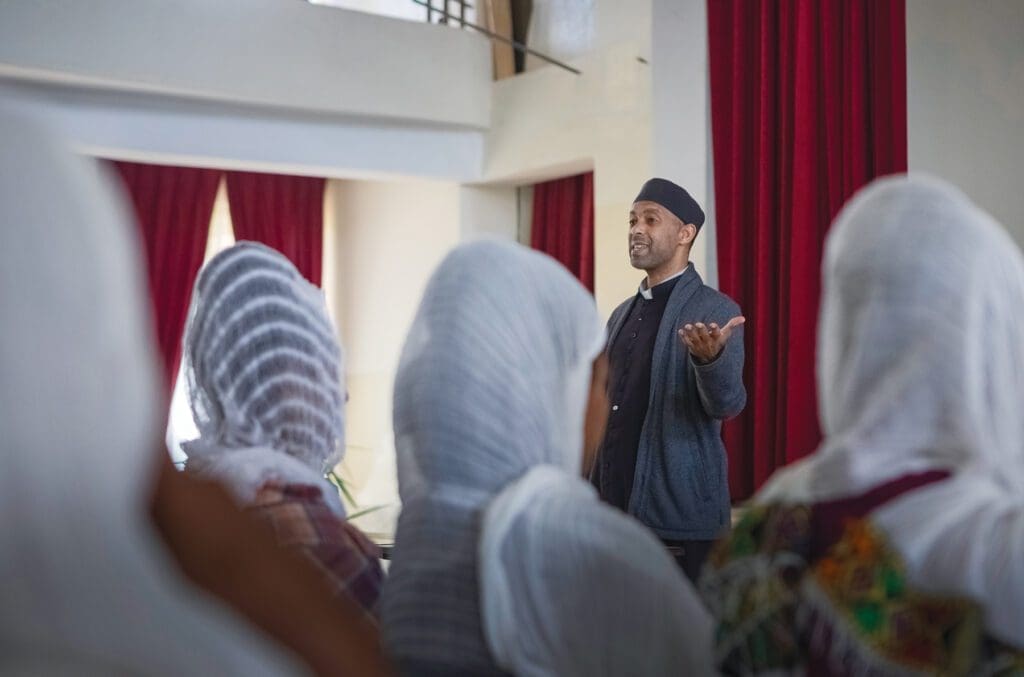 "We are in wartime," Father Tiyu says. "We are brothers, but we are killing each other. There is hatred everywhere you go. So, in one way or the other, we are all affected."
The 47-year-old priest has been working as the pastoral coordinator for the Eparchy of Emdibir for six years. He studied theology in several European countries, earning his doctorate, and bringing back to Ethiopia the vision of a stable democracy and of unity in diversity.
His friendly yet severe face brightens when he shares the hopes he carries for his country: "To remove all the barriers: language barriers, political barriers."
Father Tiyu does not stand alone in this vision. Students attending the weekend program express similar wishes during the sessions, daring to dream of a future in which their individual agency is not swallowed up by snowballing ethnic conflicts and political battles for power.
Mechal Betassa is set to graduate as a hydraulic engineer at the end of the current academic year. However, Jimma University, which he attends, is regularly the scene of tensions between Amhara and Oromo students. Even though he is not involved in the conflict, Mechal spent months in fear, both last year and the year before, sometimes even hiding in a Catholic church.
Despite these obstacles, Mechal wants to prioritize his studies and make his parents proud. Yet he worries such divisions will affect the country's socioeconomic development.
"It's known that a single individual can't develop a country. It's the combination of many ideas which can build a country," he reflects aloud. "There are many nations and nationalities in Ethiopia. But above our differences, above our diversity, there are things that make us one."
Mechal recognizes the weekend's teaching on fraternity promotes this sense of unity.
"It narrows the gap between us. The love of brotherhood and sisterhood will increase," he says.
At the end of the weekend, Ermias reflects on the example of fraternity, present in the encyclical and the biblical story of the Good Samaritan.
"It helps us to know who is your brother, who is my brother," he says.
Fraternity does not point out people's differences or draw lines of division based on race or ethnicity, he adds.
"We have to love all men. … And help different people who face different problems," he says. "The good things should not be said only in words, but also be put into action."
---
Maria Gerth-Niculescu is a freelance journalist based in Addis Ababa, Ethiopia. She has worked for France 24 and Deutsche Welle. Laura Ieraci, assistant editor of ONE, contributed to this report.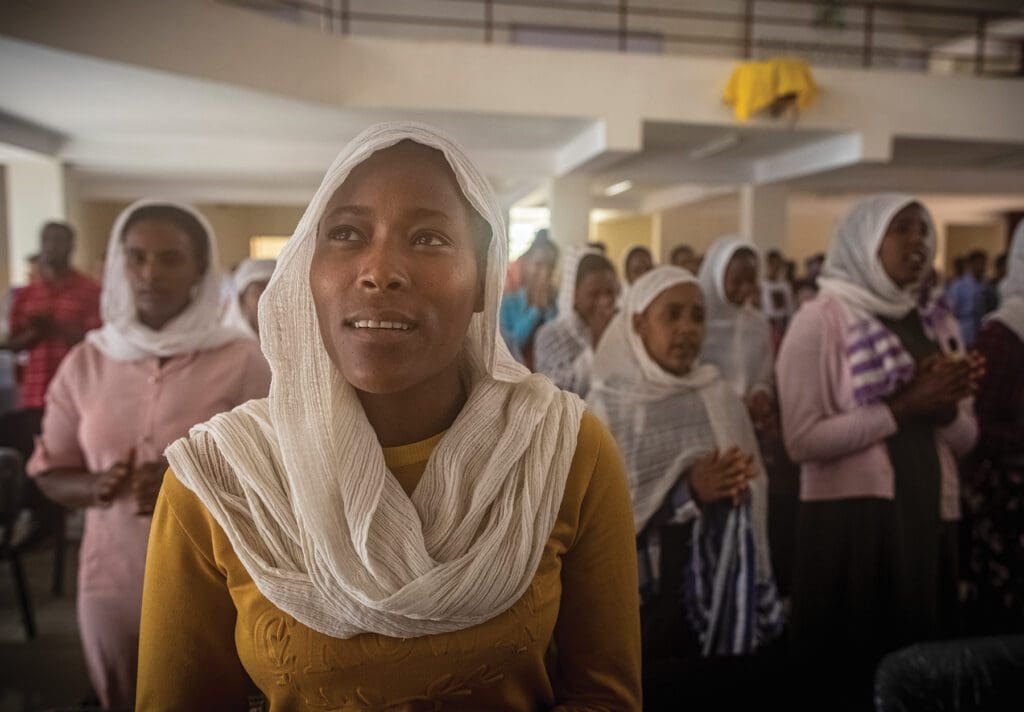 The CNEWA Connection
Catholics are few in Ethiopia — counting no more than 1 percent of the population — but the Catholic impact on education has been enormous. CNEWA is proud to be a part of that.
In addition to funding Ethiopia's extensive network of Catholic schools — which ground students with values and prepare them for university or vocational training and a better future — CNEWA also supports youth programs promoting dialogue, understanding and bridge-building among people of different faiths, cultures and ethnicities, such as the ones featured in this article.
These programs have become even more critical at a time of growing civil unrest and violence. Education and faith-based formation in life skills and character development can foster hope and become, almost literally, a lifeline.
As CNEWA's regional director in Ethiopia, Argaw Fantu, describes the objective: "The church considers education for children as a way out of poverty — not only financial poverty, but also poverty of knowledge." 
To support and strengthen these programs, call 1-800-322-4441 (Canada) or 1-800-442-6392 (United States), or visit our Ethiopia campaign page.