Editors' note: As war in Ethiopia persists, a clarion call for peace escalates.

At the time of publication, the war that had erupted last November in the country's northern Tigray region had spread. On 10 August, the Ethiopian government urged all "capable" citizens to join the armed forces against encroaching forces of the Tigrayan People's Liberation Front.

Ethiopia's Catholic bishops have called for peace throughout the conflict, appealing to the government to grant humanitarian aid organizations access to the region to help those suffering the effects of war. The lives of journalists and other chroniclers are in jeopardy.

In their most recent message, issued at the end of their ordinary assembly on 17 July, published in the pages that follow, the Ethiopian bishops reiterated that the only way forward for all Ethiopians is peace and reconciliation. We open, however, with a personal message to the CNEWA family from Cardinal Berhaneyesus D. Souraphiel, C.M., major archbishop of the Ethiopian Catholic Church and metropolitan archbishop of Addis Ababa.

You can support CNEWA's work in Ethiopia here.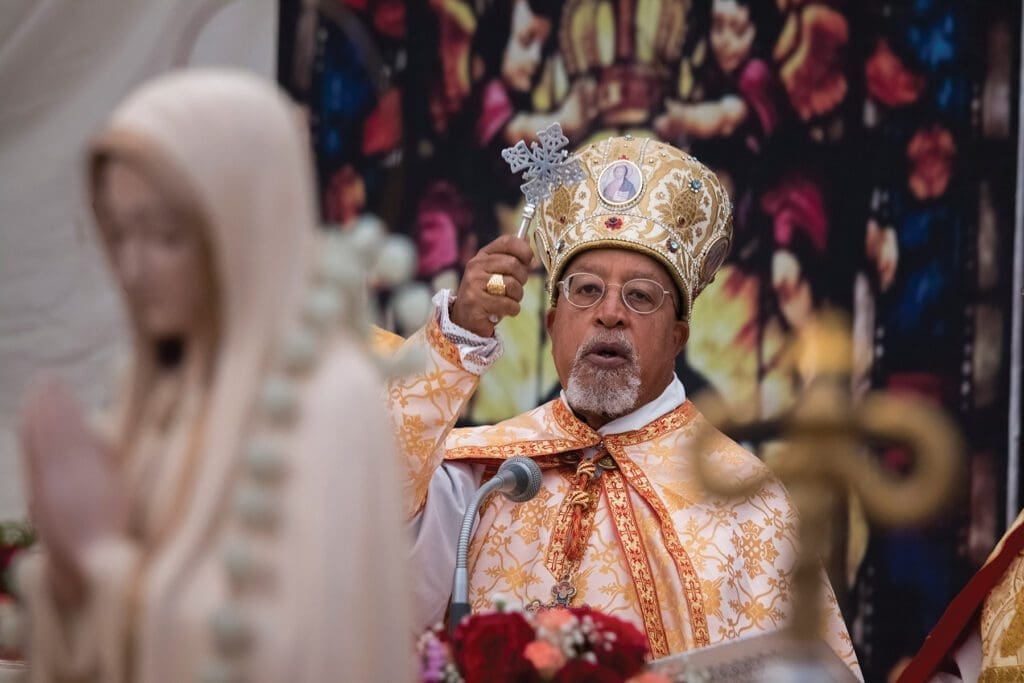 Dear members of the CNEWA family,
I greet you from Ethiopia, land of origins! It is where Lucy, our human ancestor, is found. Thus, Ethiopia is the cradle of humanity. We are one family.
Ethiopia is the country that received the three Abrahamic religions peacefully: Judaism during the reign of King Solomon. Our Bete Israel population lived peacefully in Ethiopia until they were repatriated to Israeli recently.
Christianity was introduced to Ethiopia during the Apostolic Age when Philip baptized the Ethiopian eunuch in Gaza and when St. Athanasius consecrated in the fourth century St. Frumentius as the first bishop of Ethiopia.
The prophet Muhammad sent his persecuted relatives and friends to Ethiopia to seek refuge and thus Islam came to Ethiopia after Mecca.
In general, we can say that all religions and all peoples of Ethiopia lived peacefully together for centuries. Alas, this is not the case at present.
Our country is in the midst of conflicts and wars, with many displaced persons and refugees. It is why Ethiopia has been recently in the international news. We have an Inter-Religious Council of Ethiopia and we have been trying to pray and fast for peace, to mediate for peace and reconciliation, and to request the cessation of hostilities and wars.
The Catholic Bishops Conference of Ethiopia has been sending out messages to all concerned, appealing for peace and reconciliation. Our Holy Father Pope Francis has appealed for peace in Ethiopia several times during his Angelus address from the Vatican. We thank him and we would like to request all members of the CNEWA family to continue to pray for us.
The CNEWA office in Ethiopia, through the leadership of Mr. Argaw Fantu, has been very close to us. CNEWA has sent assistance to Bishop Tesfaselassie Medhin, eparch of Adigrat, to reach out to the clergy, men and women religious, lay Catholics and displaced persons in Tigray because of the war. It is also assisting in other parts of Ethiopia, where many people have been displaced because of conflicts, especially reaching mothers, children and the elderly.
Even if "anguish shall be in Ethiopia" (Ez 30:4), "Ethiopia shall always stretch out her hands unto God" (Ps 68:31).
There is hope that through the prayers of all Ethiopians and our CNEWA family, God will turn his face to Ethiopia and there will be peace and reconciliation: Our Lord Jesus Christ, King of Peace, give us your peace. Mary Queen of Peace intercede for us. St. Justin de Yacobis and Blessed Gebremichael pray for us. Amen.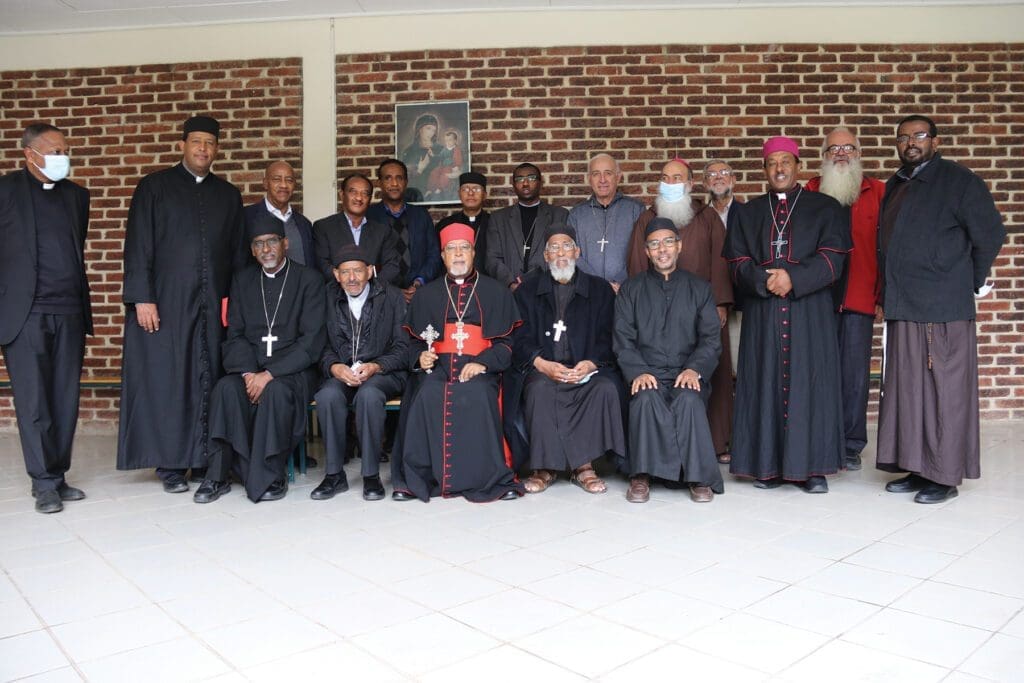 Statement by the Catholic Bishops' Conference of Ethiopia
We, the bishops of the Ethiopian Catholic Church, have held our ordinary assembly at the Consolata Fathers Spirituality Center in Modjo, from 13 to 16 July 2021. During the assembly, we have prayed for the peace of our country and the safety of our people. We prayed a special prayer for Bishop Tesfaselassie Medhin, eparch of Adigrat, who was not able to join the assembly for the past year due to the war in Tigray. He has suffered continuously there, together with his people, and for the clergy, religious men and women and all Catholic faithful, who have been living through the war and the related humanitarian crisis.
We had in-depth discussions on various church and national issues. While we were holding our assembly, our thoughts and prayers were influenced by the worrisome information we were receiving about the war. It saddens our hearts hearing about war, while we all would like to hear about peace and reconciliation. May Our Lord Jesus Christ the Prince of Peace bring lasting peace to our country. We all want to see a country where all Ethiopians embrace each other as brothers and sisters. We kindly say to all parties involved: War only destroys lives and property and nothing more, and the choice to be made should not be war, but peace and reconciliation.
As pastors, we cannot but feel the anguish and pain the people are going through. We identify with them; their anguish is our anguish. Our compassion must be expressed in concrete solidarity. We are grateful to all those who have been working tirelessly to alleviate the suffering of the population and we encourage them to ensure that no one be forgotten or left out. We urge all authorities on the ground to allow unfettered access to humanitarian aid.
The horror of war is never a remedy for wrongs or a solution to a crisis. War brings untold suffering and the price that innocent people pay is incalculable. We are close to all those whose lives have been affected, possibly indelibly, by the violence. For some, it is already too late, and we pray that the sacrifice of their lives may not be in vain.
As pastors, we can only give from what we have, and this is the hope that comes from our faith in Jesus Christ. It is never too late to stop the violence, to acknowledge that the only way forward for the good of the people is peace and reconciliation, to satisfy the demands of truth and justice, to ask for and grant forgiveness, to do what is necessary to restore mutual trust, to recognize others as our brothers and sisters, no matter who they are or how deep our disagreements are, and to settle any differences through dialogue and negotiation.
It is the only way we can heal together as a country, as a society and as a church. There are no "winners" and "losers," no "them" and "us"; we are all brothers and sisters. Living in peace and social harmony may seem like a dream, but it is attainable if we stretch out our hands in prayer to God, the Father of all, and allow him to mold our hearts and minds to think thoughts of peace and fraternity and to act accordingly.
May the Almighty God who created all of us as brothers and sisters fill our hearts with wisdom to choose brotherhood and sisterhood over hatred and revenge and make us instruments of peace.
May God bless our nation and its people! Amen.