During a meeting in Cairo, the mother of a child with special needs asked Father Antoun Francis a question that would set in motion a new, life-changing mission:
"What will happen to our children after we die?"
By the end of the meeting, the idea of establishing a center for children and adults with special needs, physical and developmental, was born. With the help of the Coptic Catholic Church and some donors, Father Francis broke ground on a parcel of land in Sheraton Cairo, a neighborhood in the northern part of the city near the international airport. It was around the turn of the new millennium.
At about the same time, Father Bishoi Ragheb, who had served the Coptic Catholic community in Los Angeles for 10 years, had returned to Egypt in response to a personal call to start a home for vulnerable children. Father Francis heard of his brother priest's intentions — and of his difficulty in securing a stable space — and offered him one side of the complex that was being built.
They worked together, with the help of Father Douglas May, an American Maryknoll missionary in Cairo, who was instrumental in the development of the project in its early years. The building was completed in 2003 and opened officially the following year; although Father Ragheb did not wait for the official opening to receive at-risk children to Good Samaritan House. Today, Good Samaritan House serves 32 children while Our Lady of Peace houses 25 residents with special needs.
Egypt's official census data reports that among the country's general population of about 100 million people, some 2.6 million live with physical or developmental challenges. However, the United Nations estimates a much greater number of Egyptians — 12 million — have special needs.
Homes for children, orphanages, are rather commonplace in Egypt, where child adoptions are not permitted in accordance with Islamic law. Facilities that care for people with developmental and physical challenges are not so common, however. Due to the lack of residences for this population, many people with special needs suffer extreme poverty and end up on the streets, in asylums or die alone.
Children with developmental needs suffer the most, says Bishop Hani Bakhoum of the curia of the Coptic Catholic Patriarchate of Alexandria since 2019.
"Their families are ashamed of them and thus they are treated badly," he says. "Before they came here, some of them were locked up under stairs or left homeless on the streets."
In his role of assisting Patriarch Ibrahim Isaac in the general administration of the patriarchal church, Bishop Bakhoum also oversees the development office of the patriarchate. Its goal is to promote the pastoral and social role of the church in society, serving the marginalized. Both houses are included in the works of the development office.
The first floor of Our Lady of Peace House includes a day school for its residents, as well as for students with special needs from the wider community who still live at home with their parents. The classrooms are specially designed for their needs. The school includes a sensory integration room and a speech therapy room, where students can develop cognitive and motor skills and abilities. The older students attend an hourlong class in the morning and then spend the rest of the day, until 2 p.m., participating in one of four workshops: hand-looming, candle-making, crocheting and sewing.
"The work makes them feel valued, even though what they are assigned is a simple task," says Sonia Salib, the manager of Our Lady of Peace House. "Putting molds in oil is a simple task, but essential in the production of candles."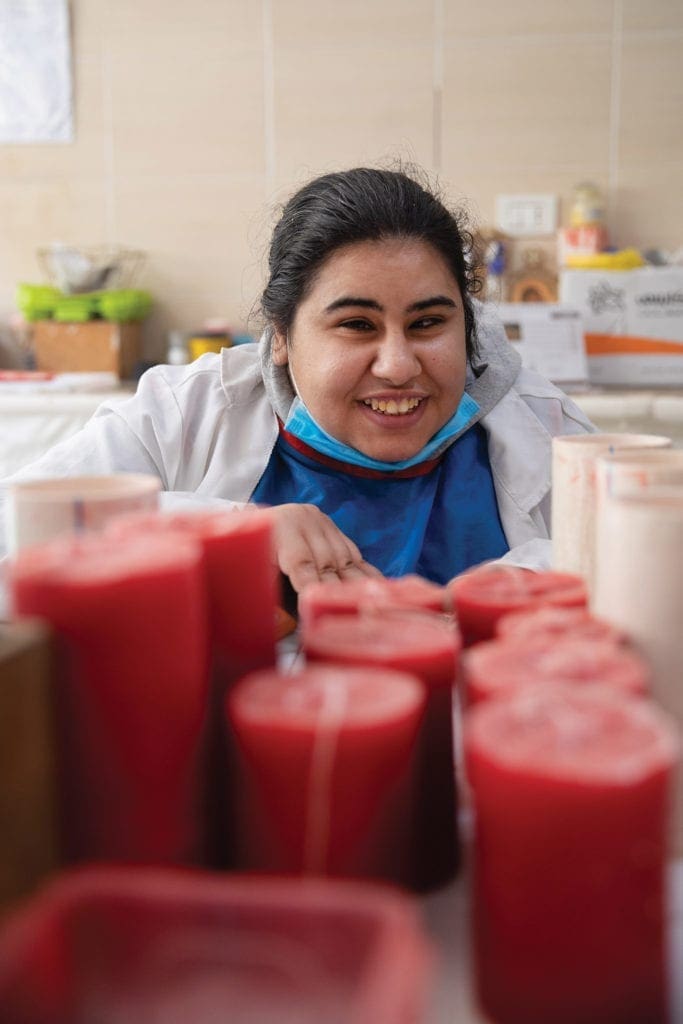 Gina, Michael, Christine and Philip sit at a table in the middle of the room, while Engy Saad, who supervises the candle-making workshop, stands nearby, wearing an apron with traces of candlewax. Behind her is a stove, where raw wax is melting in a pot. In one corner of the room are variously shaped molds into which the melted wax is poured. On the other side of the room, the finished candles sit on a set of shelves.
Each person does work according to their ability: Christine cleans the previously used molds with a scraper. Philp lubricates the mold. Michael has the more complex task of installing a wick in the middle of each mold, before Engy pours in the wax. Gina eventually removes the candle from the mold.
"Our primary goal is not to produce, but to use production to teach our students, develop their skills and help them feel valued," Engy says.
Magda Fayek, 35, is a member of the handloom workshop. She and her sister Nermine, 33, joined Our Lady of Peace House shortly after it opened. Their father had passed away and their mother could not care for them as she, too, had health problems. When their uncle learned of Our Lady of Peace, it became a lifesaver for the family.
In the sewing workshop, Nermine irons a bedsheet in one corner of the room, while Shenouda Zaki, 35, sits at a sewing table.
Like Magda, Nermine has developmental challenges. She was among the first to join the sewing workshop, ironing, cutting and helping Irene Azmy, the workshop supervisor, with the production. She and Magda visit their uncle, who lives in Cairo, on holidays. Nermine is a member of the Our Lady of Peace theater group, which performs at the home's annual party.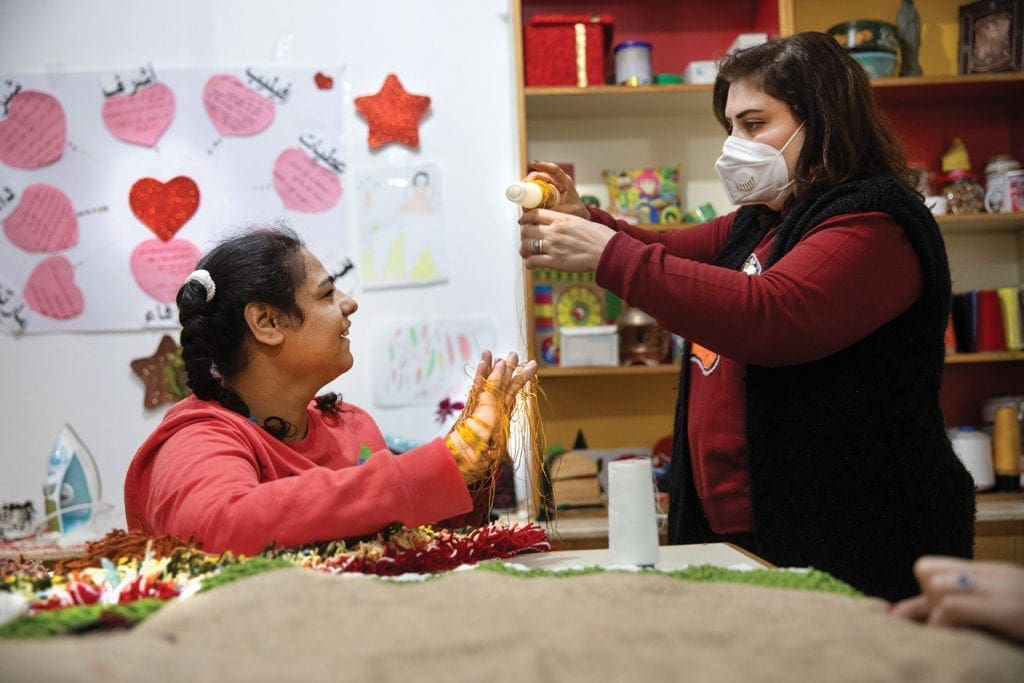 In the sensory integration room, 17-year-old Amany Zarif sits in front of a water column that changes colors. She watches the floating shapes that move about. She suffers from attention deficit hyperactivity disorder and the device helps to focus her attention when she gets distracted.
Ilham Roshdi, the specialist for the sensory integration room, sits next to her, helping her to focus. She says Amany could not focus for more than 30 seconds at a time previously but, with training, her ability to focus has increased.
Ilham has been working at Our Lady of Peace House for 13 years. As with most of her colleagues, she had volunteered with special needs children at her parish's Sunday school. She subsequently obtained diplomas in sensory integration and speech therapy.
"When a teacher, who deals with normal children, achieves good results, he is happy," says Ilham. "We deal with children who come to us who often are a blank piece of paper; when we achieve a good result, we feel thrilled."
Ilham is qualified to work with people with special needs. However, it has not been easy for the house to hire qualified teachers, especially supervisors, whose job it is to assist the residents around the clock.
To serve those with physical and intellectual challenges well, it "requires people who love this kind of work, not just someone who is seeking a job," says Sonia, the house director. "Therefore, I am careful to choose the workers."
She explains that she selects her staff mostly from among those who have served people with special needs in a church setting and who demonstrate "the spirit of service and giving."
Eight supervisors work in the assisted living component of Our Lady of Peace House: five are assigned to the female residents and three are assigned to the male residents. Each supervisor resides with three people and assists them with their daily needs and routines, such as bathing, dressing, and at mealtimes, throughout the day.
"Sometimes the work is tiring, but I feel that our Lord is very much in this place," says Rita Fawzi, 36. As a general supervisor for boys and girls, Rita oversees all aspects of their housing.
"I was not sure that I could deal with developmentally challenged people," Rita says. "But when I began to work and live among them, I began to love them in a way I couldn't believe."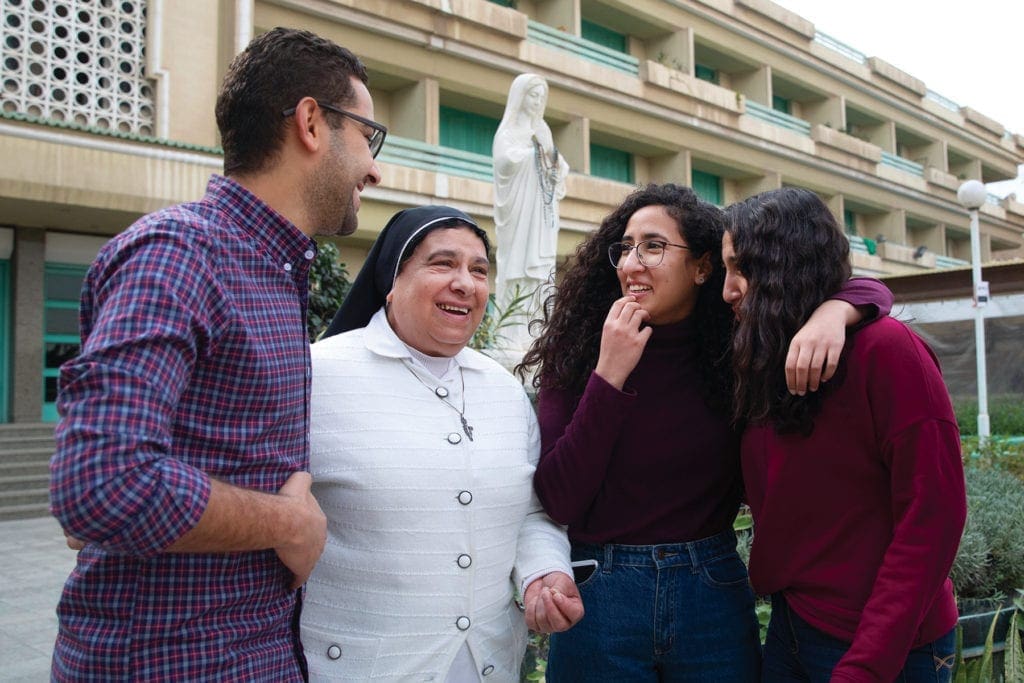 Franciscan Elizabethan Sister Afaf Zarif runs Good Samaritan House, with the help of Sister Awatef Bakheet. Currently, Good Samaritan houses 18 boys and 14 girls. Nine of the residents are in college, seven are in high school, seven attend preparatory school, and eight are in primary school.
"I found my ministry in this place and this helps me to live religious life better," Sister Afaf says.
Sister Afaf had collaborated with Father Ragheb, who died in 2010, in establishing the orphanage. When Father Ragheb asked her to join him in this new mission among vulnerable children, Sister Afaf had been serving as the director of the Franciscan Nuns School in Maghagha in Minya, Upper Egypt, for 18 years.
"I immediately agreed, and told him, 'I am ready.' I had always wished to serve orphans and continue my ministry with them," Sister Afaf, 66, recalls. She left her position at the school and has been at Good Samaritan House ever since.
The pair announced their plan to open an orphanage in the local churches, and the churches responded by sending them at-risk children in need of care. In a short period, eight children, then aged 2 to 5, were sent their way. Before the current location, the orphanage moved into three places in three months.
"We suffered a lot in the beginning, but providence was with us and many people stood with us," Sister Afaf recalls.
Maryam Roble, 18, lives at Good Samaritan House. She is in her final year of high school. Usually, students in Egypt double their efforts in their final year, as it often determines a student's future career. Maryam wakes up at five in the morning to study and waits for one of her housemates to wake up to go down together for breakfast in the dining hall. At the end of the day, they watch TV and spend time together as a family.
After the young people complete their college degrees, Good Samaritan House assists them in moving out on their own. The house helps by placing them in church-run hostels, until they can get on stable financial footing and can move into their own flats.
Romani Ishaq, 25, joined Good Samaritan House at the age of 3. He left the house in 2019, after completing his studies in computer sciences. That same year, he began his compulsory military service. On his last vacation during military service, he came to Good Samaritan House to visit his "brothers and sisters," whom he considers his "first family." They were happy to see him.
"It was a difficult feeling when I had to leave the house," he says. "For 19 years, they were my family. You feel here like you're in the safe zone. You feel the warmth of a family who takes care of your needs. Now I have to face life outside, but I will stay in touch with my brothers and sisters here."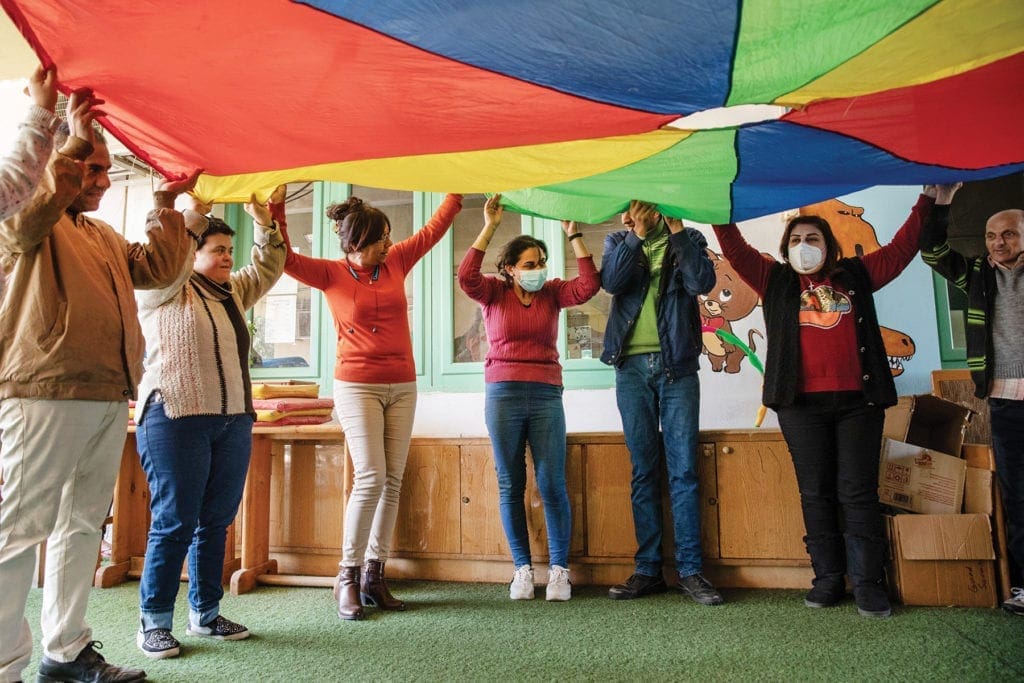 Sister Afaf says giving children a sense of family is part of the mission of the house. We want the children to feel that they are staying in their home, "not as orphans," she says. "We want them to feel that we are a big family and, at the same time, we want them to live a normal life for children."
"I say these are children of the King [Jesus], so they must have complete freedom, as if they are with their parents," she adds. "We do not use the word 'dar' [meaning orphanage], but we say, 'the house of the church.' "
The two Franciscan Elizabethan sisters, together with Bishop Bakhoum, are family to the children — and vice versa. The bishop took on the management of Our Lady of Peace in 2015, after Father Francis became ill, and then decided to reside at the home while serving as the administrative vicar of the patriarchate at the time. Father Francis continues to reside at the house in his retirement.
"I felt I needed to stay here," says the 46-year-old bishop. "I needed the feeling that I belonged to a family. When I come back after a long working day, I find a family and children waiting for me. This takes me out of our priestly difficulties, and integrates us into a family."
The bishop took on managing Good Samaritan House three years later.
"Taking care of 30 to 40 orphans, from the ages of 5 to 25, is not easy," he says. "Each of them comes from a different background and reality, and the challenge is how we integrate them to form a family atmosphere.
"We are touching Christ's blessing in this service," he adds. "He who provides these children with a service will have blessings in his life."
Based in Cairo, Magdy Samaan is the Egypt correspondent for The Times of London. His work also has been published in the Daily Telegraph, CNN, Foreign Policy and other journals.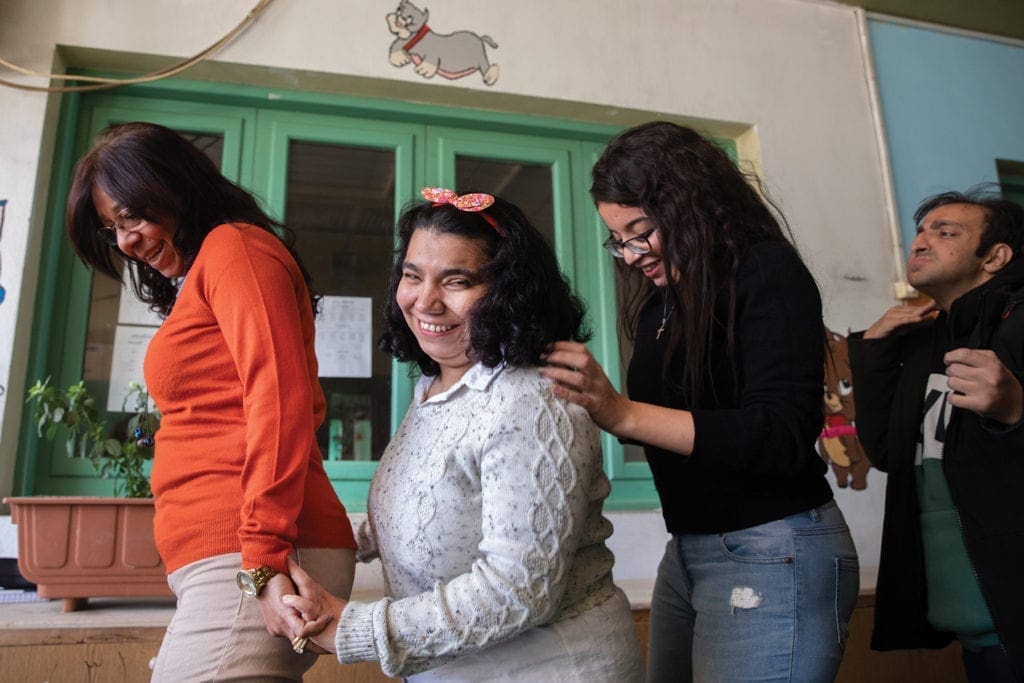 The CNEWA Connection
One in 10 Egyptians is a Christian — the largest Christian community in the Arab world. Called Copts, Egyptian Christians are among the most vulnerable people in the country, subject to intense discrimination and hostility for generations, and tempted with rewards for conversion to Islam. Dreams of quality education, employment opportunities and equal rights under the law have driven many to emigrate to the West, where vibrant communities now flourish in the United States and Australia.
The apostolic works of the Coptic churches — Catholic, Orthodox and Evangelical — are many and strive to serve the common good of the country, especially the needs of the most marginalized and vulnerable, Christian and Muslim. CNEWA has long supported these efforts, focusing on initiatives that support at-risk children and those with special needs, such as the programs profiled here.
Help CNEWA continue these important works of the churches. Call 1-866-322-444 (Canada), 1-800-442-6392 (United States) or use our contact page.