CNEWA Events in New York
As the December issue of ONE went to print, CNEWA was only days away from its inaugural gala on 13 December. The event honored Cardinal Timothy M. Dolan, archbishop of New York and chair of CNEWA's international board of trustees. CNEWA also conferred its first Faith and Culture Award to Carl A. Anderson, past supreme knight of the Knights of Columbus.
In anticipation of the gala, CNEWA held a partnered fundraising exhibition with InSight Artspace in Pelham, New York, in October and a photo exhibition at The Sheen Center for Thought and Culture in November.
The first of these, entitled "(de) construct," featured the work of six female artists, including Kyiv artist Albina Yaloza. A portion of all art sales went toward CNEWA's efforts in Ukraine. The second, " 'And Who Is My Neighbor?' The Faces of CNEWA," featured photos taken for ONE by female photojournalists over the years in some of the most difficult places in the world.
Read more about these events at cnewa.org.
Travel to the Caucasus
CNEWA President Msgr. Peter I. Vaccari made a pastoral visit to CNEWA's partners in the Caucasus in September. He visited CNEWA-funded programs in Armenia, managed by Caritas Armenia and the Armenian Catholic Ordinariate, and then traveled to Georgia, where he visited programs of Caritas Georgia, the Armenian, Assyro-Chaldean and Latin Catholic communities. He was accompanied by Michael J.L. La Civita, director of communications, and Thomas Varghese, director of programs.
"Everywhere I go, Lebanon, Ukraine, Poland, Iraq, Gaza, Armenia, new traumatic experiences demand our attention. This is key to the success in helping the church heal the people it is called to serve," said Msgr. Vaccari, who was visiting CNEWA's regional offices in Egypt and Ethiopia in November as ONE went to press.
Read about the Little Prince Center in Artashat, Armenia, one of the programs he visited on pages 18-25 in this issue of ONE.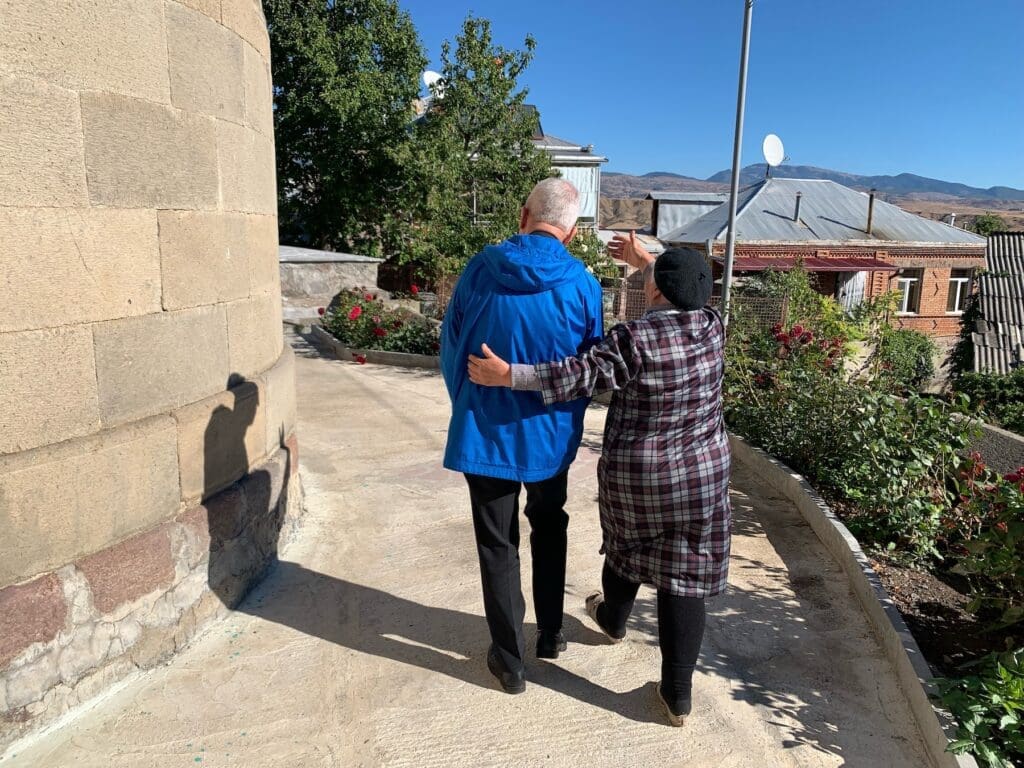 Update From Ethiopia
On 2 November, the Ethiopian government and the Tigray People's Liberation Front came to a permanent cease-fire agreement after two years of conflict that killed hundreds of thousands and displaced millions. On 12 November, the two parties agreed on the implementation of the peace deal and humanitarian aid organizations began delivering lifesaving supplies to Tigray, which had been cut off from international aid during most of the conflict, with only occasional windows of reprieve, leaving millions of people destitute.
Argaw Fantu, CNEWA's regional director in Ethiopia, welcomed the peace agreement.
"These are encouraging signs for the restoration of peace," he said. "We expect in the next few months CNEWA will join the delivery of humanitarian support to war-affected people in Tigray."
Aid to Ukraine
Year to date, CNEWA has released $5,772,968 in emergency assistance, including disbursements in September and October, to support humanitarian efforts in Ukraine and surrounding countries welcoming refugees from the ongoing war.
The funds were distributed across programs, including the winterization efforts of shelters, centers for internally displaced persons and seminaries through the installation of generators, heaters and furnaces, as well as the purchase of fuel and sleeping bags.
Continue to support these efforts at cnewa.org/Ukraine.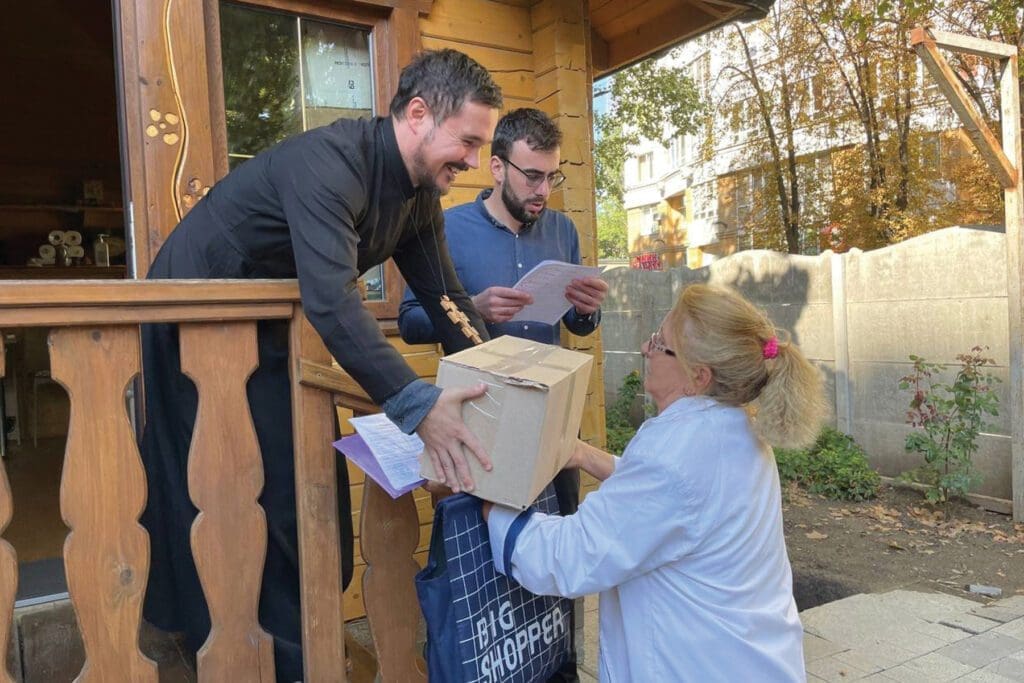 TV Show Launched
A new television program, ONE-to-ONE, based on the award-winning journalism in ONE magazine, aired on Catholic Faith Network (CFN) after Thanksgiving.
The pilot episode focused on what the local church is doing to respond to the grave situation in Lebanon — a result of the country's political and economic collapse and exacerbated by the port explosion of August 2020.
Watch the pilot episode at catholicfaithnetwork.org. Be sure to send us your feedback: communications@cnewa.org.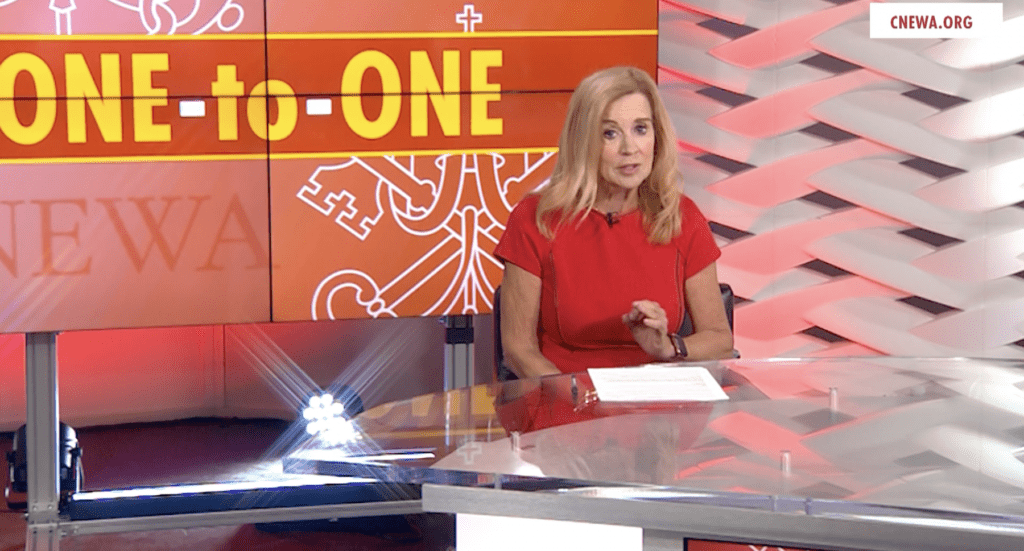 Update on India Office
Restating CNEWA's commitment to support the Eastern churches in India, Msgr. Vaccari announced on 6 November that CNEWA's India Trust would be closed in compliance with recent amendments to India's Foreign Contribution Regulation Act.
"The F.C.R.A. legislation since September 2020 means that CNEWA India must suspend all fund transfers to our beneficiaries through our Ernakulam office in India," he explained.
With the pending dissolution of the trust, and given the circumstances and restrictions of Indian law, M.L. Thomas, who headed the Ernakulam office, resigned as the executive director and chief functionary for CNEWA's India Trust.
"M.L. has served CNEWA in India for 20 years. For this service we wish to express our heartfelt gratitude and assure him of our prayers," said Msgr. Vaccari.
The Reverend Abraham Kavilpurayidathil, vice chancellor of the Syro-Malabar Catholic Major Archepiscopal Curia, was named to succeed Mr. Thomas until the dissolution of the trust.
Mathews Joseph, program officer for Welfare Services Ernakulam, shared the impact of the F.C.R.A. amendments with ONE, saying they have "led to a reduction in funding" for the charitable work of the church. His "Letter From India" is available exclusively at cnewa.org/blog.
Despite the changes required by Indian law, said Msgr. Vaccari, "Our priority is to continue CNEWA's commitment and mission of great humanitarian, pastoral and educational service in India."
Connect With CNEWA
"Connections With Msgr. Peter" continues to grow its reach. The monthly livestream features CNEWA's president interviewing key members of the agency responsible for carrying out its mission and providing fruitful updates from CNEWA's partners around the world. Some of his guests have included Anna Dombrovska, projects officer for Ukraine, Thomas Varghese, director of programs, Joseph Hazboun, regional director for Jerusalem, and Argaw Fantu, regional director for Ethiopia.
The webinars are available on CNEWA's YouTube channel, Facebook, Instagram and Twitter. Register for the livestream at cnewa.org/connections.