Supporting Humanitarian Efforts in Ukraine
CNEWA has supported the people of Ukraine since its beginning, rushing emergency aid to Ukrainian refugees fleeing war and famine for safety in Istanbul and Central Europe in the 1920s, and later supporting the leadership of the Ukrainian Greek Catholic Church in exile. CNEWA continues its support, sending funds for humanitarian efforts since war began in 2014 in eastern Ukraine, but at a much higher volume since Russia launched its invasion on 24 February. As of late May, CNEWA has released emergency funds totaling more than $2.7 million — including funds from the Ukrainian Greek Catholic eparchies in Canada and the Koch Foundation — to support the relief works of the local churches in Ukraine and surrounding countries.
The funds were released in five disbursements: $197,500 at the end of January; $217,000 on 11 March; $650,000 on 22 March; $800,000 on 20 April; and $850,000 on 27 May. Beneficiaries included the curia of the Ukrainian Greek Catholic Church; Ukrainian Catholic University; Sheptytsky Hospital in Lviv; Caritas in Georgia, Hungary, Poland, Slovakia and Ukraine; the Mercy Centers of the Knights of Columbus; the Sisters, Servants of Mary Immaculate; and various eparchies and other institutions in Ukraine, Hungary, Moldova, Poland, Romania and Slovakia.
Cardinal Timothy M. Dolan of New York, as CNEWA's chair, and Msgr. Peter I. Vaccari, CNEWA president, led a delegation to Ukraine, Poland and Slovakia, extending the support and concern of the church in North America to the internally displaced, refugees and their caregivers. The pastoral visit, a feature of which begins on page 14, also raised consciousness of the plight of women and children, who make up about 90 percent of those in flight.
To learn more about what you can do to help, visit: cnewa.org/more-ways-to-help.
Funding for Lebanon
CNEWA has received four grants from three funding partners, totaling $1,859,000, to support Lebanon's ailing Catholic health care centers and schools.
The Holy Land Christians Society, thanks to a gift from one of its members, provided CNEWA with $925,000 to support five Catholic hospitals. Combined with a grant of $300,000 from a donor who wishes to remain anonymous, salaries for 1,093 doctors and nurses over a 12-month period will be covered at Geitaoui Hospital and Rosary Sisters Hospital in Beirut; St. Joseph Hospital in Dora; Tel Chiha Hospital in Zahleh; and Bhannes Medical Center in Dahr el Sawan.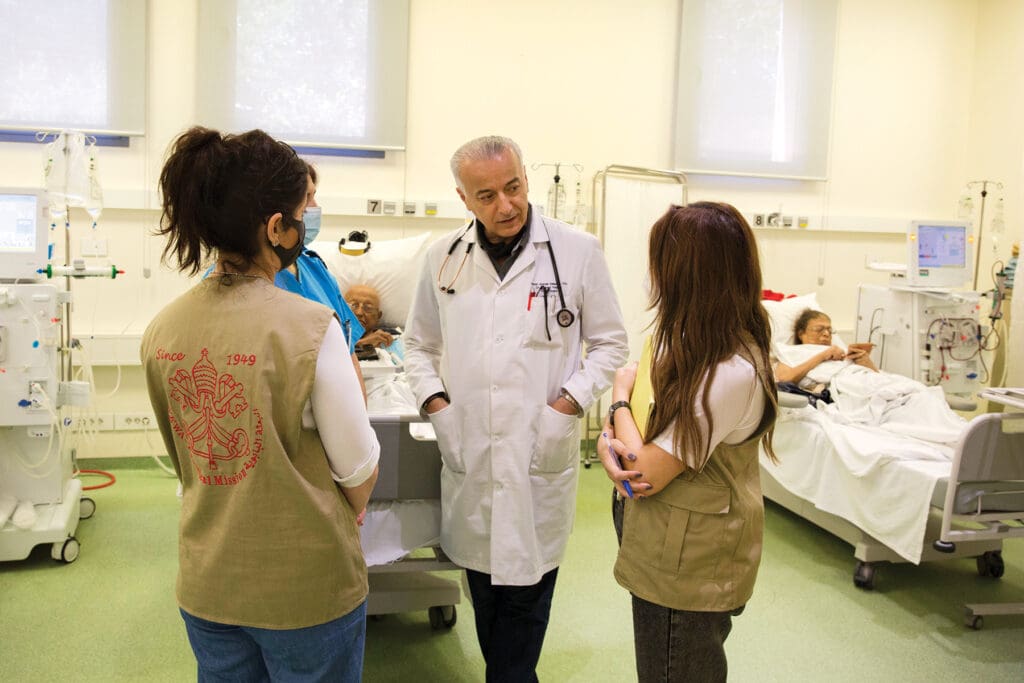 Message de Paix, a rehabilitation center for people with special needs, received an $84,000 CNEWA grant, thanks to the same anonymous benefactor, to develop a garden that will provide the center's kitchen with produce and its clients with job training and employment.
The MCN Build Foundation granted $550,000 for the operational costs of 14 Catholic schools in Lebanon. Education and Opportunities for Lebanon (EOL), a volunteer outreach established by Kathy Feghali, introduced MCN Build's founder, Rudy Seikaly, to CNEWA. EOL directs all of its support through CNEWA, having forged a long-term partnership to bolster Lebanon's Catholic schools.
Monthly Webinars Begin
CNEWA is launching a new series of monthly webinars with live updates from CNEWA's world, hosted by President Msgr. Peter I. Vaccari. The webinars are intended for donors and friends of CNEWA to learn more about the mission and work of this papal agency. The series, called "Connections With Msgr. Peter," will kick off on 8 June at 12 p.m. EDT, live from the Holy Land. To participate, call (800) 442-6392 or send an email to info@cnewa.org.
Praying for CNEWA's World
Msgr. Peter I. Vaccari is also taking CNEWA's message and mission on the road this spring and summer. The first in-person "Gathering in Hope" event was held at the Seminary of the Immaculate Conception in Huntington, New York, on 12 May.
He shared takeaways from his recent pastoral visit to Ukraine, Poland and Slovakia, as well as updates on CNEWA's support of the pastoral and humanitarian works of the church in the rest of Eastern Europe, Northeast Africa, India and the Middle East. For the developing schedule of events, visit cnewa.org.
ONE on Television
In conjunction with the Catholic Faith Network, CNEWA is coproducing ONE-to-ONE, a news magazine television program on CNEWA's mission. The program features men and women — all motivated by the Gospel — at work in some of the most difficult regions of the world. Regardless of the challenges that may seem overwhelming, these ordinary people do extraordinary things, thanks to their faith and the generosity of people like you.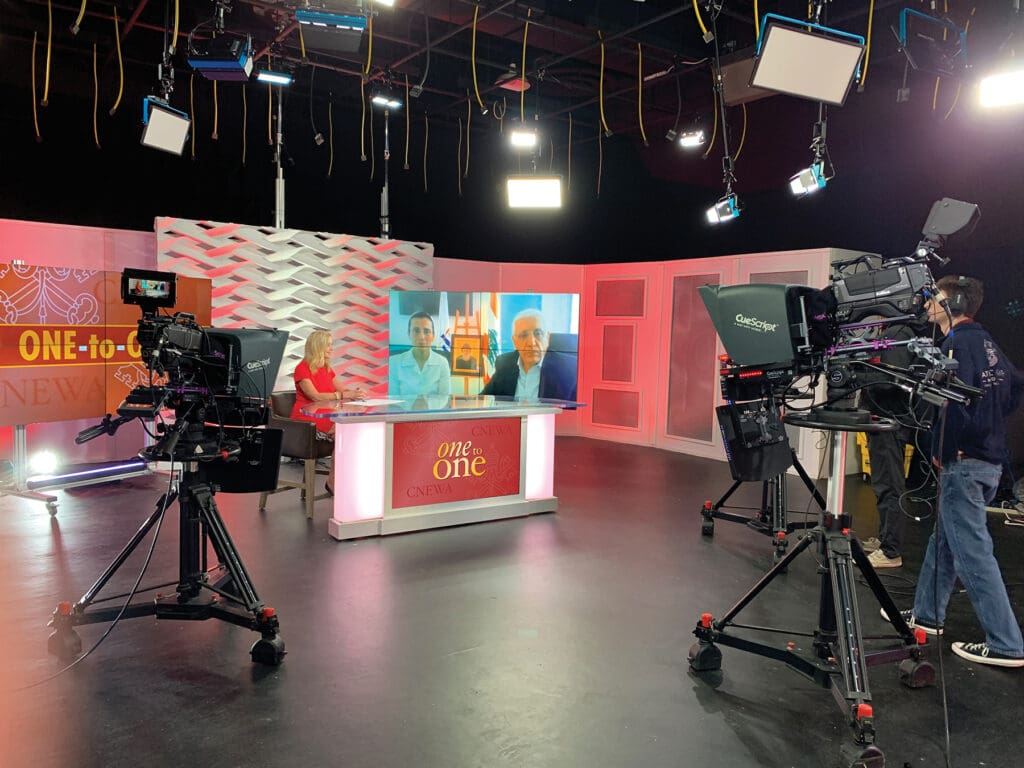 The television program builds on the award-winning journalism of CNEWA's ONE magazine, and will be livestreamed at www.catholicfaithnetwork.org, available on CNEWA's website and syndicated on Catholic channels across North America. At the time of publication, the pilot was in post-production.
Check our website and social media for the date and broadcast time of our premiere episode.
It's ONE to one!