Each day, the Reverend Amanuel Yoseph hears the cries of hunger outside the doors of his compound.
Women — some naked in the chilled morning air, most with children — plead for any help the priest can offer. Farmers who cannot grow crops come seeking aid. But in a community devastated by drought, there are no resources left to give.
"People are coming with dry plants to show us, and they are knocking on the door of our office every day," says Father Yoseph, who directs the Social and Development Commission in the Apostolic Vicariate of Hosanna.
"We don't have anything to give them, and they say, 'We don't want to die in our homes and our villages. That is why we are here.' "
The priest ministers in the country's southwestern state named Southern Nations, Nationalities and Peoples' Region (SNNPR). However, his experience there is common to the rest of the country, where an ongoing food crisis means nearly 10 million people are suffering from "high levels of acute food insecurity and rising malnutrition," according to the United Nations Office for the Coordination of Humanitarian Affairs (U.N. OCHA).
"The situation on the ground is very bad," says Argaw Fantu, the director of CNEWA's regional office in Ethiopia, who describes this crisis as "multidimensional" in its causes and effects.
Three primary forces are driving the crisis, he explains: continued conflict in the northern Tigray Region, prolonged drought and increased prices of grain and fuel due to the war in Ukraine.
Violence in Tigray has been ongoing since war broke out between the Tigray People's Liberation Front (whose leadership once controlled Ethiopia's federal government) and Ethiopian government forces in November 2020.
In July, one religious sister, who asked that her name and congregation not be disclosed for security reasons, traveled from Addis Ababa to Mekele, the capital of Tigray, and says suffering in the region has escalated since this time last year.
Her congregation typically focuses on development projects pertaining to health care, education and other social services, but the sisters' efforts have been diverted to provide emergency relief to internally displaced persons.
She recounts some of the horrific stories her sisters hear when they visit with the displaced — adults and children alike — who have fled massacres, rape and other forms of brutal aggression. She describes how the people's sense of hopelessness has augmented as violence has persisted and supplies have become scarce.
"These people are carrying a lot of wounds, heavy burdens," she says.
"And they are not involved in any politics. They are not members of any political party or anything. They are just civilians — Tigrayans — born in Tigray, not by choice, because none of us have been asked where we want to be born," she says. "But they are held responsible and for some, it is considered to be a crime.
"About 50 percent of the sisters come from the north, including myself," she continues. "So, all our family members are in danger. We worry about them; we worry about the people. They worry about us. Because nobody is safe now…"
Tigrayans also have been impacted severely by the Ethiopian government's months-long blockade of humanitarian aid, resulting in increased food insecurity and medical crises. The sister said the blockade was still in effect at the time of this interview, despite the government's insistence it had been lifted.
While aid was allowed into Mekele in early April following a cease-fire, Mr. Fantu says surrounding areas remain largely inaccessible and the distribution of aid is a problem.
This five-month cease-fire ended when fighting resumed for the third time on 24 August in the Amhara Region. The town of Kobo, located approximately 125 miles from Mekele, was the first area to be attacked, according to Mr. Fantu. He says priests and sisters in the area were evacuated, but a teacher from St. Joseph School, run by the Capuchins — which Mr. Fantu visited in August — was killed while escaping. He also notes that travel to Tigray, even by international relief agencies like the World Food Programme, was suspended following the war's resurgence.
The Catholic Bishops' Conference of Ethiopia released an appeal in response to the situation: "We again appeal to all parties to cede their weapons and return to peace options, to prioritize dialogue [as] an option that will end the suffering of our citizens."
The sister attributes much of the increased suffering to dwindling supplies of food, medicine and fuel. Most people in Tigray have been unemployed and without income for the past two years. This, combined with rising prices, means even small quantities of food stocked on store shelves are too expensive to purchase.
In addition, the region has been almost entirely without telephone or internet services since the war began. Only the International Organization for Migration has a working internet connection in Tigray, says the sister.
Migration to urban centers has increased as people, including Eritreans, Somalis and South Sudanese who had sought refuge in Ethiopia, seek to flee the harsh conditions. In Addis Ababa, the country's capital, the refugee population has doubled since January 2021. According to the UNHCR, Ethiopia hosts 823,000 refugees and has up to 4.2 million internally displaced persons.
The Yedegu family is among a number of Eritrean refugee families who have had to flee Tigray for Addis Ababa. For two months, Furtuna Yedegu, who is wheelchair bound, her husband and their four children lived in Shire, south of the Hitsats Camp, where they had first sought refuge. When fighting in the area escalated, they decamped for the capital.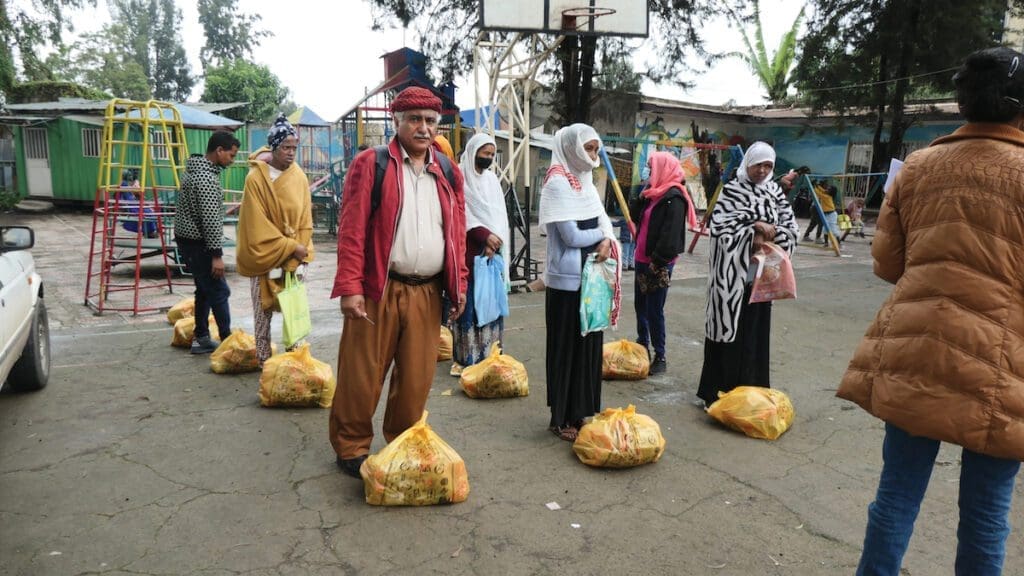 Due to Mrs. Yedegu's disability and other restrictions on employment for refugees, neither parent could find work. However, their children could attend public school, where they received free lunches. When the school year ended in June, the entire family faced food insecurity.
They found some relief in the emergency food packages provided at the Jesuit Refugee Service (JRS) center in Addis Ababa. JRS was present as well in three refugee camps in Tigray — Mai-Ani, Adi-Harush and Shimelba — but withdrew due to the war.
Ethiopian farmers face an almost impossible situation, as they watch the crops they plant shrivel in the midst of the country's worst drought in 40 years. This year's rainy season, from March to May, was "the driest on record," reports the U.N. OCHA.
"Two months ago, there was sign of a little rain in some parts and people started to cultivate," says Mr. Fantu. "But immediately it was replaced by prolonged sun or dry season, so even the small crops died out."
Father Yoseph says this year has been the driest in Ethiopia's southwest in the past three years.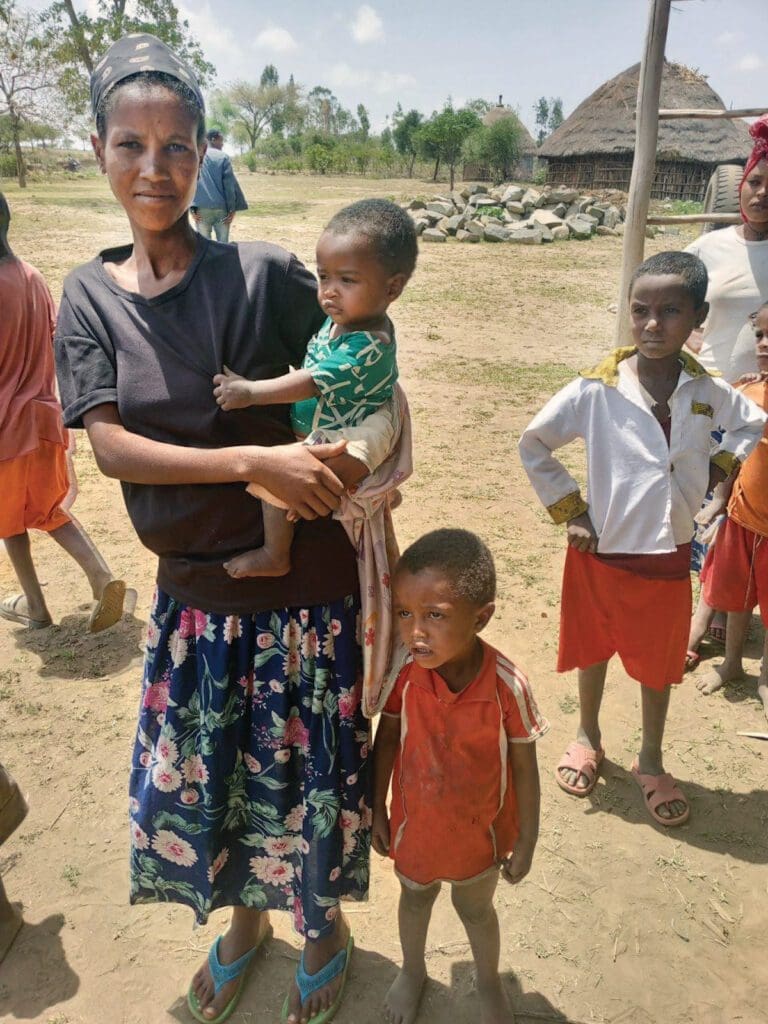 "We cannot differentiate rich people from poor people, starved people from those who are feeding themselves," says Father Yoseph. "All the people are affected by this drought."
The influx of the displaced due to conflicts in various other parts of the country increases the food insecurity in the region, which is largely stable, he says.
"The government is trying its best," says Father Yoseph, but providing sufficient aid to combat the food scarcity crisis is "beyond its capacity."
"The most important thing for these people, especially this year, is to save their life by providing some items of food," he says.
The severe drought is an observable effect of climate change, as are the unusually high temperatures in Addis Ababa experienced during this year's dry season, says Mr. Fantu. Then, in July, the Ethiopian highlands experienced unusual torrential rainfall, including hail, which flooded farmlands and washed away crops and topsoil. By the third week of August, about halfway through Ethiopia's second rainy season each year, the rainfall had improved in drier areas of the country, he adds. He hopes farmers in these areas will cultivate crops that grow quickly, such as wheat.
On her weeklong visit to Mekele in July, the plans of the religious sister to visit her congregation's offices outside of the city — one 110 miles to the north and another 75 miles to the south — fell through due to the fuel shortage.
The war in Ukraine has driven up the cost of fuel and grain products and has contributed significantly to the food crisis. Ethiopia is dependent on Russia and Ukraine for these commodities, including staple foods items, such as wheat, rice and maize. U.N. OCHA reports that food basket prices have risen 66 percent in Ethiopia.
On 22 July, the U.N. brokered a grain deal between Russia and Ukraine to allow grain exports to resume. The first ship to depart under this agreement left the port of Odesa for Lebanon on 1 August. The first ship to the Horn of Africa left on 16 August with more than 50 million pounds of wheat grain.
At this stage, the impact the grain imports will have on the severe situation in Ethiopia remains hypothetical.
"People ask, 'What is the solution?' People are tired of waiting even for solutions," says the sister. "They ask, 'Why has the international community just deserted us? Why do we have to go through such untold atrocities and sufferings for reasons that we don't know, for crimes that we haven't committed?'
"And nobody can answer these questions. I cannot answer these questions."
---
Olivia Poust is communications assistant for CNEWA.
The CNEWA Connection
Through its support of the local church, such as the Eparchy of Adigrat, communities of religious sisters and brothers, and organizations such as Jesuit Refugee Service, CNEWA is able to rush aid to some of Ethiopia's most vulnerable populations, such as "food and non-food items, medical assistance, psychological services and one-time emergency financial assistance," says CNEWA's Argaw Fantu.
To support this critical work, at such a critical time, call 1-866-322-4441 (Canada) or 1-800-442-6392 (United States) or visit: The Forgotten Crisis in Africa.