When the coronavirus first hit the Ethiopian capital of Addis Ababa, one of the first casualties was Benson Gassanga.
He managed to remain healthy. But as with many in the country, he suffered from side effects that were not physical, but economic. An English teacher, he was prohibited from meeting with his students due to the safety measures and protocols intended to combat the spread of the virus. Without computers and internet connections, remote learning was not an option. He lost his job and his home.
Without an income, he now lives with a friend. Getting by is a daily struggle.
"It changed our lives in different ways," the young man explains as he sits in the sun wearing a blue and purple shirt.
"People are prisoners in their own houses, they have lost their jobs, some people became beggars. It affected everyone."
Benson arrived in Ethiopia 12 years ago. He had fled his native village in the North Kivu province of the Democratic Republic of Congo when his father and other family members were killed during targeted attacks on their ethnic group. Benson spent some years in a refugee camp in northern Ethiopia, then received permission to complete his studies in the capital. However, the pandemic has made life difficult for the millions living there. Now Benson is waiting in the compound of the Jesuit Refugee Service (JRS) for a one-time food distribution.
Without a legal right to work, most refugees living in Addis Ababa depend on informal employment, occasional financial assistance from the United Nations High Commissioner for Refugees and nongovernmental organizations, such as those of the nation's numerically small but vibrant Catholic community. When the pandemic first hit the country, refugees were the first to lose their jobs.
"There is only one center providing food items and soap. But the distribution frequency is limited," says Odjiu Ayale, a refugee from the recurrent ethnic violence in her native South Sudan. She has four children to feed and she struggles to provide for her family.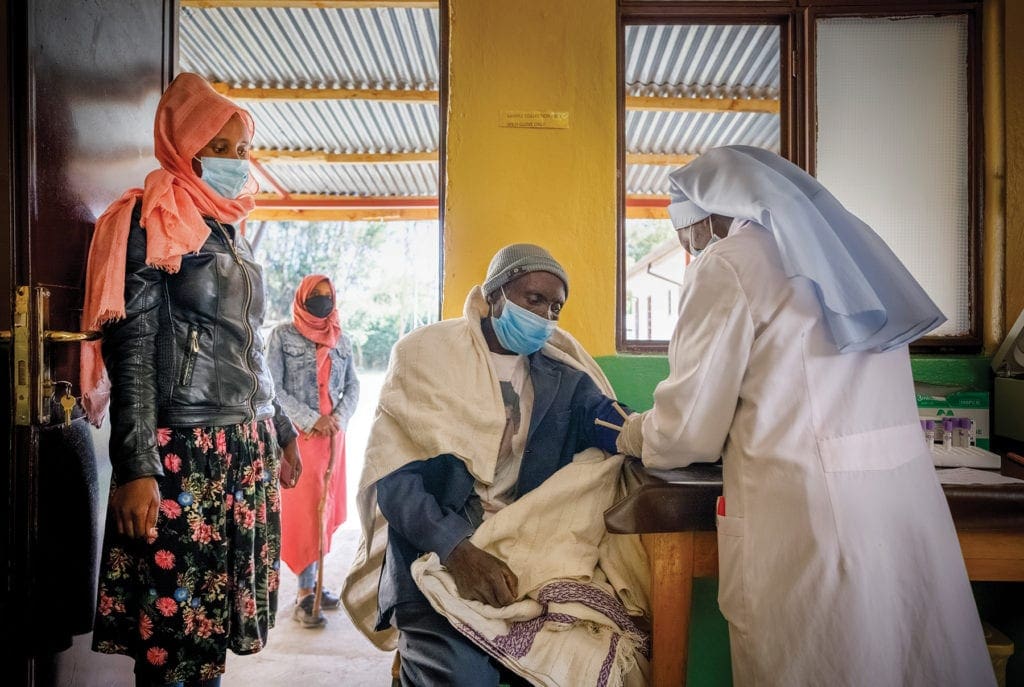 Odjiu and about 20 other refugees were invited to the JRS center for assistance. It usually provides much more than emergency assistance — from English classes to informal education, as well as sports and psychological support. This spacious and welcoming place is usually full of life, but the pandemic has forced the center to halt most activities.
The staff is extremely concerned about the 18,000 people usually supported by JRS.
"They lack basic assistance, there is food insecurity, sometimes they eat only once a day," explains Hanna Petros, the project director at the JRS Community Center.
Due to lack of funding, the emergency response provided by JRS during the height of the pandemic was limited. On the day Odjiu visited the center, she received a bag of rice, some flour and a bottle of cooking oil. She says this will feed her family for two days.
Before the pandemic, refugees who could not manage in the city could request to return to one of the refugee camps, but this option is difficult to implement now.
"It's often impossible for them to cope with the urban situation. We used to encourage them to go back and join the camp because it's better for them there," says JRS's Neway Alemayehu. Now, entering a camp, such as the one located in Shire in northern Ethiopia, requires a negative COVID-19 test result and a 10-day quarantine. Many are thus stuck in the city without any backup plan.
It is a story one hears again and again. As one of the world's poorest countries, Ethiopia could not afford to implement a complete lockdown when the coronavirus first took hold in the northeast African nation last March. Nevertheless, many shops, restaurants, bars and other businesses in the cities closed, at least temporarily. Tourism dried up with increasing security concerns and the implementation of a mandatory quarantine to contain the pandemic. In a country with few social services and no safety nets, the measures to contain the virus and interethnic violence have shocked the fragile economy and hit hard the country's vulnerable populations, who always bear the worst of any downturn or tragedy.
Food insecurity has risen as locust invasions, floods, droughts and now war in the country's northern Tigray region exacerbate the already tenuous COVID-19 landscape.
To speak with those most affected by this crisis in the country is to hear again and again stories of desperation and frustration. However, amid the uncertainty, many are turning to the only resource available, the one which gives them the surest sense of hope: the church.
Psychologically, the pandemic is taking a toll on many of the refugees. The JRS center would help them create social bonds or prepare for future projects through English classes. Forced to remain home, many refugees are now bored, isolated and depressed. Lidya Tariku, an English teacher at the center, worries about her students' mental health.
"They used to come here to play volleyball, take music classes and do other activities in addition to the English classes," she recalls. "This was helping their psychological well-being. Now some of them have no hope for their future."
Outside the refugee communities, too, fear of the pandemic has gripped the nation. With a toll of more than 1,500 deaths, the pandemic's biggest impact has not been on the health sector.
Etenesh Urke used to work as a cleaner around Mendida, a village some 60 miles northeast of Addis Ababa. She was told by her employers not to return to work for fear of the virus. Her son Ephrem, a smiling child who likes to sing, is almost 4 years old. He was suffering from malnutrition before the pandemic.
"I am not fully supporting my family, but with my husband we are trying our best," the mother of two explains, a grey scarf wrapped around her head.
Women such as Etenesh "are a very vulnerable group because they didn't have a fixed job, as their work depended on daily jobs," says Sister Dinkenesh, who runs the Mendida Medhanialem Clinic.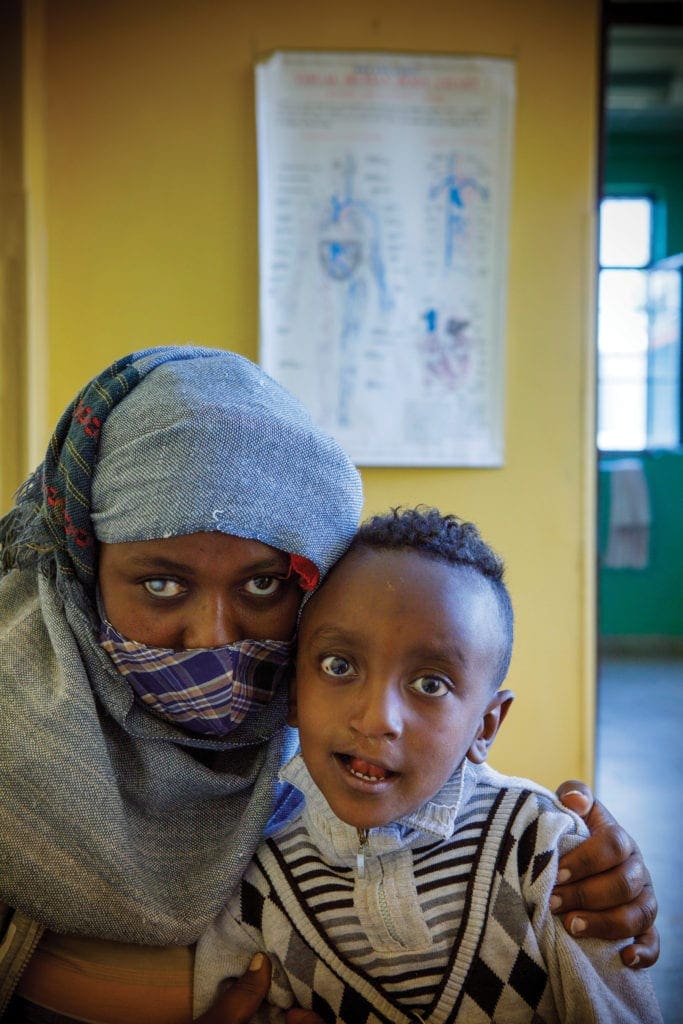 The health center provides nutritional support for 80 children, who would regularly receive hot meals. But during the pandemic, families received food packages instead, which included flour, eggs, oil and sugar. This program lasted three months, until the end of August.
Ephrem was one of the children whose family benefited from the program; he is healthy now.
"Before the support, he didn't look like this. With the supplementary feeding, he became stronger," his mother says.
The clinic, tucked into a quiet compound with a garden and whitewashed buildings, is adjacent to a kindergarten and a Catholic parish church. Six women of the Sisters of Divine Providence and five novices live there together. The community was founded in Mendida in 1973, when the archbishop of Addis Ababa invited sisters from Italy to establish a health and education facility.
The Medhanialem Clinic offers services to families who are not able to afford the cost of treatment at public health care centers. The people in Mendida, who are from the Oromo and Amhara ethnic groups and worship in the Ethiopian Orthodox or Catholic traditions, consider it the best health care center in the area.
"For a long time, this was the only health institution for the people of this town," Sister Dinkenesh recalls, sitting in the living room used to receive guests.
"Only about 12 years ago did the government build the other health centers."
At the time of publication, the small town located in the Oromia region of Ethiopia had not had one case of COVID-19. Nevertheless, the population and the clinic staff live in fear of the virus daily.
During the first months of the pandemic, it was difficult to acquire personal protective equipment in Mendida, about an hour's drive from the nearest city, Debre Berhan. Medical masks were expensive, about $1 apiece, and almost impossible to find.
Aster Adane works at the front desk of the clinic, called the "card room," a small space with pink folders covering the walls. All patients have to go through her to exchange patient cards and pay modest fees. She was particularly frightened when the pandemic first hit.
"I am in the front line, in direct contact with the patients, and I feared the virus would be transmitted through money," says the young woman.
In June, the clinic received supplies from CNEWA to protect the staff. Gloves, masks and goggles are now mandatory for every employee. Although restraining, the PPE supplies came as a relief.
Dressed in a white shirt, his head covered with a mask, goggles and a hair cover, medical assistant Dereje Samu has worked at the facility for 33 years. When the coronavirus was confirmed in Ethiopia, this tall, energetic man knew he wanted to be part of the fight.
"Health care professionals are like soldiers," he says. "They live for the people. I understood there would be a risk for me, but I knew I had to give my life for others. Little by little, I became less worried."
While he was happy to work, many people nearby struggled for work. Even his wife, who used to run a small shop in front of their home, lost almost all of her customers.
"This virus affected people, especially economically. Now our shop is open only on Saturdays. Everything is getting expensive because of inflation. For example, one quintal of teff [about 220 pounds of the main staple crop in Ethiopia] used to cost 2,400 birr [or $62]. Now that same amount costs 3,700 birr [or $97]."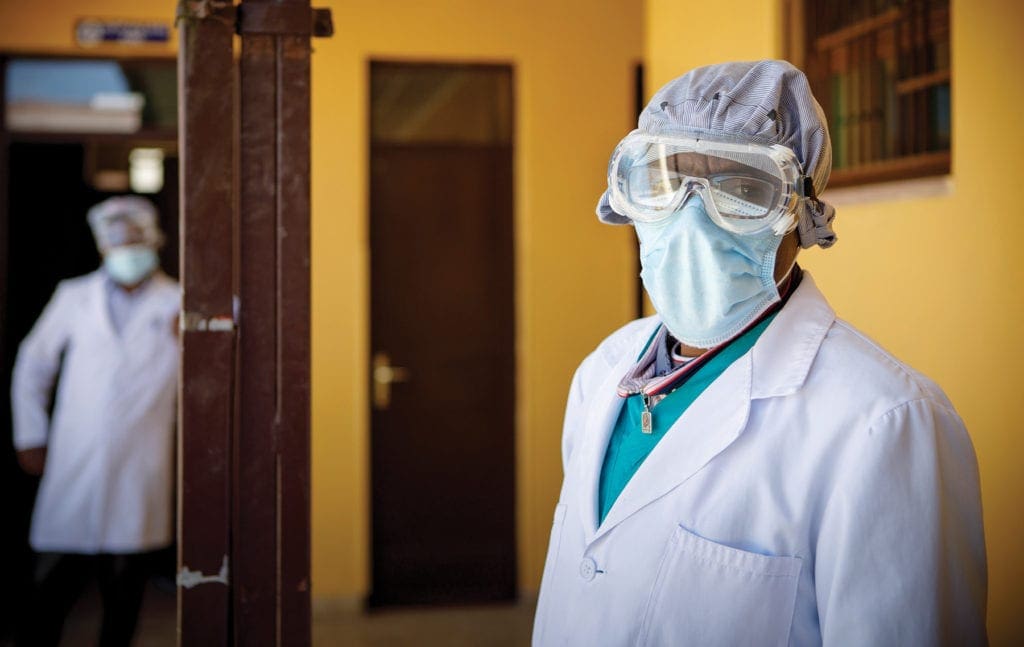 The community fears the virus will eventually make its way to Mendida, as people travel to Debre Berhan or Addis Ababa on a regular basis.
"It is still in Ethiopia, so maybe one day it will come here. I continue to protect myself through preventive measures," the clinic's pharmacist Belete Birhan explains.
It is a challenge for health care workers to identify patients who might test positive for the virus. In Ethiopia, more than 70 percent of cases are believed to be asymptomatic and symptoms vary from one person to the next.
"It's impossible to know. We have to suspect everybody," says Sister Dinkenesh regretfully.
All patients with a temperature higher than 100.4 degrees Fahrenheit must isolate in a separate tent, located in the back of the compound. "If the paracetamol works, we let them out," she says. "If the fever persists, they have to wait for an ambulance, since this might be a sign of COVID-19."
For the past few months, the clinic has seen fewer patients, as people feared contracting the virus if they went for treatment. The maternity ward remained almost empty for several weeks, which increased the risk of maternal death, as women opted to give birth in their homes.
As the pandemic stabilizes and people get used to the existence of the virus, patients are slowly coming back to the sisters' clinic. Women wrapped in white netelas, the traditional scarves of the region, line up for their medicine, as a warm breeze sweeps through the peaceful compound.
The adjacent kindergarten remains quiet, however, as most schools have yet to reopen. In the playground, painted wild animals and colorful tires wait patiently for life to return to normal.
"We receive a modest income from our registration cards," explains Sister Dinkenesh. But as the number of people who sought help at the clinic decreased, so did the income, "and this affected our ability to pay the staff." Meanwhile, she adds, the number of people looking for food aid has increased.
"Our resources were declining. Our own safety was at risk. Thinking of and looking at all these things was frustrating," she says. It was at this juncture "that CNEWA helped us. … Now, we can raise our heads and look forward to continuing our service.
"We don't know how long this will take us. But we keep on hoping and praying."
Maria Gerth-Niculescu is a freelance journalist based in Addis Ababa, Ethiopia. She has worked for France 24 and Deutsche Welle.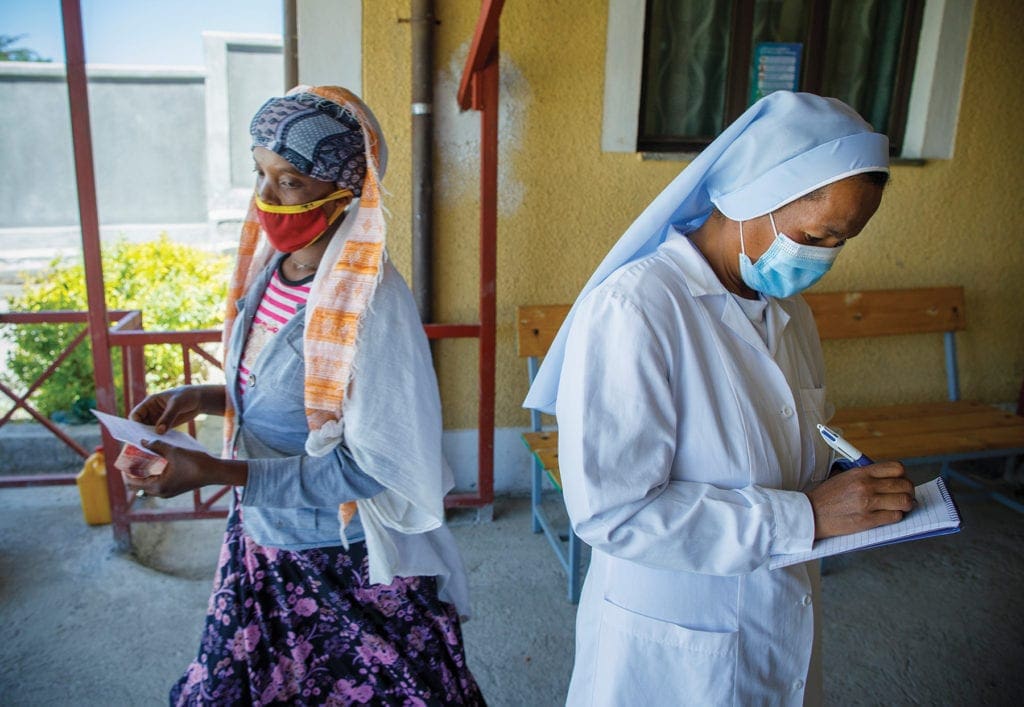 The CNEWA Connection
COVID-19. Drought. Environmental change. Ethnic violence. Locust infestations. Refugees. Ethiopia is confronting enormous challenges even as it seeks to educate and lift out of poverty its burgeoning population. Catholics constitute a small minority in Ethiopia, yet the church's contributions to education, health and social services and the work of justice and peace are significant.
To join CNEWA in its support of these initiatives of the Catholic Church for the good of all Ethiopians, call: 1-800-442-6392 (United States) or 1-866-322-4441 (Canada).