Everyone's story has to start somewhere.
Sister Tresa Peter Paramben's began when she first felt the call of Jesus in high school.
"Two sisters from my parish worked as missionaries in North India. When they came home to Angamaly, they'd tell us stories of how they served Christ," she says. "That's when I knew I wanted to be like them and be a missionary."
The time, however, was not right. She went on to graduate in English literature from Sree Sankara College in Kalady, one of the top colleges in the southern Indian state of Kerala. Kalady is the birthplace of the eighth-century philosopher Adi Shankaracharya, known for his commentaries on Hindu scriptures.
Sister Tresa's family, especially her father and two brothers, were reluctant about her becoming
a sister. They would spend hours telling her religious life was tough and not for her. But after graduation, she told her family she would leave home even if they did not agree.
"My father was still trying to dissuade me; but my mother was more open," Sister Tresa says. Her family — mother, father, two brothers and three sisters — were close-knit. 
"We did everything together. We used to go to church, pray, do the rosary as a family," she says.
Eventually, her father agreed, supporting her wish to enter religious life.
"My mother played a huge role in convincing my father to allow me to respond to God's call."
It has been 40 years since Sister Tresa entered the Congregation of the Daughters of Mary. She is the assistant superior general, serving at the generalate in Kerala's capital city, Thiruvananthapuram.
"I feel proud to be a nun," she says. "Since that first day in the convent, I have never once wanted to turn away from this life that's dedicated to Jesus."
She has served in Punjab, a northern Indian state that borders Pakistan. She also taught English
at St. Mary's Higher Secondary School in Thiruvananthapuram. With 14,000 students, it is Asia's biggest Catholic school.
Sister Tresa's faith has helped her navigate tricky situations with students, as well as parents.
"I always pray to Christ and surrender everything to him. He always shows me the way and protects me from harm," she says.
"While we live in this world, we're also liberated from it," Sister Tresa says about religious life.
"We have annual retreats, monthly recollections, daily meditation, personal prayer, rosary and Bible and spiritual readings to keep us in his presence."
When asked if she feels she was chosen for life as a religious, Sister Tresa answers in a roundabout way.
"Jesus went to the mountain and he called whom he liked to be with him," she says. "Jesus chose people for a reason. Without his knowledge, nothing happens. My relationship with him is very strong. I'm in his presence every moment of every day."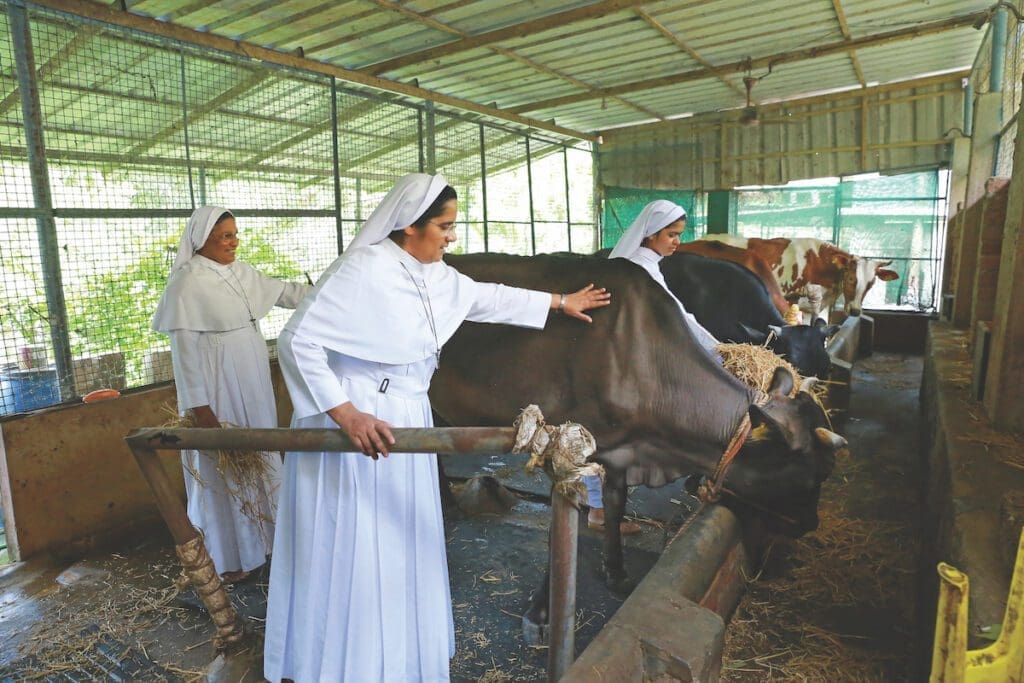 The Daughters of Mary is a missionary community of the Syro-Malankara Catholic Church founded in 1938. The sisters run orphanages, senior residences, palliative care centers and homes for children with special intellectual and physical needs. While centered in Kerala, the sisters work in several Indian states, including Maharashtra in western India, Tamil Nadu, in the country's southeastern tip, and Punjab.
Fifteen sisters serve at the generalate, which also serves as the novitiate for 12 women in formation.
Sister Lydia Pichalakkattu is the superior general of the congregation responsible for more than 1,000 sisters in 192 convents. She earned her doctorate in theology at the Pontifical University of St. Thomas Aquinas-Angelicum in Rome. But what is most striking about Sister Lydia is her calm and steady composure — evidence of her faith, which she relies upon to help her manage the heavy responsibilities that come with her position of leadership.
"I'm so very happy in my religious life. It's a life of peace, silence and prayer," she says. "When we love Jesus so intimately, our heart is filled with his love and we're enlightened by his light."
She has two sisters and four brothers. Her youngest brother is a Jesuit priest; her eldest brother is a diocesan priest.
"My family was pious and prayerful," she recalls.
"As a sister, we're taught to meditate, contemplate and experience the presence of God," she says. "Of course, we go through all the emotions other people do, but we know how to converse with Jesus. I cry with him, complain to him, ask him for protection. He never lets me down."
Sister Lydia believes being a religious woman assists greatly in helping her and her fellow sisters reach people and communities, especially those who are marginalized and vulnerable in India's highly stratified society.
"People trust us. They open up to us and talk to us about their difficulties," she says. "We visit families, pray for them and share their sorrows and joys. We're then able to help them, either by counseling or providing financial support, if they need it.
"The trust and access we have as nuns to people and families, even priests do not have that," she says. "We are so fortunate."
The process in becoming a religious sister is long, taking anywhere from nine to 12 years, depending on the religious community. It is intended to allow ample time for discerning a call to serve God and considering one's choice in the matter.
When a woman decides to pursue religious life with a particular congregation — there are many, each with different missions or charisms — she may spend one to two years as a novice. During this time, she will learn about religious life, the history of a particular congregation and its charism.
After this time of preparation, the woman may make temporary vows of chastity, poverty and obedience. At the end of the period of temporary vows, she may decide whether to make a commitment for the rest of her life and make perpetual vows. During these years of formation, she is free to opt out of the process at any stage.
Sister Jeevan Maria Harpal Masih entered the Daughters of Mary eight years ago. She is a junior sister from Amritsar, Punjab, known for the Sikh shrine, the Golden Temple, and will spend a year at the generalate in Kerala. She arrived in June.
"I received my baptism when I was 13," Sister Jeevan says. "I have experienced a deep faith in Jesus. I've been touched by his love. Through me, the lives of all my family members have changed. That's been the biggest blessing for me."
Sister Susanna Carlo is also at the generalate as a junior sister for a year, having spent the past seven years in formation. She is from Kallakurichi, Tamil Nadu, and says her vocation was inspired by the life of St. Teresa of Calcutta.
"I used to live my life in the modern world, trying to be attractive to others," says Sister Susanna.
Then one day she asked for guidance. "Go and proclaim good news" is what she heard at Mass that day, and that decided her life's course for her.
"If you want to lead a religious life, then your relationship with Jesus has to be stable," Sister Susanna says. "I am for Jesus alone. That word is always in my mind."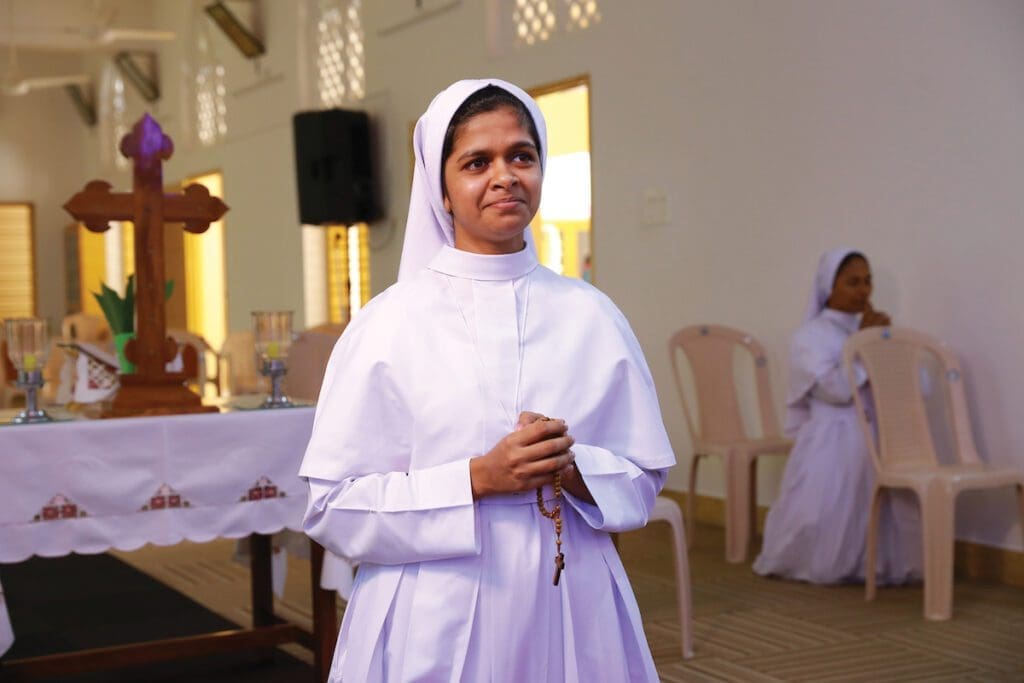 In Thrissur, about 175 miles north of Thiruvananthapuram, lies the generalate of the Congregation of St. Martha. Founded in 1948, the Syro-Malabar Catholic community of women works in other Indian states, including Maharashtra, Tamil Nadu, and Odisha in eastern India, on the Bay of Bengal. The congregation's motto is "Love Serves." 
Sister Beatrice Kizhakekunnel, the mother general, says her mother inspired her to devote her life to Jesus.
"My mother wanted to become a nun. But within three months of joining a convent, she was diagnosed with tuberculosis and was sent back home," she says.
As a little girl, Sister Beatrice went to a convent school.
"I felt as if the sisters were angels and I wanted to be like them," she says.
One of her aunts belonged to the same community, which she had come to know. The community, she adds, is not as restrictive or cloistered as some.
"For example, if our parents are sick, we're allowed to go home and spend a week or 10 days with them," she explains.
Sister Geo Maria Koonan in Thrissur is responsible for 24 communities that form the congregation's Lourde Natha Province. She says aid from organizations, such as Catholic Near East Welfare Association (CNEWA), is a huge help.
"The congregation works in different ministries, such as health, education, hospitals and hostels for women. We provide training and employment for underprivileged communities in the interior parts of Kerala," she says.
The congregation has established tailoring centers to help women earn an income, schools for children, and CNEWA-supported hostels for underprivileged communities.
Sister Deepthi Elavumkunnel, who is an education counselor at the congregation's generalate, grew up in a very religious home. Both her parents had considered religious life in their youth, but they married and had seven children.
"My father was a catechist for 32 years and my mother was a pious lady," she says. "We all prayed together and talked about Jesus Christ."
"Even as a child I was devoted to Christ. My faith is deeply rooted in the person of Jesus," she says. "I know I'm protected and loved by the Sacred Heart of Christ."
At the novitiate, six young women, between 18 and 20 years old, are in formation. They wear white saris, paired with white blouses.
Merin Johnson Vidhayathil was completing her studies in zoology when a priest came to her class and asked if anyone had felt the call of Jesus.
"My mind had been telling me for a while that I'd been chosen by Jesus to lead a life in his service," she says.
She told her parents, went on a discernment retreat and subsequently entered the convent.
"I joined the religious life to love and serve Jesus," says novice Anuja Kerketta from Chattisgarh in North India.
Although predominantly a Hindi speaker, she is now fluent in Malayalam, the language spoken in Kerala.
Soumya Joy Cheenikkal, another novice, spoke about how she gave up the charm of social media for a different life.
"I spent time making reels and posting pics on socials," she says. "But I found something else in religious life — a chance to serve Jesus and others."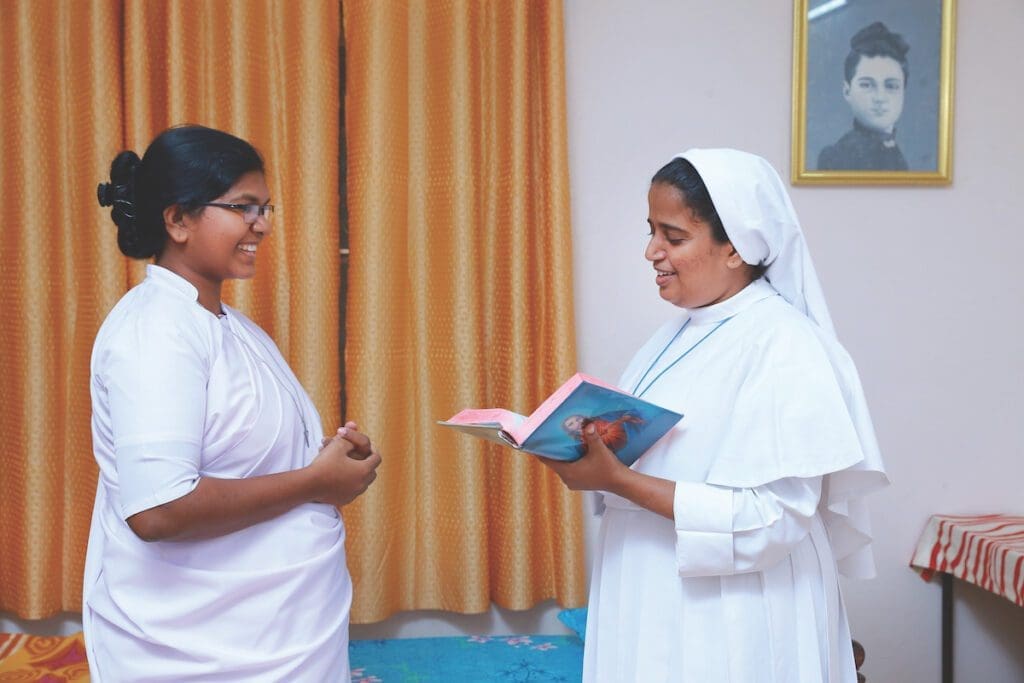 Sister Remya Pulickal has been a member of the Sisters of St. Martha for 27 years; she has been a member of the formation team for the past three years. She remembers her own years of formation, and recalls writing letters to her sponsors, CNEWA benefactors who supported her in novitiate.
"We didn't know English well, but we'd write letters thanking our foreign sponsors for their donations," she says.
"My mother's prayerful life always gave us a lot of strength as a family," she adds. Her older sister, Lissia, is a nun as well.
"When I had to decide about devoting my life to Jesus, my mother told me religious life wasn't easy, but that I had to make my own decision."
Before entering, Sister Remya had only one thought: "I want to be a sister. I want to pray for others. I want to serve others."
After studying nursing and working at hospitals, she studied theology. Now as a formator, she
is concerned about the decline in the number of women in Kerala who are choosing religious life.
"Young women feel the convent life is too restrictive while they want more freedom," she says.
"People also have smaller families now," so fewer children can enter religious life.
"There are also more broken families, so children aren't growing up with the concept of God or praying together or leading a religious life.
"We're beginning to change the way we run catechism classes," she adds.
"That's where children come into contact with sisters as teachers. We are making these classes more activities-based, more fun.
"We have to change to attract young adults to religious life."
---
Anubha George is a former BBC editor. She is a columnist and writer for various publications. She is based in Kerala, India.
The CNEWA Connection
Through CNEWA's longstanding person-to-person sponsorship programs, thousands of priests and sisters of India's Syro-Malabar and Syro-Malankara Catholic churches have received support for decades during their years of formation, including the Daughters of Mary profiled in this article. Their education and formation as women in service to the Gospel prepare them to administer schools, hospitals and social service programs as well as lead parish catechetical and adult formation activities.
Your support can make an impact on the future of the dynamic church in India. To support this important mission, call 1-866-322-4441 (Canada) or 1-800-442-6392 (United States) or visit https://cnewa.org/where-we-work/india/.