CNEWA's president, Msgr. John E. Kozar, and chief communications officer, Michael La Civita, are making a round of pastoral visits in Lebanon this week. On Saturday, Mr. La Civita will join Thomas Varghese, CNEWA's programs officer, for two weeks in the Caucasus, assessing the needs of the churches in Georgia and Armenia.
Today, Msgr. John Kozar and I traveled to Lebanon's Bekaa Valley with two of our Beirut staff, Michel Constantin and Kamal Abdel Nour. Driving in Lebanon is not for the faint of heart. Cars, buses and trucks careen through pockmarked streets. Exhaust fumes permeate the air. Chaos reigns. Horns dominate. After more than two hours on the main road linking Beirut and Damascus — which required climbing elevations of more than 4,000 feet — we reached the ancient town of Baalbek. There, we turned west toward a cluster of Christian villages on the eastern slope of Mount Lebanon about 20 miles from the Syrian border. Our destination: Deir el Ahmar, the Red (or bloody) Convent, a village named for a massacre of monks there ages ago.
As we arrived, we were greeted as old friends by Good Shepherd Sisters Micheline Lattouff and Rita Hadchity and their dedicated team of Lebanese and Syrian volunteers. Together, they work to help the nearly 300 refugee families who have made their home in the area as a result of the civil war in Syria. Some 260 of these families are Sunni Muslim, and they have named their settlement of plastic-wrapped cardboard huts Ezzedine after their native village near Homs.
Although the families arrived with nothing, they found friends in a Maronite village community. The village's Good Shepherd sisters acted quickly — winter was approaching — providing heating fuel, mattresses, blankets, coats, drinking water and food. The sisters then began to visit the refugee families, as well as some 25 Christian families who settled with their kin in the village. Initially, they spent time with the mothers, who naturally worried about their children, whose childhoods have been robbed by violence and their futures compromised by displacement and poverty.
Known worldwide for their care of single mothers, children and the poor in general, the Good Shepherd sisters immediately recognized the signs of posttraumatic stress disorder and decided to intervene, with the consent of the mothers.
This summer, Sister Micheline set up three tents, where she and her volunteers worked and played with the children, winning the support of their parents. Just a few weeks ago, on 21 October, they opened an elementary school program in the sisters' social center, providing remedial education to some 220 children and utilizing the services of qualified Syrian teachers. Under images of the Good Shepherd and the Blessed Mother, these children, all of whom are Sunni Muslim, are for at least a few hours a day returning to their childhood. They play games, laugh, learn and share secrets so important in childhood. Not exactly a shy soul, Msgr. Kozar livened up the classrooms with joyful questions and riddles, winning smiles and shouts of joy from the children. He won over even the serious teachers who are confronted with the enormous task of teaching these displaced children the basics of reading, writing and arithmetic.
I was impressed with the facility, which already resembles a typical Catholic school. Order and cleanliness prevail, despite the grinding poverty impacting children living without running water, a sanitary environment, nutritious food or the basics in health care.
After a quick lunch with the children, we visited one large family presided over by a matriarch named Frengieh. Draped in black from head to toe, she took us into her cardboard home, introduced us to her sons and daughters and her grandchildren. Her delightful sense of humor, her sense of hospitality and her warmth made us forget that she was essentially homeless. The fact that she encouraged her family and the sisters to pose for a group portrait by our "staff photojournalist," Msgr. Kozar, indicated the warmth and trust that exists between the refugees and the sisters. Most refugees fear reprisals back home if their photographs are seen by the enemy, which could be anyone.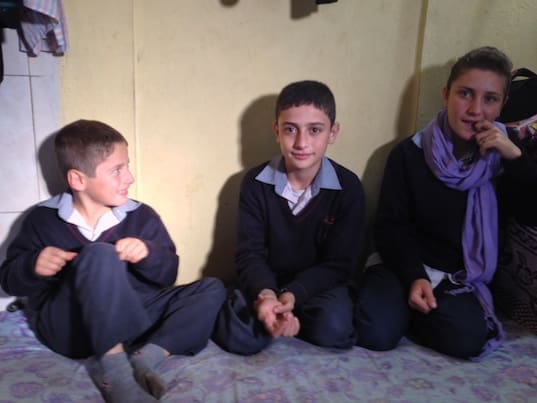 After a cup of tea with Frengieh, we traveled up to the nearby village of Bechouat to meet with Yakoub family, a Syriac Christian family who two years ago fled the extremist rebels in Hassake, near the Syrian border with Iraq. The father, who took time from his custodial concerns for the local Maronite shrine dedicated to Our Lady, recalled the travails of traveling to Damascus on a public bus for more than 18 hours through 17 checkpoints with his wife and three children Ulah, Abdalahad and Caesar. Leaving behind his elderly parents and his younger brother, they hitched a ride to Bechouat, where they live in a small room provided and furnished by the parish. The children, dressed in their school uniforms, spoke to us about the difficulties of attending a French-curriculum school while knowing only Arabic. Ulah, a shy 15-year-old, quietly asked Sister Micheline if the sisters could help them with their studies. "Of course!" she replied, beaming at the chance to lend a hand.
Afterward, over a cup of sweetened Arabic coffee, the exuberant sister told us that the presence of the Good Shepherd motivates her. "I never think I am tired or that we can't do anything else," she said. "The Good Shepherd is here; he is here among his people. He loves his people, because he loves his Father."
"He loves you," I added with a smile. She lowered her head, looked at me and replied, "I know, and that is why I am happy."
Today's visit speaks volumes why it is imperative Christianity thrive in the Middle East. And it speaks volumes why the support given to the churches and peoples of the region through CNEWA by readers such as you is so important: Simple initiatives such as these, brought about by religious sisters and parish volunteers — all motivated by the Gospel — are restoring dignity, self-respect, trust and even joy to Christian and Muslim families once robbed of these basic human values.
Remember them in your prayers.
To learn how you can help, check our Syrian relief page.