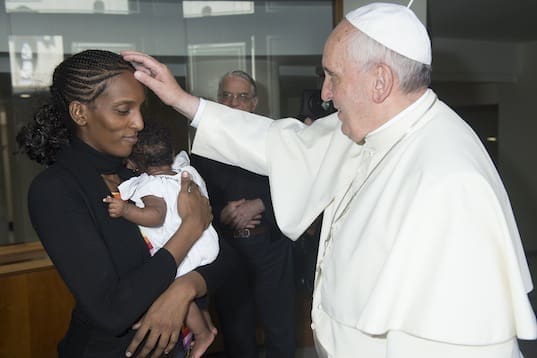 Pope Francis blesses Meriam Ibrahim of Sudan during a private meeting at the Vatican on 24 July. (photo: CNS/L?Osservatore Romano via Reuters)

In a dramatic encounter at the Vatican, an Ethiopian-born woman who faced a death sentence for refusing to renounce her Christian faith had a meeting this morning with Pope Francis:
Meeting a Sudanese woman who risked execution for not renouncing her Catholic faith, Pope Francis thanked Meriam Ibrahim for her steadfast witness to Christ.

The pope spent 30 minutes with Ibrahim, her husband and two small children on 24 July, just hours after she had arrived safely in Italy following a brutal ordeal of imprisonment and a death sentence for apostasy in Sudan.

Jesuit Father Federico Lombardi, Vatican spokesman, told journalists that the encounter in the pope's residence was marked by "affection" and "great serenity and joy."

They had "a beautiful conversation," during which the pope thanked Ibrahim for "her steadfast witness of faith," the priest said.

Ibrahim thanked the pope for the church's prayers and support during her plight, Father Lombardi said.

The Vatican spokesman said the meeting was a sign of the pope's "closeness, solidarity and presence with all those who suffer for their faith," adding that Ibrahim's ordeal has come to represent the serious challenges many people face in living out their faith.

The informal conversation also touched upon the family's plans now that Ibrahim is free, he said. The pope gave the family a few small gifts, including papal rosaries.

Ibrahim, a 26-year-old Catholic woman originally sentenced to death for marrying a Christian, had been released from prison in Sudan 23 June after intense international pressure. But she was apprehended again the next day at the Khartoum airport with her husband, who is a U.S. citizen, and their nearly 2-year-old son and 2-month-old daughter, who was born in prison just after Ibrahim's death sentence.

Charged with possessing fake travel documents, Ibrahim was not allowed to leave Sudan, but she was released into the custody of the U.S. Embassy in Khartoum, where she then spent the following month.

Italy's foreign ministry led negotiations with Khartoum for her to be allowed to leave Sudan for Italy.
Read more at the CNS link.