CNEWA recognizes the contributions of women to our mission in solidarity with the poor and vulnerable throughout the world. Today, and for the rest of March, we are highlighting the stories of women in CNEWA's world, as told in ONE magazine and on our blog through the years.
Today, we turn our attention to the Kuchinate collective in Israel, cofounded by Sister Azezet Kidane and Diddy Mymin Kahn. The collective serves asylum-seeking women who are victims of human trafficking and other heinous crimes with the goals of empowerment and self-sufficiency.
Below is an excerpt from ONE's Autumn 2020 story "Crafting a New Life." The full article may be accessed here.
Six months after the COVID-19 pandemic hit Israel, closing businesses, shops and schools, Tagra Bahata, 27, has fallen into an easy routine.
Ms. Bahata, an Eritrean refugee who has lived in Israel since 2009, has set up her sewing machine in the small courtyard of her south Tel Aviv apartment and spends her mornings sewing face masks using bright African prints. Her daughter, Salem, 5, plays underfoot as her son, Samat, 10, busies himself inside doing the usual pre-teen, lazy summer day things: watching television or just lying around on the bed.
Once a week, Ms. Bahata takes all her cloth masks to Kuchinate, the African refugee women's collective of which she is a member, to turn in her work…
Cofounded in 2011 by Comboni Missionary Sister Azezet Kidane — known to everyone as simply "Sister Azeeza" — and South African-born Diddy Mymin Kahn, a veteran clinical psychologist and trauma specialist in humanitarian aid and intervention, the Kuchinate collective provides a source of income and psychosocial support for Israel's most vulnerable population of African women asylum seekers.
Mainly from Eritrea, but also from other African countries, including Sudan and Nigeria, 40 percent of the women in the collective are single mothers. Some were forced to leave children behind, and some 60 percent are survivors of human trafficking, torture and rape in the Sinai Desert torture camps, where they were held captive for ransom by traffickers.
Dr. Kahn and Sister Azeeza, who is from Eritrea but served with the Comboni community in Sudan, soon realized the standard form of one-on-one Western therapy where people spoke to strangers about themselves was not suited for the women survivors. Together with a small group of other volunteers they developed the format of Kuchinate — which means "crochet" in Tigrinya.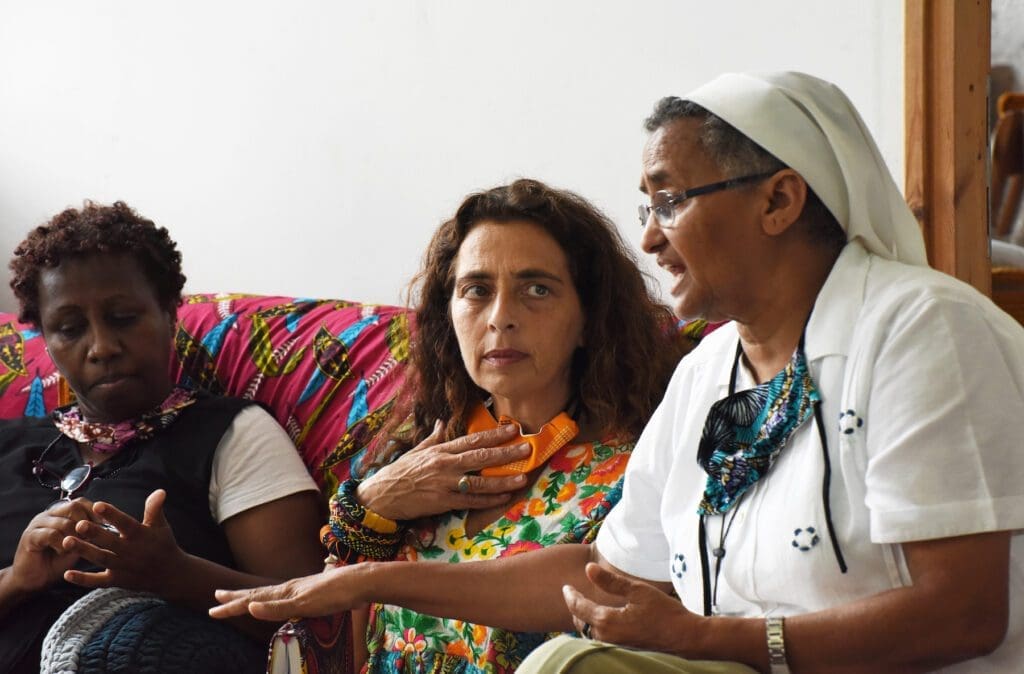 Connecting women to their culture, Kuchinate uses a variation of the traditional African craft of basket-making as a form of therapy, explained Dr. Kahn. The women gather together, share a meal, and work on the baskets, with the repetitive movements of the crochet needle becoming like a meditation. The easy conversation that flows from their meeting makes it easier for the women to talk.
The collective has 200 active members who also receive psychosocial assistance, with 90 women working on salary. Its work has become even more critical during the COVID-19 outbreak as the danger and instability has compounded the women's fears and brought many of their horrific memories back to the surface, says Dr. Kahn.
As unrecognized asylum seekers, they are not eligible for any of the unemployment benefits the Israeli government provides its unemployed citizens…
Although there are a few humanitarian aid groups who work with asylum seekers in Israel, Kuchinate is the only one providing psychosocial treatment specifically to women survivors of torture and trafficking.
"These women are survivors of torture and they are carrying 60 kilos of baggage on their backs. COVID-19 just added another 70 kilos; it is a very heavy burden to bear," says Dr. Kahn. "The women have felt very desperate and are in a state of fear — fear for survival, fear of change, fear of losing their jobs. There is a lack of hope for the future. It is very stressful."
Their main goal, says Sister Azeeza, has been to help empower the women and make them self-sufficient. From its humble beginnings selling small handmade items at craft fairs, the collective was really flourishing before the outbreak of COVID-19, she says. Kuchinate had become a mainstay on the tourist map in Tel Aviv for both local and international visitors. The women took part in museum art and photo exhibitions, pop-up shops and home sales. They found support and a sense of kinship with each other — coming in to work together, eating together and joining together for counseling.