For more than a millennium, Central Europe's Carpatho-Rusyns have been engulfed in a violent whirl of Magyar, Germanic and Slavic antagonism. Always subjugated, Rusyn peasants toiled soil, kept livestock or cut timber for their Hungarian, Austrian or Polish masters. Such conditions, coupled with centuries of serfdom and forced assimilation, hardly favored the development of a distinct Rusyn identity. Nevertheless, among the Rusyns such an identity did develop, sowed by their distinct Slavic language, nurtured by their Byzantine Christianity — which they received from Sts. Cyril and Methodius in the late ninth century — and reinforced by their full communion with the church of Rome.
Today, fewer than 900,000 Rusyn Greek Catholics are scattered throughout Croatia, the Czech Republic, Hungary, North America, Romania, Serbia, Slovakia and Ukraine. A unified church, gathering them all under one mantle, does not exist. Rusyn Greek Catholics — also called Ruthenians — make up three distinct churches that, while sharing the same origins, traditions and culture, remain independent of each other.
In the United States, the Metropolitan Byzantine Archeparchy of Pittsburgh, with its three dependent eparchies of Parma, Passaic and Phoenix, is a particular or sui iuris church. It includes about 82,000 members.
The Eparchy of Mukacevo in Subcarpathian Ukraine, which numbers about 320,000 people, is dependent directly on the Holy See.
The Apostolic Exarchate for Byzantine Catholics in the Czech Republic is also dependent on the Holy See and counts 170,000 members.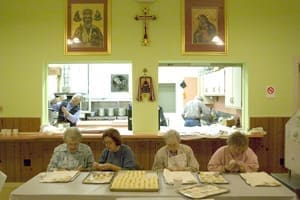 Rusyn Greek Catholics also belong to various jurisdictions of the Greek Catholic churches of Hungary, Romania, Slovakia, Ukraine and the former Yugoslavia. Complicating matters further, substantial numbers of Rusyns, all formerly Greek Catholic, have created communities within various Orthodox churches in North America, Poland and the Czech and Slovak republics. However, with the exception of the American Carpatho-Russian Orthodox Greek Catholic Church — an eparchy formed in Pittsburgh in 1939 under the jurisdiction of the ecumenical patriarchate in Constantinople — their Rusyn identity has largely eroded.
While a unified church may not yet exist, European and North American Rusyn Greek Catholics work together, assisting one another with financial and human resources. This mutual support is not limited to the Greek Catholic community alone. Guided by the ecumenical movement and encouraged by the foundation of nonpartisan societies dedicated to the study of Carpatho-Rusyn genealogy, history, literature and religion, relations among Rusyns of all faiths press forward.
Read a full account of the Carpatho-Rusyn Greek Catholic churches here.