What divides the Greek Catholic and Orthodox churches of Central and Eastern Europe usually reflects the complex history and geopolitical realities of the continent more than any particular theological nuances, even papal primacy.
The Slovak Greek Catholic Church is a sui iuris (or self-governing) community in Slovakia — Byzantine in character and Catholic in faith — raised to the rank of a metropolitan church by Pope Benedict XVI in January 2008. It includes some 211,000 Greek Catholics from a number of ethnic groups living in the landlocked country, including Carpatho-Rusyns, Hungarians, Roma, Slovaks and Ukrainians.
Led by Metropolitan Archbishop Jan Babjak of Presov, the dynamic Jesuit has bolstered ties between the Slovak church and her daughter church in Canada, where some 2,500 Slovak Greek Catholics form the Eparchy of Sts. Cyril and Methodius.
Additionally, the metropolitan archbishop — installed in 2002 — has deepened ties to Greek Catholics in other worldwide jurisdictions. These include the Metropolitan Archeparchy of Pittsburgh and its three dependent eparchies in the United States; the Apostolic Exarchate for Byzantine Catholics in the Czech Republic; and the Eparchy of Mukacevo, now in Subcarpathian Ukraine, or Transcarpathia.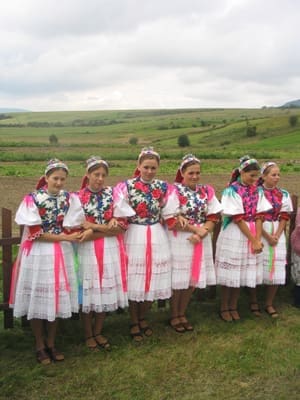 In the celebration of the sacraments, Slovak Greek Catholic parish communities use Slovak and its Latin alphabet as well as Church Slavonic and its Cyrillic alphabet. And its territory is restricted to parish communities in the Slovak Republic.
Yet the church's origins and development are synonymous with the various Carpatho-Rusyn Greek Catholic churches of Central Europe. Together, the ancestors of these Catholics received the Christian faith from Sts. Cyril and Methodius in the late ninth century. And they professed their full communion with the bishop of Rome in the chapel of the castle of Uzhorod in April 1646, centuries after the Western (Catholic) and Eastern (Orthodox) churches had drifted apart.
According to the Slovak Republic's 2011 census, only 0.6 percent of the population of nearly 5.5 million identify as Carpatho-Rusyn, proof of the decline of a Carpatho-Rusyn identity among Slovakia's Greek Catholics. Nevertheless, sustaining solidarity among other jurisdictions of Carpatho-Rusyn origin — Greek Catholic and Orthodox — remains a concern of the Slovak Greek Catholic leadership.
Reviving parishes of all ethnic communities; forming a new generation of priests, religious and lay leaders; instilling proper catechesis, especially among the urbanized youth; and restoring parish churches and other parish facilities take precedence for this new yet ancient church.
Read a full account of the Slovak Greek Catholic Churches here.